This post may contain affiliate links that at no additional cost to you, I may earn a small commission.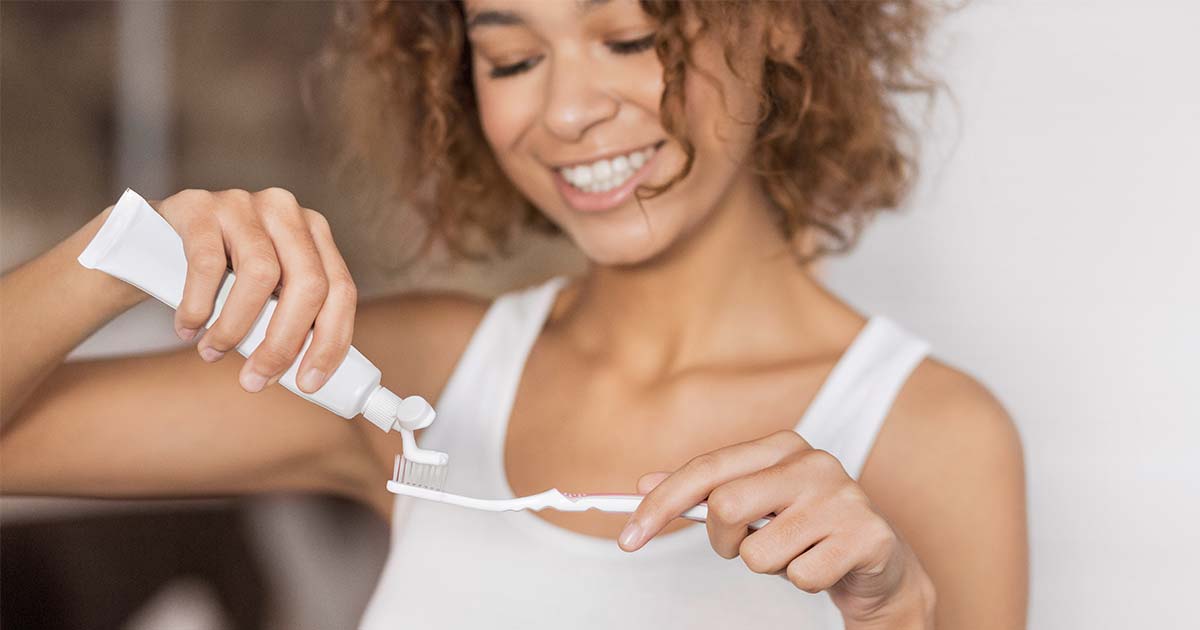 Looking to switch over to a cruelty-free and vegan toothpaste?
Whether you're wanting to replace your regular toothpaste with a cruelty-free alternative or you're desperately looking to find a vegan toothpaste that's either fluoride-free, or with fluoride, or for sensitive teeth, or maybe a whitening toothpaste perhaps?
In this guide, I'm sharing some of the most recommended and best cruelty-free and vegan toothpaste that'll have you smiling bigger and brighter knowing no animals had to suffer for your pearly whites!
Is Toothpaste Vegan?
Many are surprised to learn that not all toothpastes are vegan.
Some conventional toothpaste contains animal-based glycerin or propolis derived from bees.
However, glycerin can now be made synthetically or from naturally-derived plant sources. But make sure you check the ingredient lists and unless it's clearly stated that the glycerin is from a plant or synthetic source, we can't be sure whether it's vegan or not.
In addition to animal-based ingredients in toothpastes, most mainstream toothpaste brands are still testing on animals.
Toothpaste Brands to Avoid that Test on Animals: Crest, Colgate, Sensodyne, Arm & Hammer, Aquafresh, Biotene, Spry.
It should be noted that Colgate recently came out with their "vegan" line of toothpaste, however, Colgate does test on animals when required by law.
Although these "vegan" products from Colgate may not contain animal-based ingredients, Colgate is not cruelty-free so we wouldn't consider any of their products are vegan.
Read Also: What's the Difference 'Cruelty-Free' and 'Vegan'?
List of Cruelty-Free & Vegan Toothpaste Brands
The following brands are cruelty-free and do not test on animals. Some of these cruelty-free toothpaste brands are also 100% Vegan and do not use any animal ingredients or by-products in any of their product lines.
I've also noted which cruelty-free brands are owned by a parent corporation that tests on animals. Some cruelty-free consumers choose not to support these brands as they feel their money is indirectly supporting the parent company.
---
Best Vegan Toothpaste
With so many cruelty-free toothpaste options available, it can be difficult to find one that works best for you.
Below, I share some of the best vegan toothpastes available:
Cruelty-Free & Vegan Toothpaste with Fluoride
We received lots of requests for vegan toothpaste with fluoride, so here are our top picks!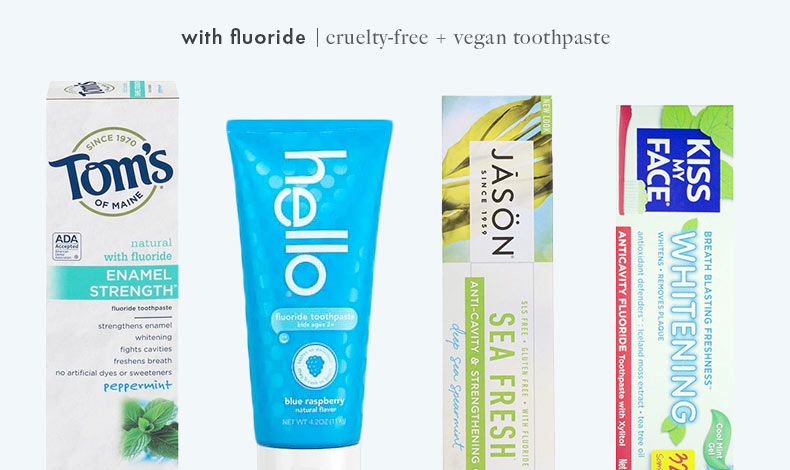 Tom's of Maine Fluoride Toothpaste* – Tom's probably has the most options and flavors for fluoride toothpaste. They also have travel-size toothpaste available as well. Some fluoride options are ADA-approved, check the packaging to see which ones are. All of Tom's toothpaste are vegan with the exception of Propolis and Myrrh toothpaste and Peppermint Fluoride-Free Botanically Bright Toothpaste.
Hello Fluoride Toothpastes* – ADA-approved fluoride toothpaste made with naturally-derived flavors. Available in adult and kids flavors. Hello's vegan fluoride toothpaste is a great option that you can get at most retail stores including Target and Walmart.
JASON Anti-Cavity with Fluoride Toothpaste – Available in two fluoride options: SeaFresh Strengthening Gel and PowerSmile Whitening Gel. Both are SLS-Free and Gluten-Free. Available at most drugstores.
Kiss My Face Fluoride Toothpaste – All of Kiss My Face toothpaste are vegan and they have two options with fluoride: Enamel Xtra Cool Mint and Whitening Cool Mint Gel. Both of which are SLS-free and triclosan-free. Kiss My Face toothpaste can be found at most drugstores and natural health food stores.
Cruelty-Free & Vegan Sensitivity Toothpaste
Got sensitive teeth? And looking for a cruelty-free and vegan alternative to Sensodyne? Try these options instead!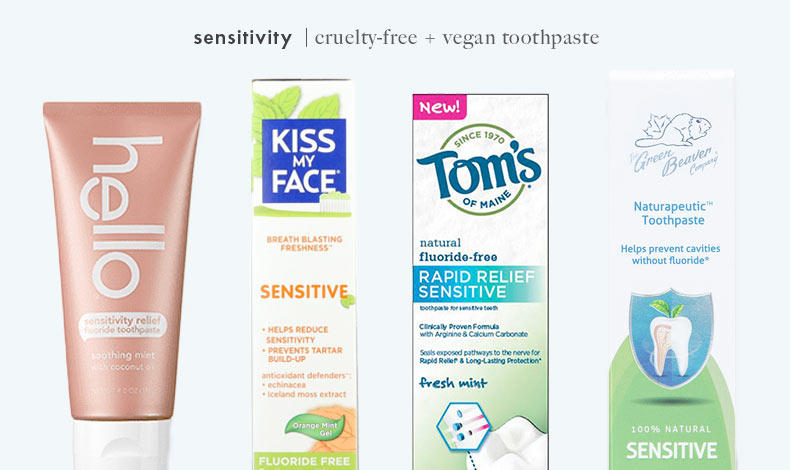 Hello Sensitivity Relief Fluoride Toothpaste* – This is hands-down the most recommended vegan toothpaste for sensitivity. It contains the highest level of active ingredient, potassium nitrate, allowed by the FDA to relieve tooth sensitivity. Contains fluoride and xylitol. SLS-Free.
Kiss My Face Sensitive Orange Mint Gel – This is a great vegan sensitivity toothpaste that is fluoride-free, SLS-free, and triclosan-free. Contains potassium nitrate. Made with tea tree oil, aloe vera, echinacea & peppermint.
Tom's of Maine Rapid Relief Sensitive Toothpaste* – A fluoride-free toothpaste formula that claims to provide relief in 60 seconds! Tom's sensitivity toothpaste contains naturally-derived arginine and calcium carbonate to block the pathway to sensitive nerves to help seal out the pain.
Green Beaver Sensitive Teeth Natural Toothpaste – Support cruelty-free Canadian companies like Green Beaver! Their vegan toothpaste for sensitive teeth contains potassium nitrate and is a fluoride-free, SLS-free, and triclosan-free formula.
Vegan Activated Charcoal Toothpaste
Looking for a vegan whitening toothpaste? Some users have seen great results switching to an activated charcoal toothpaste to brighten their smiles.
Activated charcoal toothpaste claims to naturally and gently whiten teeth by removing surface stains. If you want to give one a try, these are some of the most recommended activated charcoal vegan toothpaste: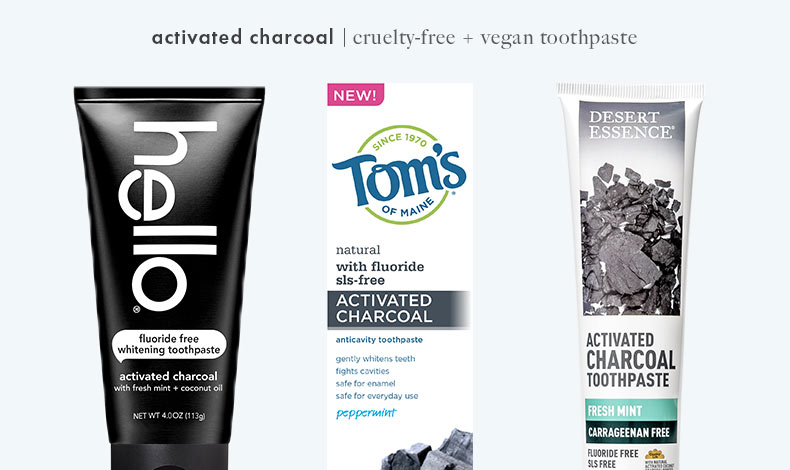 Hello Activated Vegan Charcoal Toothpaste* – Available in Fluoride-Free and With Fluoride option. Hello's activated charcoal toothpaste is made from sustainable bamboo and formulated to be gentle enough for daily use.
Tom's of Maine Activated Charcoal Toothpaste* – Also available with fluoride and without fluoride option. The charcoal powder they use is derived from responsibly sourced peat. Tom's of Maine is the gentlest charcoal toothpaste based on RDA testing claiming you can use it twice a day the same way you would use any conventional toothpaste.
Desert Essence Activated Charcoal Toothpaste – Fluoride-Free and Carrageenan-Free. Desert Essence's charcoal toothpaste is formulated with Activated Coconut Shell Charcoal which claims to be a smooth, charcoal-gray (not black) formula to whiten teeth without discoloring your mouth.
Cruelty-Free & Vegan Organic Toothpaste
In search of a cruelty-free organic toothpaste? Look no further with these three best natural and organic toothpaste alternatives!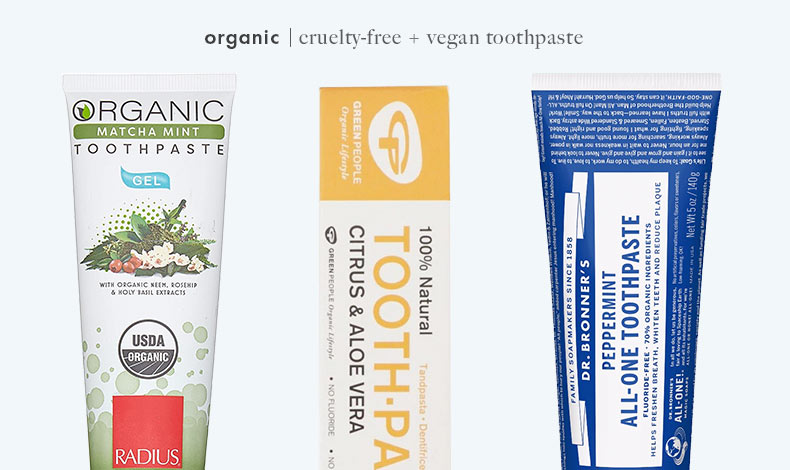 Radius USDA Organic Gel Toothpaste – Radius claims to be the only USDA Certified Organic toothpaste available on the market today! That means their toothpaste contains at least 95% or more organic ingredients. They offer vegan toothpaste and gels available in a range of flavors for children and adults.
Green People 100% Natural Toothpaste – Green People is a UK-based company. Their toothpaste are fluoride-free, SLS-free, made with 87% certified organic ingredients, and 100% vegan. Green People's toothpaste claims to be great for sensitive teeth and suitable for people with bleeding gums. Available in 4 flavors for adults and 3 options for children.
Dr. Bronner All-One Toothpaste – Fluoride-free, SLS-free, formulated with 70% organic ingredients and 100% vegan. This is a low-foaming toothpaste that uses organic menthol crystals to keep your breath smelling fresh naturally. Available in 4 flavors.
---
*Hello and Tom's of Maine are both cruelty-free and do not test their products, ingredients, or formulations on animals, anywhere in the world. However, both cruelty-free toothpaste brands are owned by Colgate, a parent corporation that does test on animals when required by law.
---
I hope this vegan toothpaste guide helped you find a cruelty-free and vegan toothpaste that works best for you and that you discovered some new cruelty-free brands to support because together, we can help end animal testing for cosmetics once and for all!