This post may contain affiliate links that at no additional cost to you, I may earn a small commission.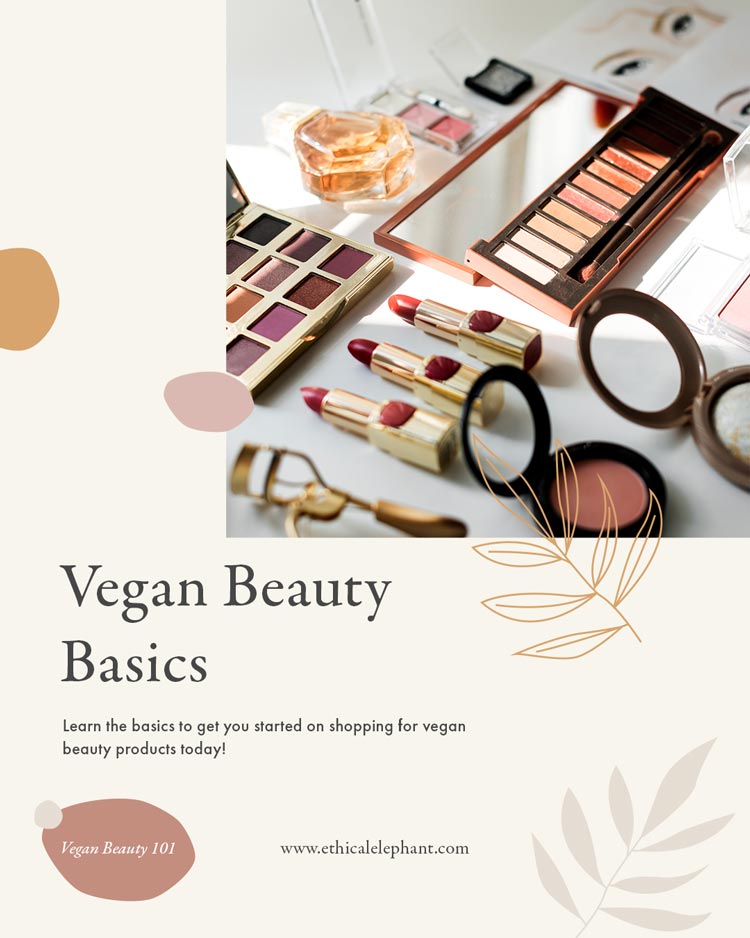 Whether you're vegan or you know someone who eats a vegan diet, you may already be familiar with what it's about and its absence of animal products and by-products, including meat, seafood, dairy, and eggs, but have you heard of vegan beauty products?
And you may be wondering… are there actually animal ingredients used in our makeup, skincare, bath, and body care products today?
Disturbingly, animal-derived ingredients and by-products like crushed up bugs, fat from slaughtered animals, and ground-up horns and claws, are still commonly used and found in our everyday beauty products.
As a result of this gross revelation, many cosmetic companies refuse to source or manufacture products containing animal ingredients, thus creating a safe, quality, vegan cosmetics line without animal cruelty.
If you're just starting to venture into the journey of vegan cosmetics, we're breaking down all the Vegan Beauty Basics to help you make better and ethical choices that are kinder to animals and the planet.
By the end of reading this vegan beauty starter's guide, you'll have a better understanding of what Vegan Beauty and Cosmetics truly mean.
Vegan Beauty Basics
What is Vegan Beauty? and what does it mean when a product is Vegan?
"Vegan," "Vegan-Friendly," and "100% Vegan" cosmetics are defined as beauty products that do not contain animal ingredients, animal by-products, or any other animal-derived ingredients, including beeswax and honey.
---
What's the difference between cosmetics labeled as 'Vegan' vs. 'Vegan-Friendly' vs. '100% Vegan.'
All of these mean the same thing. The product doesn't contain animal-derived ingredients or by-products. But sometimes, companies may be referring to a product that is Vegan vs. the entire brand is vegan.
---
Are Vegan Beauty Products Tested on Animals?
Some (not all) vegan products may have been tested on animals, making them not cruelty-free.

L'Oreal, for example, has a line of "100% Vegan" shampoo, but L'Oreal is a brand that pays and allow their products to be tested on animals. So although L'Oreal's shampoo may not contain animal-based ingredients and is theoretically "100% Vegan", the company allows their products to be tested on animals and isn't cruelty-free.

Here's a guide to understanding the difference between Cruelty-Free and Vegan cosmetics.
---
What animal ingredients are commonly used in cosmetics?
Animal ingredients commonly used in beauty products include carmine, lanolin, keratin, collagen, elastin, animal-derived glycerin and stearic acid, tallow, pearl, silk, milk-derivatives, snail slime, and more. See this long list of animal ingredients used in cosmetics.
---
Are animals killed for cosmetic ingredients?
Animal ingredients used in cosmetics can be obtained from living or killed animals or sourced as a by-product of the meat and dairy industry.
---
What's the difference between cosmetics that are 'Vegan' vs. 'Vegetarian'?
Vegetarian beauty products don't contain ingredients that were part of an animal. Still, they may contain ingredients made by an animal such as honey, beeswax, egg whites (albumen), milk substance, etc.

Whereas vegan cosmetics do not contain anything that came from or was produced by living or killed animals.
---
Vegan brand vs. vegan product
Vegan cosmetics can refer to either the overall brand is vegan, or a particular product is vegan.

Vegan brands refuse to use any animal ingredients in all of their products. You can find a list of 100% vegan beauty brands here.

However, some brands may not be entirely vegan but offer some vegan beauty products.
---
Who certifies Vegan beauty products?
Currently, there are 4 third-party certifications for vegan beauty products and brands. (1) Vegan Action (2) Vegan Society (3) PETA and (4) The Vegetarian Society.
Note that Leaping Bunny, Cruelty-Free International, and Choose Cruelty-Free only certify brands that don't test on animals, but they don't necessarily have to be vegan.
---
How to know if a brand or beauty product is *actually* vegan?
---
Are Vegan Cosmetics Natural/Organic/Non-toxic?
Not always. — Although most vegan ingredients are naturally derived from plant sources, some can be synthesized or made in a lab and are far from naturally derived or organically sourced.
Cosmetic manufacturers may also choose to use synthetic ingredients (that also happen to be vegan) because they're cheaper than natural, plant-based ingredients.
---
Are Vegan Cosmetics Expensive?
---
Are Vegan Cosmetics Better?
Not always. — Often, the "vegan" label on cosmetics is used by marketers as nothing more than a buzzword to try and sell you their products.
Just because something is labeled as "Vegan" doesn't mean it automatically gets a stamp of approval for quality, effectiveness, or value.
When making the switch to vegan cosmetics, buy as you would with any other beauty products. Read reviews, ask your friends and family for recommendations, and do your research.
---
Why Choose Vegan Beauty Products?
By choosing to buy cosmetics that don't contain animal ingredients, we're voting with our dollars for a cruelty-free future where no animal should have to suffer or die for the sake of beauty!
---
Where to Buy Vegan Beauty Products?
---