This post may contain affiliate links.
A recent Nielsen survey shows that among all the marketing messages and claims on beauty products, consumers care most about products not tested on animals.
When it comes to claims in the beauty aisle, consumers appear most invested in animal welfare, as "not tested on animals" was the most important packaging claim among those surveyed (57%), followed by SPF (sun protection factor) related claims (56%). (source: Nielsen)
Hopefully companies will see this as an opportunity to help motivate them to get their sh*t together and stop intentionally hurting animals already!

But the news also set off alarm bells in my head -because instead of changing their animal testing policies, some companies may choose to capitalize on the trend by simply slapping a "cruelty-free" label on their packages as they learn "cruelty-free" is the latest marketing buzzword that consumers will buy into.
This is problematic because there are no industry standard definitions for the term "cruelty-free", so anyone – and we mean anybody – can make claims that their products are cruelty free and not tested on animals when that's not the case. You can read more about how companies jump through loopholes and get away with making these false and misleading claims, here.
How do we manage to avoid falling into their traps and find truly cruelty-free brands? Here's a helpful checklist: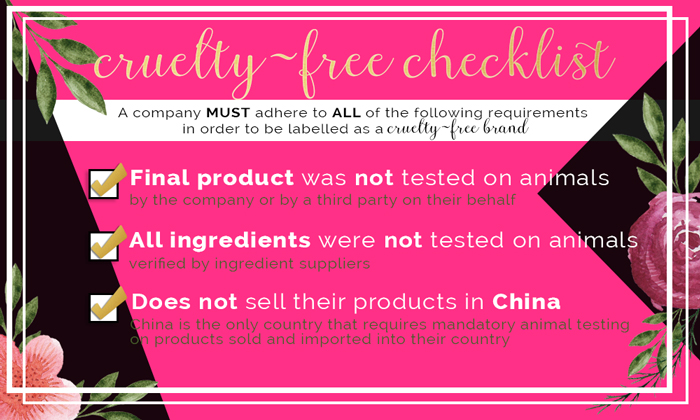 Cruelty-Free Checklist
In order for a company to qualify as a cruelty-free brand, they must:
NOT test the final product on animals
The final product that consumers buy must not be tested on animals by the company or by a third party on their behalf, as of a fixed cut off date.
NOT test any ingredients on animals
Most product testing occurs at the ingredient level therefore companies must not perform any animal tests on each and every raw ingredient or commission a third party to do so on their behalf, as of a fixed cut off date. Suppliers and manufacturers must verify and conform to the same no animal testing policy. Cruelty free companies also must not use new ingredients that would lead to new animal testing.
NOT sell their products in China
Companies must not sell their products in countries that require animal testing. China is currently the only country that requires mandatory animal testing on products sold and imported into their country.
If a brand does not meet ALL three of these requirements, sadly they are not cruelty-free.
Email your favourite companies and make sure they meet all of the requirements in the cruelty free checklist or look for the Leaping Bunny logo on product packaging to be sure that you're supporting companies that care about animals!