This post may contain affiliate links that at no additional cost to you, I may earn a small commission.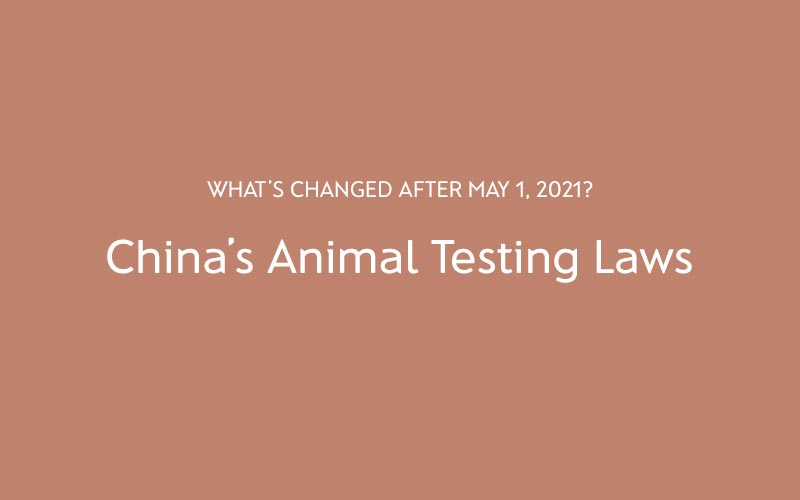 On May 1, 2021, China implemented updates and changes to its animal testing laws. Under the new regulations, some cosmetics may qualify to be exempt from their animal testing requirements.
Note that the changes do not apply to all cosmetics and that cosmetic companies will need to jump through hoops before they can be exempt from China's animal testing requirements.
This can be confusing to understand from a consumer standpoint. So, I've created an infographic to help illustrate and navigate through China's latest animal testing laws.
You're welcome to share the infographic but please do not edit, crop, translate, or modify the original image in any form.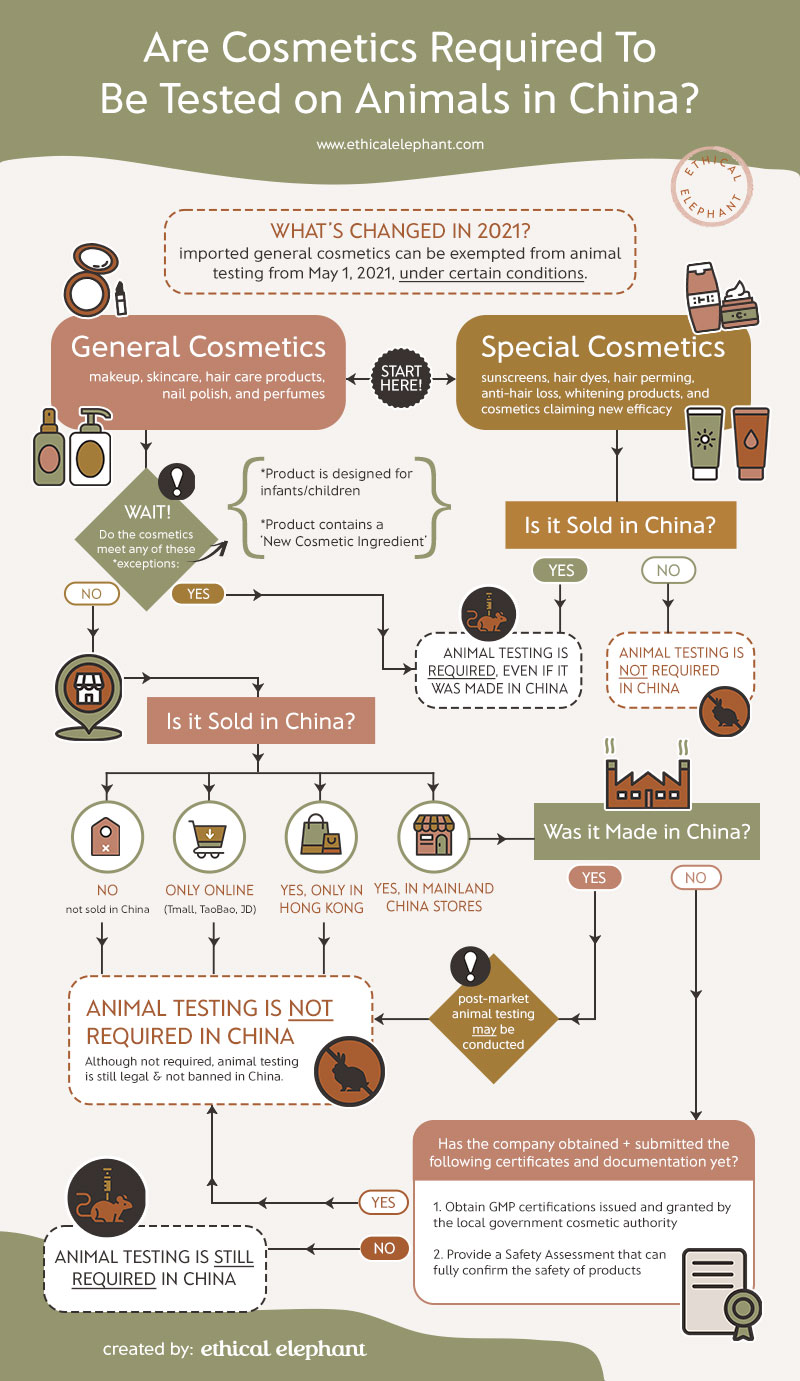 China & Animal Testing FAQ's
See below for a list of frequently asked questions I get about China's animal testing laws:
What's the difference between General Cosmetics vs. Special Cosmetics?
Special Cosmetics (or Special-Use Cosmetics) are products that make a functional claim like hair dyes, hair perming products, sunscreens, whitening products, anti-hair loss, and cosmetics claiming new efficacy.
General Cosmetics (or Ordinary Cosmetics or Non-Special-Use Cosmetics) are pretty much everything else and include makeup, skincare, hair care products, nail polish, and perfumes.
Are cosmetics 'Made in China' required to be tested on animals?
No. Just because a cosmetic company is manufacturing their cosmetics in China does not mean they are required to test on animals. In fact, since 2014, general cosmetics that are manufactured and sold in China do not require pre-market animal testing, if reliable safety assessment reports are provided.
Animal tests are only required for cosmetics that are imported and sold in China.
A cosmetic company says they only sell online to China, are they required to test on animals?
No. As long as the company is only selling their cosmetics online and then shipping directly to their customers in China, they are not required to test on animals. The same goes for cosmetics sold on an online Chinese shopping website like Tmall, Taobao, or JD, which do not require animal testing.
Animal tests are required for cosmetics that are sold in physical stores (and not online) in mainland China.
Are cosmetics sold in Hong Kong required to be tested on animals?
No. Since Hong Kong is not part of mainland China they don't have the same animal testing laws. Cosmetic companies can choose to only sell in Hong Kong stores and will not be required to test on animals.
What is post-market animal testing?
Post-market testing is conducted after the cosmetic product is already sold on store shelves in mainland China. It's the opposite of Pre-market testing, where tests are conducted before the products are available for sale.
Post-market testing in China may be conducted in the event of a customer complaint or to check to see if the product sitting on store shelves is authentic and is the same as what's in their records.
Currently, there are conflicting opinions on whether post-market testing in China is still conducted on animal test subjects. Read more about this complex topic here. It seems like it's rare and hasn't happened in years but it's not excluded.
Are sunscreens and hair dyes sold in China required to be tested on animals?
Yes. Sunscreens and hair dyes are considered Special-Use Cosmetics and if they're sold in China, they are still required by law to be tested on animals.
So, does that mean a brand's 'general cosmetics' can be considered cruelty-free but just not their sunscreens and hair dyes?
When we evaluate brands to determine if they're cruelty-free or not, we generally look at the overall brand and not individual products. If a brand sells some of their 'Special-Use Cosmetics' in China, they are choosing to engage and pay to have those products tested on animals. Therefore, we wouldn't consider the brand to be cruelty-free even if they sell some General Cosmetics that may be exempt from animal testing. Brands can't be 78% cruelty-free, it's either 100% or not.
Does this mean a lot of brands are now considered cruelty-free that have been selling in China all these years (like MAC Cosmetics, L'Oreal, Estee Lauder, Aveeno)?
No. Companies will need to obtain and submit specific certificates and documents from very specific authorities in order to be exempt from China's animal testing requirements.
In other words, companies will need to jump through hoops and hurdles before they can import and sell their cosmetics in China while avoiding new animal tests.
Only cosmetic companies that are willing and able to go through the proper process will be considered cruelty-free in the future.
Is animal testing for cosmetics in China banned in 2021?
No. China has not banned or made it illegal to test cosmetics or their ingredients on animals. These new changes have only lifted the requirement for some (not all) cosmetics imported and sold in their country.
Although it's not required for some cosmetics, it's still not illegal if companies or suppliers choose to conduct animal tests in China.
So, what's changed then?
General imported cosmetics can be exempted from China's animal testing requirements after May 1, 2021, but only if they qualify under the permitted cosmetic category and they have the proper certificates and documentation from the proper authority.
Has any cosmetic company been able to qualify for exemption yet? Not that I've heard of but things may change in the coming months as we learn more about the requirements.
Further Reading on China's Animal Testing Laws:
---
*Important Note: We can address China's animal testing laws and regulations without criticizing the country, its culture, or its people. Or bring up the virus. I will not tolerate any comments that have racist or xenophobic undertones and will delete such comments from my site.
---