This post may contain affiliate links that at no additional cost to you, I may earn a small commission.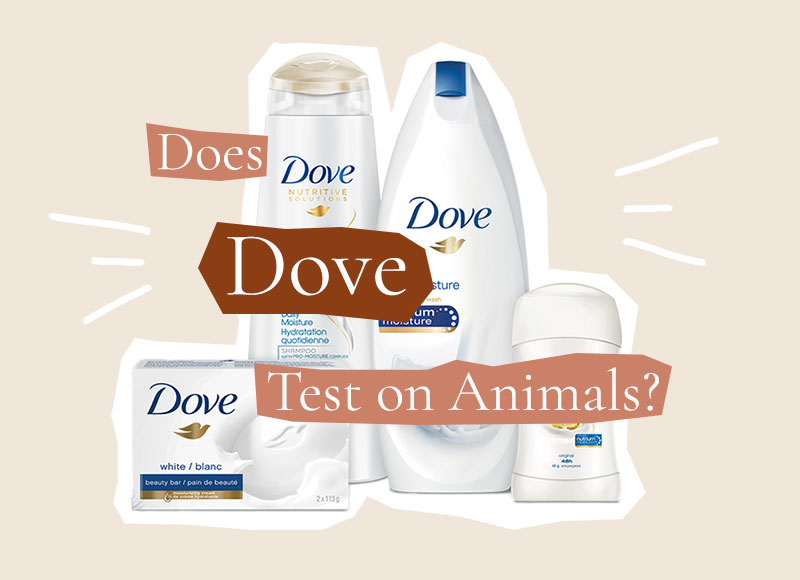 Dove is a personal care brand owned by Unilever. Dove is also known for their real women and real beauty campaigns. But is Dove cruelty-free, vegan or sustainable in 2022? Here's everything we know!
Is Dove Cruelty-Free?
Dove does not test any of its products or ingredients on animals or ask others to test on its behalf. However, Dove sells some of its domestically-manufactured products in China. By doing so, many cruelty-free consumers are concerned about the risk of post-market animal testing conducted on Dove's products while selling in China.

However, it is currently unclear whether post-market testing in China is still being conducted on animals. Therefore, Dove is on our Grey Area Brands List until we can be sure that post-market testing isn't being conducted on animals in China.

It should also be noted that Dove is owned by Unilever, a parent corporation that does tests on animals when required by law.
Dove's Animal Testing Policy
Below is a screenshot of Dove's official animal testing statement found on their website: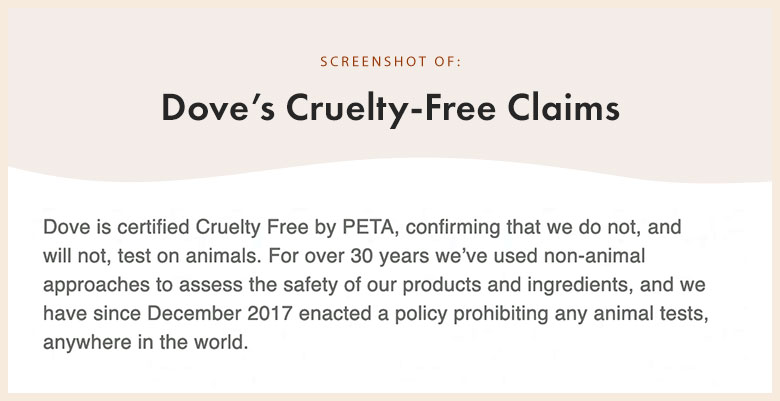 Dove claims they do not test on animals and since December 2017, they have a policy prohibiting any animal tests.
Dove is Certified by PETA
In 2018, Dove became certified cruelty-free by animal rights organization, PETA through its Beauty Without Bunnies Program. This means Dove has met PETA's standards of what they classify as 'cruelty-free'.
But compared to other third-party cruelty-free certifications, PETA has the laxest and less strict set of standards. For example, PETA does not require documentation from suppliers or perform audits, and it doesn't require brands to go through a re-accreditation process.
Read More: What's the Difference Between Cruelty-Free Bunny Logos?
And the main difference between PETA's standards compared to other cruelty-free certification programs, like Leaping Bunny and Choose Cruelty-Free, is PETA allows approved brands to sell their products in China.
Why is this a problem?
China is one of the few countries that require most imported cosmetics to be tested on animals. Because Dove's products are sold in China, we need to ask if their products require animal tests according to China's current animal testing laws.
Is Dove Sold in China?
On Dove's website, they admit their products are indeed sold in China and acknowledge that Chinese law requires animal testing.
"As you may or may not know, the Chinese government requires animal testing of products not made in China before they're released for purchase in China. While we disagree with the stance they've taken — and we'd be happy to show them why it's unnecessary — we nonetheless respect their position. This is why we've stopped importing products into China that weren't made there." (Source)
Dove is different from other brands selling in China because they claim to no longer be importing their products into China. They claim their products that are sold in China are made in China. Why does this matter?
As of 2014, ordinary or non-special-use cosmetics manufactured & sold in China are no longer required to be tested on animals.
Note: this only applies to 'non-special use cosmetics' like body lotions, lipsticks, and nail polish. But all special-use cosmetics like sunscreens, whitening products, hair dyes, antiperspirants, and cosmetics claiming new efficacy are all still required to be tested on animals in China.
Dove seemed to have bypassed China's mandatory animal tests on cosmetics by manufacturing their non-special-use cosmetics in China.
This is also confirmed by Dove in an email response when I asked for further clarifications:
"Thank you for contacting Dove. The Chinese Authorities changed their regulations in 2014, and now allow for certain types of cosmetic products that are manufactured in China not to require animal testing.

From December 2017 onwards, we are no longer importing new products into China that would require animal testing according to Chinese regulations. All the products Dove launching in China in the future will fall in the category where animal testing is not a requirement, or will be sold through cross-border e-commerce channels which do not require animal testing by Chinese authorities.
By no longer importing products into China and moving their manufacturing of non-special use cosmetics to China allows Dove to sell in China without pre-market animal testing.
But the issue of post-market testing is where many consumers are concerned with Dove selling in China.
Post-Market Testing in China
Post-market testing is conducted after the product is already sold on store shelves in China.
This is where they'll randomly test products to make sure products sold to customers is consistent with the one in their records. But this no longer involves animal test subjects.
In the event of a customer complaint, Chinese officials will administer product safety tests which may or may not involve animal test subjects.
I asked Dove about the risk of post-market testing and how they're handling these concerns. They told me,
"Post-market testing would only be required in the rare occurrence of a serious consumer safety concern. We have requested to the Chinese Authorities that they notify us if there were such a concern, so we can withdraw the product rather than it be subject to animal testing.

For background:
We are not aware of any post-market animal testing ever having been conducted on a Unilever product
The Chinese and UK authorities have assured us that this testing is hypothetical (all government authorities reserve the right to do this in market incident situations)
Any analysis/testing would only be considered if there were a serious consumer safety incident, and we would engage in dialogue on how product safety had been assessed prior to any testing be carried out
As part of the PETA accreditation of Dove a letter was sent to Chinese authorities requesting that, in the unlikely event of post-market testing being suggested on a Dove product, that we are notified prior to any testing so that we can withdraw that product. "
This is where it gets murky and complex. Currently, there's a lot of opinions about whether post-market testing in China is still being conducted on animal test subjects or not.
Some sources say it hasn't been done in years and it's all public record. And in the unlikely and rare event that it is requested, brands will have the opportunity to recall their products before allowing officials to test them on animals.
Read More: The Truth About Post-Market Animal Testing in China
While others still see it as a risk and there's no 100% guarantee that post-market testing is never conducted on animals for cosmetics sold in China.
I've tried doing my own extensive research on the topic of post-market testing in China and it was hard to find current, reliable sources that explicitly state animals are never used for post-market tests anymore. All the articles I read kept repeating that it's unlikely, it's rare, it hasn't been done in years, but if it ever does happen, hypothetically speaking, companies can recall their products.
Because it's uncertain whether China's post-market testing still uses animal test subjects, I am unable to classify Dove as being cruelty-free at this time. For those reasons, Dove is included in our Grey Area Brands List.
Is Dove Vegan?
Dove uses animal-derived ingredients & by-products in its products, therefore Dove is not vegan.
Dove states on its website they are "exploring routes to offer vegan Dove products to cut down on our animal reliance overall. (Source)
But in order to be classified as Vegan by our standards, we require brands to confirm their products and ingredients aren't tested on animals, anywhere in the world. Since I was unable to confirm with certainty that Dove is cruelty-free or not, I would not consider anything produced or sold by Dove to be vegan at this time.
Is Dove Sustainable?
Dove's headquarters is based in: the UK
Dove's products are manufactured in: Around the world
Sustainability & Environmental Initiatives: They claim, "Dove is completely committed to creating sustainably and ethically sourced products. That's why our Responsible Sourcing Policy and Sustainable Agriculture Code means we only work with suppliers who stick to the same high standards we impose on ourselves: from workers' rights to protecting land rights." (Source)
Eco-Friendly Packaging Initiatives: Dove's committed to reducing its use of virgin plastic by more than 20,500 tonnes a year. They're working on making their beauty bars' packaging to be plastic-free and launching new 100% recycled plastic bottles. And they also have a refillable deodorant. (Source)
Giving Back Initiatives: During the pandemic, Dove claims to have donated over $7.5 million globally. Providing personal care and beauty products to front-line medical workers and hospitals. (Source)
---
I hope this article helped you to understand Dove's cruelty-free and vegan status and by choosing cruelty-free together, we can help end animal testing for cosmetics once and for all!