This post may contain affiliate links that at no additional cost to you, I may earn a small commission.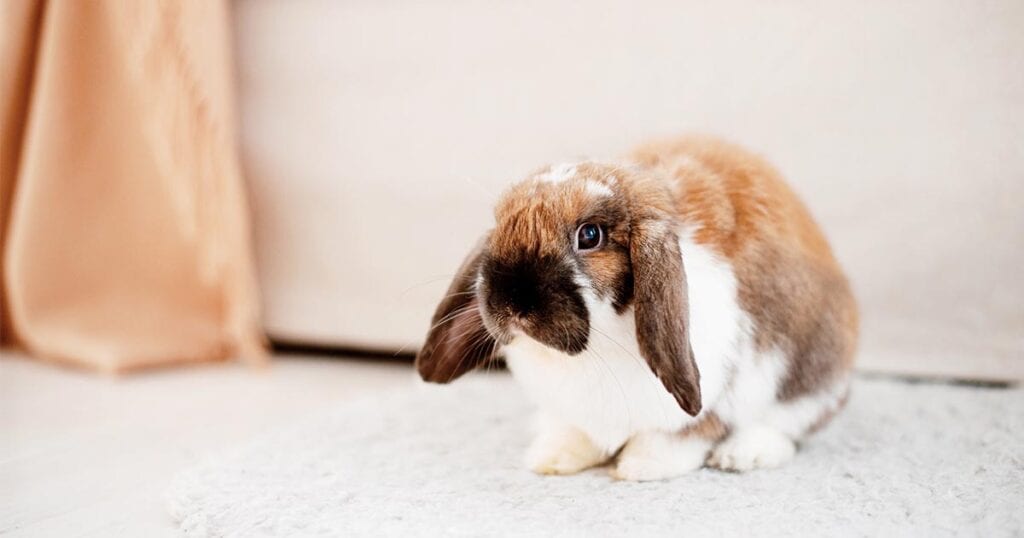 There's been a lot of confusion about China's animal testing laws for cosmetics in 2021, especially with their most recent changes that came into effect on Jan 1, 2021.
In this post, I'll be walking you through everything you need to know about China's animal testing laws in 2021. Including a brief history of China's mandatory animal testing regulations, how they define cosmetics, the risk of post-market testing, and the current state of animal testing for cosmetics in China.
China is the only country that requires cosmetics to be tested on animals and they have the second-largest beauty market so it's important we familiarize ourselves with their laws to ensure the cruelty-free companies we buy from in our region aren't testing on animals elsewhere in the world.
A Comprehensive Breakdown of China's Animal Testing Laws:
History of China's Animal Testing Laws 2012-Present
In 2012, it was revealed that cosmetics sold in China were required to be tested on animals. As a result, cosmetic companies had to choose between sticking to their cruelty-free values or prioritize profits by allowing their products to be animal-tested. Unfortunately, some brands like L'Occitane, Yves Rocher, and Caudalie chose the latter thereby losing their cruelty-free designations.
During this time, all cosmetics brands wanting to sell in China had to submit a sample of their products to a Chinese lab to be animal-tested upon registration. Even if those same products and their ingredients were already proven safe using non-animal testing methods in their local markets. Companies were required to provide a sample of their products to be tested on animals before they can sell in China.
The rule was simple, if you wanted to sell in China, you had to agree to and pay Chinese scientists to test your products in Chinese labs.
But good news came in 2014 when China changed their animal testing requirements allowing domestically-manufactured non-special use cosmetics to be exempt from their animal testing requirements if reliable safety assessment reports were provided.
And effective on Jan 1, 2021, China made some major changes to its animal testing laws lifting the mandatory animal testing requirements for some imported cosmetics.
But before we get into China's animal testing laws in 2021, we first need to understand that China divides cosmetics into two categories: Special-Use and Non-Special Use Cosmetic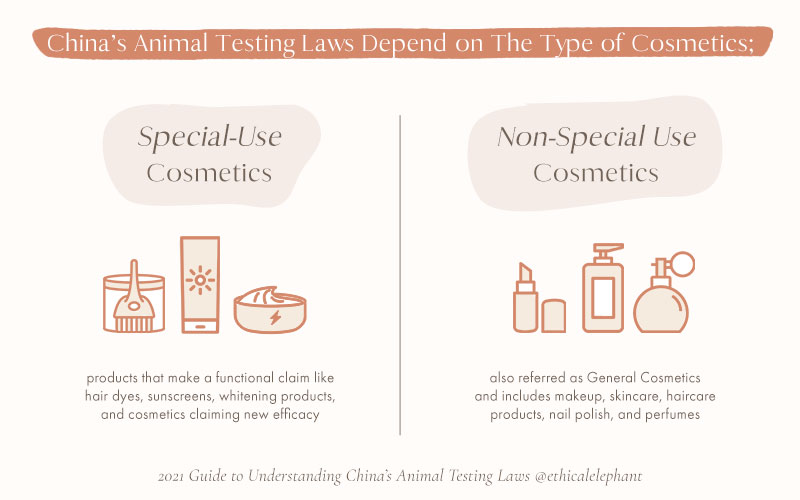 Special-Use Cosmetics
Special-Use Cosmetics are products that make a functional claim like hair dyes, hair perming products, sunscreens, whitening products, anti-hair loss and cosmetics claiming new efficacy.
Special-Use Cosmetics are still required to be tested on animals. That also includes special-use cosmetics that were manufactured or made in China.
If it's sold in China and it's considered a special-use cosmetic, then animal testing is required by law, regardless if it was made in China.
Non-Special Use Cosmetics
Non-Special Use Cosmetics, sometimes referred to as Ordinary or General Cosmetics, are pretty much everything else and include makeup, skincare, hair care products, nail polish, and perfumes.
Also, toothpaste is now considered an Ordinary Cosmetics according to China. However, for some reason, body soaps are not classified as cosmetics in China.
The changes to China's animal testing laws only apply to Ordinary Cosmetics.
Ordinary Cosmetics That Require Animal Tests
China's new animal testing requirements do NOT exempt ALL ordinary cosmetics from animal testing.
Animal tests are required for ordinary cosmetics if they meet at least one of the following:
Products are marketed or designed for infants and/or children
Products that contain a 'new cosmetic ingredient'
The notifier/RP/manufacturer is listed as a key supervision target according to the results of the quantitative rating system established by the NMPA
If any of the above conditions apply, companies will be required to conduct animal testing. This article from ChemLinked has more information if you want to learn more.
If a company's product doesn't fall into one of the above criteria then they may qualify to be exempt from animal testing in 2021, but only if they meet a set of pre-conditions.
How Can a Company Avoid Animal Testing in China?
Foreign cosmetics companies wanting to import and sell their non-special use cosmetics in China without pre-market animal testing must meet two specific pre-conditions:
Obtain GMP certifications issued and granted by the local government cosmetic authority
Provide a Safety Assessment that can fully confirm the safety of products
I spoke to a few US-based cruelty-free brands and they told me obtaining these certifications and safety assessments have proven difficult.
The GMP certifications must be issued by the local government, however, in some regions, it's uncommon for a government entity to issue these certificates. It's usually issued by cosmetic associations or international standardization organizations.
However, France recently announced they have set up an online platform allowing manufacturers and French cosmetic companies to obtain these certificates. So, we may see other countries in the EU and the UK following suit.
But it's unclear whether the Chinese government will recognize these certificates and safety assessments issued by foreign institutions.
For now, I have not heard of any cosmetics brands that have successfully been approved to export and sell their non-special use cosmetics in China without animal testing.
Where Cosmetics are Sold in China Matters
Also, China's animal testing laws do not apply to all ordinary cosmetics that are sold in China. The laws depend on how and where cosmetics companies choose to distribute their products to Chinese consumers.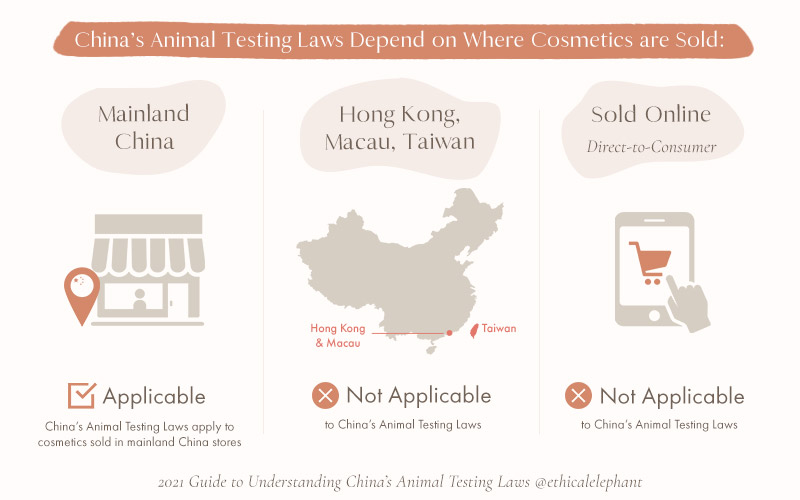 Hong Kong, Macau, and Taiwan – Cosmetics can be imported and sold in these regions without animal testing. That's because Hong Kong and Macau are not part of mainland China and they don't have the same animal testing laws as mainland China. And because I get asked this a lot, Taiwan is not part of China, in fact, Taiwan has banned cosmetic animal testing for both finished products and cosmetic ingredients in 2019.
Sold Online – Cosmetics that are sold direct-to-consumer through cross border e-commerce sites have never been required to test on animals. That includes companies selling from their own website or on an online Chinese retailers' website like Tmall, TaoBao, and JD, in which products are shipped directly to consumers and therefore they do not need to be tested on animals.
Mainland China – China's animal testing requirements mostly apply to cosmetics that are sold in physical retail stores in mainland China. If a company's cosmetic products are marketed on a store shelf in any mainland China store, then they had to file and register their products & ingredients in China which may have required animal testing.
This is why I specifically ask brands whether they sell in stores in mainland China.
What About Cosmetics 'Made in China'
This is perhaps one of the most common questions I get asked, whether cosmetics that are made in China are required to be tested on animals?
Cosmetics that are made in China but not sold in China were never required to be tested on animals. For example, ELF Cosmetics is an American cosmetics company that makes most of its products in China. However, since they are not selling their products in China, they were never required to test on animals.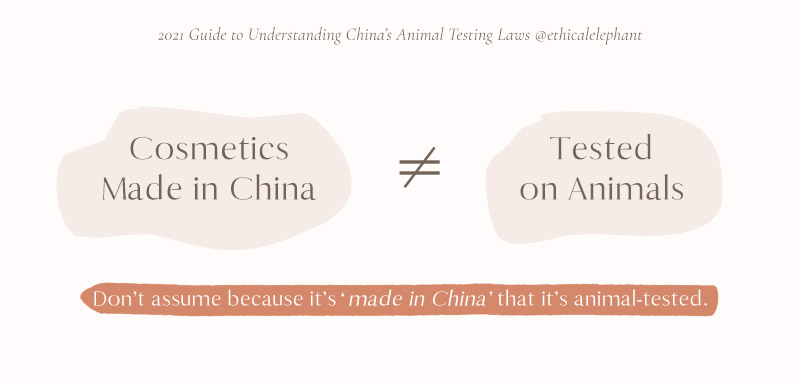 But what about cosmetics that are sold and made in China?
In 2014, China updated their animal testing laws allowing domestically-manufactured ordinary cosmetics to be exempt from pre-market testing if reliable safety assessments were provided.
Many cruelty-free brands like Wet n Wild, Physicians Formula, Nudestix, First Aid Beauty, and Jack Black saw this as an opportunity to expand into China while remaining true to their cruelty-free philosophy.
These brands were able to bypass China's pre-market testing requirements by manufacturing the products they intended to sell in mainland China in a local facility.
Moving the manufacturing or final product assembly of their ordinary cosmetics to China allowed brands to avoid China's pre-market animal testing requirements.
However, some animal rights organizations and experts weren't celebrating yet as the risk of post-market animal tests was still a possibility.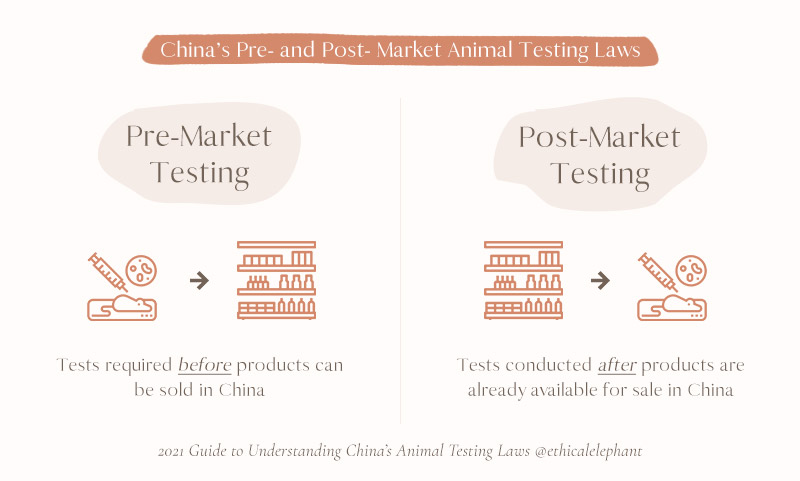 Post-Market & Pre-Market Testing
Post-market surveillance testing is conducted after product registration has been approved and the product is already marketed on store shelves in China. This is where they'll randomly test products to make sure that the products sold to customers are authentic and consistent with what's in their records.
Or in the event of a customer complaint, Chinese officials will administer product safety tests which may or may not involve animal test subjects.
But many experts and organizations have conflicting opinions on whether post-market tests are still being conducted on animals.
In 2019, it was announced that post-market testing in China will not include animal tests and it was also reported that post-market testing hasn't been conducted on animals in years and that it's all public record.
Additionally, some cruelty-free brands that are currently selling domestically-manufactured ordinary cosmetics in China have policies in place that in the event that their products are being investigated, they will pull their products from shelves than allow officials to test them on animals.
On the other hand, some cruelty-free consumers aren't comfortable with supporting any brand that chooses to put their products at risk of being tested on animals in China, since China's regulations do not explicitly exclude the use of animals in post-market testing and it's not 100% guaranteed.
Has China Banned Animal Testing in 2021?
Absolutely not. China has not banned animal testing for cosmetics, nor are they even close to calling a ban.
All of these changes we're discussing is an effort to loosening the legal requirements of animal tests on some cosmetics, but not for all cosmetics sold in China.
Even though it may not be required for cosmetic companies to test on animals, it's still not illegal if companies or suppliers choose to conduct animal tests in China.
Cruelty-Free Cosmetics in China: What Now?
Prior to these 2021 changes, there was a super simple rule that we went by, if a cosmetic brand imports and sells any of their cosmetics products in China, they had to test on animals and therefore, they could not be cruelty-free.
Now with the recent changes, it's gotten a lot more complex.
I think it will no longer be a matter of asking brands if they sell in mainland China to determine if their products are cruelty-free or animal-tested.
I think we will have to evaluate each brand on a case-by-case basis. And the brands that are fully compliant and transparent with us will be reconsidered as being cruelty-free by our standards.
But we'll just have to wait and see for further developments and if these new regulations in China will lead us to a cruelty-free world where no animals are harmed for the sake of beauty!