This post may contain affiliate links that at no additional cost to you, I may earn a small commission.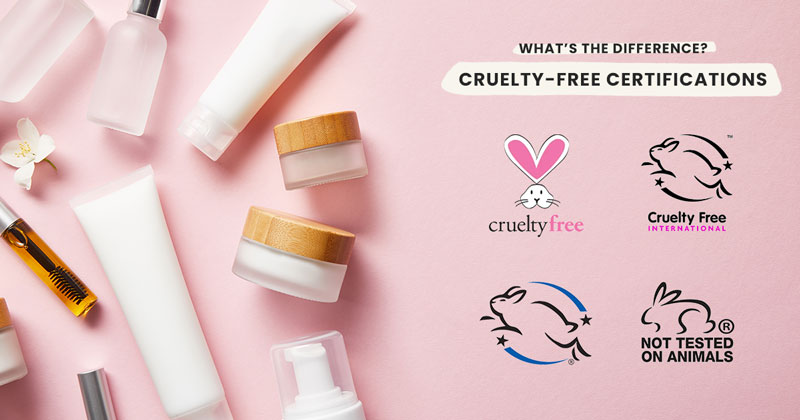 This post explains and compares the differences between the many cruelty-free logos commonly found on cosmetics, personal care, and household cleaning products in 2022.
Here, you will find a comprehensive guide, breaking down exactly how each third-party cruelty-free certification differs from one another. By the end of this guide, you will hopefully better understand which cruelty-free logo to trust so that you can make informed and better cruelty-free choices.
Know Your Cruelty-Free Bunny Logos
Let's first begin by distinguishing the differences between unofficial or 'fake' cruelty-free bunny logos vs. certified cruelty-free logos accredited by a third-party organization.
Below are some unofficial 'cruelty-free' bunny logos that we just made up. I took some cute unlicensed bunny icons I found on the web. And to make it look legit, I used my basic Photoshop skills and added some unregulated terms like "Cruelty-Free," "Not Tested on Animals," and "No Animal Testing" to them. If I can do this, anyone can as well.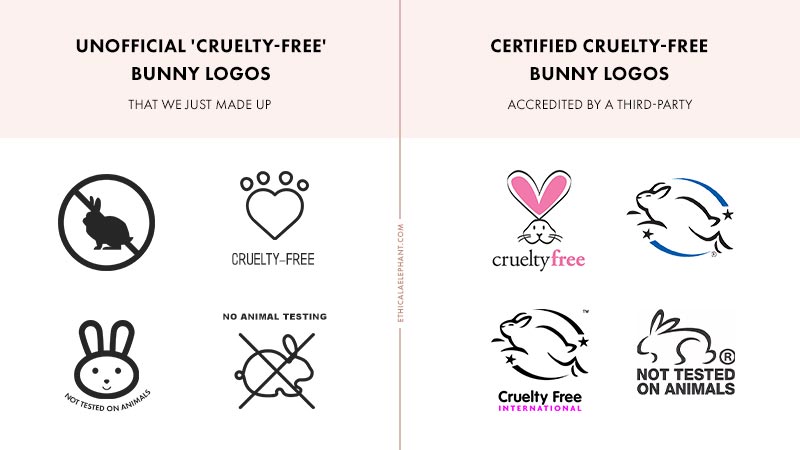 As a result, these unofficial bunny logos mean nothing. They're cute to look at but remember that they're designed and marketed by the same people trying to sell you their products. So, you must do your research and look beyond the cute bunny symbols.
On the other hand, the certified cruelty-free bunny logos on the right are accredited and licensed by a third-party organization. Applying companies must meet a set of cruelty-free standards, sign legal documents, and submit documentation to ensure compliance.
But not all certified cruelty-free logos are the same.
Certified Cruelty-Free Logos
There are currently three organizations issuing cruelty-free certifications, and they are: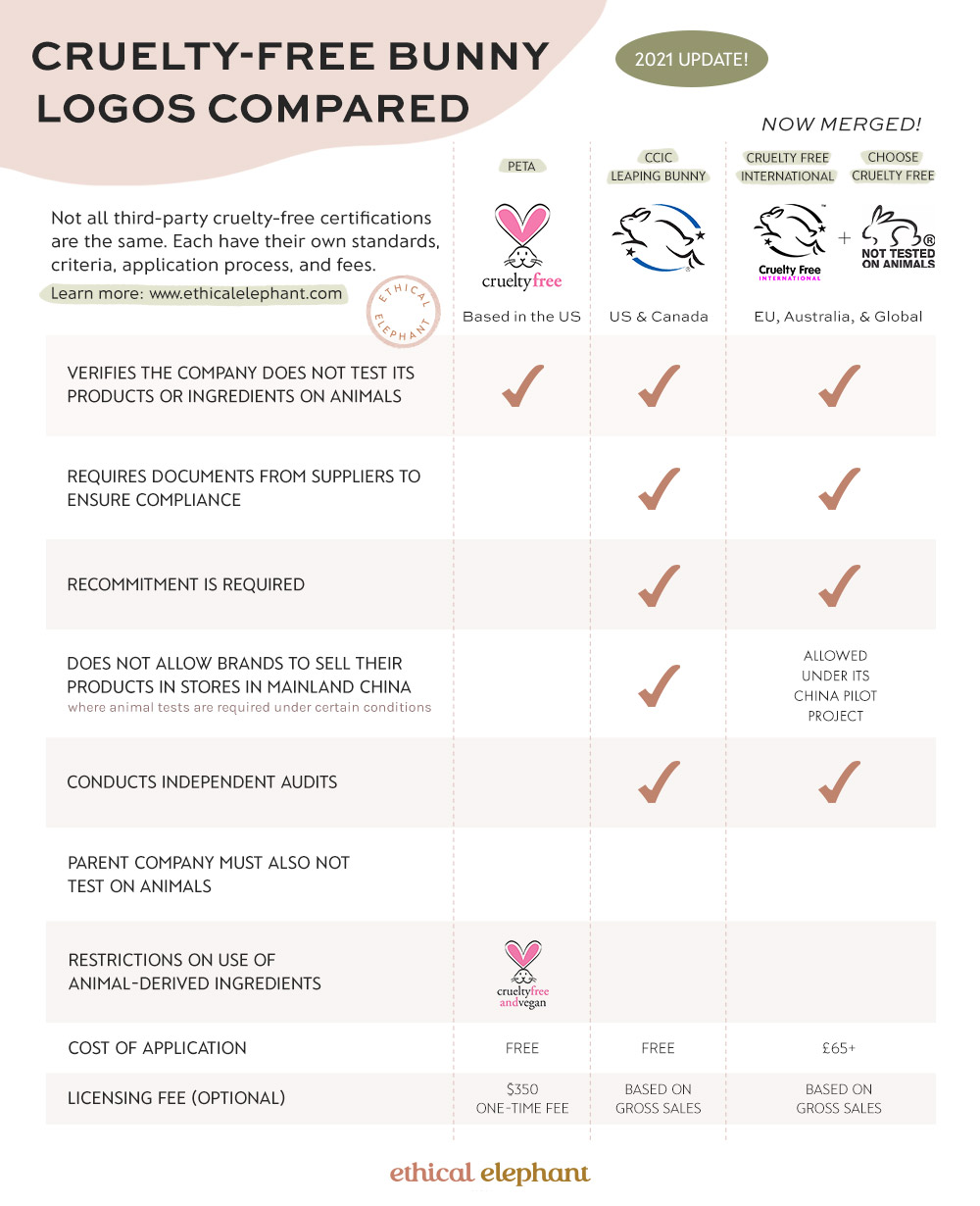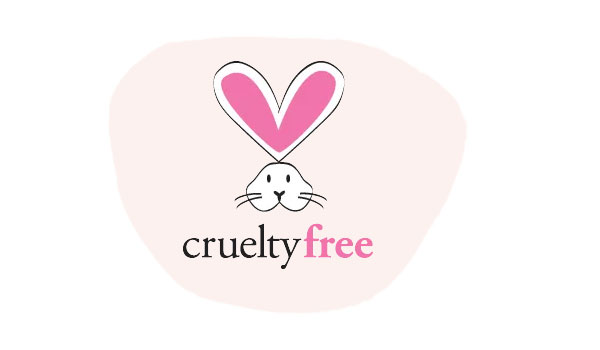 PETA's Beauty Without Bunnies
With over 5,000 brands certified by PETA's Beauty Without Bunnies Program, this makes it one of the most well-known third-party cruelty-free certifications. PETA is based in the US, but they certify brands across the world.
PETA's Cruelty-Free Standards
To apply, brands must fill out a short questionnaire and submit a statement of assurance signed by the CEO. Verifying that the company and its ingredient suppliers don't conduct, commission, pay for, or allow any tests on animals for ingredients, formulations, or finished products anywhere in the world and won't do so in the future.
In addition, PETA states they require:
"Companies applying to the program must also submit detailed paperwork that describes how the companies test their products, where they are sold, what kinds of products they offer, and what kinds of ingredients they use. We also require all companies to have agreements in place with their suppliers that no animal testing is done at any stage on any of the ingredients or raw materials that they supply to the company for its products."
Jen from My Beauty Bunny recently interviewed Kathy Guillermo, Senior Vice President of PETA's Laboratory Investigations Department. In her post, she confirmed that PETA does not require documents from suppliers, and instead, they require brands to have language in place with every supplier that mandates a no animal testing policy.
Unlike the Leaping Bunny Program, PETA does not require brands to submit documents from their suppliers, nor does PETA conduct audits to ensure compliance. Therefore the legitimacy of PETA's standards depends on the honesty and accuracy of written statements made by the brand.
In the past, Suzi from Cruelty-Free Kitty exposed a PETA-certified brand who told her they were unable to confirm all of their suppliers don't test on animals. This makes me question and reconsider trusting PETA's cruelty-free standards.
Also, PETA-approved companies are not required to go through a re-accreditation process once they're approved. In an email, PETA told me, they "try to keep abreast of changes occurring within companies (e.g. if a company is acquired by a new parent company or starts selling in China). PETA's lists are updated frequently to reflect any additions, removals, or other changes."
PETA has also started allowing some of their PETA-certified Animal Test-Free brands to manufacture and sell their products in stores in mainland China where pre-market animal testing is no longer required. Brands can bypass China's animal testing laws if they manufacture their products in China or the final product assembly is done in China. They must not sell Special-Use Products (like sunscreens, hair dyes, hair perming products, whitening products, etc.)
PETA-approved brands that are currently manufacturing and selling their non-special use products in China are:
Dove
Herbal Essences
Wet N Wild
Physicians Formula
First Aid Beauty
Love Beauty & Planet
Eco & More
Lisa Rabbit
One of the issues with PETA-certified brands selling their products in China is the risk of post-market animal tests. Some industry experts say post-market testing in China is no longer conducted on animal test subjects. PETA claims brands would be allowed to remove their products from China if post-market animal tests are required.
From my research, it is currently unclear whether post-market animal testing in China is still an issue or not, as industry experts and organizations have conflicting opinions.
All the other third-party cruelty-free certifications do not currently allow approved brands to sell their products in China except for Cruelty Free International, where they have their own China Pilot Program (more on this later).
It should also be noted that PETA approves brands owned by non-cruelty-free parent companies that DO test on animals. For example, they have approved and certified (this is not a complete list):
Aveda (owned by Estee Lauder)
bareMinerals (owned by Shiseido)
Dermalogica (owned by Unilever)
NYX (owned by L'Oreal)
Smashbox (owned by Estee Lauder)
Tarte (owned by Kose)
Toms of Maine (owned by Colgate-Palmolive)
Note that when using PETA's online searchable database, only some brands list their parent companies in (parenthesis) next to the brand name but not all brands are labeled.
For example, when I searched NYX in PETA's database, it says (L'Oreal) after the brand name. However, when I searched Dermablend, another subsidiary brand owned by L'Oreal, there is no mention of L'Oreal in the search results.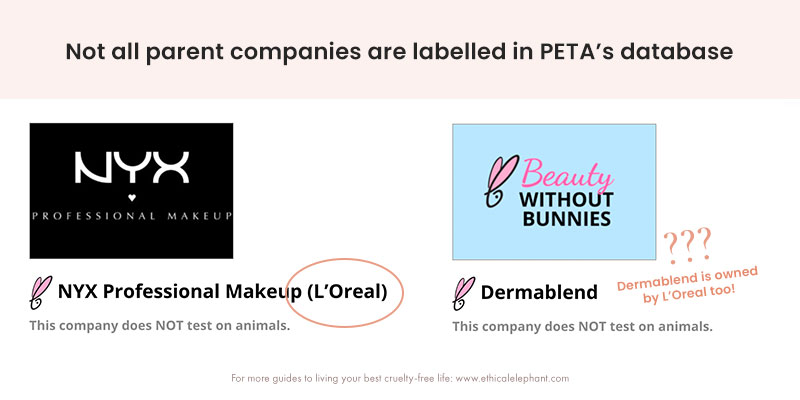 PETA's Bunny Logo
Applying for PETA's Beauty Without Bunnies Program is free, but if brands want to use their bunny logo on product packaging or marketing materials, they must pay a licensing fee.
To license and use PETA's bunny logo, companies must pay a one-time fee of $350 (I remember when it used to be $100 a few years ago!). Unlike Leaping Bunny and CCF, PETA's licensing fee is a flat rate where the other certifications license their bunny logo based on the company's gross annual sales.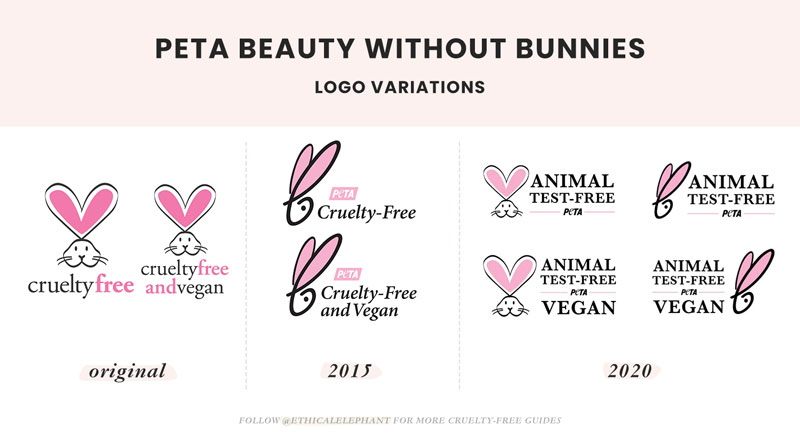 Note that PETA has several variations for their bunny logo. They changed their original logo in 2015 and again in 2020. So you may see some variations of their bunny logos used by PETA-approved brands.
I haven't seen many PETA-certified brands use their newest bunny logos yet. Many brands are still using their original bunny logo, so it doesn't appear that PETA requires all license brands to use a particular version of their logo.
PETA has also designed another logo for companies that sell their products in the EU. The EU has a marketing and sale ban of cosmetics and ingredients tested on animals. So they do not allow companies to advertise their products as 'cruelty-free'. The EU considers this misleading and that's why PETA's EU bunny logo says "PETA Approved" instead of "Animal Test-Free."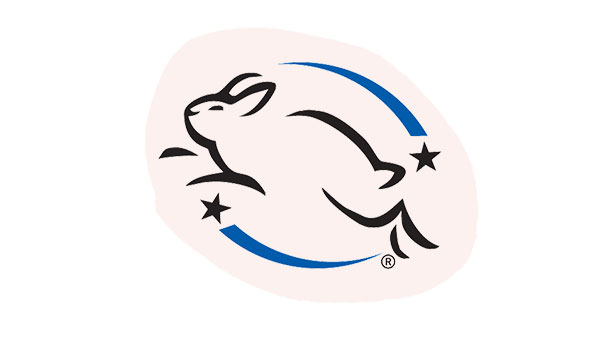 CCIC Leaping Bunny
CCIC or the Coalition for Consumer Information on Cosmetics comprises 8 national animal protection groups. Together, they work towards promoting a comprehensive standard and an internationally recognized Leaping Bunny Logo.
CCIC manages all US and Canada-based brands to become Leaping Bunny certified. All other brands with headquarters outside of the US or Canada work with their international partner, Cruelty Free International.
Leaping Bunny's Cruelty-Free Standards
What sets Leaping Bunny apart from other third-party cruelty-free certifications is their strict no animal testing standards, Supplier Monitoring System, and accredited brands must be open to independent audits.
Their Supplier Monitoring System requires companies to show and submit proof of documents that each of their suppliers complies with Leaping Bunny's standards.
Leaping Bunny also does not allow applicants to distribute their products in foreign markets that require animal testing (such as China). Certified brands must also recommit annually, and companies' may need to be audited to ensure they meet Leaping Bunny's standards.
However, note that Leaping Bunny does certify brands that are owned by a parent company that tests on animals (like Schmidt's and Seventh Generation are both certified LB, but they're owned by Unilever). Leaping Bunny states brands "must promise to operate as stand-alone subsidiaries with their own supply chains and must continue to meet the requirements of the Leaping Bunny Standard in order to remain on our list" (Source: Leaping Bunny)
It is free to apply to become Leaping Bunny certified. However, they charge a licensing fee for brands wanting to use the Leaping Bunny logo on promotional materials. This fee is based on the company's gross annual sales.
Leaping Bunny also doesn't have any restrictions on the use of animal-derived ingredients or by-products. So, Leaping Bunny-approved brands may or may not be vegan.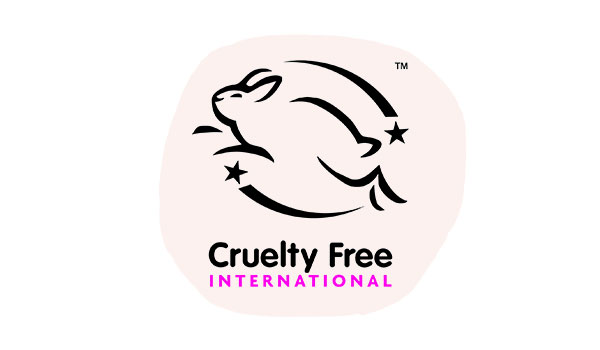 Cruelty-Free International (Leaping Bunny)
Cruelty Free International, formerly known as BUAV, works with non-US and Canadian companies to become Leaping Bunny Certified.
Cruelty-Free International and CCIC Leaping Bunny say they are the same, but I've noticed some brands listed on one list but not the other. So I thought it was important to mention you may have to check both lists. For example, Tata Harper, Aesop, and Noughty are on Cruelty Free International's brand list but not on CCIC's Leaping Bunny list. Tata Harper is based in the US, so I'm not sure why they're not listed on Leaping Bunny's US & Canada cruelty-free brand directory.
Although applying and becoming Leaping Bunny certified by CCIC for US and Canadian companies is free of charge, companies with headquarters outside of the US and Canada must register with Cruelty Free International, and they charge a registration fee. It's not exactly clear what the fee is as it's dependent on gross sales of the products being approved, but Cruelty Free International says it can start at £65 per year for the smallest brands.
Cruelty Free International China Pilot Project
In 2018, Cruelty Free International launched its China Pilot Project. Allowing the organization to closely monitor and supervise EU-based, Leaping Bunny-certified brands looking to manufacture and market their products in China while staying true to its non-animal testing ethos.
"We're thrilled that our new pilot project will provide certainty to these Leaping Bunny brands that they will be able to maintain their cruelty free status while pursuing domestic production in China free from the risk of post-market testing." – Cruelty Free International
Note that this China Pilot Program is only available for EU brands and is not available (yet) for US or Canadian brands certified by CCIC's Leaping Bunny Program.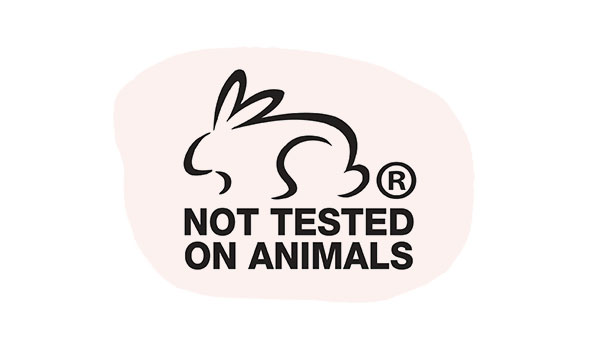 Choose Cruelty Free
Choose Cruelty Free (CCF) is an independent, non-profit organization based in Australia, and they certify cruelty-free brands that sell in Australia.
JUNE 1, 2021 UPDATE: CCF has officially merged with Cruelty Free International. As part of the merger, the CCF accreditation program will become part of the global Leaping Bunny family. All companies currently approved by CCF will be given the opportunity and support to transition to Leaping Bunny approval.
Conclusion
Not all cruelty-free bunny logos are created equal. Unofficial cruelty-free bunny logos have no merit, be cautious and do your research. There are also differences between the four third-party cruelty-free certifications currently available. They all have different standards, application processes, criteria, and fees.
Now that you know what each third-party cruelty-free certification entails, you can make an informed decision on which cruelty-free logo you can trust.
---