This post may contain affiliate links that at no additional cost to you, I may earn a small commission.
Mizani is NOT Cruelty-Free!
Mizani allows its products to be tested on animals when required by law.
Mizani's Animal Testing Policy
While researching to learn more about Mizani's cruelty-free status, I couldn't find the brand's official animal testing policy anywhere on its website.
So I reached out to Mizani to ask for more information about their animal testing policy. More specifically, I wanted to know if they commission or allow others to test their products/ingredients on animals, including when selling in countries that require animal testing (like in mainland China).
And Mizani responded by saying:
"Thank you for your interest in Mizani. Mizani has an unrelenting drive to love on your style choice and elevate your haircare experience.

At L'Oréal, we care for animal welfare and do not test on animals. We are for a world without animal testing. The L'Oréal Group, which includes Mizani, has always made our consumers' health and safety an absolute priority. Since 1989, we have not tested the safety of our products on animals, 14 years before regulations required us to do so.

There are effective non-animal ways to ensure the safety of cosmetic products. For example, over 40 years ago we led the development of human reconstructed skin that is more accurate for analyzing how cosmetic ingredients and products will behave on human skin. We continue to pioneer new non-animal methods and technologies.

For more information, please visit: https://inside-our-products.loreal.com/question-animal-testing-and-alternative-methods."
Based on their response, it turns out that L'Oreal owns Mizani. And Mizani has the same animal testing policy as L'Oreal.
However, what's missing from Mizani's response is the rest of L'Oreal's animal testing policy, which you can find on their corporate website here.
"In 1989, L'Oréal completely ceased testing its products on animals, 14 years before it was required by regulation. Today, L'Oréal no longer tests its ingredients on animals. L'Oréal no longer tolerates any exception to this rule.

Certain health authorities may nevertheless decide to conduct animal tests themselves for certain cosmetic products, as it is still the case in China. L'Oréal is the most active company working alongside the Chinese authorities and scientists for over 10 years to have alternative testing methods recognized, and permit the cosmetic regulation to evolve towards a total and definite elimination of animal testing. Thanks to this, since 2014, certain products manufactured and sold in China like shampoo, body wash or certain make-up products are no longer tested on animals."
Policies stating China's animal testing laws usually imply the company is selling its products in mainland China. That's because cosmetics sold in stores in mainland China are required by law to be tested on animals.
And that is specifically the case for L'Oreal and why L'Oreal is NOT cruelty-free. That also goes for many of L'Oreal's brands including SkinCeuticals, YSL, Lancome, Kiehl's, Giorgio Armani, La Roche-Posay, and many more selling their products in China.
Truly cruelty-free brands will never allow their products or ingredients to be tested on animals. Cruelty-free companies have a policy where if the law requires them to test on animals then they will refuse to sell their products under those conditions.
Since Mizani shares the same animal testing policy as L'Oreal, we cannot classify the brand as being cruelty-free to our standards.
Cruelty-Free Policies
At ethical elephant, we always assess a company's cruelty-free policy using our Cruelty-Free Checklist. This ensures no animal testing was performed by the brand itself, its suppliers, and by any third parties, including when required by law.
See below for our complete cruelty-free checklist.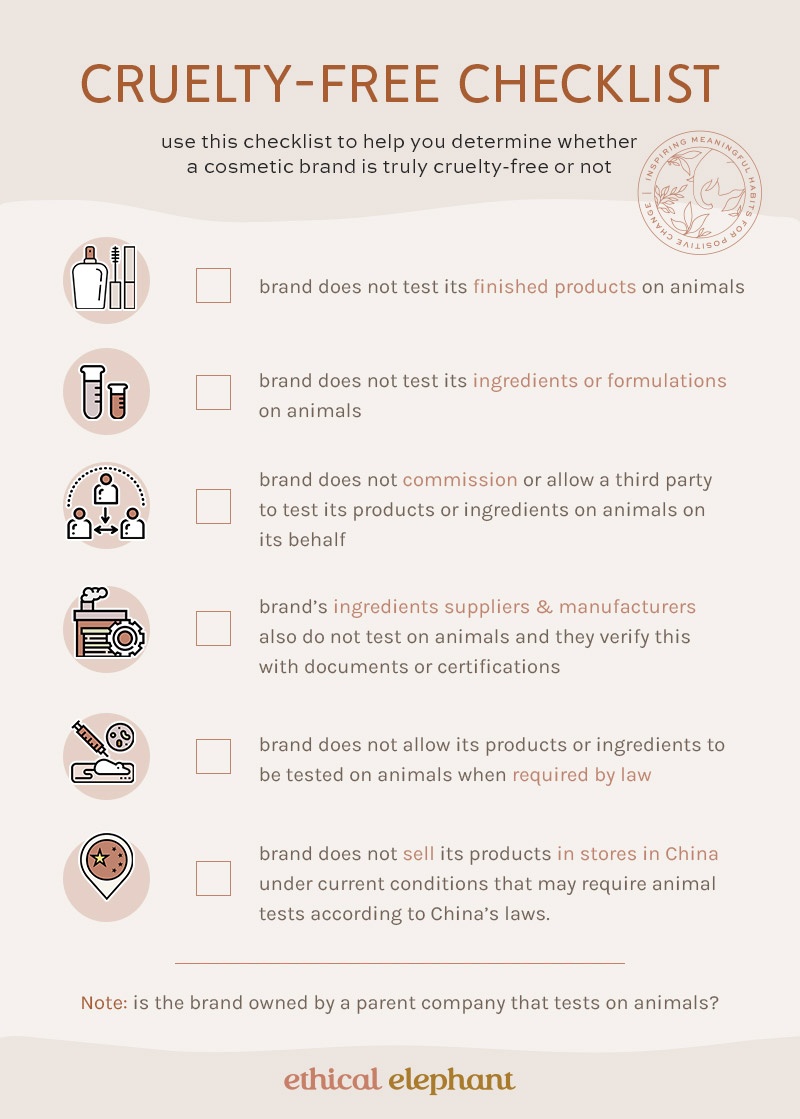 Is Mizani Certified Cruelty-Free?
Mizani is not certified cruelty-free by any third-party cruelty-free certifications like Leaping Bunny or PETA.
Because Mizani is not certified cruelty-free by a third party, no one is looking into or substantiating Mizani's cruelty-free commitments and claims.
Is Mizani Owned By A Non-Cruelty-Free Parent Company?
Yes. Mizani is owned by L'Oreal, a parent corporation that still engages in animal testing in 2022.
Some cruelty-free consumers may choose to purchase and support cruelty-free brands owned by animal-tested parent corporations as they hope it will convince the parent company to become cruelty-free.
But in this case, Mizani is NOT cruelty-free and neither is its parent corporation, L'Oreal.
Is Mizani Cruelty-Free?
To sum up, Mizani shares the same animal testing policy as L'Oreal. Therefore, we would NOT consider Mizani to be a cruelty-free brand.
Currently, Mizani is on our List of Brands to Avoid – Animal Tested.
Is Mizani Vegan?
Mizani does not claim or market itself to offer any vegan-friendly options. And since Mizani engages in animal testing, we wouldn't consider anything sold or produced by Mizani to be vegan anyways.
In order for products to be considered vegan by ethical elephant's standards, the products and their ingredients must not be tested on animals anywhere in the world. Also, they must not contain any animal-derived ingredients or by-products.
Cruelty-Free Alternatives to Mizani
Looking to switch to cruelty-free hair products? Here are some cruelty-free brands to check out: