This post may contain affiliate links.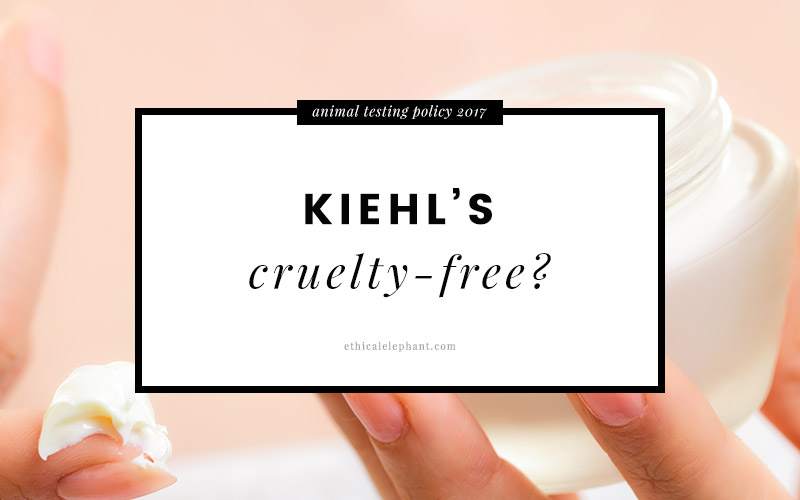 Most consumers believe when a brand tends to use more "natural" ingredients in their products, that the company is also consciously against using animals to test their so-called "natural" products.
That's a popular belief about the personal care brand, Kiehl's. However after some digging, I discovered the truth about Kiehl's stance on animal testing.
Is Kiehl's Cruelty-Free?
Answer:
No. Unfortunately Kiehl's is not cruelty-free. Kiehl's unfortunately sells in Mainland China and therefore they consent to have their products tested on animals by Chinese local authorities.
It should also be noted that Kiehl's is owned by L'Oreal, a corporation that continues to test on animals.
Related: Reasons to Support or Boycott Cruelty-Free Brands Owned by Parent Company
Kiehl's Animal Testing Policy (2017)
Let's take a look at Kiehl's animal testing statement found on their website.
Kiehl's claims that they "do not conduct animal testing on [their] products or ingredients, nor ask others to test on [their] behalf, except when required by law."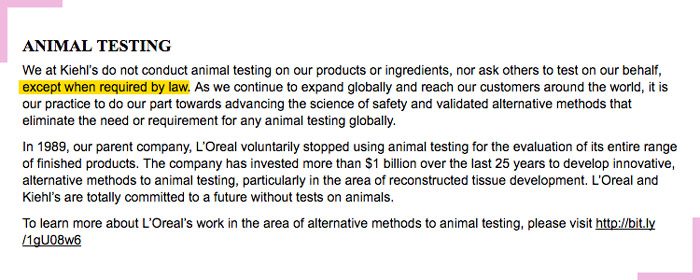 The statement "except when required by law" is the catch.
When is it required by law to test cosmetics and its ingredients on animals? Importing and selling cosmetics in Mainland China requires animal testing. So this begs the question, is Kiehl's selling their products in Mainland China?
Kiehl's Selling in China?
Kiehl's has a website dedicated for Chinese consumers and on this website is where I discovered a store directory of where Kiehl's products are available in China.
This sadly is proof that Kiehl's is indeed selling their products in China therefore they must have their products tested on animals before being allowed to sell in these Chinese stores.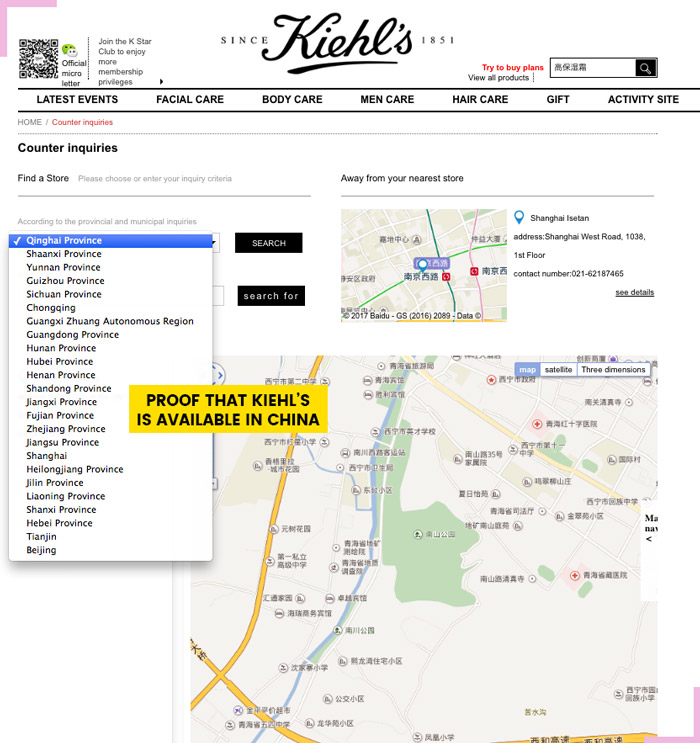 Kiehl's is NOT Cruelty-Free!
I'm sure both Kiehl's and L'Oreal are doing some great work to help eliminate the use of animals for cosmetic testing however at this time, since Chinese laws require all imported cosmetics to be tested on animals before being allowed to sell in their country, and any company agreeing to this practice should not be considered cruelty-free. And sadly that is the case for Kiehl's and they are not cruelty-free.