This post may contain affiliate links that at no additional cost to you, I may earn a small commission.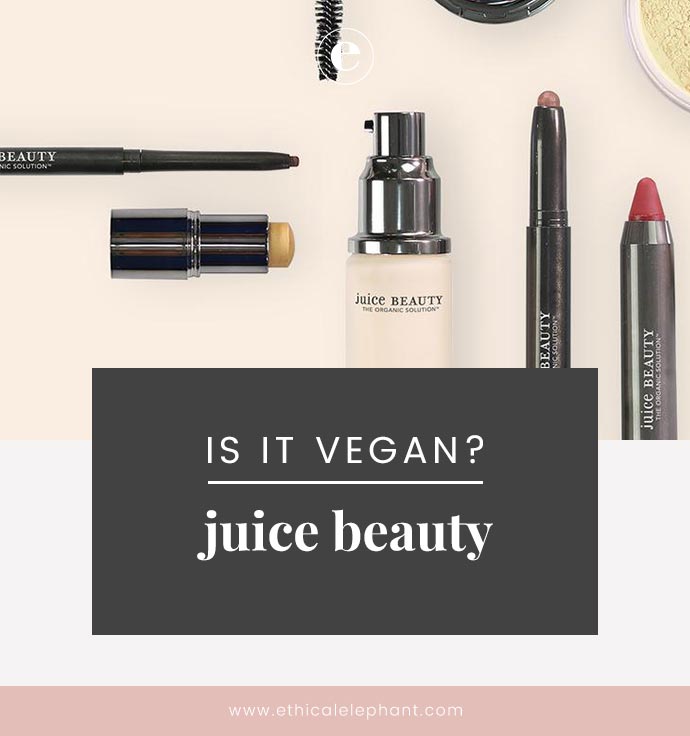 Juice Beauty is an award-winning organic skincare brand but is Juice Beauty cruelty-free, vegan, or sustainable in 2021? We've got the answers here!
Is Juice Beauty Cruelty-Free?
Juice Beauty is Cruelty-free! None of Juice Beauty's ingredients, formulations, or finished products are tested on animals, anywhere in the world.
In addition, Juice Beauty is certified cruelty-free by Leaping Bunny.
Juice Beauty Animal Testing Policy
Juice Beauty has confirmed they do not test their products or ingredients on animals or ask others to test on their behalf. Their suppliers also do not test on animals nor do they allow their products to be tested on animals when required by law. And finally, their products are not sold in stores in mainland China or any other country that may require animal testing.
Below is a screenshot of Juice Beauty's official animal testing statement: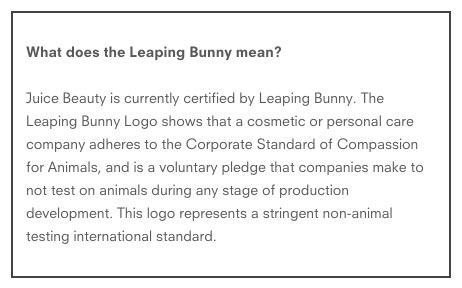 You can also read more about Juice Beauty's animal testing policy on their website.
Is Juice Beauty Sold in China?
Most imported cosmetics sold in mainland China are required by law to be tested on animals in 2021. However, Juice Beuaty has confirmed they do not sell their products in retail stores in mainland China and therefore they are not required to test on animals.
"In regards to your inquiry, to support animal rights, Juice Beauty does not ship to China.

Apparently the Chinese government reserves the right to conduct animal testing with cosmetic products before they are approved for use by the people of China."
Juice Beauty has met all of our criteria in our Cruelty-Free Checklist and is included on our List of Cruelty-Free Brands.
You can find Juice Beauty cruelty-free products at juicebeauty.com, Sephora (CA), Ulta, and on Amazon.
Is Juice Beauty Vegan?
Almost all of Juice Beauty's products are vegan with the exception of a couple of their products that contain beeswax or honey.
All other Juice Beauty products are considered vegan and don't contain any animal-derived ingredients or by-products. They are also working to becoming a 100% vegan brand.
Juice Beauty states, "each month we are transitioning different existing products with the aim of having our entire line be vegan in the near future!"
As Juice Beauty is working towards becoming a 100% vegan brand, as of right now, only 2 of their products are not vegan and contain beeswax or honey.
Not Vegan – Juice Beauty
USDA Lip Moisturizer (contains organic beeswax) – not vegan
USDA Organic Facial Wash (contains organic honey) – not vegan
Note that if you're shopping on Juice Beauty's website, the above two Juice Beauty non-vegan products have a vegan icon on the product page. But be aware that these products contain honey and beeswax and are not vegan.

---
Is Juice Beauty's Mica Ethically-Sourced? Juice Beauty claims their mica is ethically-sourced from Japan and Malaysia without the use of child labor.
"Additionally, we use mica to add shimmer to our plant and mineral based Phyto-Pigments makeup. These ingredients come from a Japanese company that often sources in Japan and Malaysia and we have signed documents stating that there is no child labor used in this process."
I hope this article helped you to understand Juice Beauty's cruelty-free and vegan status and by choosing cruelty-free together, we can help end animal testing for cosmetics once and for all!