This post may contain affiliate links that at no additional cost to you, I may earn a small commission.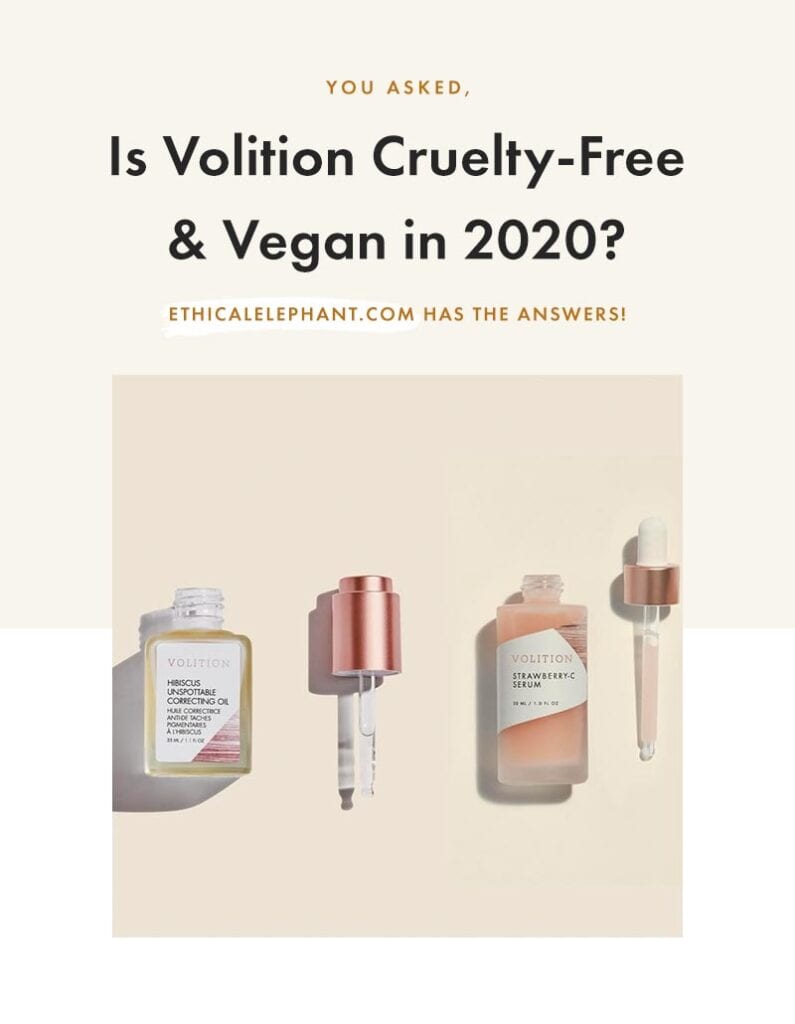 Volition Beauty is a clean beauty brand allowing its customers to submit ideas for their skincare line, but is Volition cruelty-free and vegan in 2021? We've got the answers here!
Is Volition Cruelty-Free?
Volition is Cruelty-free! None of Volition's ingredients, formulations, or finished products are tested on animals, anywhere in the world.
Volition Animal Testing Policy
Volition has confirmed they do not test their products or ingredients on animals, they do not allow others to test on their behalf, their suppliers also do not test on animals, they do not allow their products to be tested on animals when required by law, and their products are not sold in stores in mainland China or any other country that may require animal testing.
Below is a screenshot of Volition's official animal testing statement: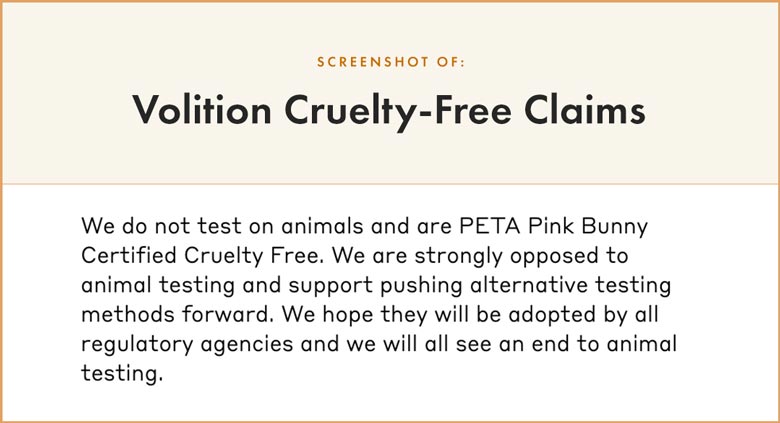 I also emailed Volition to ask for more information about their animal testing policy. The following is a snippet of the response I received from them:
"PETA has very strict regulations and requires us to have all the documents from our raw material suppliers that states the products are not tested on animals in order to be certified. We also do not ask third parties to test our products out on animals."
Is Volition Sold in China?
All imported cosmetics sold in mainland China are required by law to be tested on animals. However, Volition has confirmed they do not sell their products in retail stores in mainland China and therefore they are not required to test on animals.
Volition has met all of our criteria in our Cruelty-Free Checklist and is included on our List of Cruelty-Free Brands.
You can find Volition cruelty-free products at volitionbeauty.com, Sephora, and Cult Beauty.
Is Volition Vegan?
Not all of Volition's products are vegan as some of their products contain animal-derived ingredients or by-products. However, Volition does have some vegan options.

Below is a list of Volition vegan products.
The following is a screenshot of what's currently stated on Volition's official website about its vegan products:

Volition Vegan Product List
The following Volition products are suitable for vegans and do not contain any animal-derived ingredients or by-products.
You can also find out which of their products are vegan as they're labeled accordingly on their website under each product description.
Not Vegan – Volition
Below is a list of Volition products that are not considered vegan as they do contain some sort of animal ingredient:
Helix Eye Gel (contains snail mucin) – not vegan
Illuminating Body Milk (contains beeswax) – not vegan
Neroli Complete Creme (contains royal jelly) – not vegan
Thanakha Radiant Bronzer (contains carmine) – not vegan
Ethical Mica Sourcing Policy
I asked Volition if their mica is ethically sourced without forced or child labor and they responded by stating,
"Can you tell us which product you're referring to? We have multiple sources of Mica so we want to provide you with the most accurate information. We request documentation from our supplier to ensure that our ingredients are ethically sourced and cruelty-free."
---
I hope this article helped you to understand Volition's cruelty-free and vegan status and by choosing cruelty-free together, we can help end animal testing for cosmetics once and for all!