This post may contain affiliate links that at no additional cost to you, I may earn a small commission.
In this post, I'm tackling the labor abuse and ethical problems associated with sourcing one of the most popular ingredients used in makeup today, Mica.
Here's what I discovered about the ethical concerns over mica in makeup and what some cruelty-free brands are doing about it.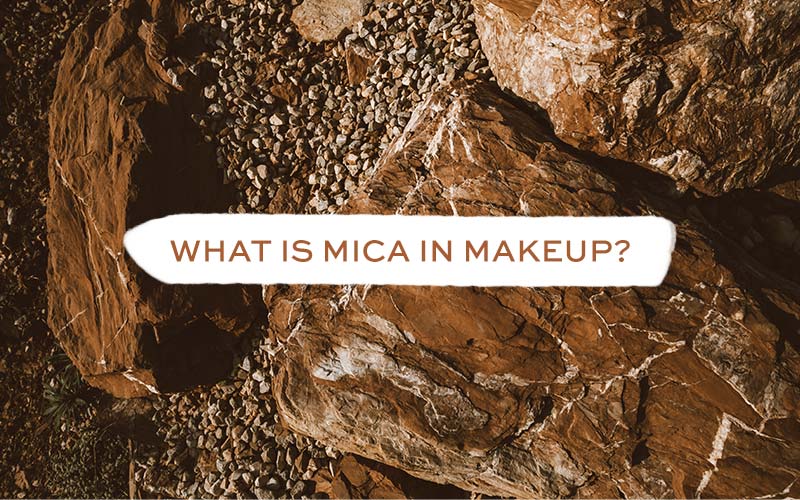 What is Mica?
Mica is a naturally occurring mineral commonly used in cosmetics to add shimmer to makeup. It can be found in lipsticks, eyeshadow, nail polish, sunscreens, deodorants, shampoo, and more.
But the seemingly harmless sparkly ingredient has been linked to child labor in India, specifically in impoverished states of Jharkhand and Bihar. Where children as young as five years old have been reported working in these illegal mica mines.
Although mica can be sourced from around the world, 25% of the mica used today come from illegal mines in India where child labor is widespread.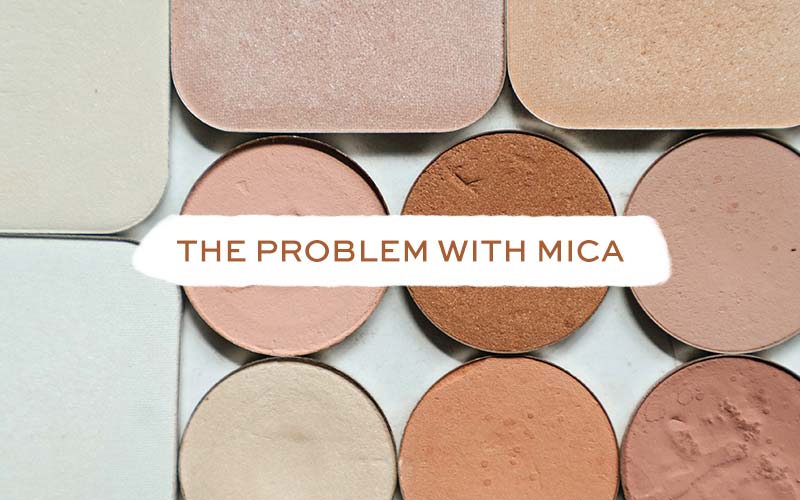 The Problem With Child Labor Mica
Families living in extreme poverty in India have no choice but to rely on their children working in illegal mica mines to help support the family.
But for obvious reasons, mica mines are no place for young children. Workers are exposed to occupational hazards like cuts, head injuries, exhaustion, heatstroke, and long-term exposure to toxic air that can lead to respiratory infections including silicosis, tuberculosis, and asthma. As well as, the deadly threat of a cave collapsing.
"Only 10% of mica mines in Jharkhand and Bihar are legal, which means that most mines aren't regulated and most labour laws aren't enforced." (World Vision)
A 2016 investigation discovered the cover-up of seven children's death in the span of two months in India. The report also estimates that less than 10% of mica-related deaths are reported to the police as families are bribed with 'blood money' to cover up and stay quiet about these illegal operations.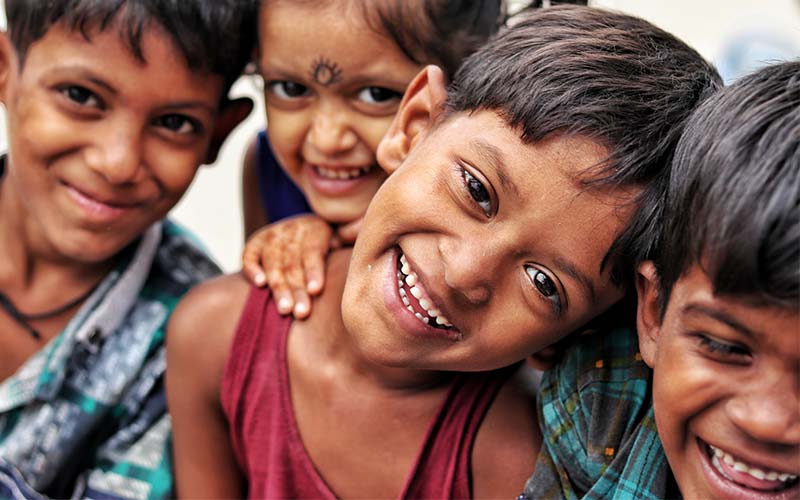 The Solution To Child Labor Mica
The solution to eradicating child labor in mica mines in India is complex and unfortunately, there is no one right solution.
For starters, boycotting all mica sourced from India may not be the solution as many families rely on the mica industry as their primary source of income. Demanding greater supply chain transparency and traceability will help with the issue but without proper audits and enforcement, the issue of child labor will remain.
Note: India isn't the only place that's known to be exploiting child labor in mica mines, it's also a widespread issue in Madagascar.
There also needs to be some government intervention. Where some experts suggest granting more mining licenses so that the mica industry can be properly policed and where an operator can report to the state to ensure workers' safety and no child workers.
Because children are working in these mica mines, 5-6 days a week and up to 12 hours per day, they're not going to school.
As a result, NGOs and corporations are tackling the issue of child labor by helping to fund schools in villages in regions with low literacy and school attendance rates and to help end the cycle of mining. That's the goal of the National Resources Stewardship Council (NRSC), to build 500 "Child-Friendly Villages" and improve living conditions in mica areas to get children into school instead of returning to mining mica.
The Solution for Cruelty-Free Beauty Brands:
But what are 'cruelty-free' brands doing to ensure their mica is ethically sourced without the use of child labor? I've reached out to several cruelty-free brands to hear what some are doing and this is what I've found out.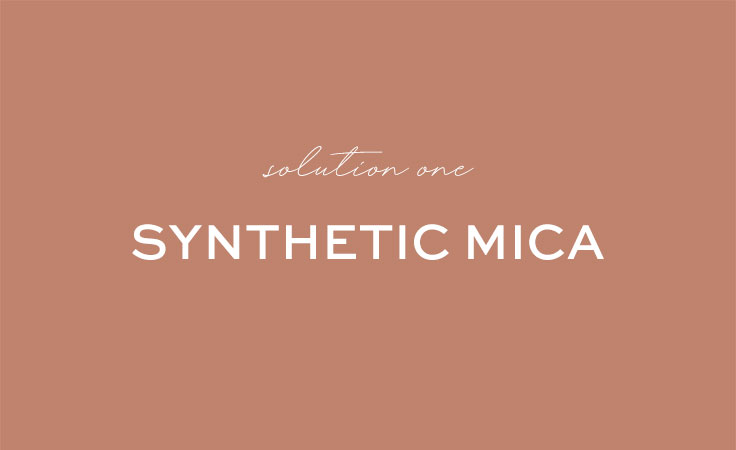 Synthetic Mica?
Some ethical beauty brands have chosen to use synthetic mica (or synthetic fluorphlogopite) as a substitute for natural mica. Synthetic mica is made in a lab so there is no risk of child-labor. But switching to synthetic mica is not always easy and comes with its own set supply chain traceability issues.
In 2014, cruelty-free cosmetic brand, Lush decided to switch to using synthetic mica that is made in a lab. But later discovered the synthetic mica it was using had traces of natural mica. It took them four years of tighter control to finally declare all of its products are formulated with synthetic mica.
"Because of concerns over child labour in the mining of natural mica, Lush has made a commitment to remove it completely from its production." – Lush
List of Cruelty-Free Brands Only Using Synthetic Mica
Other cruelty-free brands I spoke with that are also using synthetic mica include:
Black Moon Cosmetics
Butt Naked
da Bomb
Hurraw!
Jane Iredale
Lush
People of Color
River Organics
True Moringa
Woosh Beauty
See this list here for an up-to-date list of cruelty-free makeup brands using synthetic mica.
In addition, I also learned that some cruelty-free brands will use a combination of natural and synthetic mica. Stating they'll use synthetic mica when they're unable to ensure their natural mica supply chains are child labor-free. For example:
"We choose synthetic mica when we can't vet and guarantee that the source of our mica is child-labor-free."
– Aether Beauty
"We incorporate the use of both natural and synthetic micas in our Bare Republic shimmer products. We only use natural micas if we can ensure they are mined responsibly, and we require documentation verifying the sourcing strategy from each of our suppliers."
– Bare Republic
List of Cruelty-Free Brands Using Natural & Synthetic Mica:
Here's a working list of other cruelty-free brands that are using a combination of natural and synthetic mica:
ĀTHR Beauty
Au Naturale
Bare Republic
Ciate London
Deco Miami
Fairypants
Jolie Beauty
Lottie London
Lumene
Makeup Revolution
Manic Panic
Nabla Cosmetics
Nudi Goods
Principle Beauty
VE Cosmetics
See this list here for an up-to-date list of cruelty-free makeup brands using ethically-sourced natural mica and synthetic mica.
Since mica is a naturally-occurring mineral, many natural, organic, and 'clean' beauty brands love using it. But some of the organic cruelty-free brands I spoke with told me switching to synthetic mica is not an option for them because as I was told, "synthetic products are not organic products."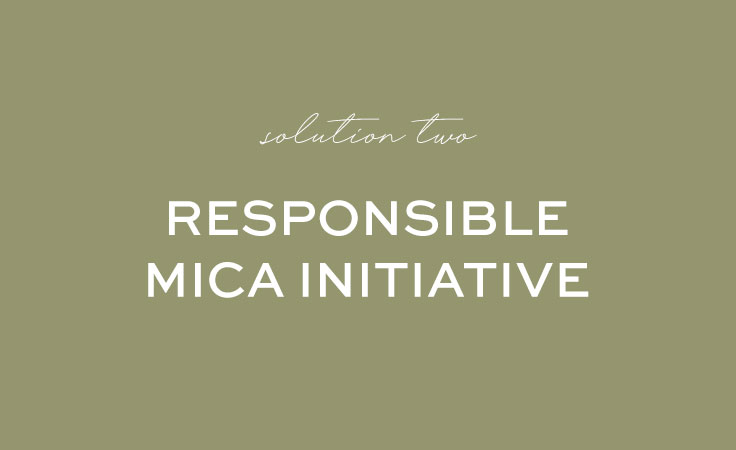 Ethical Mica Certifications?
Unfortunately, there aren't any third-party certifications that consumers can use to identify which makeup brands are using ethically-sourced mica.
From my research, the most common and established organization that some brands have claimed to be part of is the Responsible Mica Initiative (RMI).
RMI is a non-governmental organization aimed to build a sustainable mica supply chain in India by promoting responsible sourcing practices and eradicating child labor and unacceptable working conditions.
Cruelty-free brands that are active members of RMI:
Burt's Bees
Chantecaille
Catrice
CoverGirl
Ace of Air
The Body Shop
Essence
And surprisingly, some non-cruelty-free corporations are also members of RMI including Chanel, Clarins, L'Oreal, and Shiseido.
And in my research, I found that although some cruelty-free brands may not be "active members" of RMI, some brands have claimed their mica suppliers are members of RMI. For example:
"Our MICA suppliers are members of the "responsible mica initiative" and are therefore committed to guaranteeing the best possible working conditions."
– Avril
"Our Mica suppliers are limited to members of the Responsible Mica Initiative (RMI)."
– BH Cosmetics
"We're happy to confirm that our suppliers of mica (sourced in India) are active members of The Responsible Mica Initiative (RMI)' and have a zero tolerance policy when it comes to child labor."
– Deborah Lippmann
Cruelty-Free Brands' with RMI Mica Suppliers
Here's a list of cruelty-free brands that told me their mica suppliers are members of Responsible Mica Initiative:
Avril
BH Cosmetics
Captain Blankenship
Deborah Lipmann
Deco Miami
Elate Cosmetics
Formula 10.0.6
Hynt Beauty
LXMI
Seraphine Botanicals
See this list here for an up-to-date list of cruelty-free makeup brands using ethically-sourced natural mica.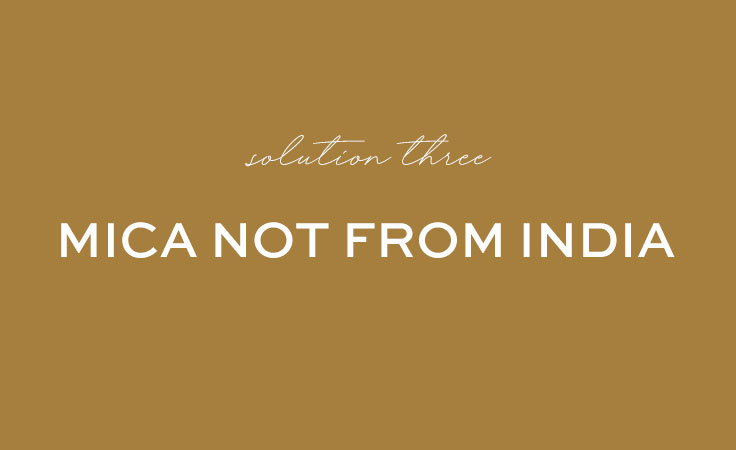 Sourcing U.S. or Non-Indian Mica?
Some cruelty-free brands claim they're combating the issue of child-labor mica from India and Madagascar simply by choosing not to use mica sourced from these regions. For example:
"The mica we use is sourced from the USA, is ethical without the use of child labour."
– Antipodes
"…we have contacted our supplier about where they source their mica. They provided us with an official statement assuring us that they sell no pigments that are manufactured with mica powder from mines in India or South Africa."
– Axiology
"Our mica is ethically sourced from the U.S with no child labor involved."
– Fitglow
But as stated earlier, boycotting Indian mica won't solve their labor problems associated with child labor, extreme poverty, and unsafe working conditions.
Additionally, some report tracing the true origins of mica to be challenging.
"The supply chain of mica is complex, making child labor challenging to address. Intermediaries buy mica after it has been extracted from informal mines, and transport the mineral to the nearest trading centre, where they sell to other intermediaries or directly to exporters. Pigment producers purchase the mica for manufacturing purposes, and then sell to cosmetics brands we see lining the shelves of local pharmacies and beauty stores." (World Vision)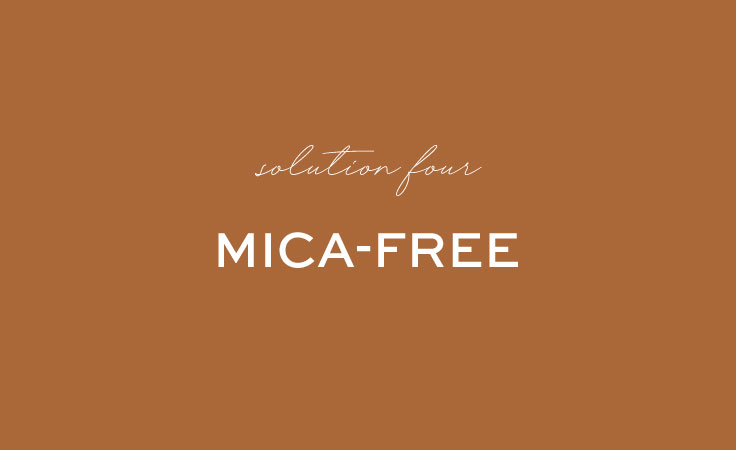 Going Mica-Free?
Can't we just avoid mica in our beauty routine altogether?
There are lots of skincare, bath and body, and hair care brands that are completely mica-free if you wish to go without mica.
But out of the 238 cruelty-free makeup brands I have in our directory, I only found two brands that are mica-free: Foraged Fields and Valdé.
Since mica is commonly used to add shimmer or sparkle to makeup products, you can try opting for products with a matte finish. But even so, mica is sometimes used in makeup to absorb excess oil and to give it a consistent texture. So, always check the ingredients.
In my opinion, going 100% mica-free in our makeup routine may not be the most attainable and realistic solution to tackling the problem of children mining mica for makeup.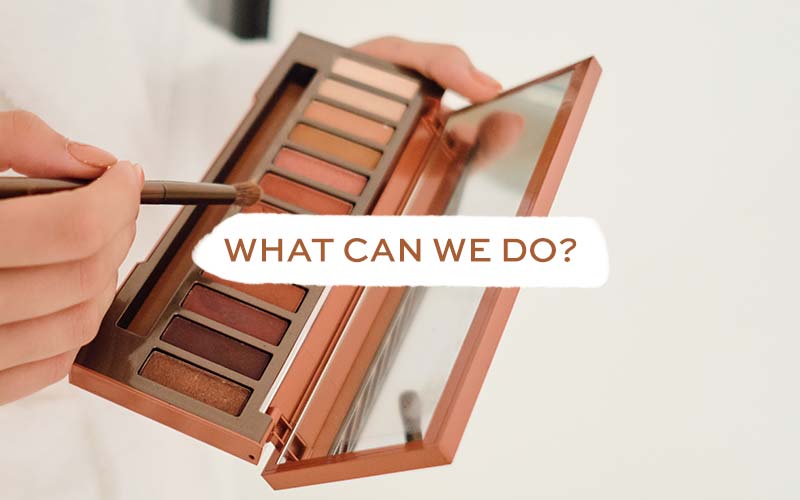 So What Can We Do? Ask Questions!
So far, I've contacted over 300 cruelty-free brands from my brand directory to ask if their mica is ethically-sourced. And I've gotten mixed responses across the board.
But since there isn't one right answer, it makes it difficult to know if brands are doing 'enough' to ensure their mica is sourced without child labor.
I'm also still unsure what the best approach is and whether it's better to use synthetic mica, or to only source mica from suppliers that are members of RMI, or to only use mica that's not mined from India, or the solution is a combination of the above?
And because there's no quick fix, I think it's important now, more than ever, to start asking our favorite cruelty-free brands about their sourcing policy and labor standards of their mica. Choosing to support and buy from those that are willing and able to address our ethical concerns.
In addition, we can raise awareness to pressure India's government to regulate their mica industry. And support initiatives that help to improve their living conditions so no child is forced to work in unsafe mica mines.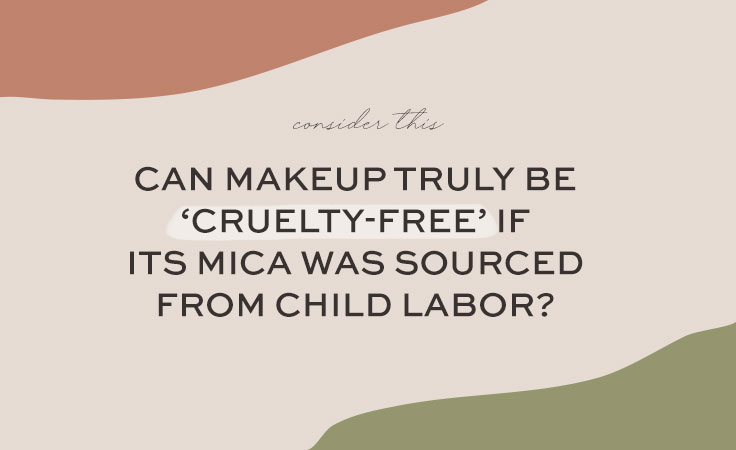 What's Next?
Moving forward, I will be asking all brands if their mica is sourced ethically when verifying their animal testing policy and before I add them to our Cruelty-Free Brand Directory.
I'm currently working on a list of cruelty-free makeup brands that have confirmed their mica is ethically-sourced without the use of child labor.
In addition, I will be slowly including information about each brand's ethical mica policy on their respective brand's post.
This way, you'll have access to the same information as me including what brands have told me. From there, you can decide for yourself if their answers meet your ethical standards.
Resources on Child Labor Mica:
I'm in no way an expert on this topic but just a conscious consumer trying her best to support more ethical beauty brands. For more information and resources on child labor mica, here are some great sources to check out: