This post may contain affiliate links that at no additional cost to you, I may earn a small commission.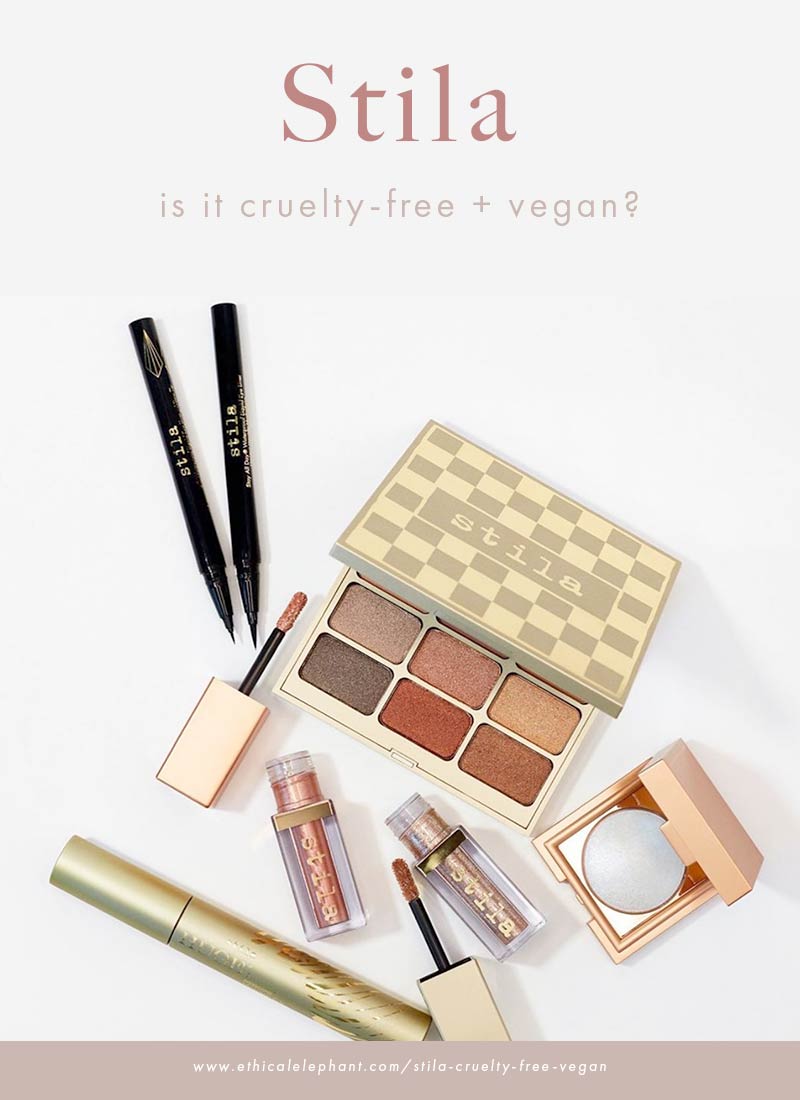 Stila Cosmetics is a popular makeup brand known for their innovative and high-performing color cosmetics but is Stila cruelty-free and vegan?
Is Stila Cruelty-Free?
Stila is Cruelty-free! None of Stila's ingredients, formulations, or finished products are tested on animals, anywhere in the world.
Stila Animal Testing Policy
Stila has confirmed they do not test their products or ingredients on animals, they do not allow others to test on their behalf, their suppliers also do not test on animals, and their products are not sold in stores in mainland China or any other country that may require animal testing by law.
"We are proud to advise that Stila Cosmetics is on PETA's (People for the Ethical Treatment of Animals) list of cruelty-free companies and we proudly display the PETA cruelty-free bunny on our website. We never test on animals and have our supply partners certify they also share this value and do not conduct any tests on animals."
Is Stila Sold in China?
Stila Cosmetics is not sold in stores in mainland China. In 2017, Stila Cosmetics decided to pull out of selling in China, and therefore their products were no longer required to be tested on animals per China's animal testing laws.
Shortly thereafter, Stila becomes certified cruelty-free by PETA.
Who Owns Stila Cosmetics?
Stila Cosmetics was previously acquired and owned by Estee Lauder but in 2006, they sold Stila to Stila Corp., an affiliate of Sun Capital (a private equity firm). Then later on in 2009, Stila was sold to Patriarch Partners, a New York-based private equity company.
Stila has met all of the criteria in our Cruelty-Free Checklist and is included on our List of Cruelty-Free Brands.
You can find cruelty-free products at stilacosmetics.com, Sephora, and Ulta.
Is Stila Vegan?
Update 2021: Stila has started labeling some of their cosmetics as 'Vegan' on their website. Therefore, Stila has some vegan options now!
I asked Stila about their vegan policy and this is what they told me,
"Thank you for your interest in Stila Cosmetics. Stila certifies that our products marked vegan (on our website or packaging) do not contain any animal-derived ingredients. We have an ongoing initiative with our laboratories to not only create shades (and entire product lines) that are vegan from the start, but also to identify which of our non-vegan products can be converted. In many situations, plant-derived or synthetic alternatives to animal-derived ingredients become available over time. As long as we can deliver the same high-quality products with rich color and texture, we will convert that product to 100% vegan ingredients, so be on the lookout for new offerings."
It's so great to see Stila finally making an effort to produce vegan products, as well as, converting existing formulas to be vegan in the future! Because, in 2020, Stila told me they did not claim to be vegan. See below of their original statement in 2020:
"We do not claim to be vegan, however we do fully disclose the ingredient list on the product packaging as well as our website for your reference. Some formulations may include the following animal byproducts: being beeswax, carmine, and lanolin." (this statement is from 2020)
I'm really excited about the new changes Stila is making!
Stila Vegan List
Below is a working list of some of the products that Stila has started marking and labeling as being vegan.
---