This post may contain affiliate links.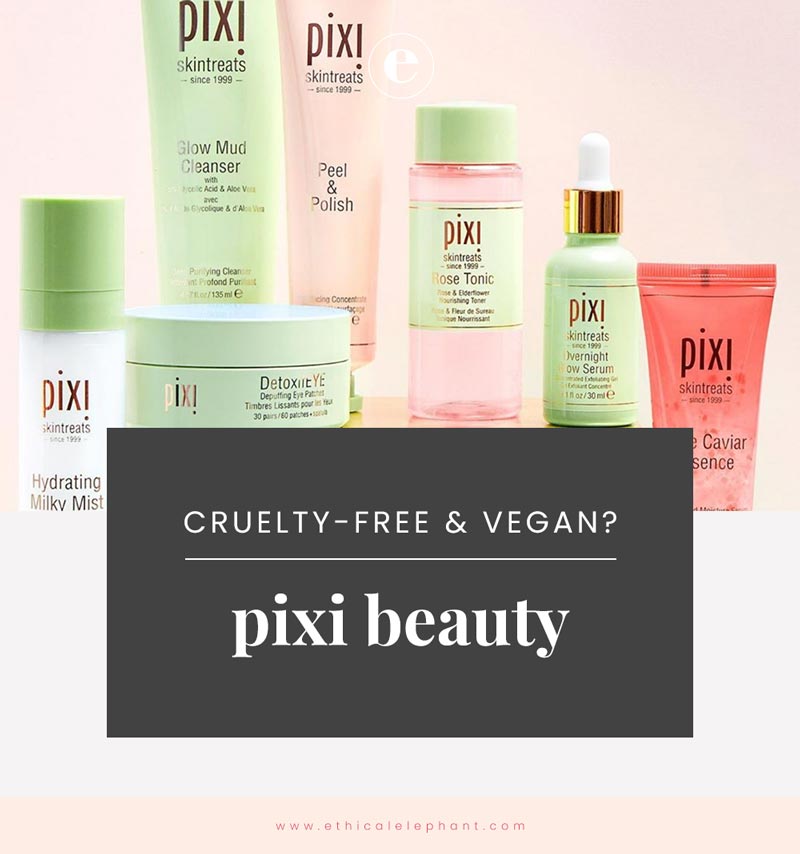 Pixi by Petra beauty products are available at select Target stores and although they are at a slightly higher price point than other drugstore brands, they do promise to use natural and non-toxic ingredients.
Is Pixi Cruelty-Free?
Pixi is cruelty-free in 2019; none of their products or ingredients are tested on animals, anywhere in the world.
Pixi's Animal Testing Statement
On the website, it states "At Pixi Beauty we do not test our products on animals, nor do we allow others to test on our behalf. Additionally, we request our suppliers to certify that the raw materials used in the manufacture of our products are not tested on animals." 
Is Pixi Vegan?
Although Pixi does not claim to be a vegan brand, they do have a lot of vegan-friendly options that are classified as being free of animal-derived ingredients.

Please reference below for a list of Pixi vegan products that was provided by them.
Pixi Vegan Product List
Below is a list that was provided by Pixi of their products that are free of animal ingredients and by-products.
MAKEUP
FACE
Primer
Flawless & Poreless Primer
Redness Reducing Primer
Concealer
Correction Concentrate
Concealing Concentrate
Illuminating Tint & Conceal
Foundation
H2O Skin Tint
Illuminating Tint & Conceal
Flawless Vitamin Veil
Colour Correcting Powder
Powder
Colour Correcting Powder
Glow-y Powder
Natural Contour Powder
Flawless Finishing Powder
Quick Fix Powder
Flawless Beauty Powder
Bronzer
Beauty Bronzer
Quick Fix Bronzer
Strobe & Bronze Palette
Strobe & Sculpt Palette

Brightener
Eye Zone Brightener
Cheeks
Beauty Blush Duo
EYES
Liner
(Extra) Eye Bright Liners
Endless Silky Eye Pen
Cat Eye Ink
Lash Line Ink
Mascara
Lash Booster Mascara
Lower Lash Mascara
Brow
Brow Powder Palette
Brow Duo
Endless Brow Gel Pen
Eyeshadow
Get the Look – ItsEyeTime
Mesmerizing Mineral Palettes + Duos
LIPS
Lip Contour Liner
Get the Look – ItsLipTime
Mattelustre Lipsticks
Tinted Brilliance Balm
SKINCARE

Cleansers
Nourishing Cleansing Balm
Glow Mud Cleanser
Double Cleanse
Make Up Melting Wipes
Moisturizing Cleansing Cloths

Serums & Oils
Rose Oil Blend
Overnight Glow Serum
Hydrating Milky Serum
Moisturizers
Beauty Sleep Cream
Glowtion Day Dew
H2O Skindrink

Masks
Glow Mud Mask
Nourishing Sleep Mask

Mists
Makeup Fixing Mist
Hydrating Milky Mist
Glow Tonic
Treats
24k Eye Elixir
This vegan product list is updated as frequently as possible, please be aware that formulations may have changed since the publication of this post. If you have new information to suggest one of the above products isn't vegan, please email me at info@ethicalelephant.com to let me know.