This post may contain affiliate links that at no additional cost to you, I may earn a small commission.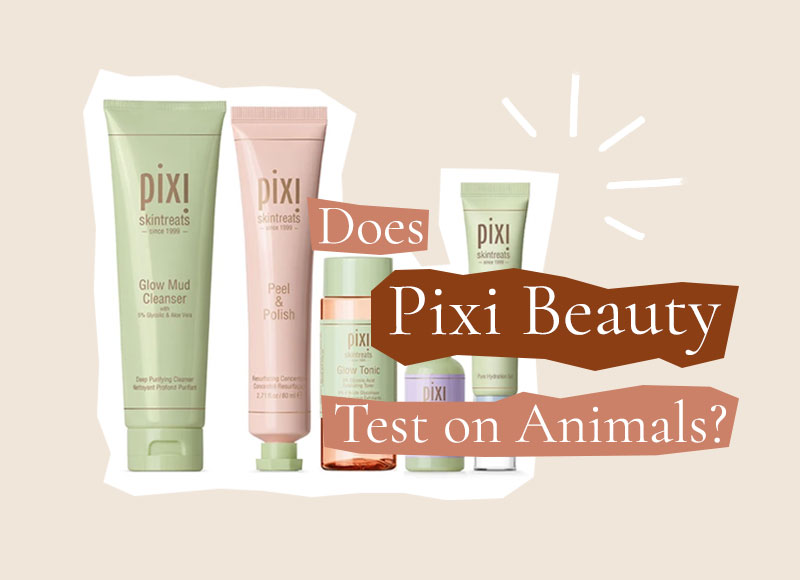 Pixi Beauty offers a range of high-quality makeup and skincare products and they're mostly known for their Glow Tonic but is Pixi cruelty-free, vegan, or sustainable? I've got the answers here!
Is Pixi Cruelty-Free?
Pixi Beauty is Cruelty-free! None of Pixi's ingredients, formulations, or finished products are tested on animals, anywhere in the world.
Pixi Animal Testing Policy
Pixi has confirmed they do not test their products or ingredients on animals or ask others to test on their behalf. Their suppliers also do not test on animals nor do they allow their products to be tested on animals when required by law. And finally, their products are not sold in stores in mainland China or any other country that may require animal testing.
Below is a screenshot of Pixi Beauty's official animal testing statement: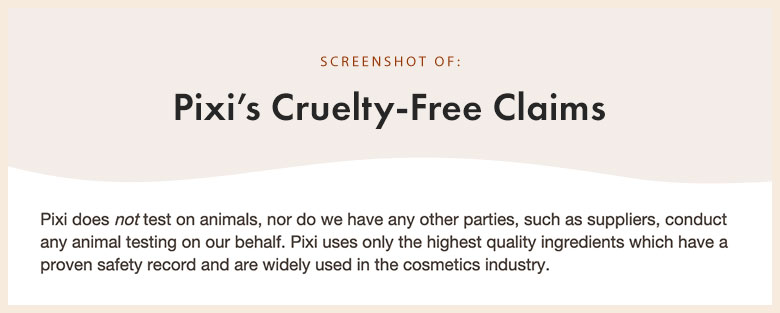 Is Pixi Sold in China?
Most imported cosmetics sold in mainland China are required by law to be tested on animals in 2021. However, Pixi Beauty has confirmed they only sell their products online to customers in China. And Pixi does not sell in retail stores in China, therefore, they are not required to test on animals.
"Pixi is proud to be a cruelty-free brand. Customers in China are available to purchase Pixi through cross-border e-commerce, which allows us to remain cruelty-free by avoiding the need to undergo animal testing."
Pixi Beauty has met all of our criteria in our Cruelty-Free Checklist and is included on our List of Cruelty-Free Brands.
You can find Pixi's cruelty-free products at pixibeauty.com, Ulta, and Shoppers Drug Mart.
Is Pixi Vegan?
Not all of Pixi's products are vegan as some of their products contain animal-derived ingredients or by-products. However, Pixi Beauty does have some vegan options.
When I emailed Pixi to ask if they had any vegan options, they responded saying,
"Many of our products are vegan, and we are working to become 100% vegan." – Pixi Beauty
Pixi Vegan Product List
Below is a list of Pixi Beauty products that are suitable for vegans and do not contain any animal-derived ingredients or by-products. This vegan product list was provided by Pixi.
*Note: Unfortunately Pixi will no longer provide me with an updated list of their vegan products. But they will tell you if a product is vegan or not if you ask them. Since they have so many products, I'm unfortunately unable to ask them about each one individually. So, it's best to contact Pixi directly for the most up-to-date and accurate information on which items are vegan-friendly.
Face Makeup
Primer
Flawless & Poreless Primer
Redness Reducing Primer
Concealer
Concealing Concentrate
Correction Concentrate
Eye Zone Brightener
Illuminating Tint & Conceal
Foundation
Flawless Vitamin Veil
Colour Correcting Powder
H2O Skin Tint
Illuminating Tint & Conceal
Powder
Colour Correcting Powder
Flawless Beauty Powder
Flawless Finishing Powder
Glow-y Powder
Natural Contour Powder
Quick Fix Powder
Bronzer & Blush
Beauty Blush Duo
Beauty Bronzer
Quick Fix Bronzer
Strobe & Bronze Palette
Strobe & Sculpt Palette
Eye Makeup
Liner
(Extra) Eye Bright Liners
Endless Silky Eye Pen
Cat Eye Ink
Lash Line Ink
Mascara
Lash Booster Mascara
Lower Lash Mascara
Brow
Brow Powder Palette
Brow Duo
Endless Brow Gel Pen
Eyeshadow
Get the Look – ItsEyeTime
Mesmerizing Mineral Palettes + Duos
Lips Makeup
Get the Look – ItsLipTime
Lip Contour Liner
Mattelustre Lipsticks
NaturelleLip
Tinted Brilliance Balm
Skincare
Cleansers
Glow Mud Cleanser
Make Up Melting Wipes
Moisturizing Cleansing Cloths
Nourishing Cleansing Balm
Serums & Oils
Hydrating Milky Serum
Overnight Glow Serum
Rose Oil Blend
Moisturizers
Beauty Sleep Cream
Glowtion Day Dew
H2O Skindrink
Masks
Glow Mud Mask
Nourishing Sleep Mask
Mists
Glow Tonic
Hydrating Milky Mist
Makeup Fixing Mist
Treats
Is Pixi Sustainable?
Pixi has two flagship boutiques in: London and Los Angeles.
Pixi's products are manufactured: Around the world.
"Pixi products are made all over the world. You can locate where a product is made on the label below the ingredient listing."
*On their website, they label some (but not all) of their products and state where they're made. I saw a few say, Made in Korea, USA, or China.
*Note: Cosmetics made in China are not required to be tested on animals. Only cosmetics that are sold in physical stores in mainland China are required to be tested on animals according to China's animal testing laws.
Pixi does not claim to be a sustainable company.
Additionally, I wasn't able to find any available information on Pixi's sustainability, environmental, and social initiatives.
Ingredients and Formulations Claims: Pixi claims their products are Paraben-Free.
Is Pixi's Mica Ethically-Sourced? Pixi claims they ask their suppliers to use ingredients that have been "ethically" and "sustainably" sourced. However, it's not clear where their mica is mined or sourced from and how they track or audit to ensure no child labor was involved.
"We always ask our suppliers to use ingredients that have been ethically and sustainably sourced. We also only work with suppliers who follow Good Manufacturing Practices (GMP) standards as implemented by the FDA.
---
I hope this article helped you to understand Pixi Beauty's cruelty-free and vegan status and by choosing cruelty-free together, we can help end animal testing for cosmetics once and for all!