This post may contain affiliate links that at no additional cost to you, I may earn a small commission.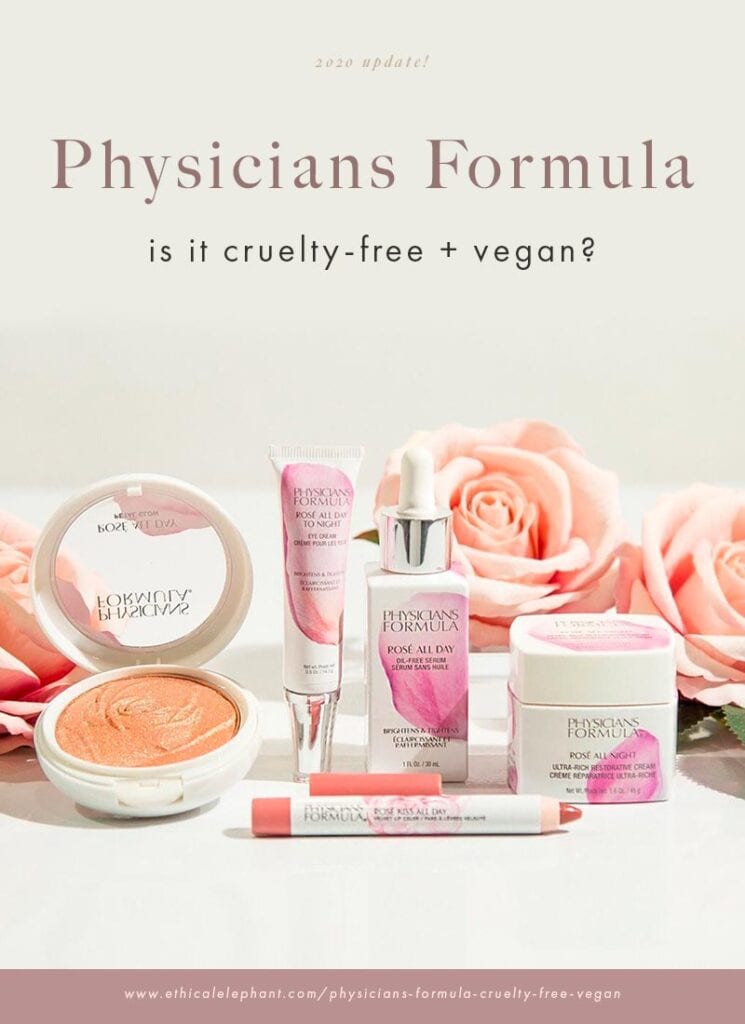 Is Physicians Formula Cruelty-Free?
Physicians Formula is not cruelty-free; Physicians Formula products are available for sale in-stores in mainland China and may require post-market animal testing.
Physicians Formula was once considered cruelty-free and was on our list of cruelty-free brands, however, in light of new information and evidence of Physicians Formula selling their products in mainland China, we have come to the decision to remove them from our cruelty-free list.
Physicians Formula Sold in China
Last year, there were photos circulating showing evidence of Physicians Formula products being sold in retail stores in mainland China.
All imported cosmetics in mainland China are required by law to be tested on animals. Physicians Formula appears to have bypassed all pre-market animal testing in China through:
(1) The handful of Physicians Formula products that are sold in China are domestically-produced and made in China, they claim these are not the same products sold in North America and
(2) They only sell ordinary cosmetics that do not contain special-use ingredients.
Since Physicians Formula is domestically-producing ordinary cosmetics in China and selling those in China, they may have bypassed China's pre-market animal testing laws, but the issue of post-market animal testing is still an area of concern.
Post-market animal testing is when the Chinese government will pull products off of store shelves and conduct animal tests in their own labs, this is often done without the company's knowledge or consent.
Physicians Formula addressed the issue of post-market animal testing stating they will withdraw their products from the market rather than allow them to be tested on animals and they have informed the Chinese authorities of this policy so they can notify the company before they require animal testing on their products.
However, at this time, it is unclear if companies can be 100% certain the products they sell in China are not subject to post-market animal testing and whether the Chinese officials are cooperating with companies before they conduct animal tests on their products.
Because of these uncertainties, we would not consider any brand selling its products in China to be cruelty-free, including Physicians Formula.
Is Physicians Formula Vegan?
Physicians Formula does offer some products that are free of animal-derived ingredients and by-products, however, since Physicians Formula is not considered cruelty-free, we would also not consider anything made or sold by Physicians Formula to be classified as vegan by our standards.
In order for products to be "vegan" by ethical elephant's standards, we require brands to be cruelty-free and not test any of their products or ingredients on animals, anywhere in the world and the products must also not contain any animal-derived ingredients or by-products.
---
Cruelty-Free Alternatives to Physicians Formula:
Looking for a cruelty-free alternative to Physicians Formula, here are some cruelty-free drugstore makeup brands that do not test on animals, with some vegan options as well:
---