This post may contain affiliate links.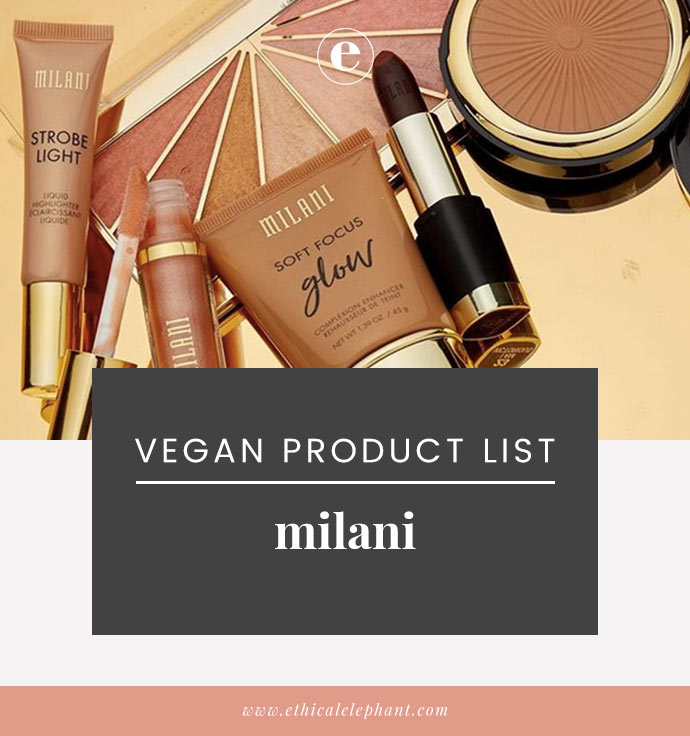 Milani cosmetics is known for their affordable, high-quality makeup products. You can find Milani makeup at most drugstores like Wal-mart, Ulta, Target, CVS, Walgreens.
Is Milani Cruelty-Free in 2019?
Milani is cruelty-free; none of their products or ingredients are tested on animals anywhere in the world.
Is Milani Vegan?
Not all of Milani Cosmetics are vegan as some do contain beeswax, carmine, lanolin or other animal-derived ingredients, however, Milani does offer some vegan makeup options.

Please reference below for a list of Milani vegan products.
Milani Vegan Product List (2019)
Below is a list of Milani cosmetics that are suitable for vegans according to their website. Use this list to help you shop in-stores or online to figure out which products are vegan and don't contain any animal-derived ingredients.
Face – Milani Vegan
Eyes – Milani Vegan
Lips – Milani Vegan
This vegan product list is updated as frequently as possible, please be aware that formulations may have changed since the publication of this post. If you have new information to suggest one of the above products isn't vegan, please email me at info@ethicalelephant.com to let me know.

Not Vegan – Milani
Not all of Milani cosmetics are vegan, a handful of their products do contain ingredients derived from animal origin. Below is a list of some of the products that are not considered vegan and should be avoided if you follow a vegan lifestyle.
Anti-Feathering Lipliner (contains beeswax) – not vegan
Amore Satin Matte Lip Crème (contains beeswax) – not vegan
Big & Bigger Lashes Maximum Volume Mascara (contains beeswax) – not vegan
Bold Obsession Eyeshadow Palette (contains carmine) – not vegan
Color Statement Lipstick (contains carmine and beeswax) – not vegan
Conceal + Perfect 2-In-1 Foundation (contains beeswax) – not vegan
Dangerous Lengths – Ultra-Def 3D Mascara (contains beeswax) – not vegan
Fierce Foil Eyeshine Eye Palette (contains beeswax) – not vegan
Gilded Desires Eye & Face Palette (contains carmine) – not vegan
Hypnotic Lights Holographic Lip Duos (may contain carmine) – not vegan
Hypnotic Lights Holographic Lip Topper (may contain carmine) – not vegan
Keep It Full Nourishing Lip Plumper (may contain carmine) – not vegan
Lash Trifecta Lengthens + Curls + Separates Mascara (contains beeswax) – not vegan
Most Loved Mattes Eyeshadow Palette (contains carmine) – not vegan
Pressed Powder (may contain carmine) – not vegan
Pure Passion Eyeshadow Palette (contains carmine) – not vegan
Rose Powder Blush (contains lanolin) – not vegan
Soft & Sultry Eyeshadow Palette (contains carmine) – not vegan
Stay Put® Waterproof Eyeliner Pencil (contains carmine) – not vegan