This post may contain affiliate links that at no additional cost to you, I may earn a small commission.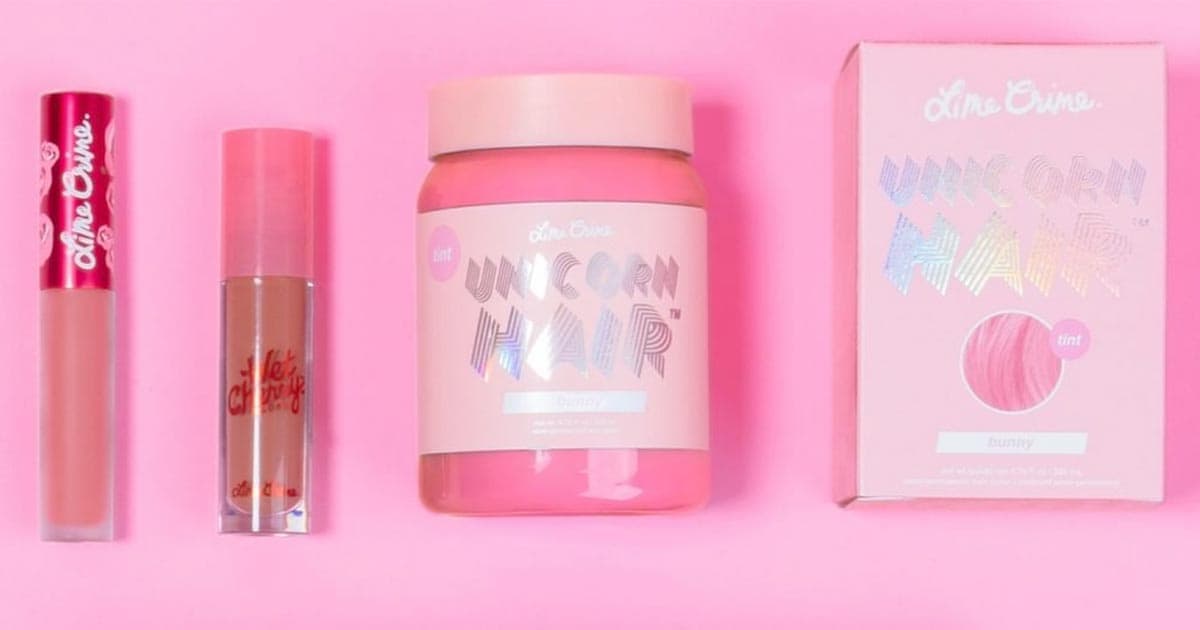 Lime Crime is a popular, albeit controversial, makeup brand known for its vibrant and colorful cosmetics, but is Lime Crime cruelty-free, vegan, or sustainable in 2021? I've got the answers here!
Is Lime Crime Cruelty-Free?
Lime Crime is Cruelty-free! None of Lime Crime's ingredients, formulations, or finished products are tested on animals, anywhere in the world.
Lime Crime is also certified cruelty-free by Leaping Bunny.
Lime Crime Animal Testing Policy
Lime Crime has confirmed they do not test their products or ingredients on animals, they do not allow others to test on their behalf, their suppliers also do not test on animals, they do not allow their products to be tested on animals when required by law, and their products are not sold in stores in mainland China or any other country that may require animal testing.
Below is what's currently stated on Lime Crime's website: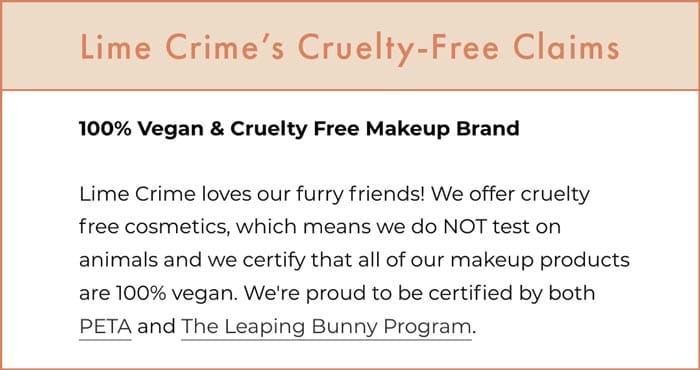 Is Lime Crime Sold in China?
Most imported cosmetics sold in mainland China are required by law to be tested on animals in 2021. However, Lime Crime has confirmed they only sell their products through cross-border e-commerce sites in China which do not require animal testing.
"We've recently extended our brand cosmetics across the globe to China, where more beauty fanatics can revel in colorful, unique looks! Our products are sold in China through cross-border e-commerce (CBEC), a policy that keeps our current U.S. manufacturing and production standards in place. Since our products are imported through CBEC, our items are exempt from China's required market testing. AKA we still do NOT test on animals and our product ingredients are still vegan and cruelty-free."
Below is a list of Lime Crime's online retailers in China: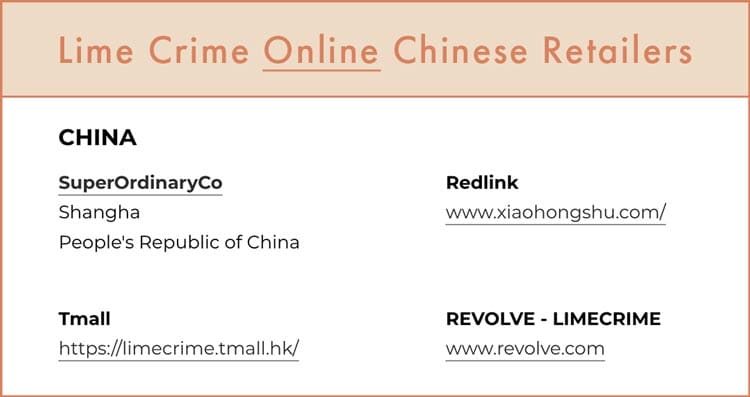 As long as Lime Crime is not selling their products in a physical retail store in mainland China (not including Hong Kong), then they are not required to test on animals.
Lime Crime has met all of the criteria in our Cruelty-Free Checklist and is included on our List of Cruelty-Free Brands.
You can find Lime Crime's cruelty-free products on Amazon, Ulta, and Nordstrom.
See Also: Shop These Vegan Products at Nordstrom
Is Lime Crime Vegan?
Lime Crime is a 100% vegan brand. All of Lime Crime products are vegan and do not contain any animal-derived ingredients or by-products.
Lime Crime's vegan statement:
"Vegan makeup refers to makeup products that do not include animal ingredients or byproducts such as beeswax, lanolin, whey, or carmine. At Lime Crime, we value animal safety and wellbeing, and our products and ingredients are always vegan."
Read Also: What's the Difference 'Cruelty-Free' vs. 'Vegan'?
Is Lime Crime Sustainable?
Lime Crime's headquarters is based in: USA
Lime Crime's products are manufactured in: Mostly in the USA but they also state "our products are made in a few different locations."
Lime Crime does not claim to be a sustainable company.
Additionally, I wasn't able to find any available information on Lime Crime's sustainability or environmental initiatives.
Giving Back Initiatives: Lime Crime claims they have "donated over $16,000 to numerous registered charities, including charities benefitting women, children and animals."
Is Lime Crime's Mica Ethically-Sourced? Lime Crime claims their mica is "ethically-sourced" however it's not clear where Lime Crime sources or mines their mica and how they trace or audit to ensure no child labor was involved.
"At Lime Crime, we uphold the highest standards when it comes to choosing our suppliers and manufacturers. With that, we ensure that all of our partners are as committed as we are to ethically sourcing the ingredients in each of our products, including Mica."
Lime Crime has had a string of controversy since its launch from repackaging suspiciously identical wholesale products as their own, suing influencers and bloggers for 'exposing' the brand, unapologetically creating a 'China Doll' palette featuring a white model wearing Japanese garments, and a problematic security breach where hackers obtained their customers' credit card information.
The brand definitely has a shady past but many cruelty-free consumers have been willing to forgive and forget the company and founder's previous wrongdoings and continue to support the cruelty-free brand.
---
I hope this article helped you to understand Lime Crime's cruelty-free and vegan status and by choosing cruelty-free together, we can help end animal testing for cosmetics once and for all!