This post may contain affiliate links that at no additional cost to you, I may earn a small commission.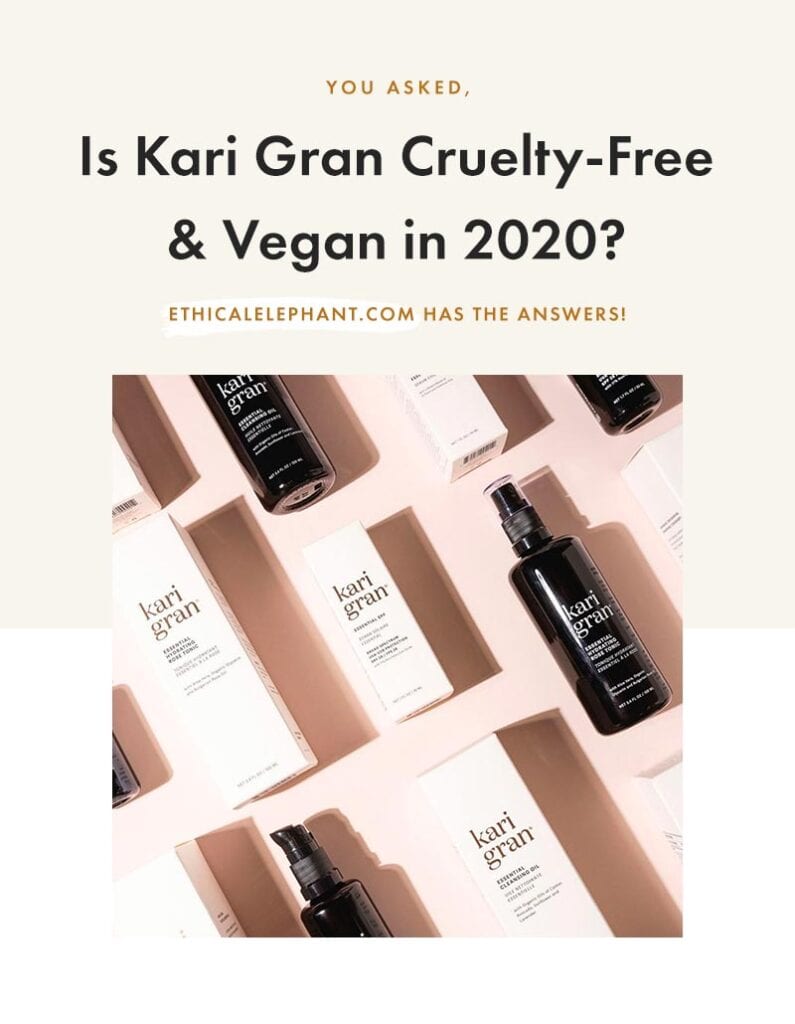 Kari Gran is a luxury natural, organic skincare, and mineral makeup brand but is Kari Gran cruelty-free, vegan, or sustainable in 2021? I've got the answers here!
Is Kari Gran Cruelty-Free?
Kari Gran is Cruelty-free! None of Kari Gran's ingredients, formulations, or finished products are tested on animals, anywhere in the world.
Kari Gran Animal Testing Policy
Kari Gran has confirmed they do not test their products or ingredients on animals, they do not allow others to test on their behalf, their suppliers also do not test on animals, they do not allow their products to be tested on animals when required by law, and their products are not sold in stores in mainland China or any other country that may require animal testing.
Below is a screenshot of Kari Gran's official animal testing statement:

Is Kari Gran Sold in China?
Most imported cosmetics sold in mainland China are required by law to be tested on animals in 2021. However, Kari Gran has confirmed they do not sell their products in retail stores in mainland China and therefore they are not required to test on animals.
Kari Gran has met all of our criteria in our Cruelty-Free Checklist and is included on our List of Cruelty-Free Brands.
You can find Kari Gran cruelty-free products at Credo Beauty, The Detox Market, and on Amazon.
Is Kari Gran Vegan?
Not all of Kari Gran's products are vegan as some of their products contain organic beeswax and/or carmine. However, Kari Gran does have some vegan options.
Below is a list of Kari Gran vegan products.
The following is a screenshot of what's currently stated on Kari Gran's official website about its vegan products: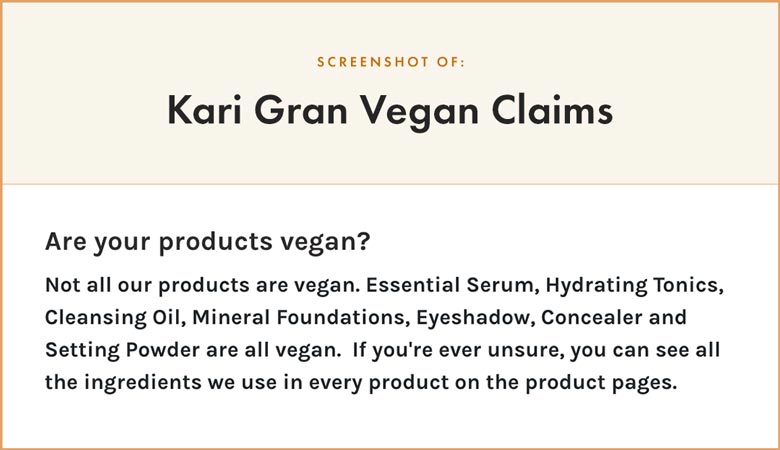 Kari Gran Vegan Product List
The following Kari Gran products are suitable for vegans and do not contain any animal-derived ingredients or by-products. This vegan product list was provided by Kari Gran.
---
Is Kari Gran's Mica Ethically-Sourced? Kari Gran claims their mica is ethically-sourced without the use of child labor.
"I get asked quite often about the ingredient Mica and how we source it for our mineral cosmetic products.
Mica is one of the most widely used ingredients in the entire global beauty industry; any product that makes you shimmer, sparkle, or glow most likely contains Mica.
However, we're aware the mining in the mica industry has raised concerns. Roughly 70% of mica produced in India comes from two areas in India, and too often children are employed in the mining.
That's why we source our mica from a company that has a zero-tolerance policy toward child labor at all of their sites and also requires this commitment from their partners as well.
Yes, mica is an ingredient we use in some of our products, but rest assured we've done the work to make sure we've aligned ourselves with a partner who's doing business the way we want to: ethically and responsibly. Ultimately, we all vote with our dollars, and for us, as a company, we want to support businesses who are doing the right thing."
---
I hope this article helped you to understand Kari Gran's cruelty-free and vegan status and by choosing cruelty-free together, we can help end animal testing for cosmetics once and for all!