This post may contain affiliate links that at no additional cost to you, I may earn a small commission.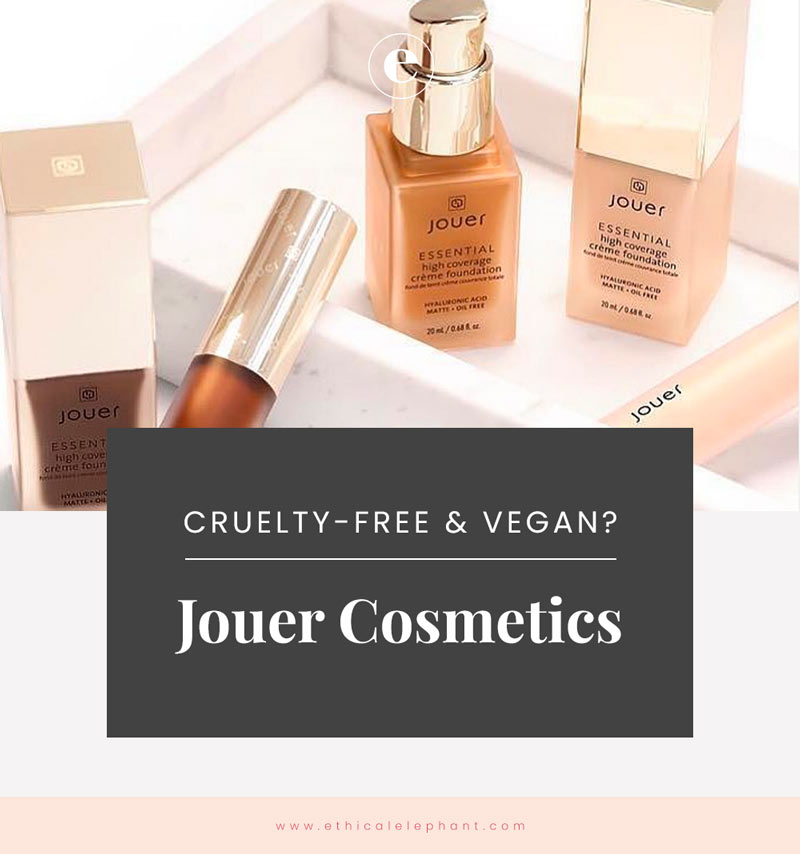 Deeply devoted to beauty and wellness, Jouer Cosmetics promise "clean" products with the highest quality ingredients and the most covetable shades. But is Jouer cruetly-free, vegan, or sustainable in 2021? I've got the answesr here!
Is Jouer Cruelty-Free?
Jouer is Cruelty-free! None of Jouer's ingredients, formulations, or finished products are tested on animals, anywhere in the world.
In addition, Jouer is certified cruelty-free by Leaping Bunny.
Jouer Animal Testing Policy
Jouer has confirmed they do not test their products or ingredients on animals or ask others to test on their behalf. Their suppliers also do not test on animals nor do they allow their products to be tested on animals when required by law. And finally, their products are not sold in stores in mainland China or any other country that may require animal testing.
Below is a screenshot of Jouer's official animal testing statement: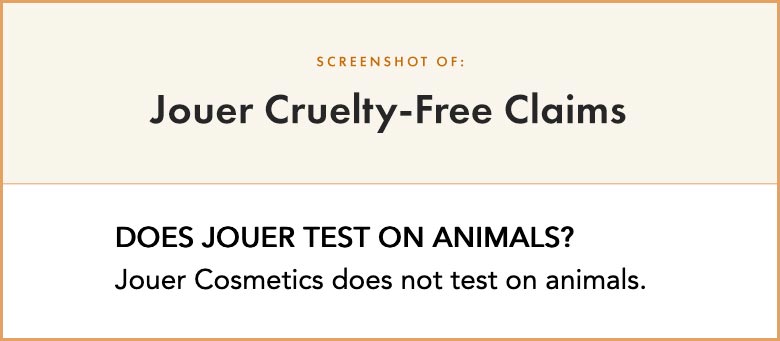 Is Jouer Cosmetics Sold in China?
Most imported cosmetics sold in mainland China are required by law to be tested on animals in 2021. However, Jouer has confirmed they do not sell their products in retail stores in mainland China and therefore they are not required to test on animals.
Jouer Cosmetics has met all of our criteria in our Cruelty-Free Checklist and is included on our List of Cruelty-Free Brands.
You can find Jouer cruelty-free products at jouercosmetics.com, Sephora, Nordstrom, Beautylish, BeautyBay, and on Amazon.
Is Jouer Cosmetics Vegan?
Not all of Jouer's products are vegan as some of their products contain animal-derived ingredients or by-products. However, Jouer does have some vegan options.
Below is a list of Jouer vegan products.
You can also find out which of their products are vegan as they're all marked accordingly on their website under each product description. See below for an example.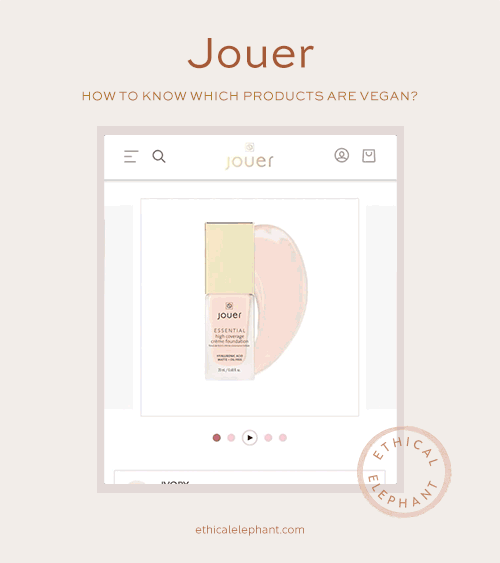 Jouer Vegan Product List
As of 2021, I will no longer be regularly updating this list of Jouer vegan products as all of their vegan products are now clearly marked. Check their website for the most up-to-date and accurate information on which products are vegan or not.
The following Jouer products are suitable for vegans and do not contain any animal-derived ingredients or by-products.
Complexion
Cheeks
Lips
Eyes
Skincare
---
Is Jouer Sustainable?
Jouer's headquarters is based in: USA
Jouer's products are manufactured in: USA, Canada, or Europe
Jouer Cosmetics does not claim to be a sustainable company.
Additionally, I wasn't able to find any available information on Jouer's sustainability, environmental, and social initiatives.
Is Jouer's Mica Ethically-Sourced? Jouer claims their mica is ethically-sourced without the use of child labor.
"Thank you for contacting Jouer customer service. Our Product Development team has informed us that Mica is sourced from India and the USA, however, we ask for our vendors to provide us with statements assuring us that the mica flakes do not use any child labor during their production or collection of them to ensure compliance."
I hope this article helped you to understand Jouer's cruelty-free and vegan status and by choosing cruelty-free together, we can help end animal testing for cosmetics once and for all!