This post may contain affiliate links that at no additional cost to you, I may earn a small commission.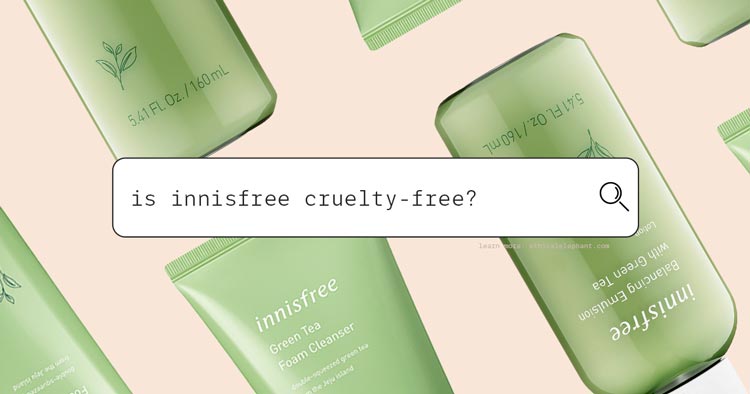 Innisfree is a popular K-Beauty skincare and makeup brand, they're mostly known for using naturally-derived and sustainable ingredients but is Innisfree cruelty-free?
Is Innisfree Cruelty-Free?
Innisfree is NOT Cruelty-free. Innisfree pays and allows their products to be tested on animals when required by law. Innisfree also sells its products in stores in mainland China where animal testing is mandatory for most imported cosmetics.

In addition, Innisfree is owned by AmorePacific, a parent company that is also not cruelty-free.
Innisfree Animal Testing Policy
Upon researching Innisfree's cruelty-free status, I couldn't find any mention of the company's official animal testing policy anywhere on their website, which isn't a good sign.
So I emailed the brand asking if any of their products, ingredients, or formulations are tested on animals by the company itself or commissioned to a third party to test on their behalf, or by any of their suppliers. They responded saying,
"innisfree has declared "a prohibition on unnecessary animal testing of cosmetics".

In 2008, we voluntarily banned the in-house testing of cosmetics materials and finished products on animals. As of May 1, 2013, we have also banned our partners from animal-testing.

However, experiments on animals may be conducted in some countries to fulfill their regulatory requirements. For instance, the China Food and Drug Administration requires all imported cosmetics, new cosmetic ingredients, and special-use cosmetics to undergo animal testing through appointed organizations. Animal testing is therefore unavoidable to enter the Chinese market, which poses difficulty to all foreign cosmetics brands (including innisfree). Please note, innisfree does not conduct animal testing within the Chinese market, this is conducted by companies within China for the Chinese branch of innisfree

innisfree has taken action in the past and will pursue its efforts to promote change in the regulatory policies of countries that mandate animal testing.

We will continue to research and maintain industrial-educational cooperation in order to develop alternatives to animal-testing, and will strive for the abolition of customary tests on animals and the implementation of alternative testing."
Is Innisfree Sold in China?
It's great that Innisfree stopped testing on animals in-house, however, they admit that by choosing to sell their products in China, animal testing is unavoidable.
This is true. Most imported cosmetics sold in mainland China are required by law to be tested on animals. Even if cosmetics have already proven to be safe using non-animal test methods, China's laws demand all foreign cosmetics to be re-tested in their own labs using animal test subjects.
Innisfree tries to explain and justify it as they are not conducting these animal tests in China, but they're having other companies do it — for them.
Although Innisfree may not be administering these animal tests themselves, they are paying and consenting Chinese officials to do it for them, which is pretty much the same thing.
Many truly cruelty-free brands have chosen not to import and sell their cosmetics in mainland China because of the country's animal testing laws. Unfortunately, Innisfree refuses to do the same and have chosen to put profits before the welfare of animals.
Summary: Innisfree is NOT Cruelty-Free!
By choosing to sell in mainland China, Innisfree must have their products tested on animals. Therefore I would not consider Innisfree to be a cruelty-free brand.
Innisfree is on our List of Brands to Avoid – Animal Tested.
Is Innisfree Vegan?
Since we would not consider Innisfree to be cruelty-free as their products are tested on animals in China, we also wouldn't consider anything sold or manufactured by Innisfree to be vegan.
Innisfree claims some of their products are vegan, however, the brand itself is not cruelty-free and should be avoided if you are against animal cruelty.
Below is a snippet of the response I received from Innisfree in regards to their vegan product claims:
"innisfree chooses to use alternative ingredients to animal byproducts in most of our formulas.

innisfree uses only plant-derived glycerin and stearic acid in its formulas.

The collections that are not vegan are the make-up collections, the Canola Honey skincare collection, and the Camellia Hair & Body collections."
Cruelty-Free Alternatives to Innisfree:
Looking to switch to cruelty-free brands? Here are some cruelty-free and vegan-friendly options that are similar to Innisfree:
---