This post may contain affiliate links that at no additional cost to you, I may earn a small commission.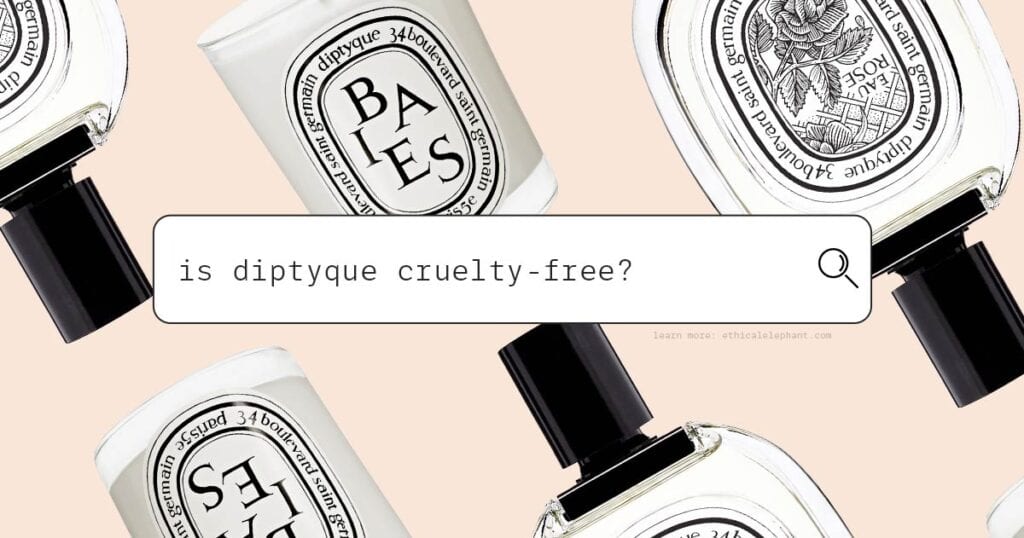 Diptyque Paris is a luxury french fragrance company known for their high-end candles and perfumes, but is Diptyque cruelty-free in 2022?
Is Diptyque Paris Cruelty-Free?
Diptyque is NOT Cruelty-free. Diptyque pays and allows their products to be tested on animals when required by law. Diptyque also sells its products in stores in mainland China where animal testing is mandatory for most imported cosmetics.
Diptyque Paris Animal Testing Policy
There is no mention of Diptyque's animal testing policy on their website so I emailed the company and asked several questions from my Cruelty-Free Checklist. They responded saying,
"Our products are made according to the European regulations relative to cosmetics and are not tested on animals as per the law of September 11th, 2004. Moreover, since March 11th, 2009, the law also forbids practicing animal experiments on raw materials composing our formulas.

Our products are regularly tested by French and/or European laboratories."
This is a very generic response and it's not enough information to certify any brand as being cruelty-free to our standards.
It's true that the EU has banned the sale and marketing of cosmetics products, however, the loophole is cosmetic brands can test their products on animals outside of the EU.
This is especially the case for EU-based companies wanting to sell their products in China where most imported cosmetics are required by law to be tested on animals.
So, I asked Diptyque whether their products are sold in stores in China.
Is Diptyque Sold in China?
In an email response, Diptyque confirmed to me that their products are indeed sold in mainland China, stating:
"I can confirm that our items are sold in mainland China."
In addition, I found several boutiques listed in their store locator page selling Diptyque products in mainland China. Below is a screenshot I took from their website: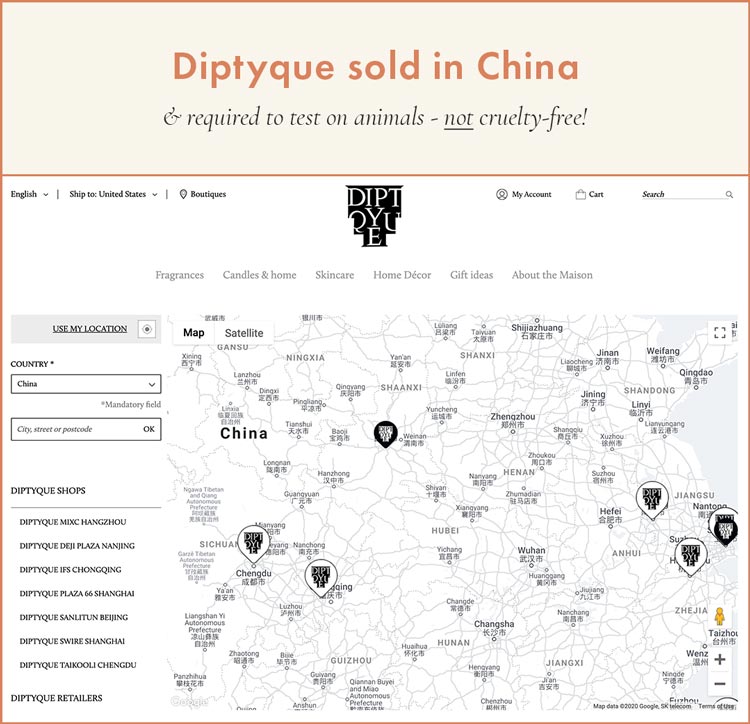 Summary: Diptyque is NOT Cruelty-Free!
By choosing to sell in mainland China, Diptyque must have their products tested on animals. Therefore I would not consider Diptyque to be a cruelty-free brand.
Diptyque is on our List of Brands to Avoid – Animal Tested.
Is Diptyque Vegan?
Since we would not consider Diptyque to be cruelty-free as their products are tested on animals in China, we also wouldn't consider anything sold or manufactured by Diptyque to be vegan.
Cruelty-Free Alternatives
Looking to switch to cruelty-free brands? Check out some more of our cruelty-free resources:
---