This post may contain affiliate links that at no additional cost to you, I may earn a small commission.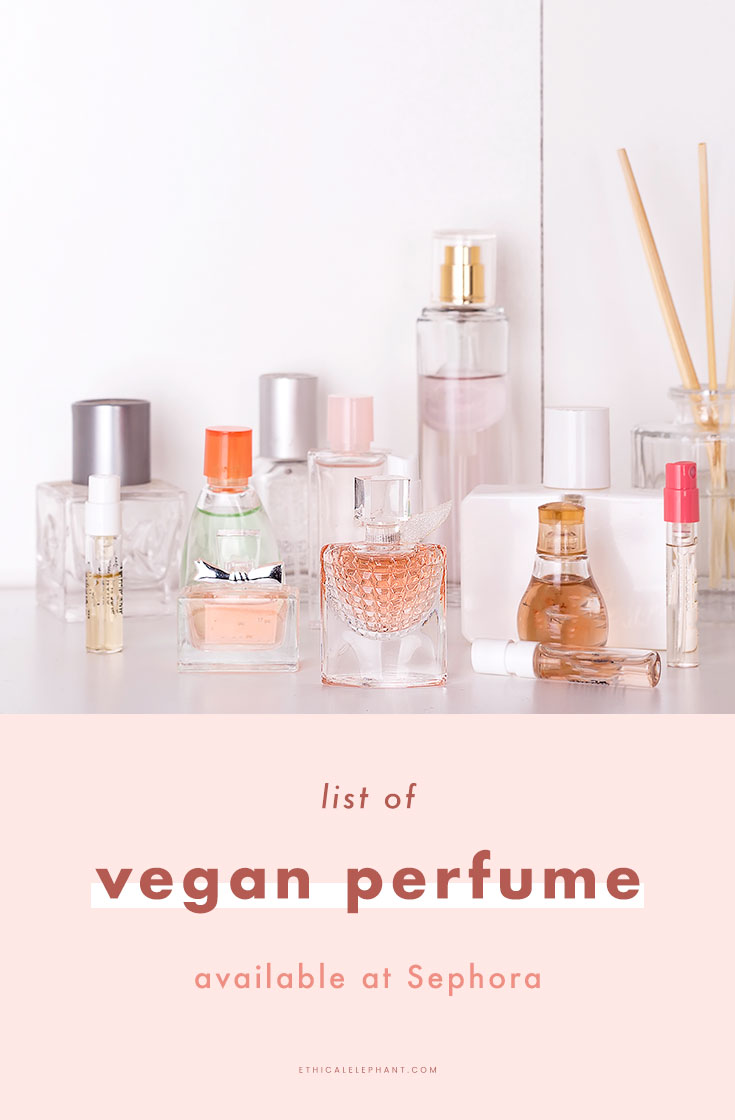 Looking for a high-end cruelty-free and vegan perfume for yourself or for a gift? Sephora is a great place to shop for luxury perfumes at various price ranges but unfortunately, most of the fragrance brands they sell sadly still test on animals in 2020.
Luckily, there are a handful of cruelty-free (and vegan!) fragrance brands that you can get your hands on at Sephora. In this post, I'm sharing 15 cruelty-free perfume brands + a bonus vegan scented candle brand so that you can live your best scented life without harming any animals!
First, what's not vegan about perfume? This may come as a surprise to you (and gross you out) but some perfumes contain animal-derived ingredients like Ambergris, which is a grey, waxy substance produced in the digestive tract of sperm whales and used as a fixative in perfumes; Castroreum which is derived from beavers; and Musk which is a substance with a strong smell and is secreted from the glands of male musk deer.
Yah, I think we'll pass on the animal ingredients and opt for cruelty-free and animal-free versions instead!
Vegan Perfumes at Sephora
Below is a list of vegan fragrance brands that are sold at Sephora (US and Canada), none of these fragrance brands test on animals and none of the perfumes mentioned in this list contain any animal-derived ingredients or by-products.
The 7 Virtues
The 7 Virtues brings oils in from nations around the world to create a made in Canada, vegan, paraben and phthalate-free, eco-chic fragrance for men and women. The 7 Virtues is a cruelty-free and 100% vegan fragrance brand. "The 7 Virtues is a Canadian company based in Halifax, Nova Scotia. We source fair market natural essential oils from nations rebuilding after war or strife. We are on a mission to ignite a cavalry of businesses to come and do trade with nations rebuilding."
Clean Perfumes
Beautiful fragrances crafted with safe ingredients you can trust. CLEAN CLASSIC, CLEAN RESERVE & CLEAN AVANT GARDEN make up the Clean Beauty Collective. All of Clean Perfumes are cruelty-free and 100% vegan, they claim "each and every fragrance is formulated with the finest ingredients. Whether it's sustainably sourced or tried-and-true synthetics—we're proud to say we always put you and the environment first. And we never test on animals. That's our promise."
Pinrose Perfume
Pinrose's collection of fragrances is the perfect blend of amazing and awesome. "We created Pinrose to be different from the other perfume brands. Unlike the big brands that overdesign and overcharge, we make the highest-quality scents that are designed by real women for real women." Pinrose is cruelty-free and 100% vegan.
Maison Louis Marie
Maison Louis Marie has been in the business of creating delicate scents to enchant different lifestyles since 1792. She composes illustrious scents imbued with unique floral fragrances that are quite luxurious. All of her creations are phthalate-, paraben-, sulphate– and cruelty-free, as well as, 100% vegan.
PHLUR
Launched for the first time in 2016, PHLUR is eternally devoted in creating stunning scents with clean ingredients. All of their eau de parfums are free of BHT, phenoxyethanol, parabens, phthalates, and polycylic and alicyclic musks, as well as Leaping Bunny certified and 100% vegan.
by Rosie Jane Fragrances
By Rosie Jane fragrances are designed to be simple and effortless. They are phthalate-free, paraben-free, and vegan. By Rosie Jane perfumes and scented products are created by Rosie Jane Johnston, an easy living enthusiast. She designs her fragrances to be simple and effortless and packages them in 100% recyclable materials. Her fragrances are made in California with natural, vegan, cruelty-free and eco-friendly ingredients.
SKYLAR Natural Perfume
Skylar offers natural perfumes that are hypoallergenic, cruelty-free and vegan with at-home sampling. A team of experienced and passionate artisans create every bottle with care in Los Angeles. Better sourced, better made, and better priced. All of Skylar Fragrances are cruelty-free and 100% vegan.
Kat Von D Beauty
Did you know Kat Von D Beauty also makes perfume? They have 2 Eau de Parfum, appropriately called Saint + Sinner that could be used together or singularly for best effect. "Enter a world of complementary contradiction: light + dark, vulnerable + empowered, Kat Von D Saint + Sinner—discover the only fragrances that celebrate the two sides within all of us." Just like all of Kat Von D Beauty make products, their Saint + Sinner fragrances are also cruelty-free and 100% vegan.
P.S. Kat Von D Beauty also just came out with vegan scented candles!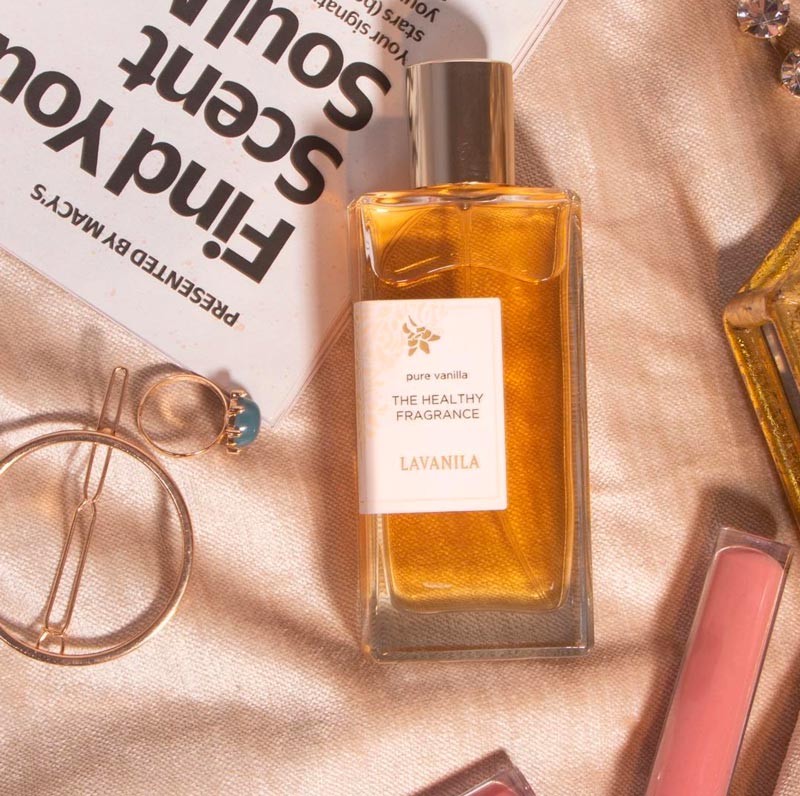 LAVANILA Fragrance
Lavanila is known as the world's first healthy fragrance and natural technology infuses organic sugarcane alcohol with skin-saving antioxidants and botanicals, to give the fragrance a modern twist. Each fragrance starts with a warm base of Madagascar vanilla and layers on a unique blend of pure essential oils for an exquisite expression of nature that captures a mood, a memory, or a moment in time. All of Lavanila fragrances and roller-ball fragrances are vegan.
Ouai Fragrances
Sophisticated OUAI De Parfums inspired by the world's most fashionable cities. "One spritz of OUAI anything conjures up breathtaking views of a white-sugar sand beach in St. Barth. Call it magic, but the five intoxicating OUAI scents were conceived after an arduous process of tweaking and re-tweaking by Jen Atkin and a traditional fine French perfumer." I have confirmed with OUAI that all of their perfumes are vegan and do not contain any animal ingredients or by-products, OUAI is not an entirely vegan brand.
Ellis Brooklyn
Ellis Brooklyn is a luxury naturals fragrance and bodycare line marrying the best artisanal, small-batch formulas with the finest French fragrances. Ellis Brooklyn Fragrances is cruelty-free and all of their eau de parfums are vegan however, their candles and body milks contain beeswax and are not suitable for vegans.
Juliette has a Gun
Discover the famous perfume brand Juliette has a Gun. A collection of fragrances created by Romani Ricci, great-grand-son of Nina. Juliette has a Gun claims, "our fragrances only contain natural and noble ingredients. We bring a particular attention on the fact of selecting the best raw materials for the composition of our perfumes. I confirm that our fragrances don't contain any animal derived ingredients, and that we don't do tests on animals."
Histoires de Parfums
Founded by Parisian perfumer Gérald Ghislain, Histoires de Parfums is governed by inspiration and imagination. Maintaining the highest quality in raw materials, the eau de parfums have a 15% concentration for a long-lasting beautiful trail. 1826 was inspired by the first and last French empress, Eugénie de Montijo. She was a sparkling beauty. Her seductive nature and temperamental elegance delighted Napoleon the third as well as influenced the mundane life and artistic refinement of her time. Histoires de Parfums states, "Our perfumes are in agreement with the European laws which forbid all ingredients of animal origin. We use synthetic essence to recreate the smell of animal notes like the castoreum or the ambergris"
Coal and Canary
Not necessarily a perfume but definitely worth mentioning, Coal and Canary scented candles hand poured in small batches and are made only with the highest quality soy and vegetable wax blend and true to scent fragrance oils. Top Knots and Tequila Shots was created with fancy cocktails and great music in mind. Coal and Canary products are all entirely vegan.
Note: The original publication of this post included Etat Libre d'Orange but they can no longer be considered cruelty-free because it's been brought to my attention that they are now sold in stores in China.