This post may contain affiliate links that at no additional cost to you, I may earn a small commission.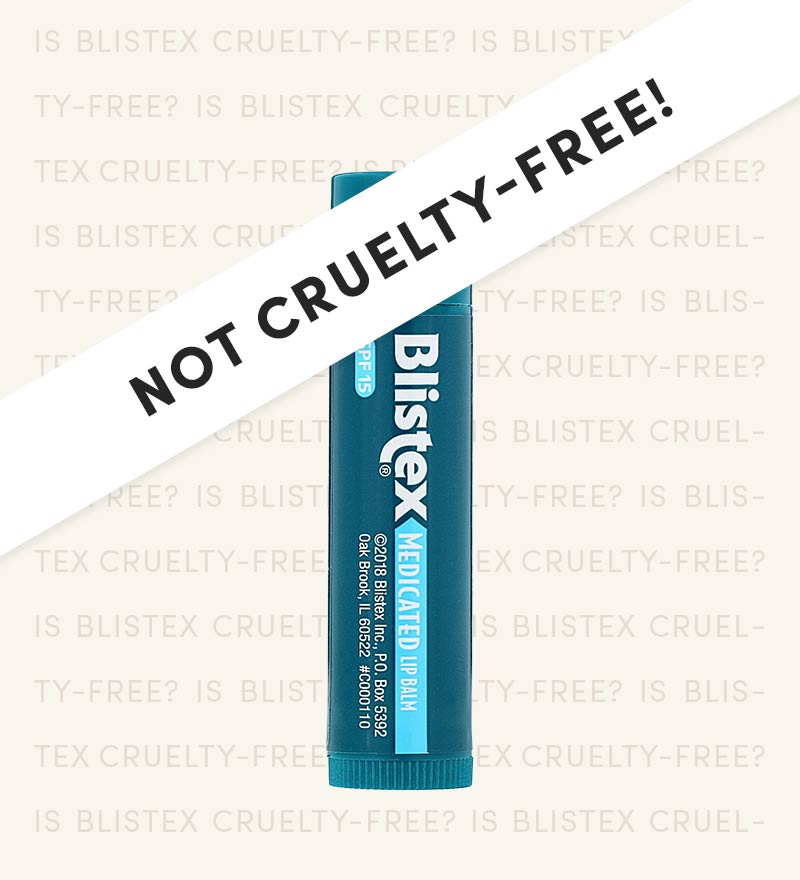 Blistex is an American personal care brand, mostly known for their range of lip care products but is Blistex cruelty-free?
Is Blistex Cruelty-Free?
Blistex is NOT Cruelty-free. Blistex pays and allows their products to be tested on animals when required by law. Also, Blistex sells its products in stores in mainland China where animal testing is mandatory for most imported cosmetics.
Blistex Animal Testing Policy
Upon researching Blistex's cruelty-free status, I couldn't find any mention of the company's official animal testing policy anywhere on their website, which is never a good sign.
So I emailed the brand asking if any of its products or ingredients are tested on animals. Either by the company itself, commissioned to a third party to test on its behalf, or by any of its suppliers. They responded saying,
"Thank you for contacting Blistex with your question.

Blistex fully supports the elimination of inhumane animal testing. We verify the safety and efficacy of our products only on human volunteers and via in-vitro means rather than through animal testing in virtually all markets, including all of North America, South America, Europe, Australia, etc. We consider the use of product testing on animals unnecessary given the many viable alternatives available to us at this time. The only cases in which such testing may occur on our products is in the rare circumstances when another government's regulators mandate such steps during their registration processes. But to be clear, we fully support further development of alternatives to animal testing and the continuing efforts of advocates on this issue in the hope that local authorities in those few foreign entities who continue to utilize animal testing protocols can be persuaded to change their course."
Blistex states they test only on human volunteers or via in-vitro (non-animal) means. However, they also state that animal testing may occur on their products when another government's regulators mandate it.
Policies stating, "exceptions are made if the law requires it", usually implies the company is selling its products in mainland China. Most imported cosmetics sold in stores in mainland China are required by law to be tested on animals.
Is Blistex Sold in China?
I found evidence that Blistex products are indeed sold in China.
Below is a screenshot of a statement made on Blistex's Chinese website. It reads, "Blistex is honored to have the opportunity to serve the Chinese consumer with the current products for sale." I've also included a screenshot of their Chinese website: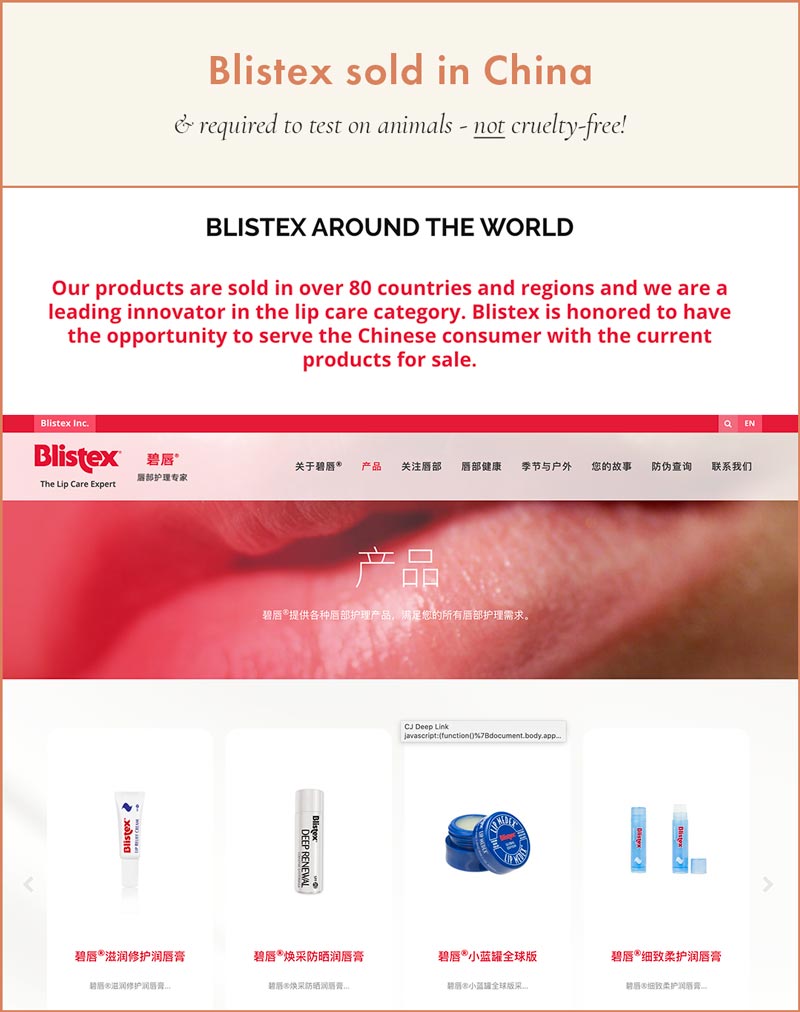 Because of Blistex's decision to sell in China, they must consent and pay to have their products tested on animals. That's why most cosmetics brands selling in mainland China cannot be considered cruelty-free in 2022.
Although Blistex may not be conducting these animal tests themselves, they are knowingly allowing Chinese authorities to test their products on animals in order to sell in China.
Many truly cruelty-free brands have chosen not to sell their products in China because of the country's animal testing laws. Unfortunately, Blistex refuses to do the same and has decided to put profits before the welfare of animals.
Summary: Blistex is NOT Cruelty-Free!
To sum up, by choosing to sell in China, Blistex must have their products tested on animals. Therefore I would not consider to Blistex be a cruelty-free brand.
Currently, Blistex is on our List of Brands to Avoid – Animal Tested.
Is Blistex Vegan?
Since we would not consider Blistex to be cruelty-free as their products are tested on animals when required by law, we also wouldn't consider anything sold or manufactured by Blistex to be vegan.
Cruelty-Free Alternatives to Blistex:
or check out our list of cruelty-free and vegan lip balms!
---