This post may contain affiliate links.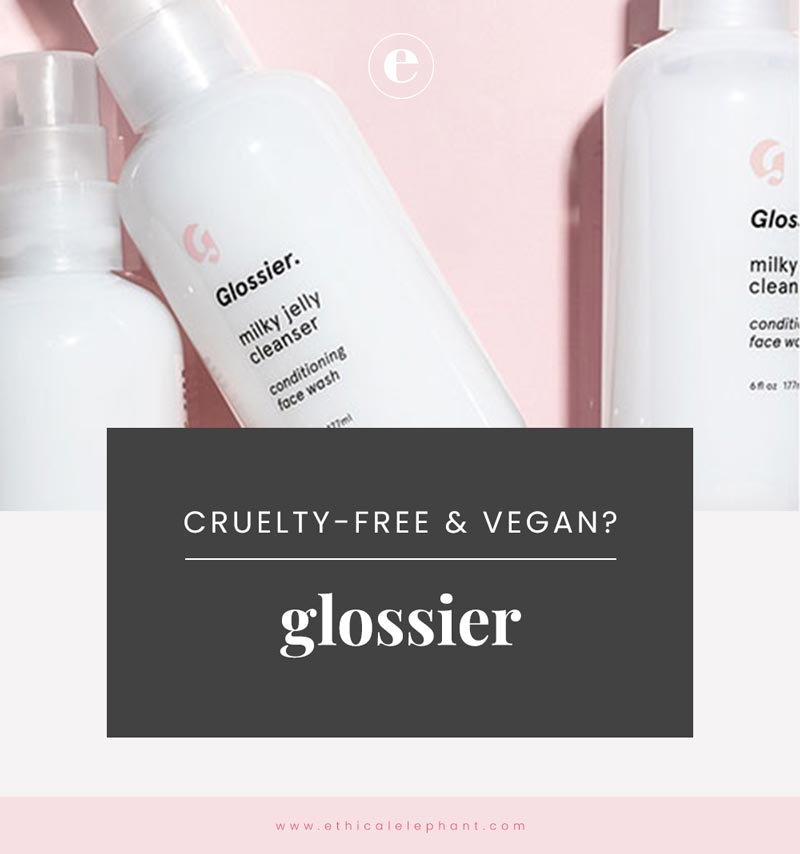 Glossier is a beauty brand inspired by real–life but I first wanted to know, is Glossier cruelty-free or vegan?
Is Glossier Cruelty-free?
Glossier is cruelty-free in 2019; none of Glossier's products or ingredients are tested on animals, anywhere in the world.
Glossier Animal Testing Policy
Glossier has confirmed to me in an email response that they do not test their products or ingredients on animals; they do not hire or ask any third parties to test on their behalf; they make sure their manufacturers and suppliers abide by the same standards; and Glossier does not sell in China where animal testing is required by law.
I am happy to add Glossier to ethical elephant's List of Cruelty-Free Brands!
Is Glossier Vegan?
Not all of Glossier products are considered vegan as they do use beeswax, lanolin, honey, carmine, and/or ambrettolide, but Glossier does offer some vegan makeup and skincare.

Please reference below for a list of Glossier vegan and non-vegan products.
Glossier Vegan Product List (2019)
The following products from Glossier are considered to be vegan and do not contain any animal-derived ingredients or by-products:
Makeup – Glossier Vegan
Skincare – Glossier Vegan
Body – Glossier Vegan
This vegan product list is updated as frequently as possible, please be aware that formulations may have changed since the publication of this post. If you have new information to suggest one of the above products isn't vegan, please email me at info@ethicalelephant.com to let me know.
---
Not Vegan – Glossier
The following products from Glossier are not considered vegan as they contain beeswax, honey, gamset, lanolin, carmine, or Ambrettolide—a synthetic musk.
"To create Ambrettolide, the lab uses sap from tree bark. The reason we can't call this ingredient (or Glossier You) vegan is that this sap may contain saliva from bugs that live in the trees." – Glossier
Balm Dotcom (contains beeswax and lanolin) – not vegan
Boy Brow (contains beeswax) – not vegan
Cloud Paint (contains carmine) – not vegan
Colorslide (contains carmine) – not vegan
Glossier You (contains ambrettolide) – not vegan
Glossier You Solid (contains ambrettolide) – not vegan
Haloscope (contains beeswax and carmine) – not vegan
Lash Slick (contains beeswax) – not vegan
Lidstar (contains carmine) – not vegan
Moisturizing Moon Mask (contains honey) – not vegan
Priming Moisturizer (contains honey and beeswax) – not vegan
Priming Moisturizer Rich (contains honey) – not vegan
Stretch Concealer (contains beeswax) – not vegan