This post may contain affiliate links that at no additional cost to you, I may earn a small commission.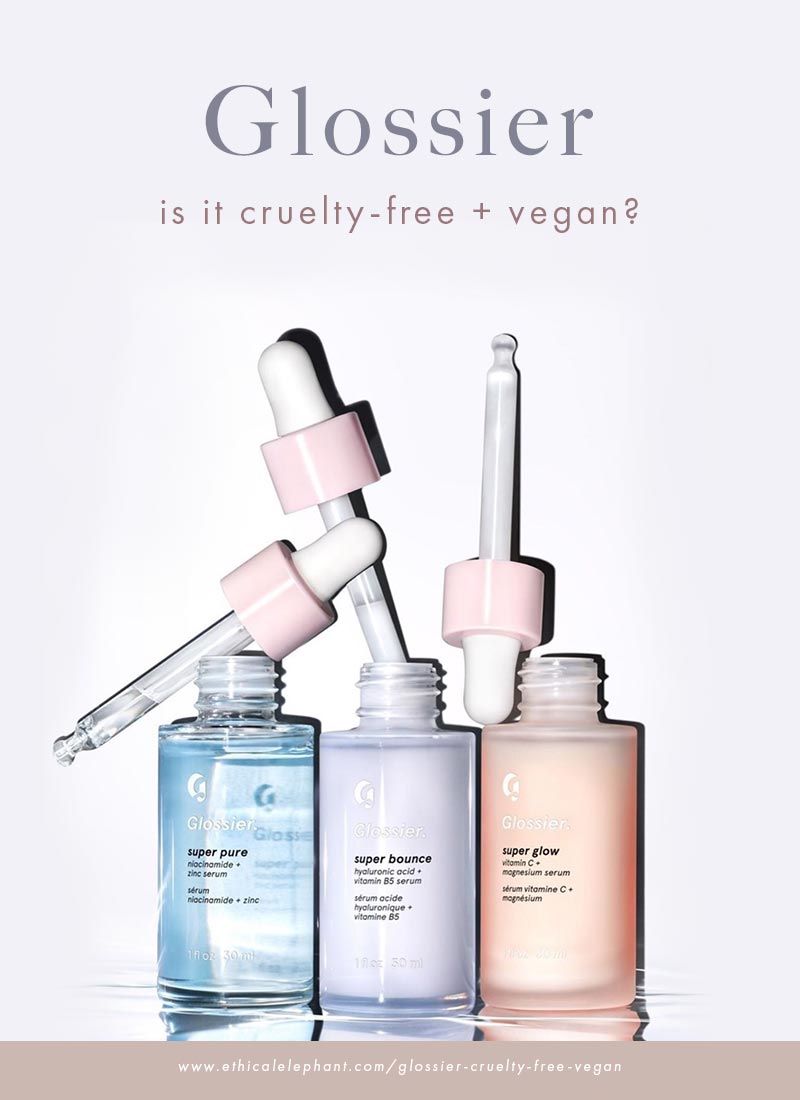 Glossier is a popular beauty brand known for its easy-to-use skincare and makeup inspired by real–life but is Glossier cruelty-free, vegan or sustainable in 2021? I've got the answers here!
Is Glossier Cruelty-free?
Glossier is Cruelty-free! None of Glossier's ingredients, formulations, or finished products are tested on animals, anywhere in the world.

Glossier is also certified cruelty-free by Leaping Bunny.
Glossier has confirmed they do not test their products or ingredients on animals or ask others to test on their behalf. Their suppliers also do not test on animals nor do they allow their products to be tested on animals when required by law. And finally, their products are not sold in stores in mainland China or any other country that may require animal testing.
Below is a screenshot of Glossier's official animal testing statement: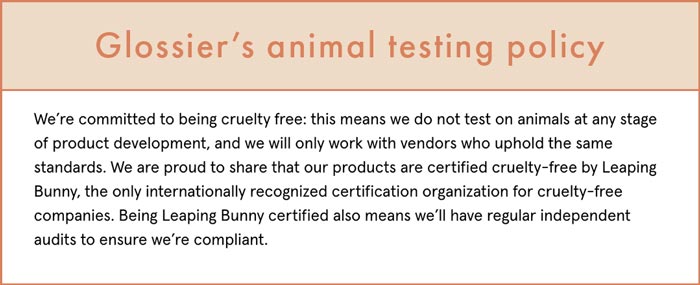 Glossier has met all of the criteria in our Cruelty-Free Checklist and is included on our List of Cruelty-Free Brands.
You can find Glossier products at glossier.com and Amazon.
Is Glossier Vegan?
Not all of Glossier's products are vegan as some of their products contain beeswax, lanolin, honey, carmine, or ambrettolide. However, Glossier does have some vegan options.
Please reference below for a list of Glossier vegan and non-vegan products.
You can also find out which of their products are vegan as they're all marked accordingly on their website under each product description. See below for an example.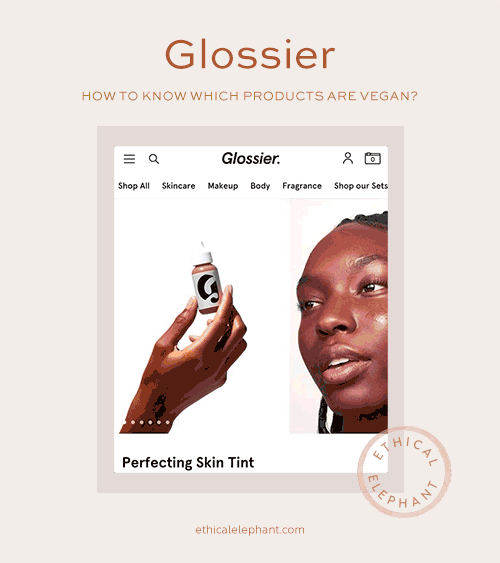 Which of Glossier Products is Vegan?
As of 2021, I will no longer be regularly updating this list of Glossier vegan products as all of their vegan products are now clearly marked. Check their website for the most up-to-date and accurate information on which products are vegan or not.
Below is a list of Glossier products that are suitable for vegans and do not contain any animal-derived ingredients or by-products.
Makeup – Glossier Vegan
Skincare – Glossier Vegan
Body – Glossier Vegan
---
Not Vegan – Glossier
The following products from Glossier are not considered vegan as they contain beeswax, honey, lanolin, carmine, or Ambrettolide—a synthetic musk.
"To create Ambrettolide, the lab uses sap from tree bark. The reason we can't call this ingredient (or Glossier You) vegan is that this sap may contain saliva from bugs that live in the trees." – Glossier
Balm Dotcom (contains beeswax and lanolin) – not vegan
Boy Brow (contains beeswax) – not vegan
Cloud Paint (contains carmine) – not vegan
Colorslide (contains carmine) – not vegan
Glossier You (contains ambrettolide) – not vegan
Glossier You Solid (contains ambrettolide) – not vegan
Haloscope (contains beeswax and carmine) – not vegan
Lash Slick (contains beeswax) – not vegan
Lidstar (contains carmine) – not vegan
Moisturizing Moon Mask (contains honey) – not vegan
Priming Moisturizer (contains honey and beeswax) – not vegan
Priming Moisturizer Rich (contains honey) – not vegan
Stretch Concealer (contains beeswax) – not vegan
---
Is Glossier Sustainable?
Glossier's headquarters is based in: US
Glossier's products are manufactured in: No general information was provided. Glossier states, "We make our formulas all over the world. You can find this information listed on the packaging for each of our products."
Sustainability & Environmental Initiatives: Glossier discontinued one of their products, Glitter Gelée, after consumers were outraged by their decision to use non-biodegradable glitter. Glossier stated, "It was clear to us that we'd made the wrong choice, so we pledged to work on reformulating this product with bio-glitter, a newer and more environmentally-friendly raw material."
Eco-Friendly Packaging Initiatives: Glossier is committed to limiting excess and wasteful packaging, stating "In the world of packaging, we're focused on reduction—of excess, waste, and impact on the environment. As a direct-to-consumer business, an important milestone was the launch of Limited Packaging, which makes it easy to opt out of the pink pouch and any packaging extras when ordering on our website. Since we launched this option in June of 2019, you've selected Limited Packaging more than *250,000* times."
"We also updated our shipping boxes to be made from 100% recycled content, discontinued sticker sheets, and began the process of removing all unnecessary liners in our boxes. Starting in April of 2019, we've offered pink pouch recycling at all our retail locations, both permanent and temporary."
Is Glossier's Mica Ethically-Sourced? Glossier did not disclose where their mica is sourced from and gave a general statement about "every single partner [they] work with".
"Thanks for reaching out about the Mica in our formulas!
At Glossier, we carefully choose every single partner we work with: not only based on quality of service, but also based on the efforts and results that partner shows in working in an ethical way—from their sustainability approach to their employment policies and guidelines. You can read more about our supply chain standards here."
---
I hope this article helped you to understand Glossier's cruelty-free and vegan status and by choosing cruelty-free together, we can help end animal testing for cosmetics once and for all!