This post may contain affiliate links that at no additional cost to you, I may earn a small commission.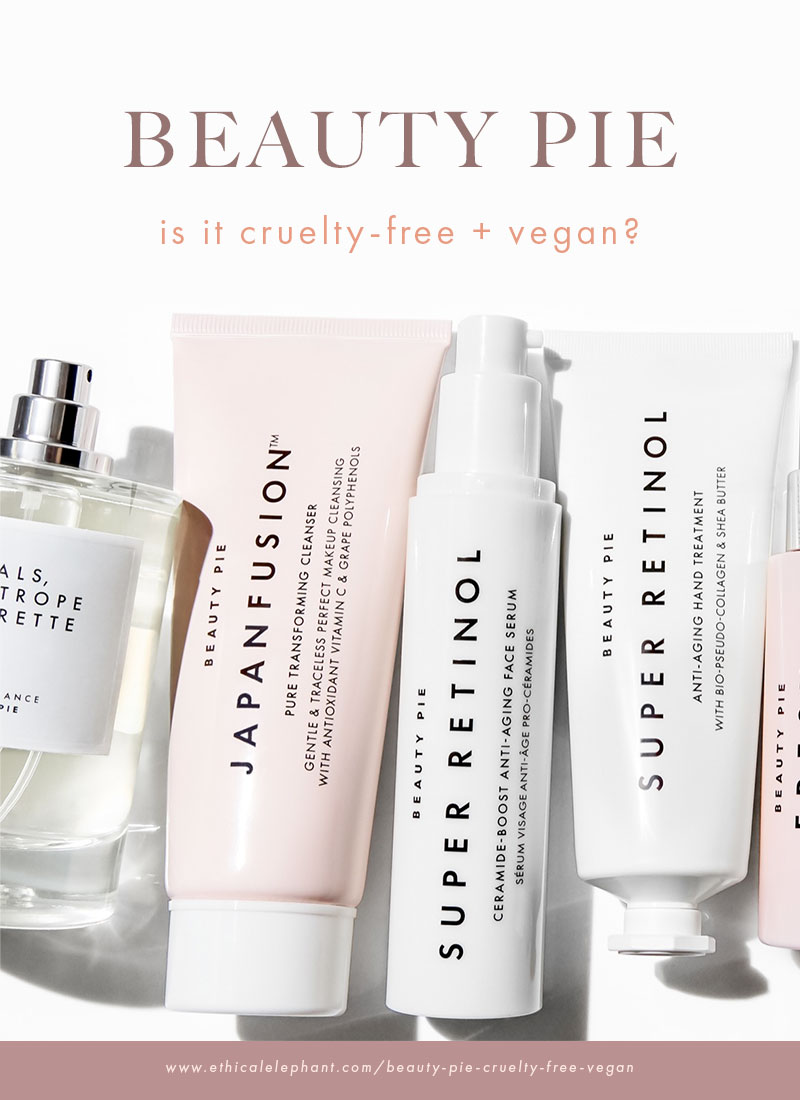 Beauty Pie is a member's only club selling luxury beauty products at affordable prices, but is Beauty Pie cruelty-free, vegan, or sustainable? We've got the answers here!
Is Beauty Pie Cruelty-Free?
Beauty Pie is Cruelty-free! None of Beauty Pie's ingredients, formulations, or finished products are tested on animals, anywhere in the world.
Beauty Pie's Animal Testing Policy
Beauty Pie has confirmed they do not test their products or ingredients on animals or ask others to test on their behalf. Their suppliers also do not test on animals nor do they allow their products to be tested on animals when required by law. And finally, their products are not sold in stores in mainland China or any other country that may require animal testing.
Below is a screenshot of Beauty Pie's official animal testing statement:

Is Beauty Pie Sold in China?
Most imported cosmetics sold in mainland China are required by law to be tested on animals in 2021. However, Beauty Pie has confirmed they do not sell their products in retail stores in mainland China and therefore they are not required to test on animals.
"I can confirm that we only sell our products in the United Kingdom and in the Unites States and do not retail in China. We are a completely cruelty free brand!"
Beauty Pie has met all of the criteria in our Cruelty-Free Checklist and is included on our List of Cruelty-Free Brands.
You can find Beauty Pie's cruelty-free products at beautypie.com
Is Beauty Pie Vegan?
Not all of Beauty Pie's products are vegan as some of their products contain animal-derived ingredients and/or by-products. However, Beauty Pie does offer some vegan options.
See here for a list of Beauty Pie's vegan products.
You can also find out which of their products are vegan as they're marked accordingly on their website under each product description. See below for an example.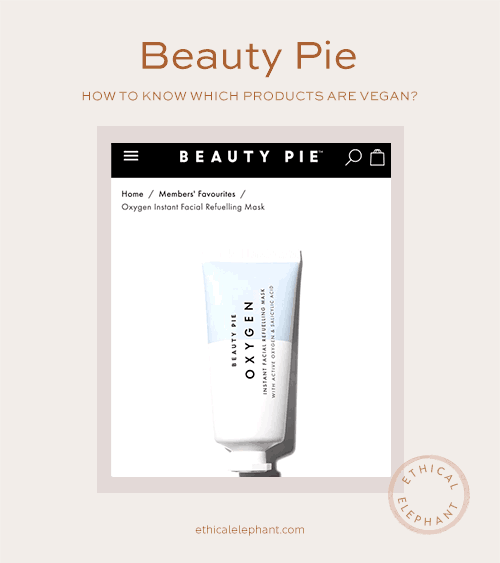 Which of Beauty Pie Products is Vegan?
As of 2021, I will no longer be regularly updating this list of Beauty Pie's vegan products as all of their vegan products are now clearly marked. Check their website for the most up-to-date and accurate information on which products are vegan or not.
Below is a list of Beauty Pie's makeup and skincare products that are suitable for vegans and do not contain any animal-derived ingredients or by-products. This vegan product list was provided by Beauty Pie.
Beauty Pie Vegan Makeup
Beauty Pie Vegan Skincare
Is Beauty Pie Sustainable?
Beauty Pie's headquarters is based in: the UK
Beauty Pie's products are manufactured in: Around the world.
"BEAUTY PIE products are produced at some of the world's leading luxury cosmetics and skincare labs and manufacturers. We currently mainly produce products in France, Spain, Korea, Italy, Germany, Switzerland, Japan, the UK and the USA. Each of our individual product pages states the country of origin of the product featured. You'll see it listed just below the product information on the Ingredients tab."
Eco-Friendly Packaging Initiatives: Beauty Pie claims their packaging, cartons, shipping materials are fully recyclable. You can read more about their Eco Credentials here.
"Our cartons, shipping boxes and packaging materials are all fully recyclable. And we avoid glosses, metallised packs (you don't see a lot of gold and silver at the PIE for this reason), heavy, ornate, and highly decorative overshells, and glitter (all of which are environmentally unfriendly). Our new compacts are now made from PCR, and we are mindful when choosing primary components that we minimise use of non-recyclables while delivering that luxury experience you all love!"
Is Beauty Pie's Mica Ethically-Sourced? Beauty Pie claims their mica is responsibly-sourced.
"Our product development team are fastidious about the supply base that we work with and ensuring that we are bringing our members the best quality. This includes ensuring that we are using the best laboratories in the business, the highest grade of ingredients, extensive efforts surrounding eco-conscious packaging and paying attention to our supply chain to ensure the ingredients themselves are sourced conscientiously. With regards to the latter, we have a strict code of practice requiring that all our suppliers comply with set standards with regards to ethical and responsible sourcing, and the responsible sourcing of Mica is part of our code of practice."
---
I hope this article helped you to understand Beauty Pie's cruelty-free and vegan status and by choosing cruelty-free together, we can help end animal testing for cosmetics once and for all!