This post may contain affiliate links that at no additional cost to you, I may earn a small commission.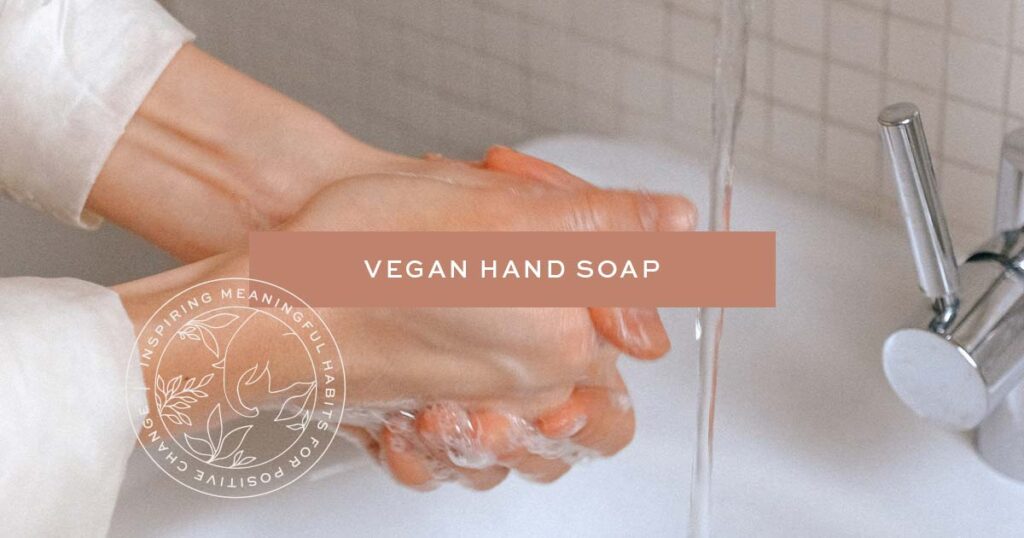 Looking for a refreshing vegan hand soap to gently clean and wash hands and that also smell incredible? In this guide, I'm sharing the best vegan hand soaps that you can find at most major retailers, off and online.
Is Hand Soap Vegan?
Some hand soap and hand wash formulas contain rendered animal fat or animal-based glycerin and stearic acid. There are plant-based and synthetic alternatives to animal-derived ingredients. But it's sometimes difficult to know with certainty whether a product is vegan just by reading the ingredient list.
When looking for a vegan hand soap, choose items that clearly state they're vegan in the product description or packaging.
Which Hand Soap Is Cruelty-Free?
In addition to avoiding animal-derived ingredients in hand soaps, most drugstore and high-end hand soaps are from brands that still test on animals, like Softsoap, Safeguard, Olay, and Bath & Body Works, and should be avoided when looking for a cruelty-free and vegan hand soap.
Vegan Hand Soap Brands
All the hand soaps mentioned in this post are from brands that have been verified as being truly cruelty-free and don't test on animals. Note that I've included some options from cruelty-free brands that are owned by an animal-tested parent company. If you choose not to purchase from these brands, then avoid the ones marked with an * asterisk.
And all the hand soaps have been verified as being vegan-friendly and don't contain any animal-derived ingredients. However, always check the manufacturer's website for the most up-to-date information, as ingredients and formulations may change.
If you're looking for a vegan hand soap refill option, many of these natural and eco-friendly brands offer a refillable solution to cut down on single-use plastic packaging.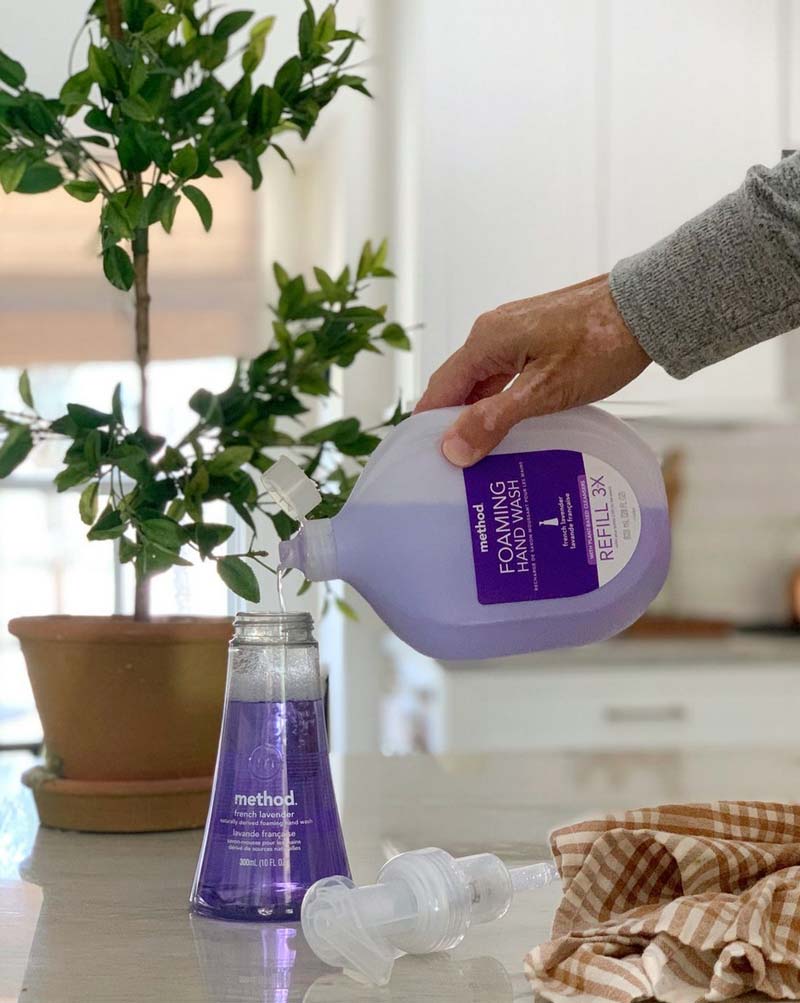 *Method
For a vegan hand soap that you can grab at any major grocery store, drugstore, or even some dollar stores, Method is a great pick. Available in a wide range of scents like grapefruit, green tea + aloe, and lavender, along with a couple of limited-edition holiday scents; frosted fir and hollyberry.
Pick from either Method's gel formula or foaming hand soaps, which are all vegan and cruelty-free*.
Method also has two hand soap refill options, one in a plastic pouch and the other in a big refill bottle made from 50% recycled plastic. And while you're at it, grab one of their new sleek aluminum bottles to reuse and refill forever.
*Note: Method is cruelty-free, but Method is owned by SC Johnson, a parent company that is NOT cruelty-free.
---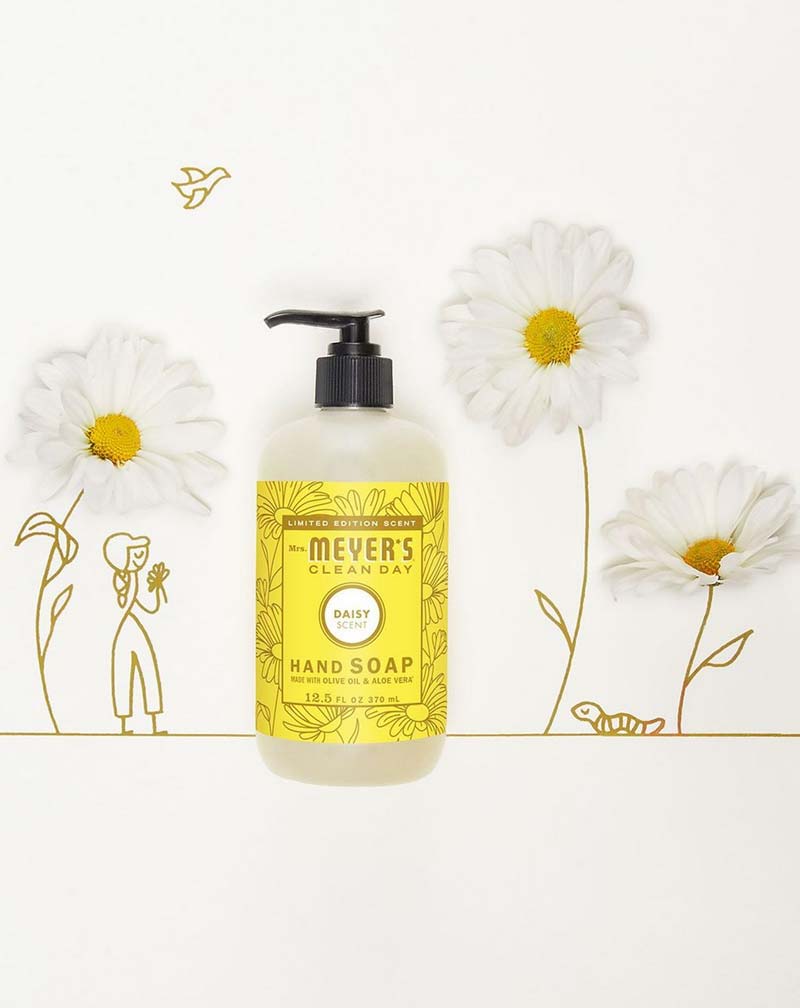 *Mrs. Meyer's
Mrs. Meyer's makes hardworking, non-drying soap for busy hands in an array of delightful garden-inspired scents like Daisy, Oat Blossom, Pear Tree, Lilac, Fresh Cut Grass, and many more.
Available in a liquid formula or as a foaming soap, Mrs. Meyer's vegan hand soaps are made with essential oils, aloe vera, olive oil, and other thoughtfully chosen ingredients.
Mrs. Meyer's also has refills of their liquid hand soaps in 975mL recyclable plastic bottles.
*Note: Mrs. Meyer's is cruelty-free, but Mrs. Meyer's is owned by SC Johnson, a parent company that is NOT cruelty-free.
---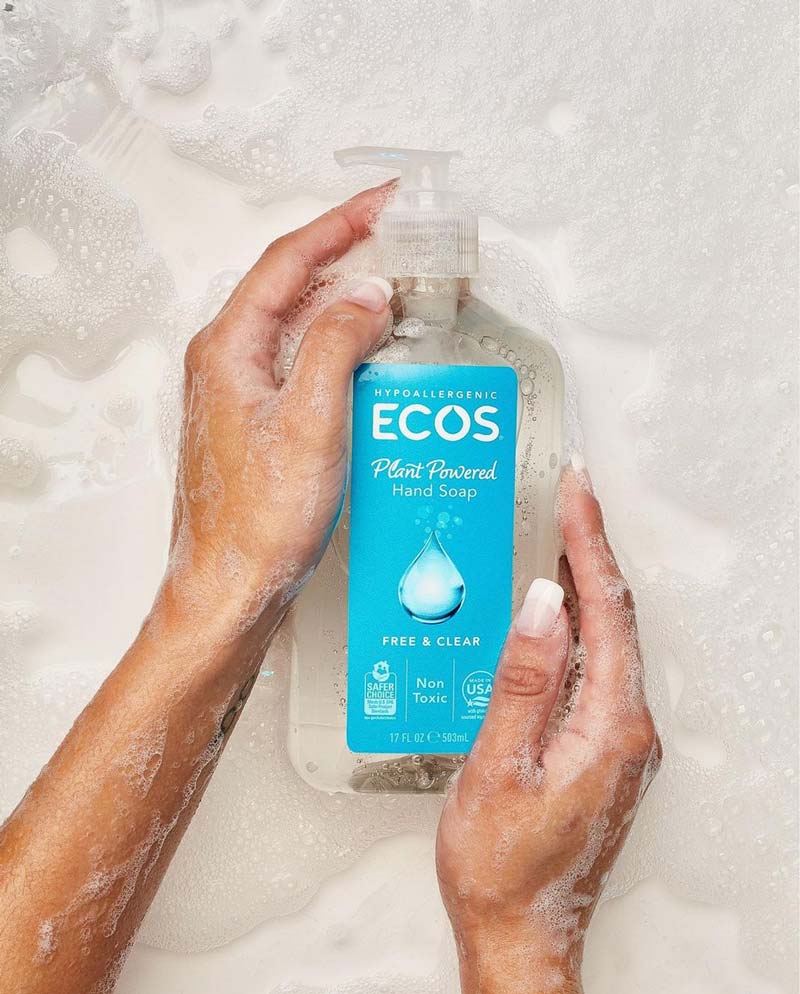 ECOS
ECOS offers a line of hypoallergenic vegan hand soap formulated with plant-powered ingredients that don't dry out your skin, including Vitamin E harvested from natural plant sources. ECOS is also a Climate Positive company. Their hand soaps are made in the US and are Safer Choice certified with the US Environmental Protection Agency.
Pick from three lovely scents; Lemongrass, Lavender, and Orange Blossom, or go unscented with ECOS Free & Clear hand soap. ECOS also has a refill kit that includes one of their 16oz bottles that snaps together with their 64oz refill bottle to save you space under the sink.
---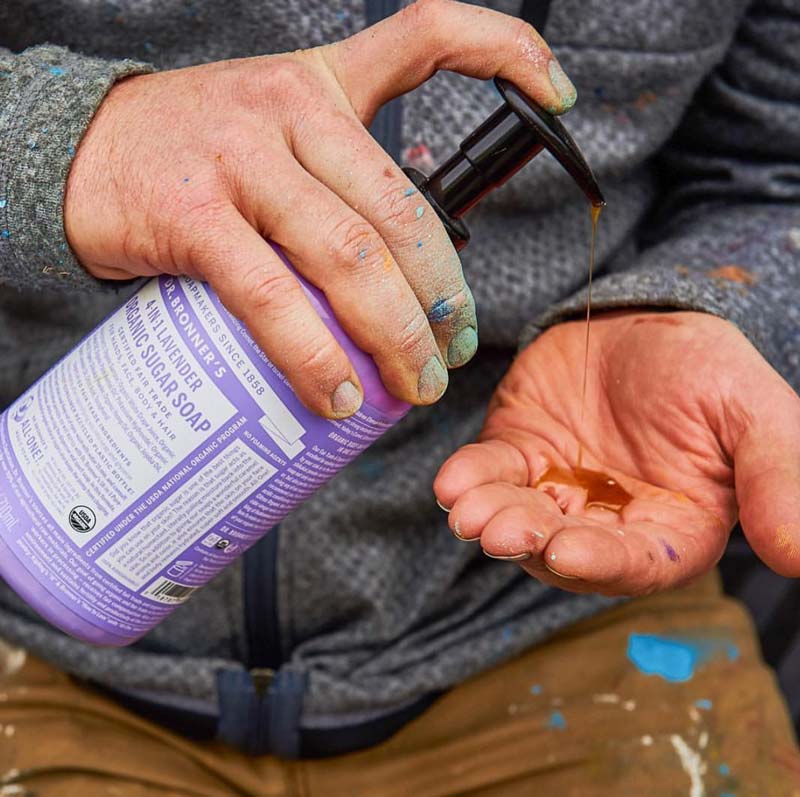 Dr. Bronner's
Known for its all-one magic soap, Dr. Bronner's offers a 4-in-1 organic sugar soap that's great for washing hands, face, body, and hair. If you want just one product that washes everything, this is it!
Formulated with fair trade and organic ingredients, Dr. Bronner's pump soaps contain organic sugar and organic white grape juice to keep skin nourished, hydrated, and smooth.
Dr. Bronner's organic vegan soaps come in Peppermint, Lavender, Tea Tree, Lemongrass Lime, or Unscented (perfect for babies!). Bottles are available in a 12oz or 24oz pump, or a 1/2 gallon jug to refill your bottles.
---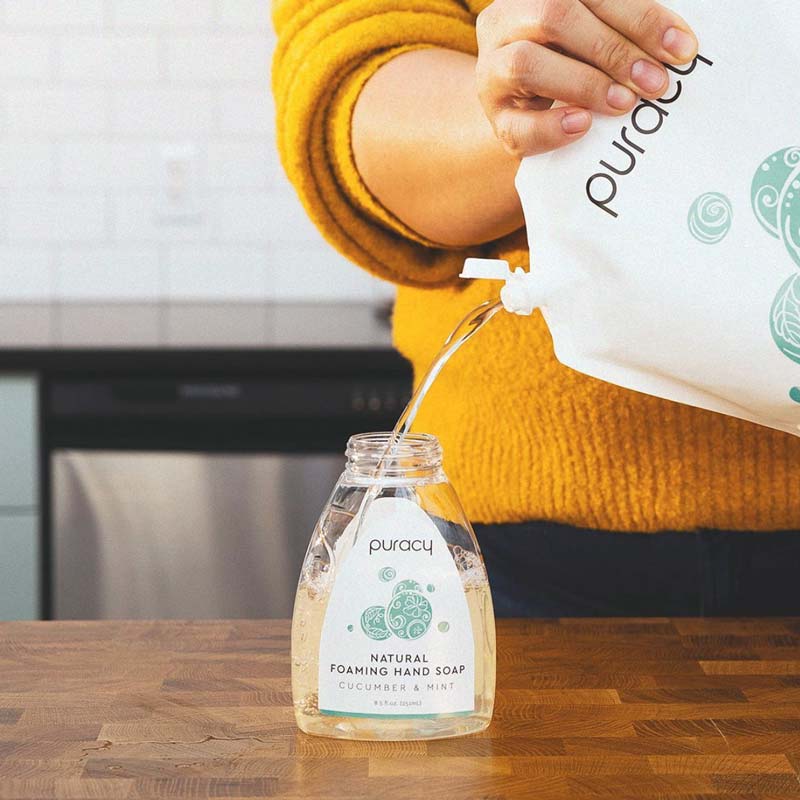 Puracy
Made of 98.6% natural ingredients, Puracy's eco-friendly and vegan hand soaps are gentle and effective cleansers made from plants, minerals, and water. Choose from Puracy's natural gel hand soap or sulfate-free foaming hand soap in refreshing scents like Lavender + Vanilla or Cucumber + Mint.
Puracy has refills of both their gel and foaming hand soaps in a 48oz refill pouch.
---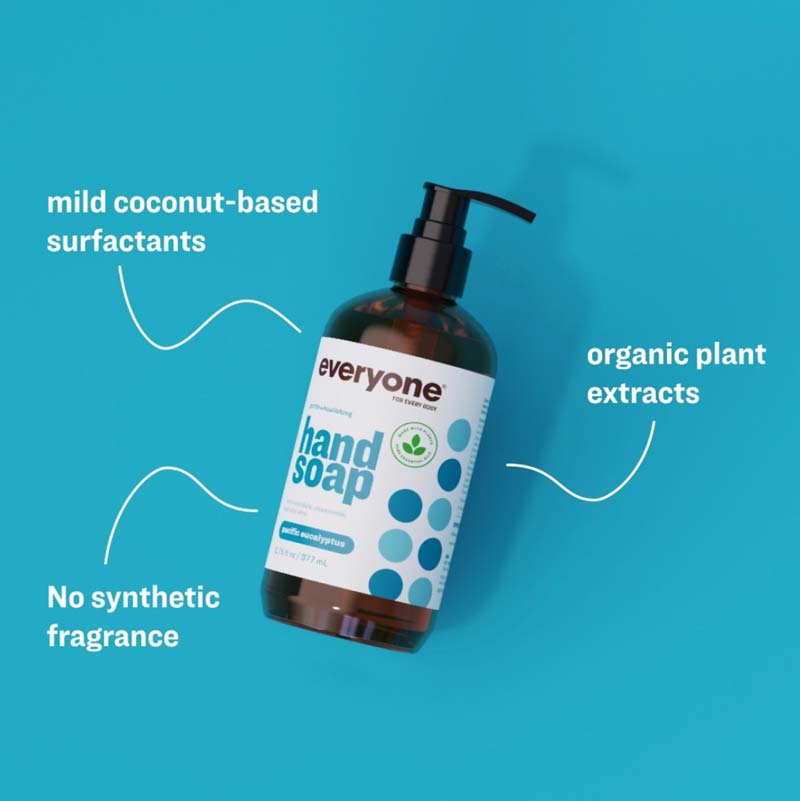 Everyone
Made with gentle coconut cleansers, organic plant extracts, and other skin-loving ingredients, Everyone's gentle and nourishing vegan hand soaps leave your hands clean and moisturized. Select from Everyone's assortment of soap scents made from pure essential oils like Lavender + Coconut, Spearmint + Lemongrass, and Meyer Lemon + Mandarin.
Need to refill your Everyone hand soap? Refill bottles are in 32oz or a gallon. And all of their bottles are made from 100% post-consumer recycled material.
---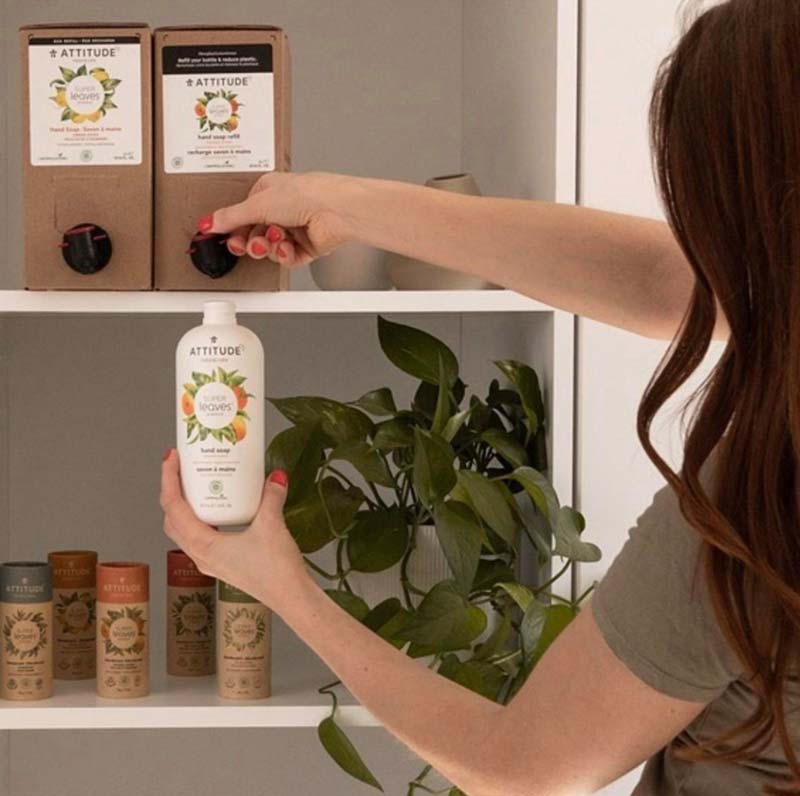 Attitude
Made in Canada, Attitude's hand soaps are certified vegan, EWG VERIFIED, and ECOLOGO-certified. Formulated with plant and mineral ingredients, Attitude's hand soaps come in various lovely scents like Orange Leaves, White Tea Leaves, and Lemon Leaves.
Attitude has three hand soap products to choose from; liquid, foaming, and a soap bar.
Eco-refills for Attitude's liquid hand soaps are available in a 2L or 4L cardboard box with a dispensing tap + recyclable plastic bag. While the foaming hand soap refills are available in a 1L plastic bottle.
---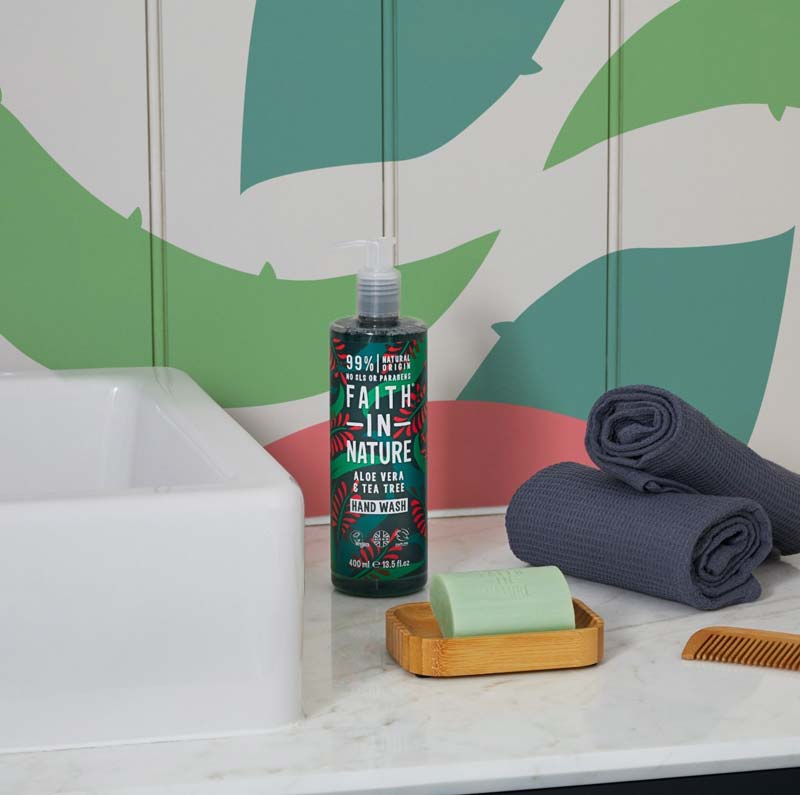 Faith In Nature
Faith in Nature's vegan hand soaps is made with 100% natural origin aroma and essential oils and smell incredible. Packed with aromatherapy benefits, choose from calming Lavender & Geranium, energizing Grapefruit & Orange, rejuvenating Aloe Vera + Tea Tree Oil, and more!
Available as a plastic-free solid soap bar or as a liquid hand wash packaged in a 100% recycled and recyclable bottle. Want to cut down on single-use plastic packaging? Try Faith in Nature's new aluminum refill-a-bottle and use it with their 5L or 20L eco-refill bottles.
---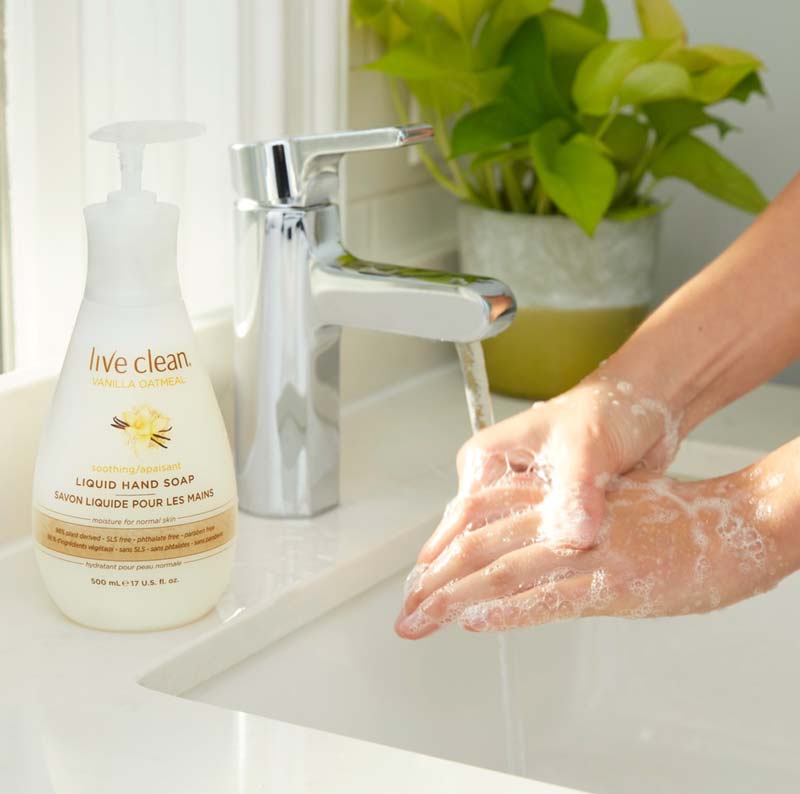 Live Clean
Live Clean hand soaps are enriched with vitamin E, panthenol, and certified organic botanicals to cleanse and moisturize, leaving hands feeling soft and smooth gently.
Choose from Live Clean's liquid hand soap formulas or their foaming hand wash. Live Clean also has some 1L refills available but only for some of their liquid formulas, and none for the foaming hand soaps.
---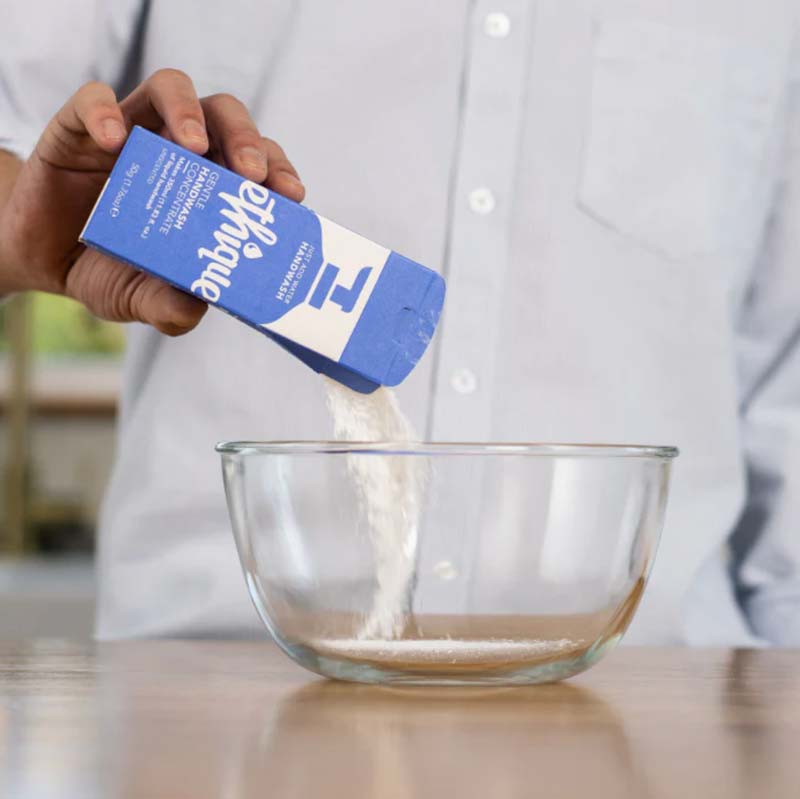 Ethique
For a zero-waste and plastic-free vegan hand soap option, Ethique's handwash concentrates are the answer. Just add water to Ethique's concentrates, stir, and you instantly have 350ml of luxurious handwash, all without the plastic waste!
Made with plant-based surfactants to remove dirt and grime, Ethique's zero-waste vegan hand wash concentrates are also palm oil-free. Choose from a floral or citrusy scent or an unscented (no added fragrance) option.
---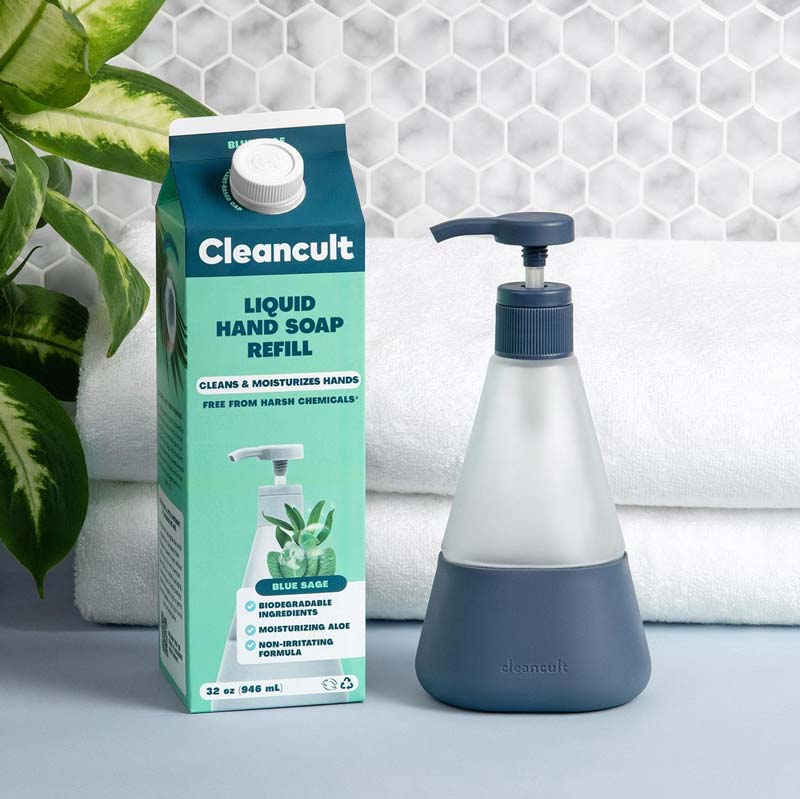 Cleancult
Looking for a reduced-packaging and refillable plant-based hand soap? Cleancult's paper-based packaging and refill system makes it easy for you to have clean and moisturize hands sustainably. Choose from Cleancult's fresh scents, including Blue Sage, Grapefruit Basil, or Lavender.
The liquid hand soap refills come in a 32oz recyclable carton made from 80% paper, 15% polyethylene, and 5% aluminum, making them 100% recyclable and accepted by most local recycling centers. Use Cleancult's hand soap refills with one of their sleek, shatter-resistant refillable glass bottles.
---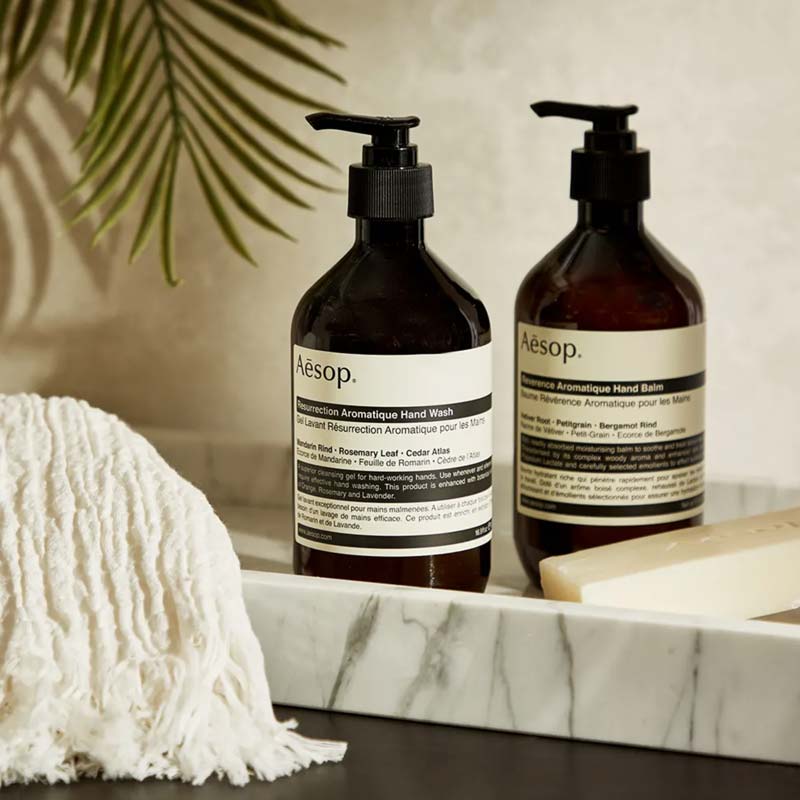 *Aesop
For a luxurious hand soap for the guest bathroom, go for Aesop's Resurrection Aromatique Hand Wash. A gentle formulation containing oils of Orange, Rosemary, and Lavender to effectively cleanse the hands without drying them out.
Contains mandarin rind for a fresh, citrusy scent, along with rosemary leaf and cedar atlas for a woody, herbaceous aroma. Bottles are made from a minimum of 97% recycled plastics.
*Note: Aesop is cruelty-free, but Aesop is owned by L'Oreal, a parent company that is NOT cruelty-free.
---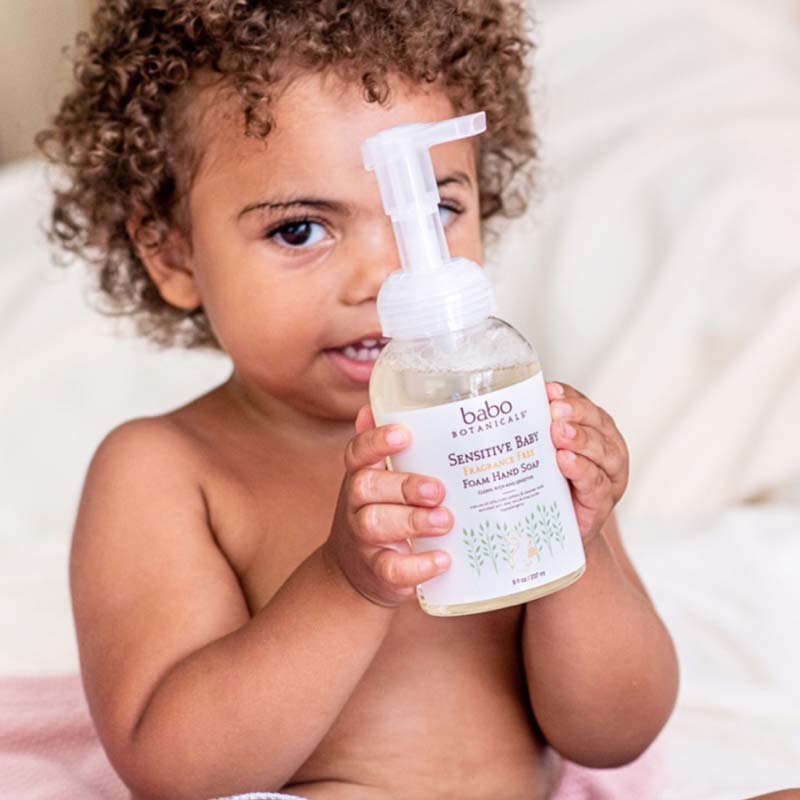 Babo Botanicals
For organic vegan hand soap, try one of Babo Botanical's plant-based hand washes that contain organic argan oil, shea butter, olive oil, and aloe vera. Babo's gentle hand soap formulas are great for the entire family and for those who have sensitive or eczema-prone skin.
Formulated with anti-bacterial Manuka essential oil that was harvested from a family-owned farm in the Southern Region of New Zealand, Babo's hand washes are vegan, fragrance-free, and free from soy, dairy, and gluten. Babo also has a fragrance-free vegan foam hand soap for babies!
---
FAQ – Vegan Hand Soap
Is Hand Soap Vegan? Not all hand soaps are vegan, as many contain animal-derived ingredients or by-products. For example, animal-based glycerin is used in soaps as a humectant, while animal-based stearic acid is used in soaps to create a rich, creamy lather or to help harden bar soaps. Sodium Tallowate can also be found in most mainstream hand soap bars, which are derived from beef or sheep fat and are used as an emulsifier and detergent. In addition, some soaps contain goat milk, honey, or beeswax.
Is Everyone Hand Soap Vegan? Yes. In addition to Everyone's hand soaps, all Everyone's products are also vegan.
Is Method Hand Soap Vegan? Yes. In fact, every Method product is vegan including their hand soaps.
Is Dial Hand Soap Vegan? Most Dial hand soaps are NOT vegan. Currently, Dial only labels its Clean + Gentle™ Foaming Hand Wash as vegan. All other Dial hand soaps do not have the vegan label and therefore do not classify as being vegan-friendly. Dial also gained Leaping Bunny cruelty-free certification in June of 2022, making them officially cruelty-free.
Is Meyer's Hand Soap Vegan? Yes. All Mrs. Meyer's hand soaps are vegan.
Other Vegan Guides You May Like:
If you enjoyed this guide to the best vegan hand soaps available, then you might enjoy more of our other cruelty-free and vegan product guides.