This post may contain affiliate links that at no additional cost to you, I may earn a small commission.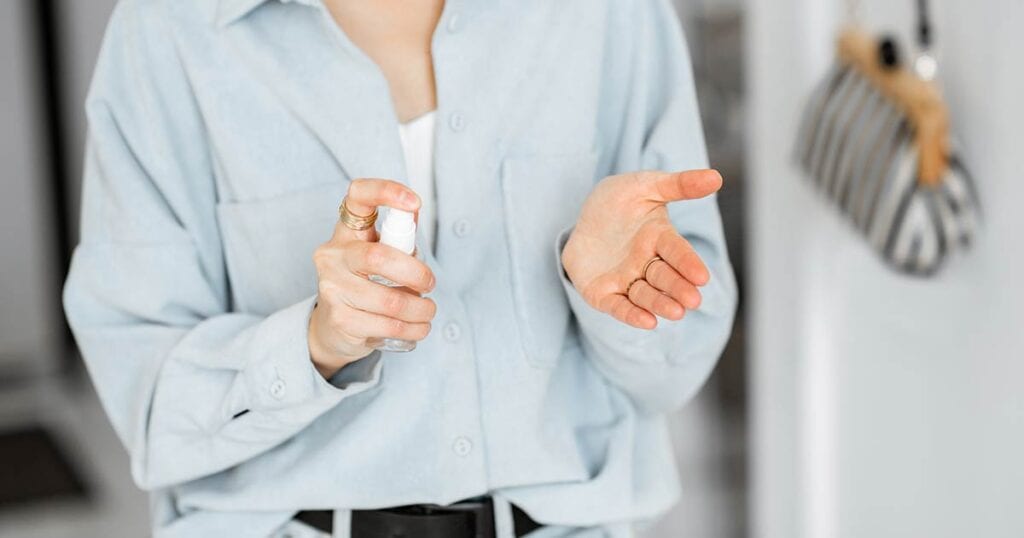 Looking for some options for cruelty-free and vegan hand sanitizers from brands that don't test on animals?
I've been hesitant to post this list since there's a shortage of hand sanitizers and I encourage everyone to just get whatever brand is available to them or that's within their means regardless if they're cruelty-free or vegan. Keeping yourself and those around you safe is most important right now.
But I'm also realizing that hand sanitizers are going to be around for awhile so if you had the option to restock on your supply, I wanted to provide you with a list of cruelty-free and vegan hand sanitizer options.
The CDC recommends we use an alcohol-based hand sanitizer that contains at least 60% alcohol to prevent the spread of infections and decrease the risk of getting sick. All of the vegan hand sanitizers listed below contain at least 60% alcohol.
Also please remember to be considerate and resist buying in bulk quantities. There's enough to go around if we all just buy what we need.
What's not vegan with conventional hand sanitizers? Some hand sanitizers are manufactured from companies that are not cruelty-free. This means the company engages in animal testing either by testing their ingredients, formulations, or finished products on animals themselves or they'll ask others to test on their behalf.
In addition, some hand sanitizers may contain moisturizing agents, like glycerin, or fragrances derived from animal sources.
All of the brands listed in this guide do not test on animals and none of these hand sanitizers contain any animal-derived ingredients or by-products.
Vegan Hand Sanitizers
Whether you want a travel-size vegan hand sanitizer to tote around with you while on the go or you're a vegan business wanting to offer vegan hand sanitizer at your establishment, there's something for you in this guide!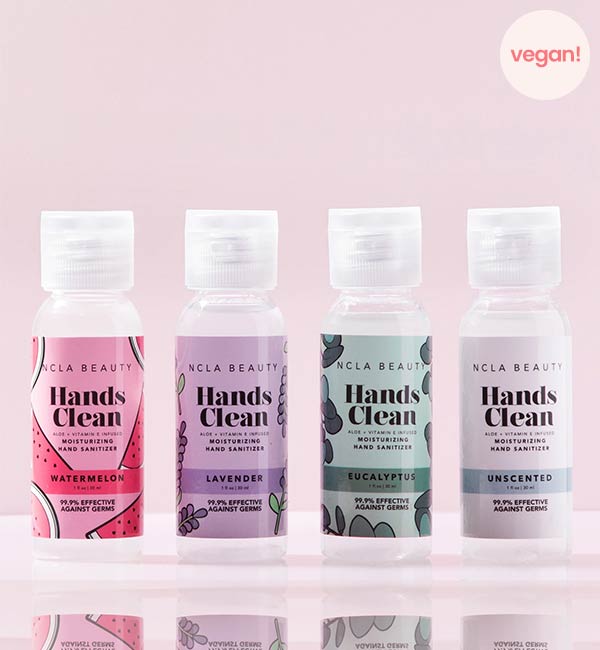 NCLA Hands Clean Moisturizing Vegan Hand Sanitizer
Price: $8 for 1oz
Formulated with hydrating aloe vera and vitamin E, your hands will get a boost of hydration while sanitizing. The 65% ethyl alcohol formula eliminates 99.9% of germs. Its lightweight formula absorbs quickly, and leaves hands clean and smelling great. Available in a range of scents including Pumpkin Spice, Peppermint Mocha, Cranberry Pie, and Watermelon.
---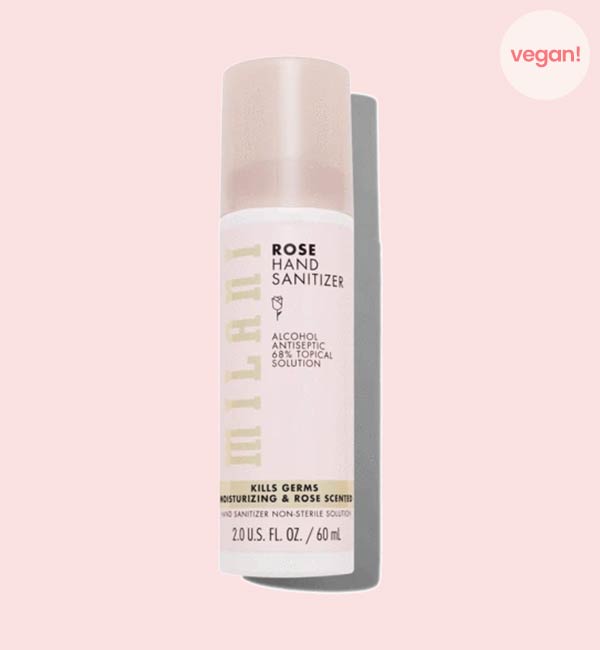 Price: $7 for 2oz
A rose-scented gel vegan hand sanitizer, it contains 68% (Ethanol) Alcohol and the moisturizing glycerin ensures that it doesn't overly dry your hands. The spray bottle makes it easy to sanitize on the go.
---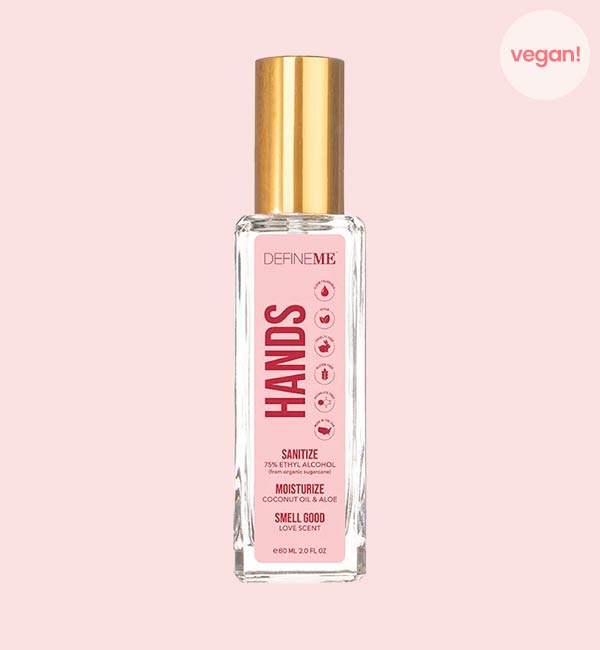 Price: $15 for 2oz
DefineMe uses organic sugarcane alcohol (75% ethyl alcohol), aloe vera, coconut oil, and clean, vegan fragrances in their scented hand sanitizers. In addition, $1 per bottle will go to non-profits that support feeding children and families impacted by COVID-19.
If you like discounts, use code: ETHICALELEPHANT to receive 10% off your order.
---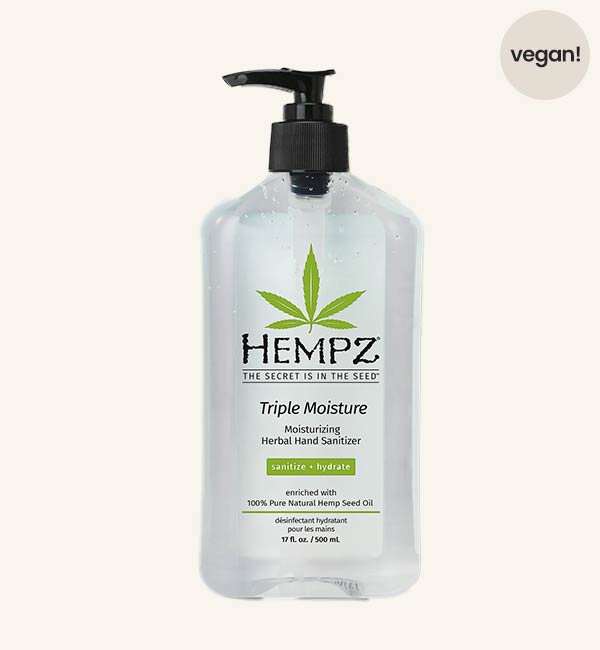 Hempz Triple Moisture Moisturizing Hand Sanitizer
Price: $20 for 17oz
This is a best-selling hand sanitizer with 63% ethanol alcohol and it just so happens to be vegan! Concentrated with a triple moisture serum that helps to nourish and hydrate your skin while killing most germs on contact, leaving hands soft and clean. Available in 4 sizes.
---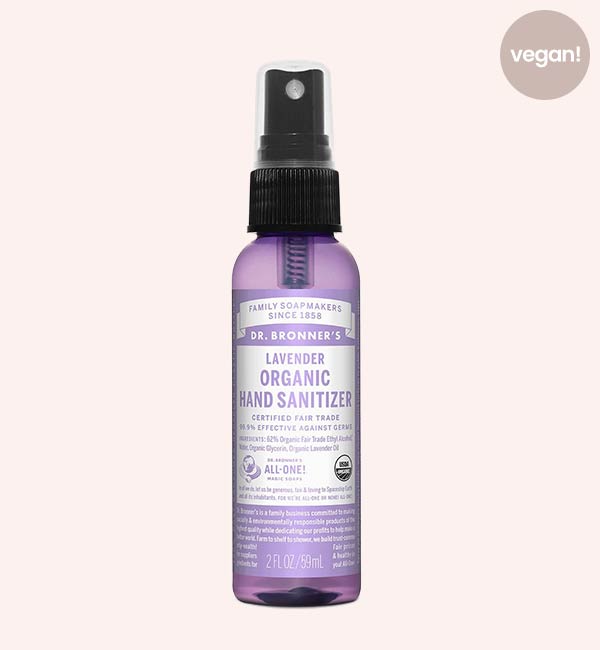 Dr. Bronner's Organic Hand Sanitizer
Price: $5.50 for 2oz
Dr. Bronner's Organic Hand Sanitizer kills germs with a simple formula: organic ethyl alcohol (62%), water, organic lavender oil, and organic glycerin – that's it! None of the nasty chemicals you find in conventional sanitizers, but just as effective.
---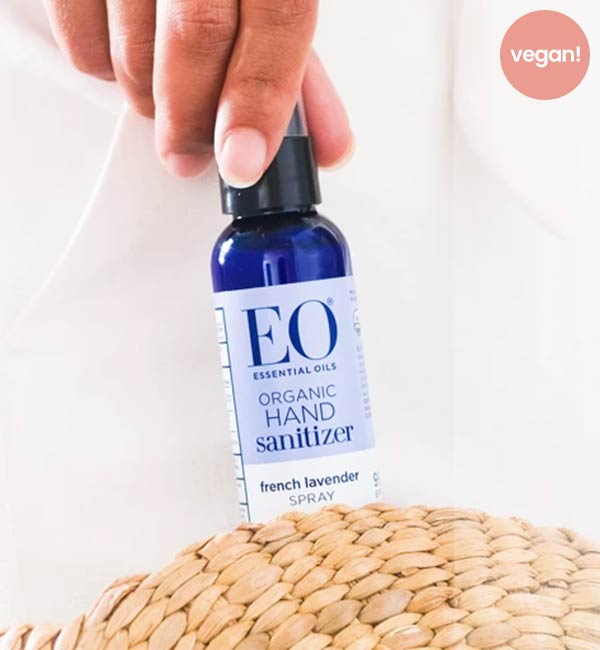 EO Organic Hand Sanitizer Spray
Price: 6-pack for $29
Keep hands clean and refreshed with this organic and vegan hand sanitizer spray. Thanks to the 62% alcohol content derived from non-GMO sugar cane, it's 99.9% effective against most common germs. Soothing lavender helps create a sense of calm. EO Products also has a hand sanitizer gel formula, as well as, wipes.
---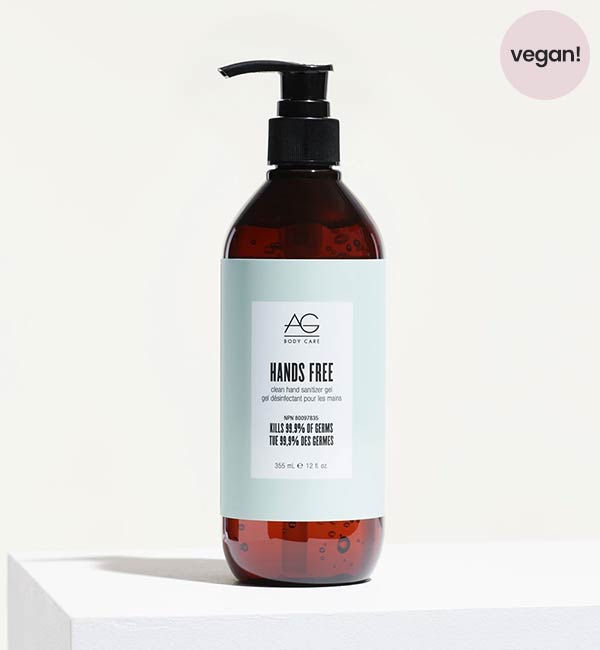 Hands Free Clean Vegan Hand Sanitizer Gel
Price: $13 for 12oz
AG is a cruelty-free and Canadian brand, their clean hand sanitizing gel is formulated with ethyl alcohol 73% v/v for maximum germ-killing ability yet leaves hands feeling moisturized and protected. Rich in vitamin E, glycerine and aloe vera, Hands Free is both soothing and highly effective. Kills 99.9% of Germs. AG Hair also has a spray and a travel-size option.
---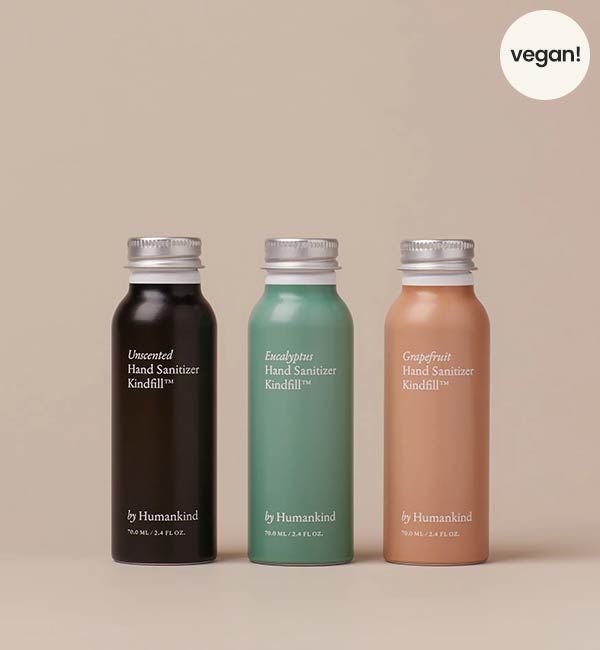 Zero-Waste Hand Sanitizer by Humankind
Price: $14 for 3-pack
A moisturizing hand sanitizer that comes in 3 pocket-size aluminum bottles — designed to reduce single-use plastic waste while on the go. 65% alcohol. Refillable options available.
---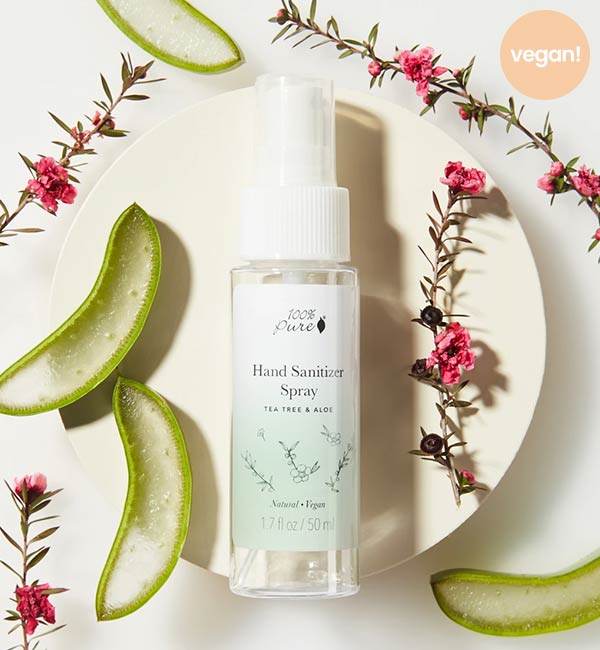 Vegan Hand Sanitizer Spray by 100% Pure
Price: $5 for 1.7oz
A plant-based sanitizer that helps reduce disease-causing bacteria. 100% Pure's quick-drying hand sanitizer spray formula is made with 62% Ethyl Alcohol and hydrating aloe vera gel and antibacterial tea tree oil, to leave skin feeling soft and moisturized without a sticky residue. 100% Pure also has a hand sanitizer gel in a travel-size and a 16oz bottle available.
---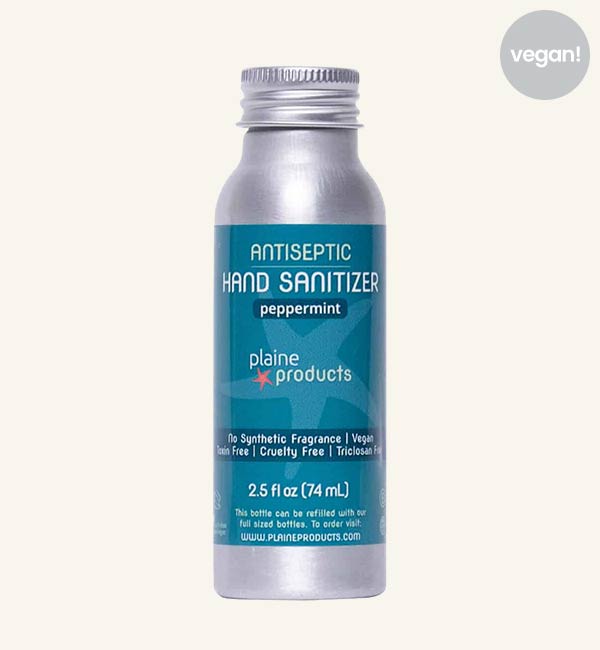 Refillable Peppermint Hand Sanitizer
Price: $5 for 2.5oz
Made with a biodegradable, vegan, and non-GMO formula, this hand sanitizer is free of toxins, triclosan and palm oil. It's packaged plastic-free in a refillable and reusable aluminum bottle, and is blended with essential oils – not synthetic fragrance. Refillable options available.
If you like discounts, use code: ETHICALELEPHANT to receive 10% off at EarthHero
---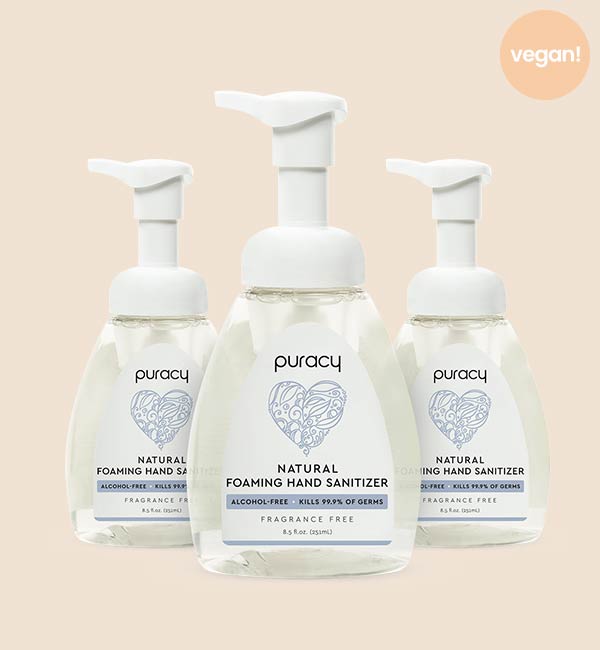 Fragrance-Free Natural Foaming Hand Sanitizer
Price: $13.50 for 3-pack
This is an Alcohol-free and fragrance-free natural foaming hand sanitizer. Benzalkonium chloride is the antimicrobial ingredient used in place of alcohol in other hand sanitizers. The eco-friendly germ-killing alternative is non-flammable and less drying to skin, and doesn't stain clothing or other fabrics. Prefer an alcohol-based hand sanitizer? Puracy has one too that's also available in a gallon bottle, great for businesses!
---