This post may contain affiliate links that at no additional cost to you, I may earn a small commission.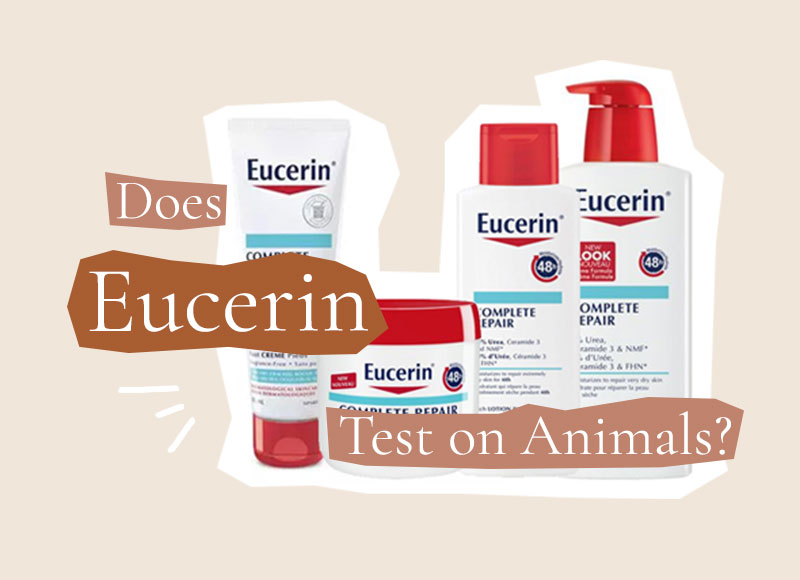 Eucerin is NOT Cruelty-Free!
Eucerin allows its products to be tested on animals when required by law.
In addition, Eucerin is owned by Beiersdorf, a parent corporation that is NOT cruelty-free.
Eucerin's Animal Testing Policy
Below is a screenshot of what's currently stated on Eucerin's official website: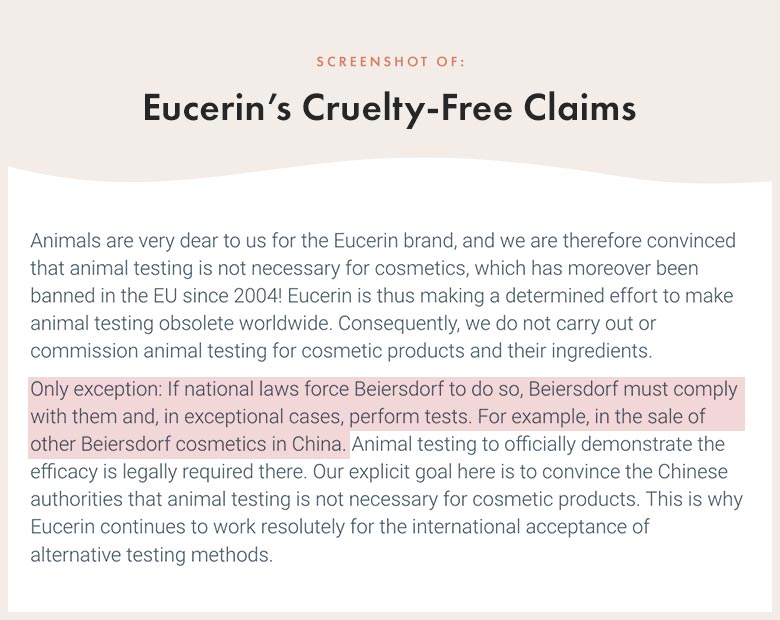 Eucerin claims it does not carry out or commission animal testing for cosmetics products or their ingredients. However, they go on to state that "if national laws force Beiersdorf to do so, Beiersdorf must comply with them and, in exceptional cases, perform tests." And proceed with stating that is the case for cosmetics sold in China.
Note: Beiersdorf owns several brands including Eucerin, Nivea, La Prairie, Coppertone, and more. I also found it interesting that Eucerin's animal testing statement says Beiersdorf may be forced to perform animal tests if national laws require it. But they don't explicitly say Eucerin will be required to test on animals. So, it's assumed here that they have the same policy in regards to animal testing.
Policies referencing China and their animal testing laws usually imply the brand is selling its products in mainland China. That's because China is one of the few countries that requires most imported cosmetics to be tested on animals.
Is Eucerin Sold in China?
I tried researching to figure out if Eucerin products are indeed sold in stores in mainland China. But I could only find evidence that they sell online via Tmall, which wouldn't require them to test on animals.
So Eucerin may or may not be selling in China but because Eucerin includes the disclaimer that an exception is made if they're required by law to perform animal tests gives me reasons to believe Eucerin is not cruelty-free.
The term 'Cruelty-Free' is unregulated so it can mean different things to different people.
Here, we define brands as 'cruelty-free' when they confirm their products and ingredients aren't tested on animals including when required by law.
Unfortunately, because Eucerin states they will comply and allow its products to be tested on animals if national laws force them to means that Eucerin does not fit our criteria to be classified as a cruelty-free brand.
Summary: Eucerin is NOT Cruelty-Free!
Eucerin and Beiersdorf is on our List of Brands to Avoid – Animal Tested.
Is Eucerin Vegan?
Eucerin does not claim or market itself to offer any vegan-friendly options. And since Eucerin engages in animal testing, we wouldn't consider anything sold or produced by Eucerin to be vegan anyways.
In order for products to be considered vegan by ethical elephant's standards, the products and their ingredients must not be tested on animals anywhere in the world. Also, they must not contain any animal-derived ingredients or by-products.
Cruelty-Free Alternatives to Eucerin:
Looking to switch to cruelty-free brands? Here are some cruelty-free and vegan-friendly options that are similar to Eucerin: