This post may contain affiliate links that at no additional cost to you, I may earn a small commission.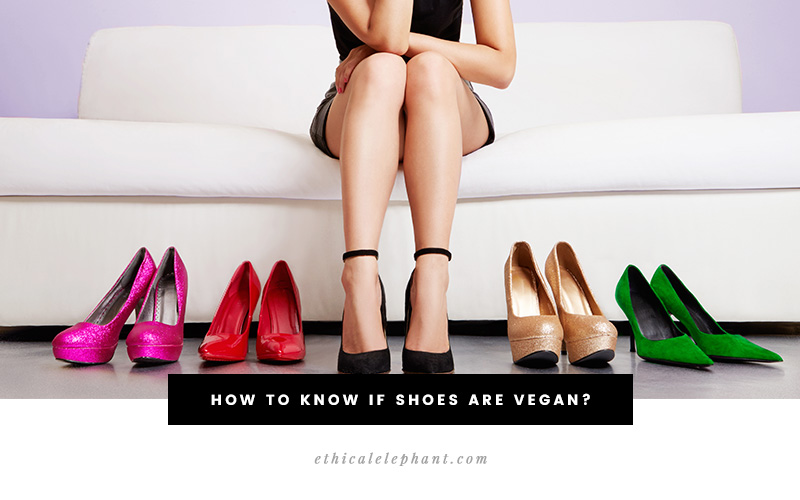 Shopping for vegan-friendly shoes can sometimes be a challenge especially when trying to figure out whether the shoes were made from real leather (from an animal) or from synthetic, man-made materials.
After some digging, I finally found a quick and painless guide to follow when trying to find animal-free shoes.
Quick note: The points mentioned below are to help consumers find shoes made without animal skin. Not all vegan leather are created equal where some are made from fossil fuel or treated with toxic chemicals that harm the planet and workers, however, this guide is strictly on how to avoid shoes made from animal sources. In addition, I encourage conscious consumers to look for more eco-friendly materials whenever possible.
Getting to know our shoes
Shoe manufacturers and retailers are required to label the composition of the entire footwear, specifically identifying the materials used for the Upper, Lining & Sock, and Outer Sole.

If you're lucky, you can find out if the shoes were made from animal skin by reading the shoe tag.
To avoid shoes made from animal skin, you'll want to ward off from materials labelled as leather, coated leather, suede, fur.
Vegan-friendly materials are made from anything other than animal skin so that includes anything and everything from PVC, polyurethane, rubber, fabric, and man-made materials.
Familiarize Yourself with These Shoe Symbols
Ever wonder what's the deal with the sticker on the bottom of the shoe? Other than being a pain to take off? It's actually a helpful pictogram telling you what materials the shoes were made from! The shoe composition will be made from one or a mixture of the following materials.
Leather
Coated Leather
Textile
Other Materials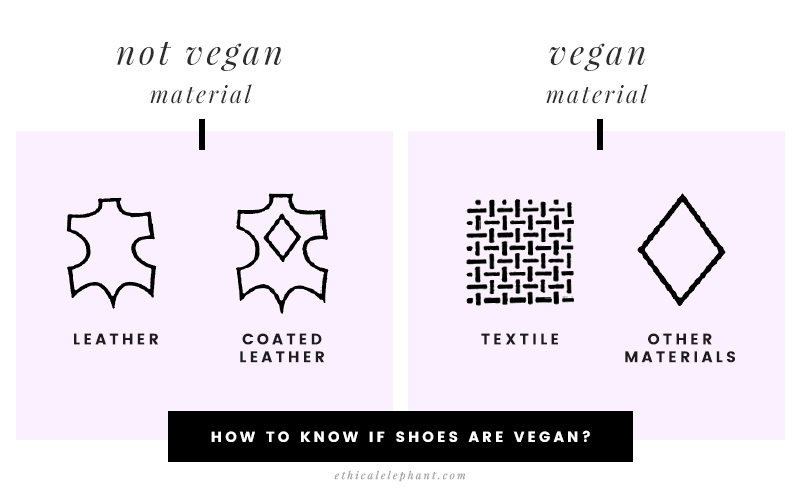 In order to avoid shoes made from real leather or animal skin, you'll obviously want to avoid both the leather and coated leather symbols and instead opt for shoes labelled with either the textile or other materials symbol.
Here is an example of a pair of shoes I recently purchased. Notice the only symbols in the pictogram are Other Materials? This means these shoes were made from materials other than animal skin and is therefore VEGAN!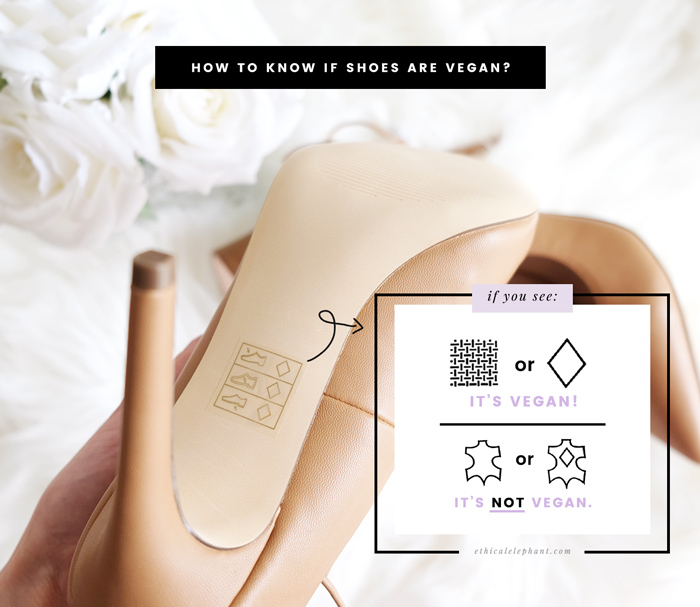 This is definitely a quick and dirty guide but I found it to be extremely helpful and a great starting point for finding vegan, animal-free shoes!
---
Other Vegan Fashion Guides: