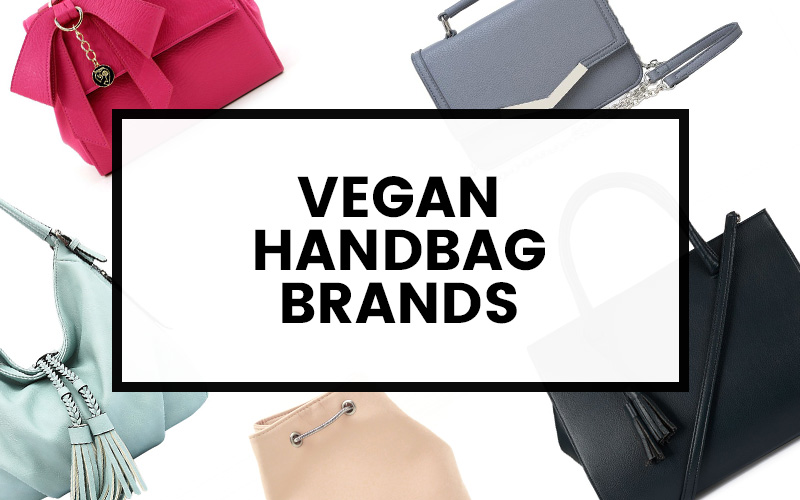 Are you looking for a vegan purse or bag that doesn't look like it was upcycled from a sack of potatoes?
I've been building this list of vegan bags for some time now and I'm so excited to share 20+ vegan handbag brands who are proving we don't have to compromise –on style or ethics– in order to accessorize guilt-free!
Vegan Bag Brands
What are vegan bags you ask? Are we supposed to eat it? Not quite! Actually, never eat your vegan bags!
This list of vegan handbag brands include companies that are making ethical vegan products and accessories without using materials that were derived from animals. And that includes materials like leather, suede, fur, silk, alligator skin, etc!
Angela Roi luxurious vegan handbags are made from EPUL (Excellent Polyurethane Leather) and they also donate a portion of sales to ASPCA!
Matt & Nat is one of the original vegan fashion brands, well-known for their stylish and premium quality vegan bags. Matt & Nat handbags are made without using leather or any other animal-based materials, the lining of each bag is also made out of 100% recycled plastic bottles!
If you don't think one can have high fashion handbags that are made without real leather, then let me introduce you to Alexandra K's vegan bags! All of Alexandra K. vegan purses are made with high quality synthetic leather that looks and feels like the real thing but of course, without having to hurt or harm animals!
Freedom of Animals cruelty-free and vegan bags are made using high quality materials that are comprised of post-consumer polyurethane and organic cotton. To create their stunning color, the materials are dyed using vegetable-based dyes that are also recycled.
Stella McCartney vegan purses are unlike any other! Stella McCartney's high-end designer vegan bags were designed and made without ever using leather, skins, feathers or fur in any of their products. The brand strongly believes that no animal should give their life for the sake of fashion.
Denise Roobol's vegan bags merge the concept of minimalist and functional designs while only using high-tech vegan materials. Denise Roobol vegan purses will make you forget about all your other designer handbags and prove to you that one can definitely have high-fashion and vegan bags at the same time.
88 vegan bags are an affordable option but without having to compromise on quality! 88 uses various vegan leathers and materials to make their stylish and functional handbags! The only thing you're going to have to ask is, which 88 vegan handbag to buy?!
Pixie Mood is a Canadian-based vegan handbag brand and all their products are made with cruelty-free materials ensuring no animals are harmed in making their products!
MeDusa vegan bags were created by Israeli designers and pride themselves in the fact that all Medusa designs are cruelty-free, eco-friendly and incredibly durable.
This vegan bag brand, LaBante was created with the idea that every woman should be able to afford luxury. LaBante's heart lies on the ethos of "FashionWithRespect". Their team works hard to research and source the best materials, ensuring their handbags are made with ethically sourced materials in a humane manner.
Designers of Jill Milan were inspired to create their own luxurious leather-free and vegan bags when they couldn't find many options on the market. And they successfully did just that! Creating some of the most beautiful vegan purses worn and adorn by many celebrities at the Oscars, the Emmys, and AMAs!
Their animal-free purses are handmade in Italy, in 100% sweat-shop free factories. They also donate 10% of sales to charities that benefit animals!!
Wilby is a UK-based fashion brand and they make exquisite vegan bags and purses that are animal-free and environmentally-conscious.
The BAREL collections combine aesthetic value and environmental sensibility by creating high-end handbags and accessories made of cruelty-free and vegan-friendly materials.
Melie Biano's vegan bags can only be described as accessories with purpose. Their premium vegan leather handbags are sculpted with love in a cruelty-free, animal friendly environment, using fair trade principles
Urban Expressions vegan purses and bags are not only functional but their animal-friendly handbags are always on-trend and a fab luxurious, yet ethical, chic option!
Want to go hands-free? Hipsters for Sisters' modern vegan belt bags are the latest must-have accessory! Hipsters for Sisters' vegan bags are made with earth-friendly materials and do not use leather, skins, fur, or PVC (polyvinyl chloride) in any of their products.
Ethique212 vegan bags are made using only "better leathers" that are completely animal-free. Ethique212 has gone above and beyond with their commitment to being a responsible company to humanity, the environment, and our animal-friends.
Just Lovely vegan bags are well, just lovely! Their vegan purses and bags were inspired by their commitment and passion to enjoy fashion without any animal suffering. All of Just Lovely handbags are made using only non-animal materials like synthetic leather and natural fibers.
Mary Point vegan bags embodies their love for animals and minimalist design. All of Mary Point bags are a timeless classic and prove that we can have it all, ethical accessories that are always in trend!
Tragwert's vegan purses and bags are trendy and sustainable, made with durable materials where no animals have to suffer. All of their handbags are made from 100% vegan leather.
Nella Bella is a Canadian brand of handbags and accessories that utilize vegan fabrics to create beautiful, trend setting, high quality collections that accentuate an individual's sense of style. Nella Bella creates a wide variety of handbags and accessories that effortlessly cater to both the sophisticated and the casual.
GUNAS
GUNAS vegan bags are 100% sweatshop-free and animal-friendly! GUNAS bags are made without the use of silk, fur, wool, or leather! They do not use any PVC and instead use a variety of fabrics like coated canvases, nylons, eco-polyurethane, ultra-leather, ultra-suede, and recycled polyester for linings.
I'd love to know, which of the vegan handbag brands are your favourites?
---