This post may contain affiliate links that at no additional cost to you, I may earn a small commission.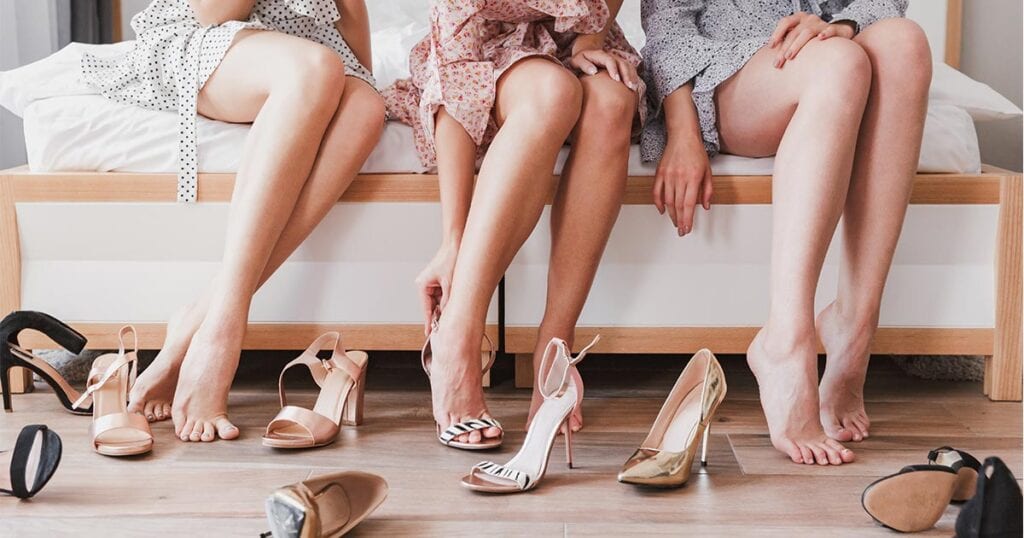 Find vegan heels for everyday and special occasions in this list of women's ethical & vegan pumps, high-heels, stilettos, and wedges.
Whether you're looking for vegan heels for work or a pair of sexy strappy heels for a date, or elegant luxury heels for a special celebration, you'll definitely find something for every occasion in this guide!
These ethical and vegan footwear brands prove that we can elevate our style with their consciously made vegan heels that are made without animal materials because style and ethics shouldn't be mutually exclusive.
What are Vegan Heels?
Vegan heels are footwear made without the use of any animal-derived materials including leather, suede, fur, wool, silk, and animal-based glues.
All of the vegan shoe brands mentioned in this list are 100% vegan and only use animal-free materials. Note that not all vegan leathers are created equal, some are made from fossil fuel and treated with toxic chemicals whereas others are made from sustainable plant materials.
We encourage you to make a habit to check the shoe composition to know what materials your vegan shoes are made of and to choose eco-materials if possible.
Now it's time to pump up your style with this guide to chic vegan heels for all occasions!
List of Stylish Vegan Heels
Whether you're looking for a pair of vegan wedges, stilettos, kitten heels, pumps, strappy high-heels, you name it, there's a vegan and ethical version out there! To help you discover among the growing number of vegan shoe brands offering a great selection of heels, I've created this list of 14 women's vegan shoe brands!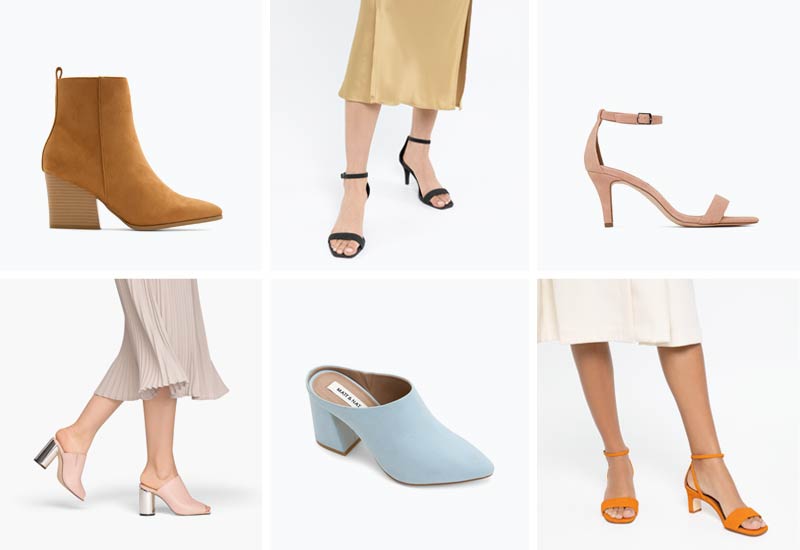 Based in: Montreal, Canada
Price: $50-$150
Best for: Vegan Heels for All Occasions, Great Variety
Materials used: PU, Patent PU, Faux Suede, Thermoplastic Rubber, Corduroy
Matt & Nat offers a selection of vegan heels for all occasions including vegan strappy sandal heels, block heels, heeled boots, and classic pumps. All Matt & Nat shoes are made from vegan materials. 
Matt & Nat products are produced in China, claiming they "only collaborate with factories that are in line with our ethos and verify regularly our operations are up to standards. We make sure the factories we work with qualify for the SA8000 standard certification."
---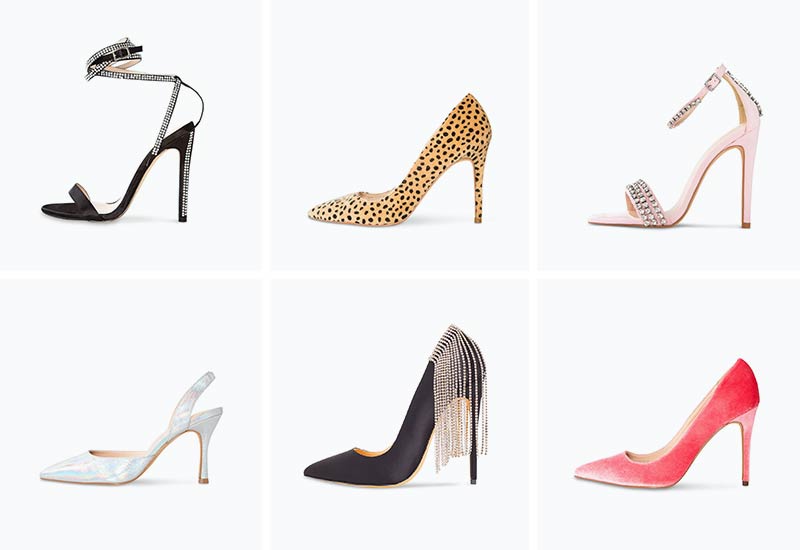 Based in: the US
Price: $75-$219
Best for: Trendy vegan high-heels, stilettos, and pumps
Materials used: Polyurethane, Faux Leather, Faux Suede
Cult of Coquette provides a curated collection of highly-coveted vegan heels, mules, and sandals that are responsibly chic, cruelty-free, and ethically styled. All Cult of Coquette shoes is made from 100% vegan and cruelty-free materials and made in a 100% women-owned factory.
---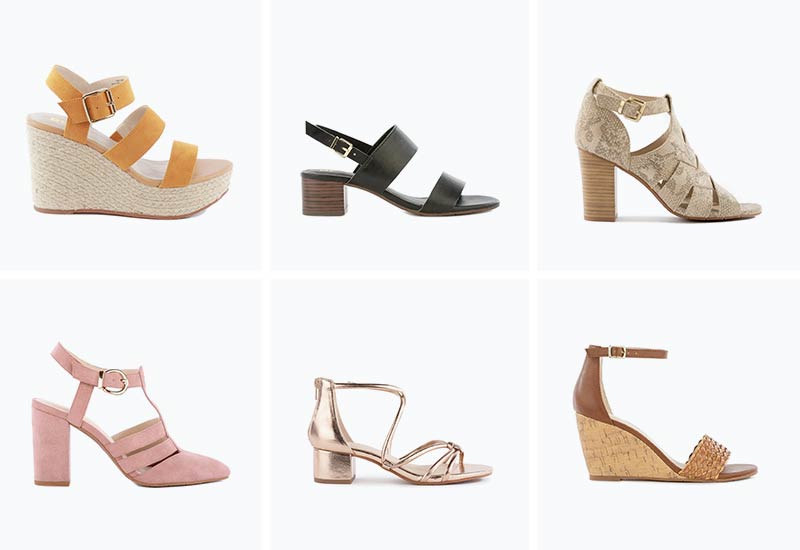 Based in: the US
Price: $54-$95
Best for: Affordable casual vegan heels, wedges, sandals, and platforms
Materials used: Man-made materials including Microfiber and Polyurethane, Insoles made from 5% recycled rubber and 15% repurposed production waste
BC Footwear offers an affordable collection of casual heels, wedges, and sandals made from 100% vegan materials that look and feel like real leather. BC Footwear is one of my favorite brands to shop for casual vegan heels and wedges under $100 and you can also find them on Amazon!
"We've taken care to ensure every single component of our shoes (including the counter pocket, linings, and comfort features) comes from the very best vegan sources to ensure that the hand feel and wearability are not only of the utmost quality but also cruelty-free." – BC Footwear
---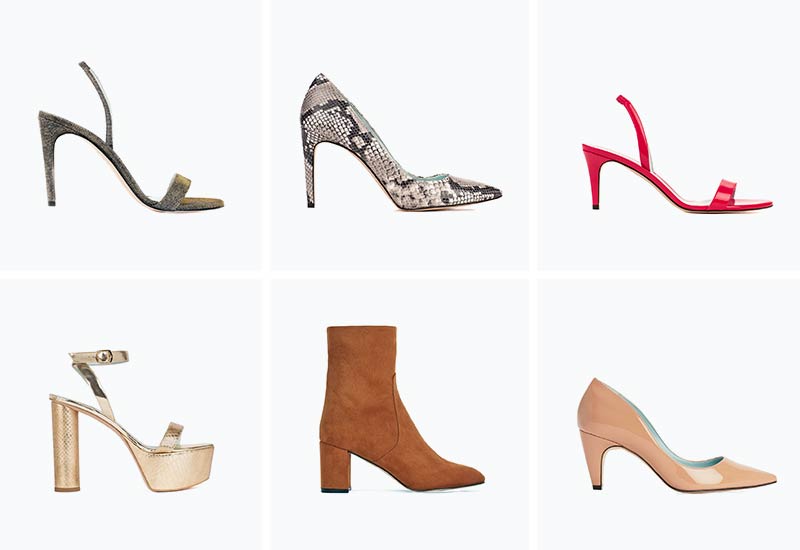 Based in: the US
Price: $325-$445
Best for: Classic & Patterned Vegan Pumps, Heeled Sandals, Boots, and Platforms
Materials used: Man-made materials like polyester, polyurethane, poly-viscose, polystyrene, and nylon, Lining contains bio-polyols elements derived from plant materials, Heels made from Wood, Recycled ABS plastic
Artisanally made in Italy from vegan materials, AERA's timeless & luxury heels are raising the bar, not just for yourself, but for people and the planet. In addition to ethically making luxurious vegan pumps, platforms, heeled sandals, and mules with as little environmental impact as possible, AERA is committed to scientifically measuring the impact of every shoe they make. 
"We use as many eco-friendly materials as possible, always ensuring that the end result is of the highest quality. We are committed to evolving our materials, with the ultimate goal to one day be able to create a shoe with zero environmental impact to begin with."
---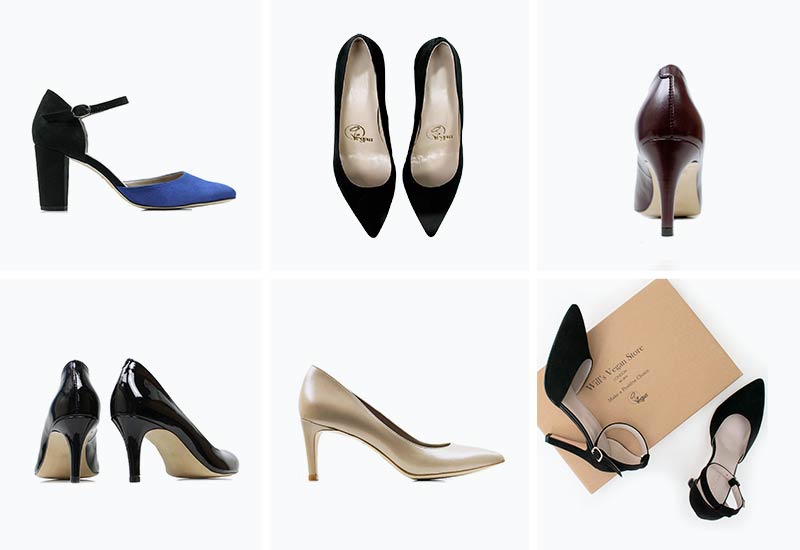 Based in: London
Price: £65-£83
Best for: Comfortable vegan heels for work
Materials used: Ecolabel-certified vegan leathers and suede made in Italy, Insoles made from recycled rubber
Will's offers the best range of comfortable and practical vegan heels for work including their popular courts that are available in multiple colors and materials including vegan leather, vegan suede, and vegan patent leather. Will's uses vegan materials that meets Oeko Tex 100 and REACH regulations and all of their shoes are ethically made in Portugal under European Union employment, discrimination, and health & safety laws.
---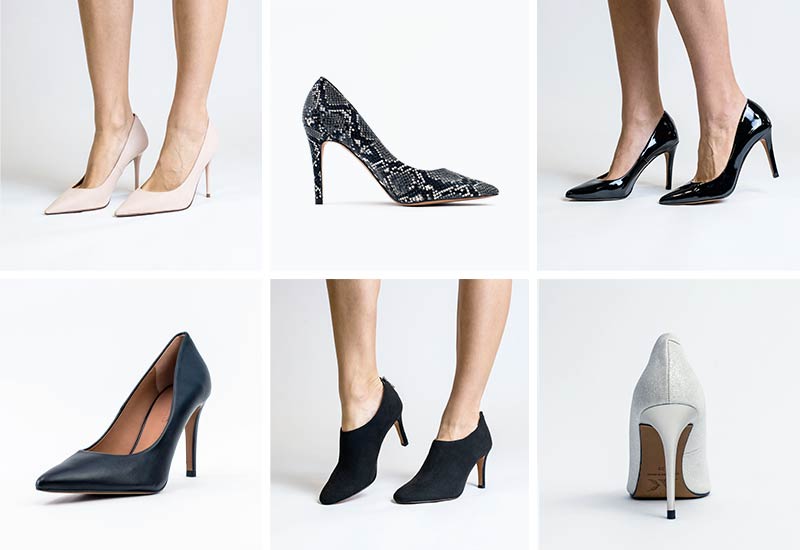 Based in: London, UK
Price: £195-£240
Best for: Timeless Vegan Stilettos Shoes
Materials used: Microfiber, PU, PL, Cotton, Natural or Recycled Rubber, and upcycled materials
Allkind launched in 2020 with an aim to bridge a gap in the market for luxury, no compromise, Vegan footwear. Designed in Britain and ethically handmade in Spain, Allkind shoes are 100% vegan and made with eco-materials and working closely with experts to produce designer shoes to source and hand select the finest materials. 
"We are committed to be a carbon negative business from day one, partnering with Offset Earth on rainforest protection, renewable energy and major tree planting programmes." – Allkind
---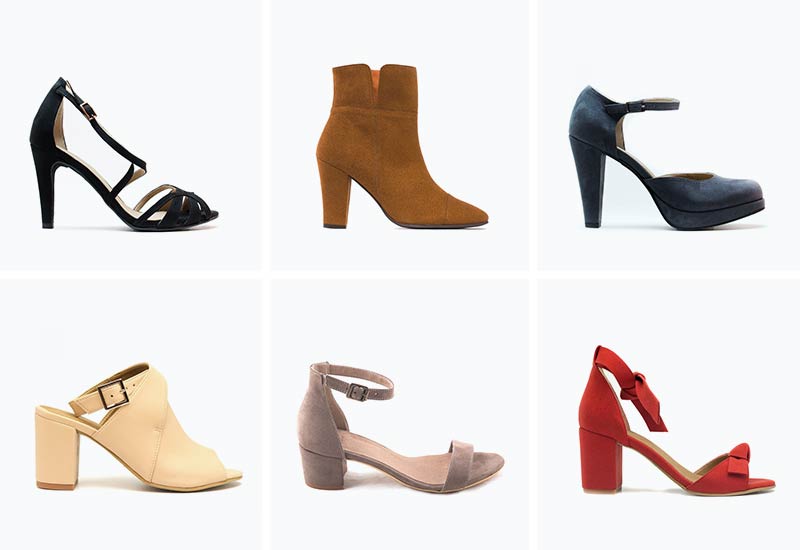 Based in: Portugal
Price: $55-$106
Best for: Ethically-made vegan heels made from environmentally sustainable materials
Materials used: Cork, OEKO-TEX Certified Microfiber, Ecological Microsuede, Rubber
NAE is a Portuguese footwear brand with a vegan philosophy and concerned with environmental sustainability. NAE has a selection of casual and practical vegan heels, pumps, block heels, kitten heels, and platforms made from natural materials like cork, pineapple, recycled materials, and synthetic materials like ecological microfibers. 
All of NAE's shoes are manufactured only in certified factories in Portugal, where employees are respected and don't use any product from animal origin or that damages the environment.
---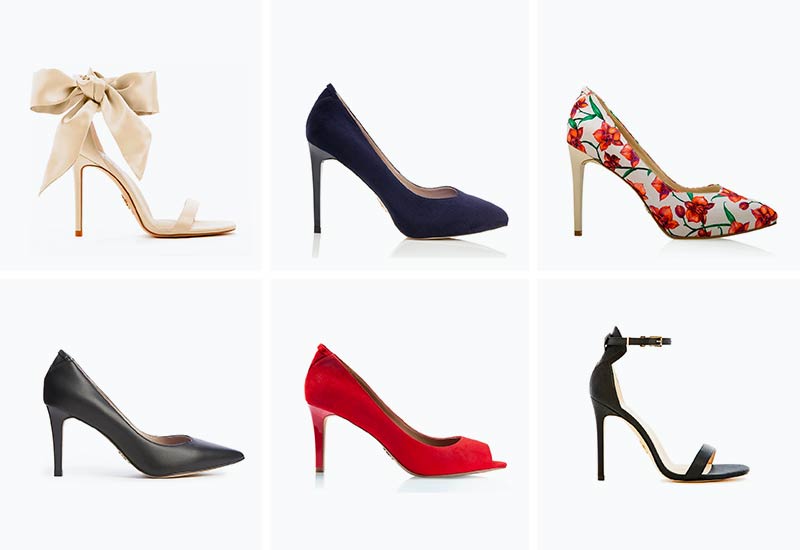 Based in: the US
Price: $150-$350
Best for: Elegant Vegan pumps with Interchangeable Accessories
Materials used: Vegan Microfiber Nappa Leather, Apple Leather, Organic Cotton Lining, Recycled Plastic Textiles, Algae Foam Cushion
Veerah is founded and inspired by women. Veerah's vegan heels are made from responsibly sourced and cruelty-free materials including organic cotton, cork, apple peel skin, vegan calfskin, vegan suede, vegan patent, and recycled plastic bottles. I love Veerah shoes because they come with removable and interchangeable accessories so that you can get multiple styles and looks from a single pair of shoes!
---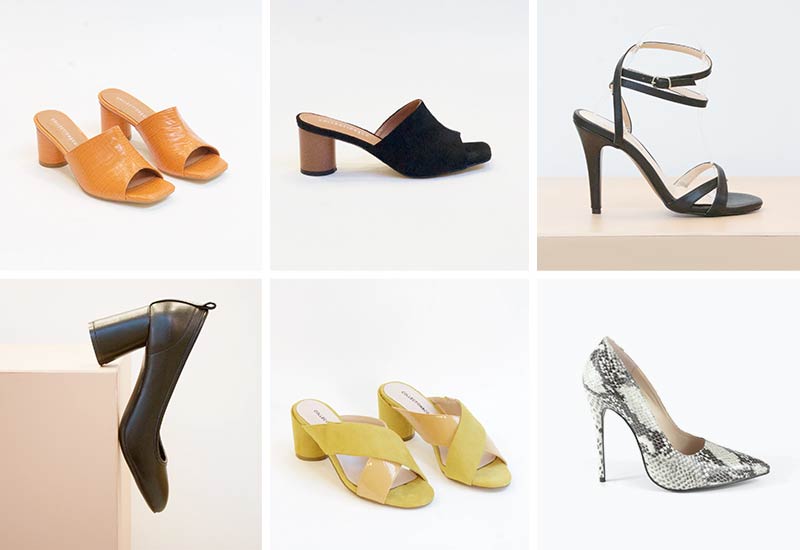 Based in: the UK
Price: £29-£90
Best for: Vegan sandal heels & pumps in a range of colors
Materials used: Faux Leather, Upcycled Materials, Polyester, Thermoplastic Rubber
Collection & Co creates sustainable footwear without compromising the stylish aesthetic. Designed in the UK, made in Greece, Collection & Co. offers a range of colorful vegan heels made with the use of non-animal leathers and non-animal glues. 
"Protecting the environment is at the core of our brand. In an effort to be more sustainable, we create projects to reuse materials that are discarded or left over from previous collections, so that nothing goes to landfill. Our packaging is 100% recyclable and mailing bags are compostable." – Collection & Co
---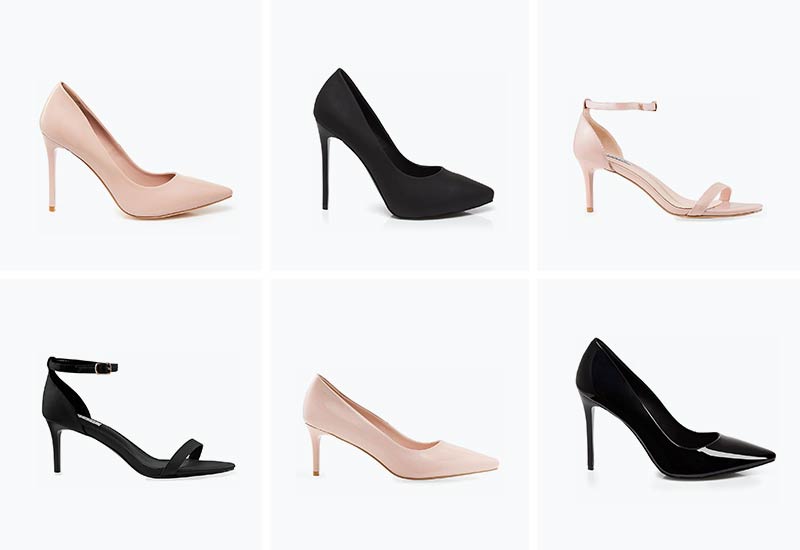 Based in: Australia
Price: $129-$169
Best for: Classic black and nude vegan pumps and stilettos
Materials used:  Water-based Polyurethane
Huntd offers designer and luxurious 100% vegan pumps and stiletto heels that are timeless and chic. Their classic black and nude pumps are a staple in every compassionista's wardrobe. Huntd manufactures its shoes as environmentally friendly as possible by using water-based polyurethane instead of traditional solvents that contain harmful chemicals. Huntd is also committed to ensuring its factory workers are paid a fair wage and provided a safe working conditions.
---
Based in: Portugal
Price: €112-€160
Best for: Vegan pumps and vegan heeled sandals
Materials used: PVC-Free, Italian faux-leather and faux-suede, Ecological microfiber, Cork, Textile like Tweed
FAIR (For All Its Rights) collections are 100% vegan and animal-free. FAIR offers a selection of vegan pumps and sandals available in various heights, colors, and finishes including metallic vegan leather, vegan tweed, vegan suede, and cork. All of FAIR shoes are produced in Portugal under worker-friendly conditions and they're always striving to use the most sustainable materials.
---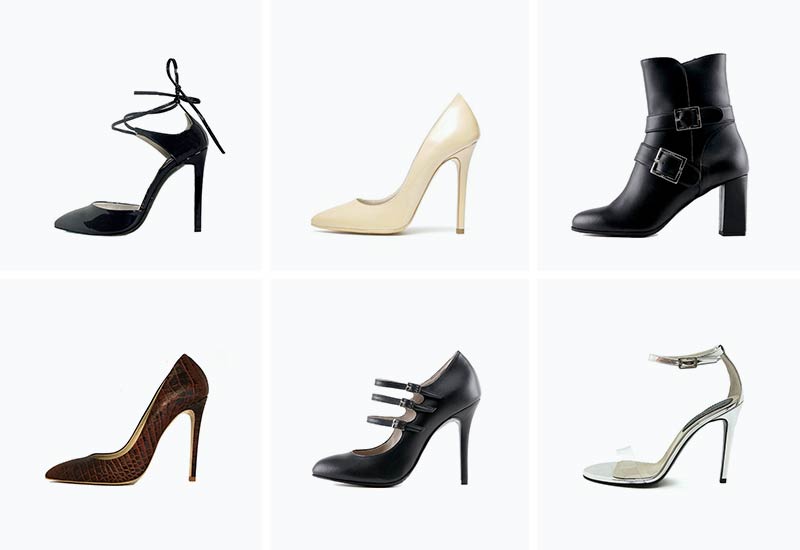 Based in: Italy
Price: €150-€470
Best for: Elegant, Italian vegan heels
Materials used: Alcantara vegan leather, Apple Leather, Cork
Marzeri Milano's elegant vegan heels are made from luxurious vegan materials and handmade in Italy following the highest quality standards and Italian craftsmanship. Marzeri Milano offers a range of vegan elegant strappy heels, pumps, heeled-boots, and made-to-order bespoke heels.
"In all of MARZERI's men's and women's collections, we pledge to use the most planet-friendly materials, thoroughly researching the best solutions for the lowest possible environmental impact." – Marzeri Milano
---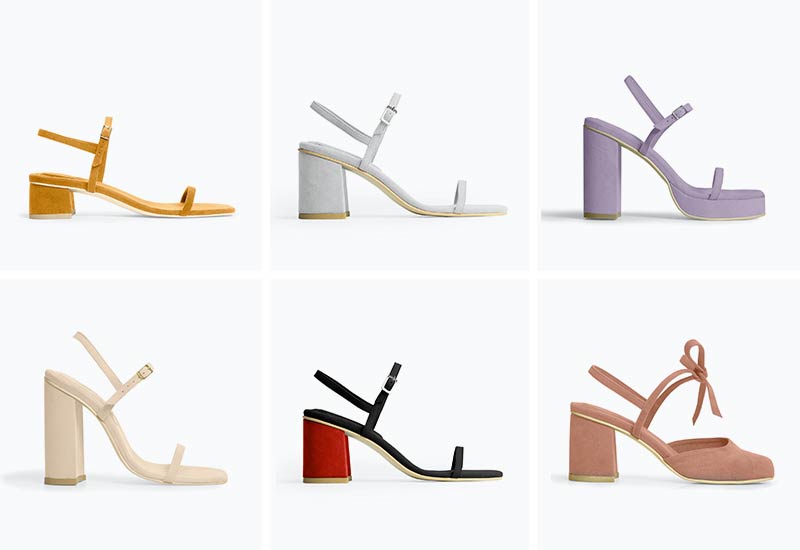 Based in: the US
Price: $220-$350
Best for: Vegan block-heeled sandals in an endless selection of color options
Materials used: Vegan Recycled Textiles & Man-Made Outsole, Dead-Stock Buckle
RAFA is a luxury footwear collection designed and hand-crafted by a group of 20 artisans in Los Angeles, California. All of RAFA's shoes are made using ecologically friendly materials and sustainable processes. RAFA has an endless selection of colors and heights for their vegan heeled sandals and boots.
---
What are some of your favorite vegan heels?