This post may contain affiliate links that at no additional cost to you, I may earn a small commission.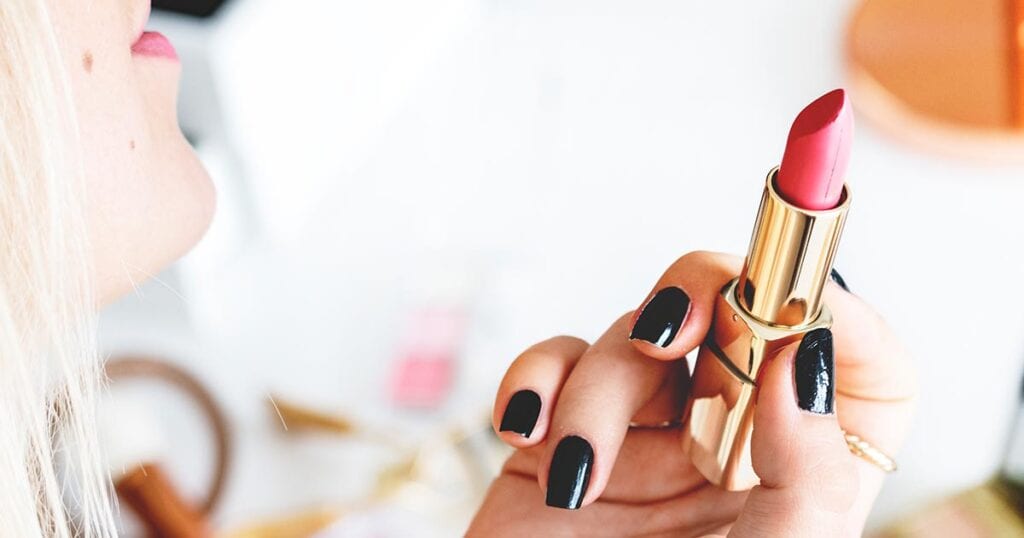 How many tubes of lipsticks do you currently own? My personal lipstick collection includes well over 30+ cruelty-free & vegan lipsticks, and that's not including the countless lipsticks I've thrown away over the years past their expiration.
In an effort to green up my makeup stash and beauty routine, I was surprised to learn some recycling facilities do not accept little containers including lipstick tubes that often get screened out or caught in the facility's disposal stream where they will often end up back into the landfill.
Considering that lipsticks only last 8-12 months and the average woman owns over 40 makeup products, that's a lot of single-use tubes of lipsticks that get thrown away and ending up in the landfill.
That lead me to wonder, in addition to zero-waste lipsticks that come in recyclable aluminum tins, what are some environmentally-friendly and low-waste lipsticks currently available for consumers?
I recently discovered some cruelty-free makeup brands that offer refillable lipsticks where a single lipstick case can be reused countless times with any of the brand's interchangeable lipstick refills.
They're super easy to swap in and out and best of all, they will save countless single-use lipstick cases from going into the landfill.
However, the lipstick refills may or may not be recyclable once used up, so they're not a complete zero-waste solution but is a low-waste lipstick option if you're not a fan of using lipstick tins and prefer a traditional lip-stick.
So, if you're into this low-waste refillable lipstick concept, I found 4 cruelty-free & vegan lipsticks available in refillable cases that may interest you!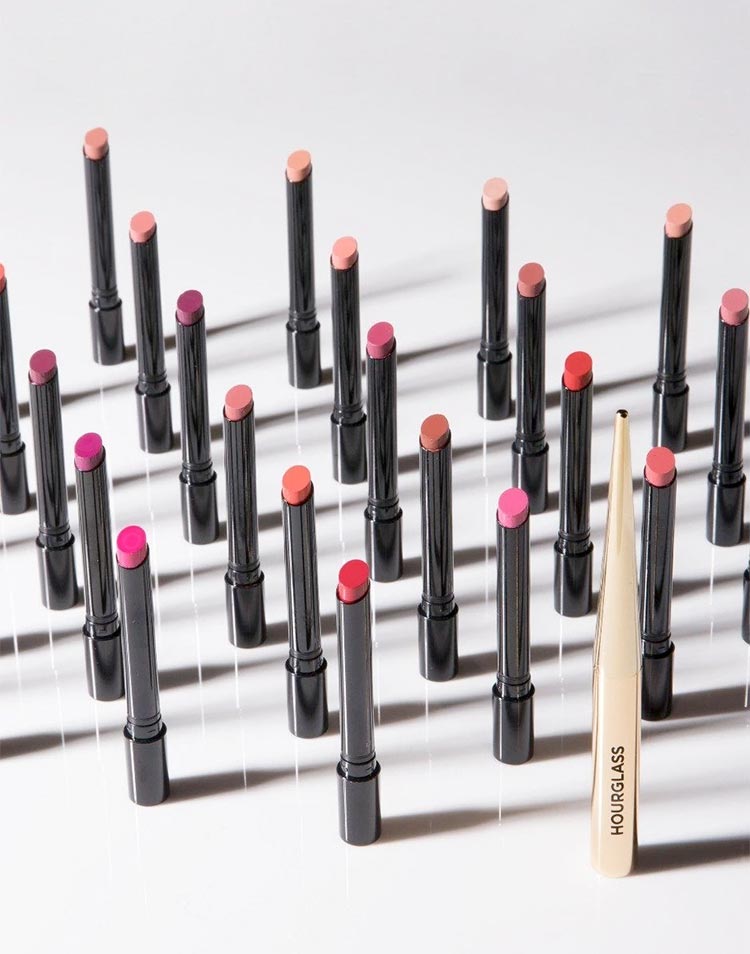 Proving that makeup can be both sustainable and luxurious, Hourglass Confession Ultra Slim High-Intensity Refillable Lipsticks are like a pair of sexy stilettos of makeup. Hourglass's refillable lipstick case features a sleek gold applicator and ultra-slim applicator that provides control and precision for accentuating, contouring, and defining your lips. The gold applicator can be used with any of Hourglass's 40 shades of cruelty-free & vegan lipsticks ranging from nudes, mauves, pinks, berries, and reds, costing $22 for each lipstick refills. Also sold at Sephora.
---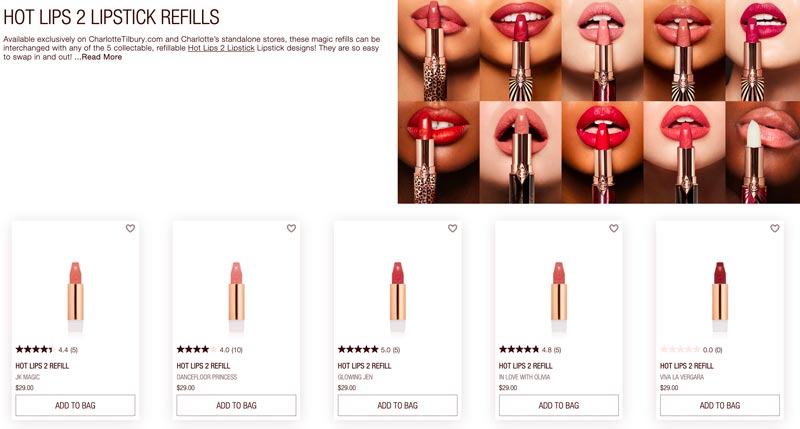 Charlotte Tilbury Hot Lips Refillable Lipsticks
Popular luxury cruelty-free makeup brand, Charlotte Tilbury believes Lipstick is happiness in a tube! and has created a line of luxe vegan lipsticks refills inspired by 11 of the world's most iconic women and men that can be used with any of their 5 gorgeously-designed collectible refillable cases. With Charlotte Tilbury's Hot Lips Kit, you can mix and match your choice of a lipstick case design with any of their Hot Lips 2 refillable shades.
*Update: Charlotte Tilbury is no longer 100% cruelty-free. The luxury cosmetics brand has decided to open a pop-up shop in mainland China where animal testing may be required by law.
---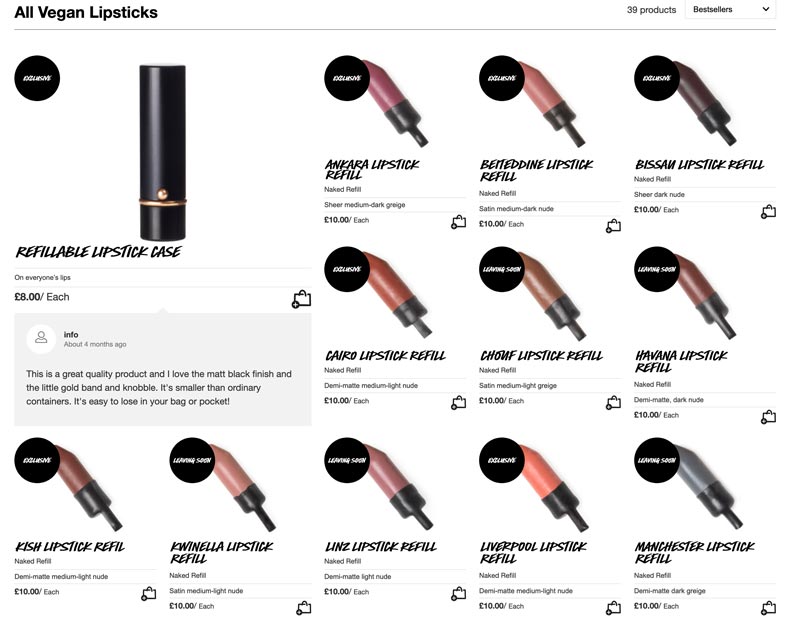 Currently only available in the UK, LUSH offers a plastic-free and vintage-style refillable lipstick case made from partially recycled aluminum and brass that can be used to fit any of their 38 shades of cruelty-free & vegan Naked Lipstick Refills. Buy the lipstick case separately for only £8 and choose from their wide selection of vegan lipstick refills in various shades ranging from bright reds, matte pinks, to satin dark nudes for £10/each!
"Simply push your naked lipstick refill into the case and secure by pinching the sides. Voila – makeup packaging that won't end up in landfill." – LUSH
---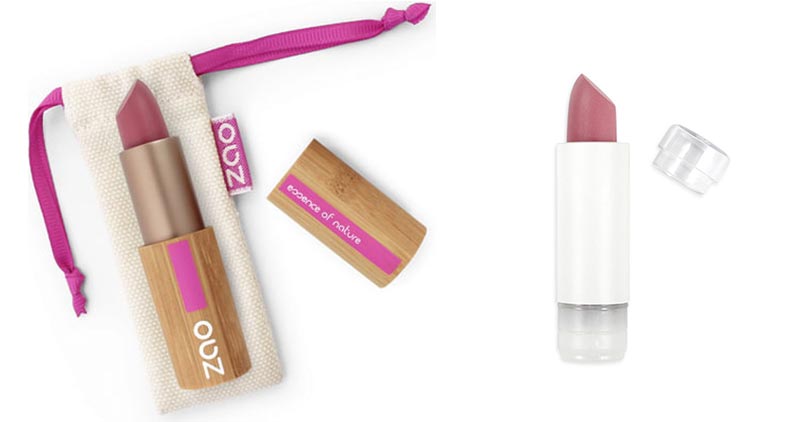 Zao Organic Lipsticks are made with vegan, natural, and organic ingredients and they come in an eco-chic refillable bamboo lipstick case. Zao Organic Refillable Lipsticks offer a matte or satin finish with a total of 9 organic shades to choose from. If you prefer a moisturizing lip balm with a tint of color, Zao's Satin Lipstick is the way to go as it's enriched with organic shea butter that moisturizes, soothes, and repairs the lips.