This post may contain affiliate links that at no additional cost to you, I may earn a small commission.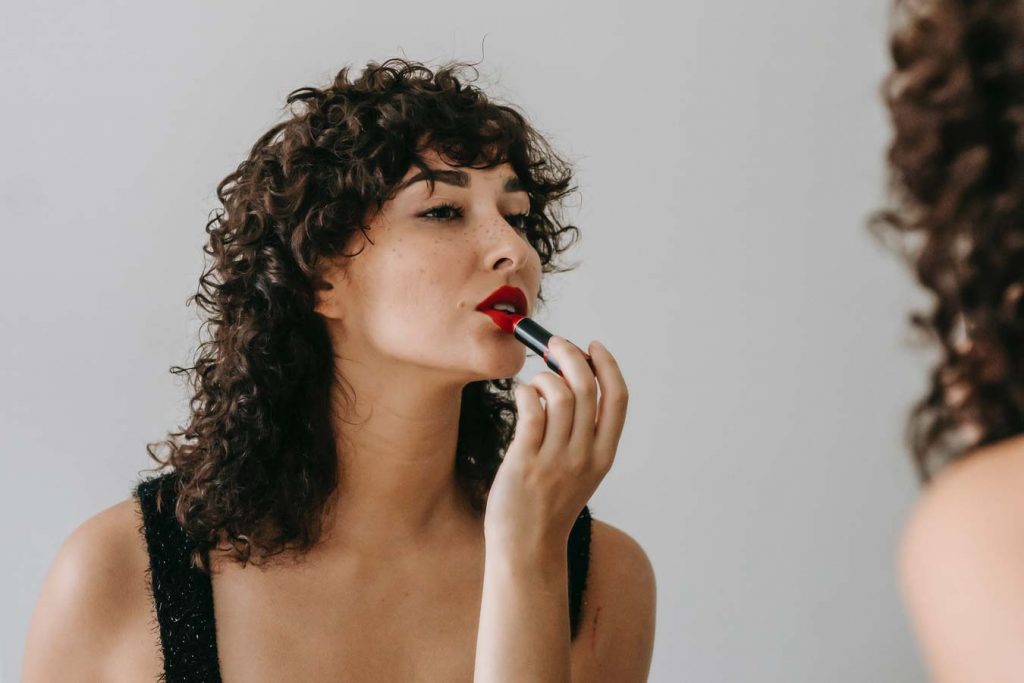 Step into the world of sustainable beauty with vegan refillable lipstick.
Benefits of Refillable Lipsticks
In an era of growing environmental consciousness, refillable lipstick offers a guilt-free and eco-friendly alternative to traditional makeup.
This innovative solution not only minimizes waste but also maximizes convenience, allowing you to effortlessly restock your favorite shades without contributing to landfill waste.
By investing in a reusable lipstick case, you can easily swap out your desired shade whenever you please. Not only does this reduce plastic waste, but it also saves you money in the long run.
Cruelty-Free Refillable Lipsticks
Discover cruelty-free brands that prioritize the environment and offer a wide range of vegan shades, textures, and finishes for every style and occasion.
Below is a list of 10 cruelty-free brands that don't test on animals while offering a range of vegan refillable lipsticks that don't contain any animal-derived ingredients or by-products.
Note: the lipstick refills may or may not be recyclable once used up, so they're not a zero-waste solution but more of a low-waste lipstick option for those that prefer a traditional lip-stick over using lipstick tins.
Valdé's refillable lip collection features richly pigmented shades and formulas that are clean, cruelty-free, and vegan. Created to exact standards, Valdé™ Armor™'s ingenious design is constructed to allow their refillable lipstick, balm, and liquid formulas to interplay between any Valdé Vessel, current and future.
---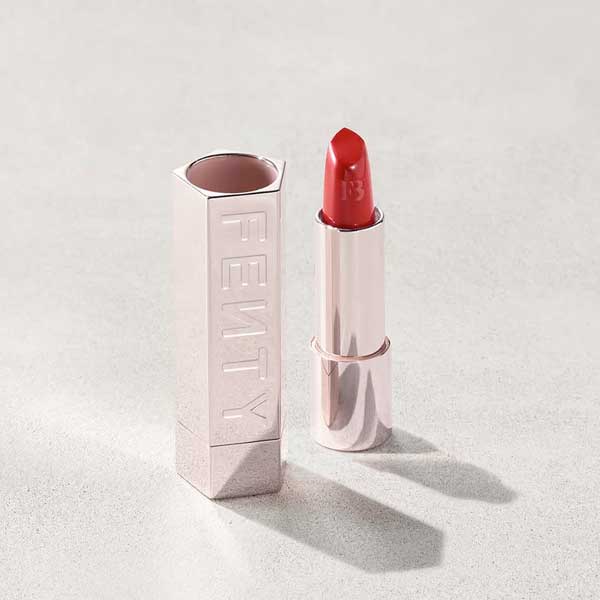 Fenty Lipstick is made to be refillable—choose your shade, then choose your case to complete your Fenty Icon Lipstick. Once you get to empty, just purchase a new fill and you're good to go!
The semi-matte, creamy formula hugs lips with a smooth, plush texture and long lasting iconic wear. All shades of Fenty Icon The Fill Semi-Matte Refillable Lipstick are vegan.
*Note: Fenty Beauty is cruelty-free, but Fenty is owned by LVMH, a parent company that is NOT cruelty-free.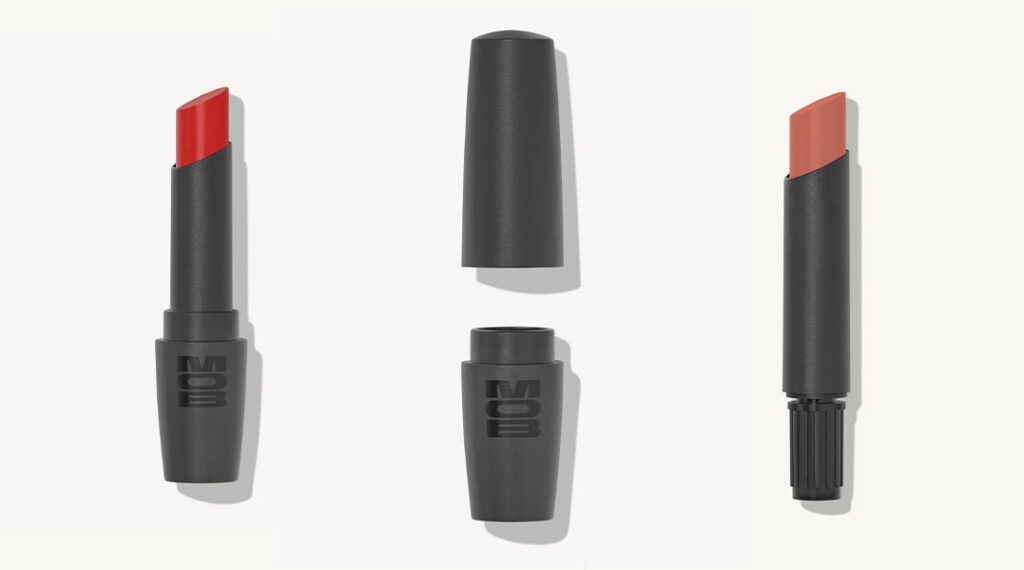 MOB Beauty Lip Capsule
Endlessly reusable and refillable Lip Capsule is made with post-consumer recycled materials and holds one MOB Lipstick or Lip Balm Refill.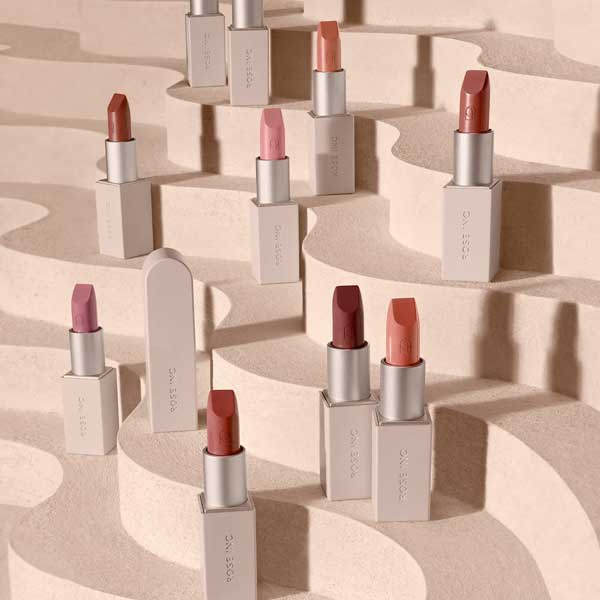 A rich refillable lipstick that plumps the lips while drenching delicate skin in moisture and visibly blurring the appearance of vertical lip lines. The creamy formula delivers lasting, weightless color with concentrated active ingredients — it's classic lipstick with a skincare twist.
Additionally, the lipstick tube is composed of 50% post-consumer recycled plastic base and a 50% post-consumer recycled plastic cap.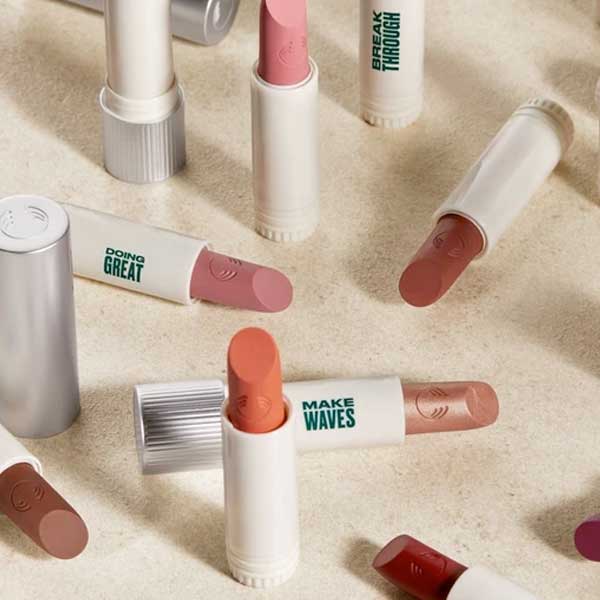 Now available in 20 gorgeous shades to match all skin tones and enriched with Community Fair Trade shea butter from Ghana, Peptalk offers consistent nourishing moisturization as you go about your day. Don't forget to pair your refill with our Peptalk refillable case.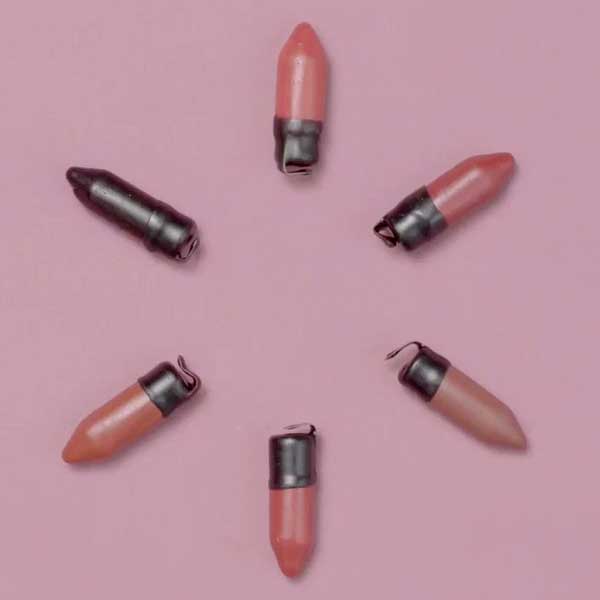 Currently only available in the UK, LUSH offers a plastic-free and vintage-style refillable lipstick case made from partially recycled aluminum and brass that can be used to fit any of their 38 shades of cruelty-free & vegan Naked Lipstick Refills. Buy the lipstick case separately for only £8 and choose from their wide selection of vegan lipstick refills in various shades ranging from bright reds, matte pinks to satin dark nudes for £10/each!
"Simply push your naked lipstick refill into the case and secure by pinching the sides. Voila – makeup packaging that won't end up in landfill." – LUSH
---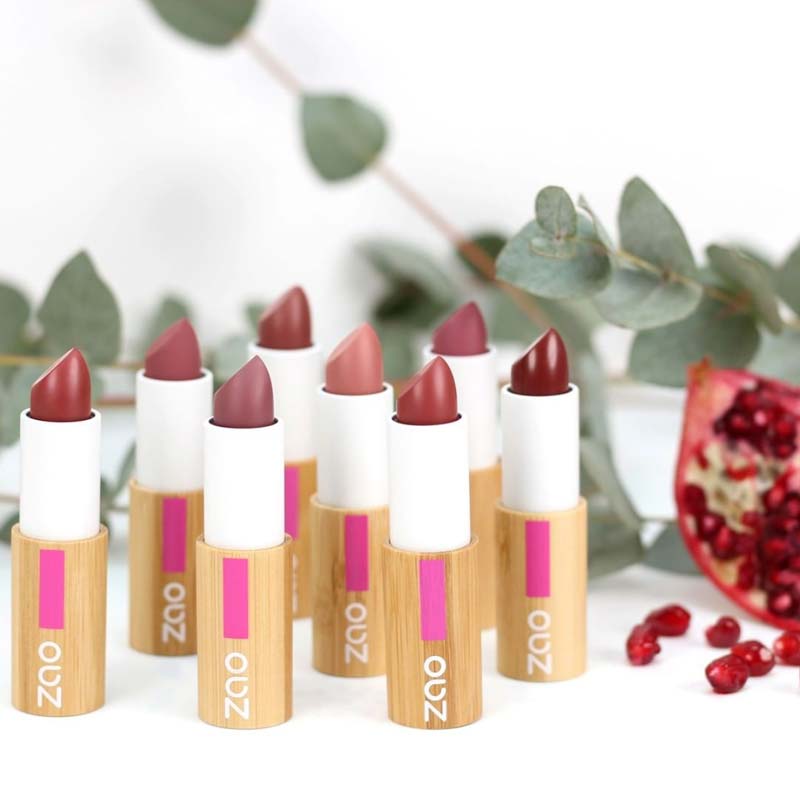 Zao Lipsticks are made with vegan, natural, and organic ingredients, and they come in an eco-chic refillable bamboo lipstick case. Zao Organic Refillable Lipsticks offer a matte or satin finish with a total of 9 organic shades to choose from. If you prefer a moisturizing lip balm with a tint of color, Zao's Satin Lipstick is the way to go as it's enriched with organic shea butter that moisturizes, soothes, and repairs the lips.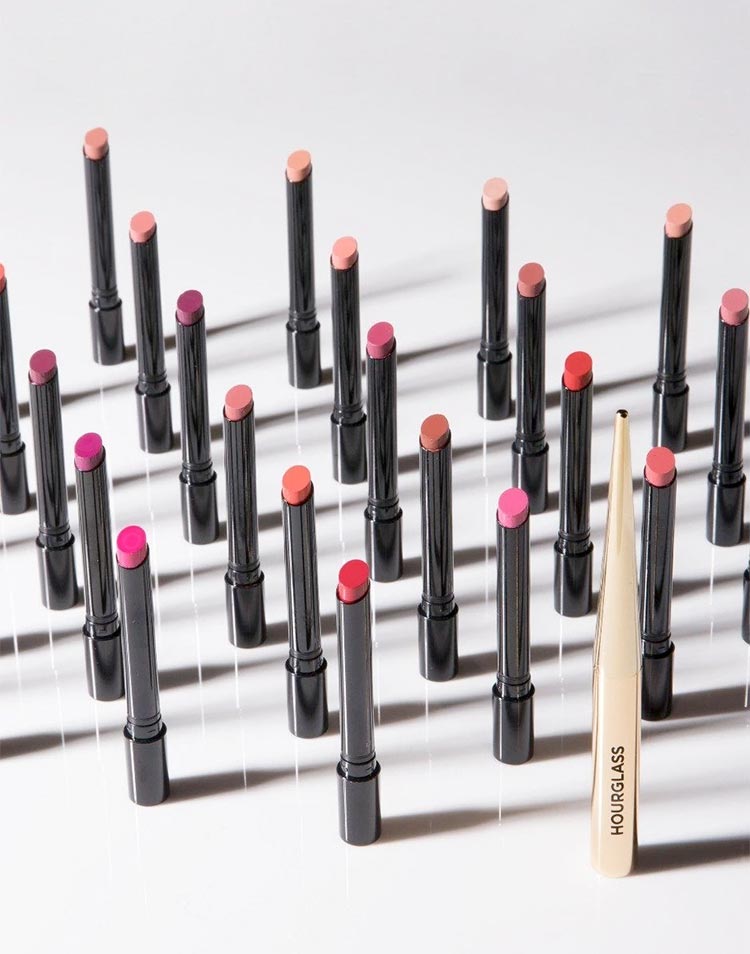 Proving that makeup can be both sustainable and luxurious, Hourglass Confession Ultra Slim High-Intensity Refillable Lipsticks features a sleek gold applicator and ultra-slim applicator that provides control and precision for accentuating, contouring, and defining your lips. The gold applicator can be used with any of Hourglass's 40 shades of cruelty-free & vegan lipsticks ranging from nudes, mauves, pinks, berries, and reds, costing $22 for each lipstick refill. Also sold at Sephora.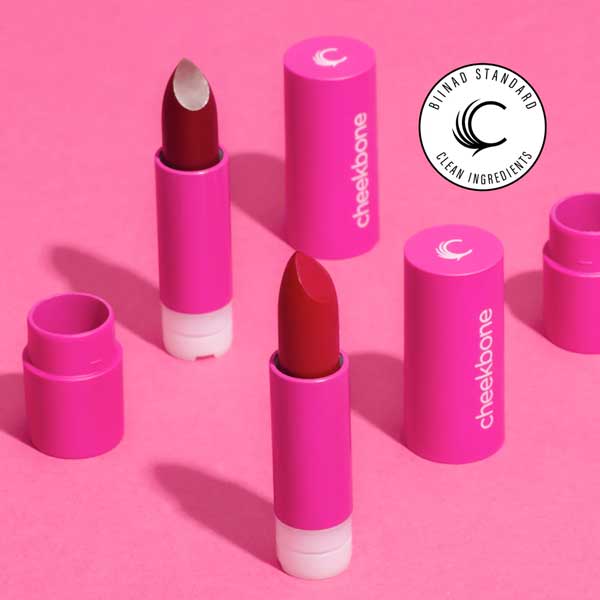 Meet SUSTAIN lipstick refills. An ultra-pigmented yet buildable vegan lipstick that cushions your lips with rich, creamy, velvety and stunning colours. Choose to refill with the same colour or try something new.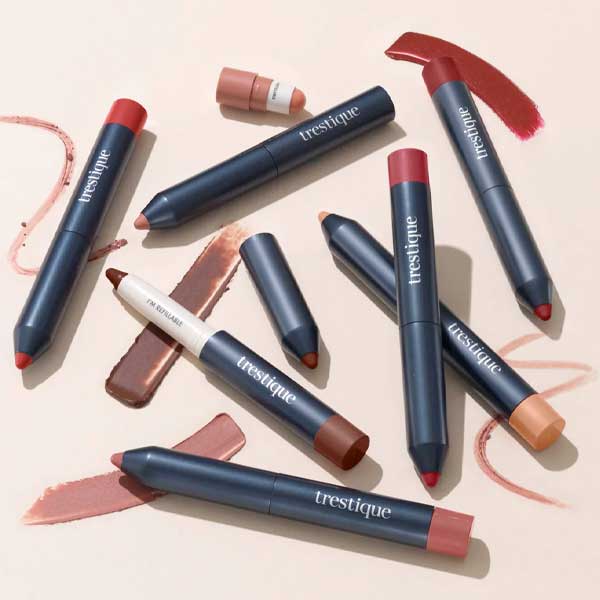 Trestique Matte Lip Crayon + Balm
A lightweight refillable matte lipstick with built-in lip balm. It's a dual-ended matte lip color and conditioning lip balm that delivers silky smooth, vivid color. Trestique's Matte Lip Crayon + Balm packaging is made from 96.85% post-consumer and post-industrial recycled materials.
Note: Kjaer Weis, Ogee, and Soshe also makes refillable lipsticks and are cruelty-free brands. However, their lipsticks are not vegan as they contain beeswax and/or carmine.
Why Refillable Lipsticks?
Have you ever counted to see how many tubes of lipsticks you own? My personal lipstick collection includes well over 30+ cruelty-free & vegan lipsticks, and that's not including the countless lipsticks I've thrown away over the years past their expiration.
In an effort to green up my makeup stash and beauty routine, I was surprised to learn some recycling facilities do not accept little containers including lipstick tubes that often get screened out or caught in the facility's disposal stream where they will often end up in the landfill.
Considering that lipsticks only last 8-12 months and the average woman owns over 40 makeup products, that's a lot of single-use lipsticks that get thrown away and ending up in the landfill.
The zero-waste option are solid lipsticks that come in aluminum tins that can be recycled. But if you prefer your lipstick in a tube rather than a tin, then your next best option are refillable lipsticks.
They're super easy to swap in and out and best of all, they will save countless single-use lipstick cases from going into the landfill.