This post may contain affiliate links that at no additional cost to you, I may earn a small commission.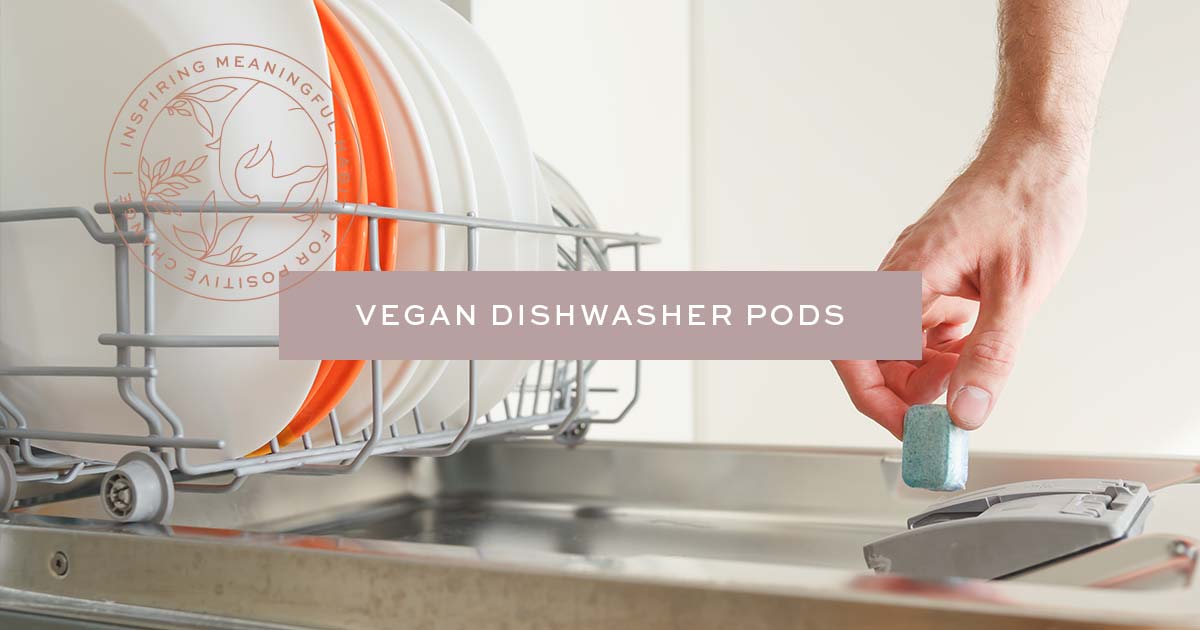 Looking for a cruelty-free & vegan dishwasher detergent alternative to animal-tested Cascade or Finish?
In this cruelty-free dishwashing detergent guide, I'm sharing the best vegan dishwasher detergent pods; whether you prefer a natural, phosphate-free, all-in-1, eco-friendly, or zero-waste dishwasher detergent, there's something for you on this list!
What To Look For:
Let's first begin by asking, are dishwasher detergents vegan? Some dishwasher soaps, pods, and tablets contain animal-derived surfactants and enzymes. Unless the manufacturer states it's plant-based, assume it's not vegan.
In addition, some dishwasher detergent pods are from brands that still test on animals, like Cascade and Finish, and should be avoided when looking for a cruelty-free and vegan dishwasher soap.
Best Vegan Dishwasher Detergents in 2023
Below is a list of the best-rated and best-selling vegan, cruelty-free dishwasher detergent and their product claims.
All of the dishwasher detergents mentioned in this post are from brands that have been verified as being truly cruelty-free and don't test on animals.
And all of the cruelty-free dishwasher detergents have been verified as being vegan-friendly and don't contain any animal-derived ingredients. However, always check the manufacturer's website for the most up-to-date information, as ingredients and formulations may change.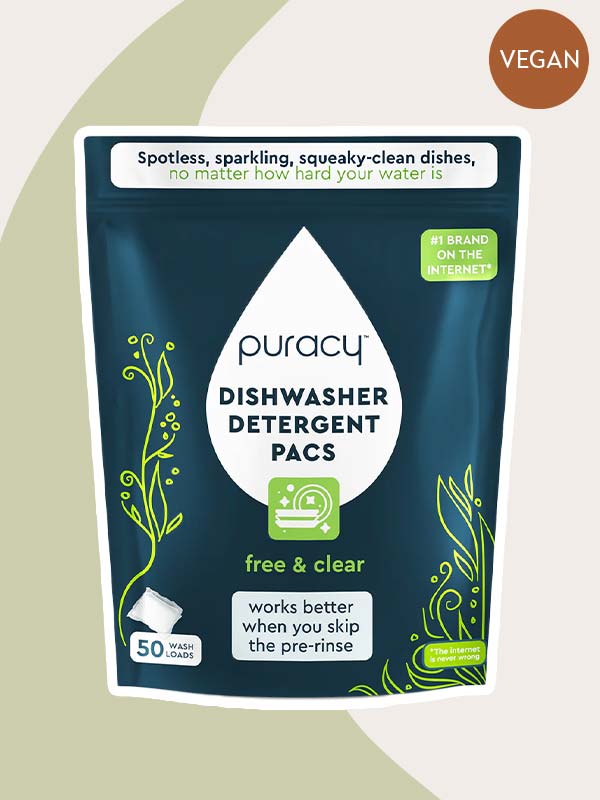 Puracy's Natural Dishwasher Detergent is a grease-cutting, spot-free, automatic dishwasher detergent made from plant and mineral-derived ingredients. Plant-based formula with enzymes safely breaks down the toughest caked-on food & leaves dishes sparkling.
Price: $20 for a pack of 50 ($0.40 per load)
---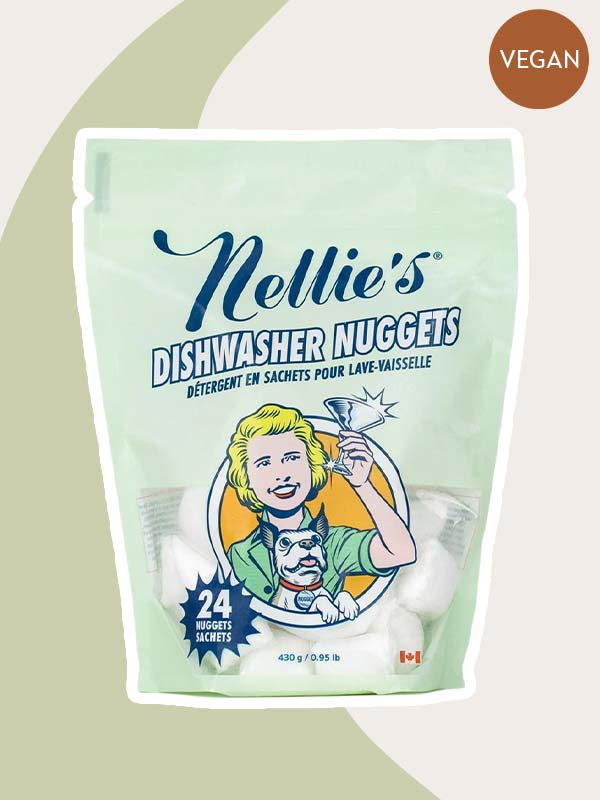 Nellie's Dish Nuggets combine all the cleaning power of their Dish Powder in the convenience of an adorable little pre-packaged Nugget. This formula is biodegradable, septic-safe, and phosphate-free. Above all, this powder is a plant-based formula and is kind to the environment.
Price: $12.80 for 24 nuggets ($0.53 per load)
---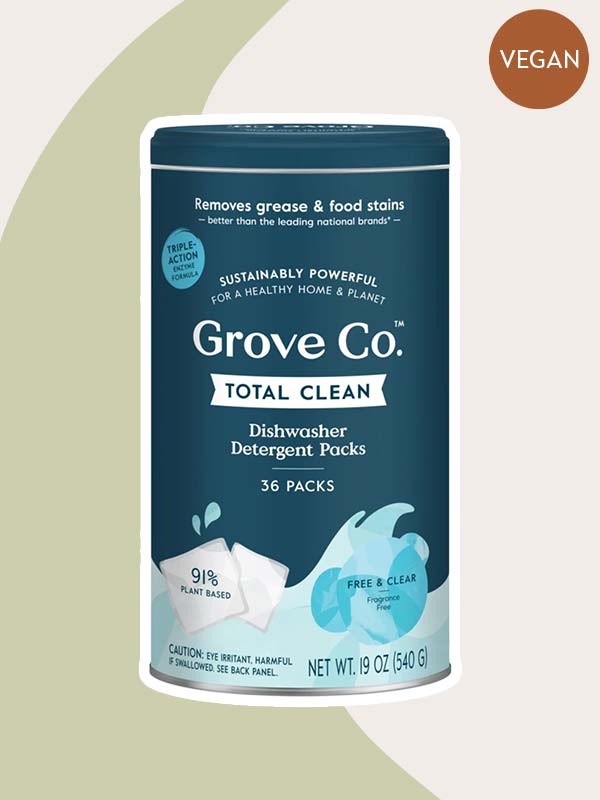 Grove Co's Vegan Dishwasher Detergent Packs are proven to powerfully eliminate grease and stubborn food stains better than leading national brands, now packaged in infinitely recyclable tin-plated steel. Crafted to be sustainably powerful for a healthy home and planet.
Price: $12 for 36 pack ($0.33 per load)
---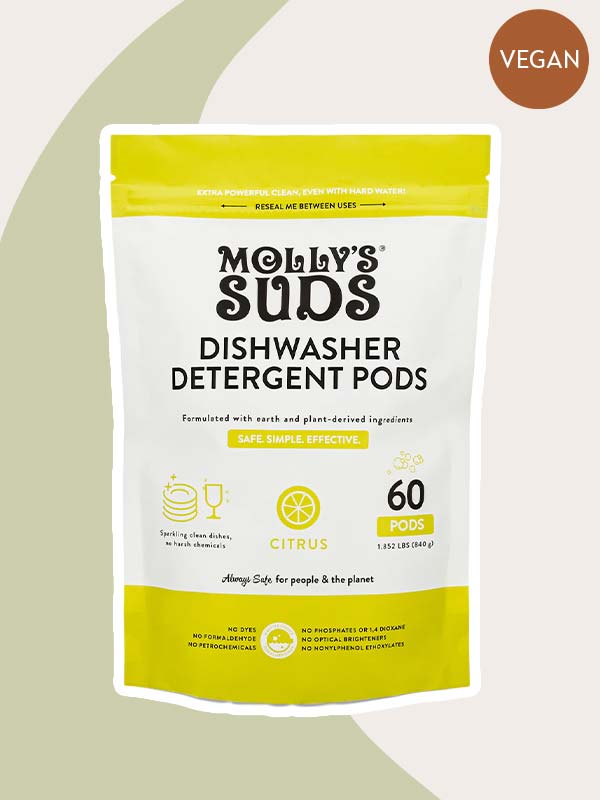 Are you tired of those chemical-filled dishwasher packs with unnatural blue & green colors and artificial scents? Molly's Suds Natural Vegan Dishwasher Detergent Pods are formulated with plant-based surfactants & naturally-occurring enzymes. These powerful pods leave your dishes sparkling clean WITHOUT all the harsh chemicals.
Price: $19 for 60 pods ($0.32 per load)
---
Grab Green's dishwasher pods easily cut through grease & grime without harsh chemicals. The clean rinse formula means film-free, spot-free dishes every time.
Price: $12 for 24 pods ($0.50 per load)
---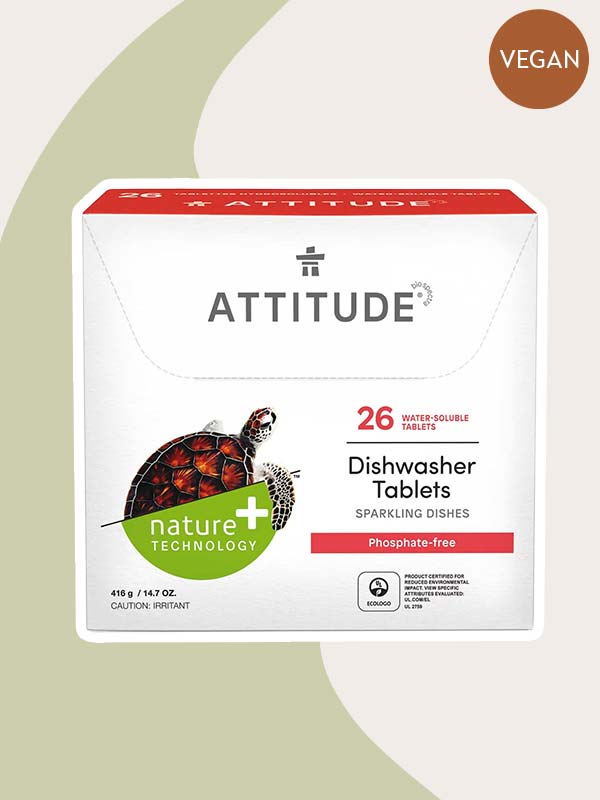 ATTITUDE's Dishwasher Tablets are phosphate-free and worry-free — meaning Attitude only uses plant- and mineral-based ingredients that are as safe for your family as they are for the environment.
Price: $12 for 26 tablets ($0.46 per load)
---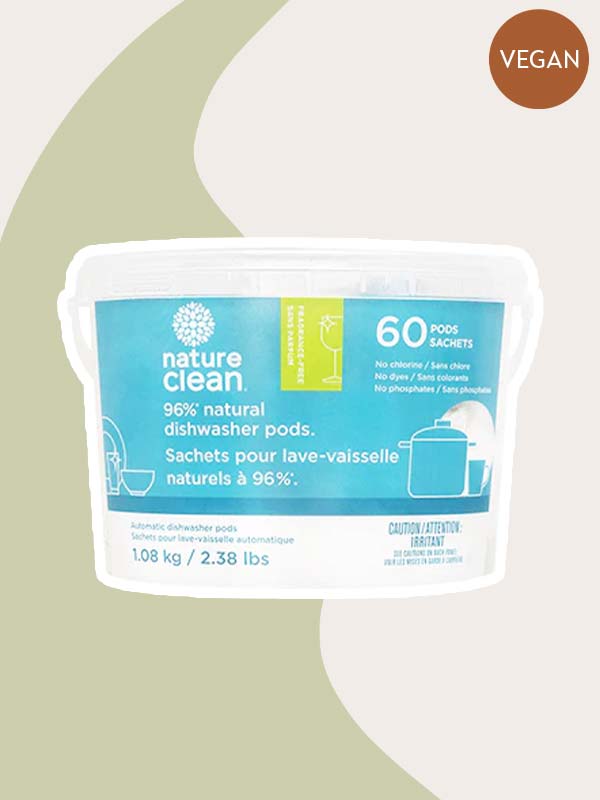 Smell your food, not chlorine! Nature Clean® Dishwasher Pods perform highly without chlorine, phosphates, perfumes, dyes, or animal by-products. This product is vegan, gluten-free, kosher, septic, and grey water safe. Biodegradable and not tested on animals.
Price: $23 for 60 pods ($0.38 per load)
---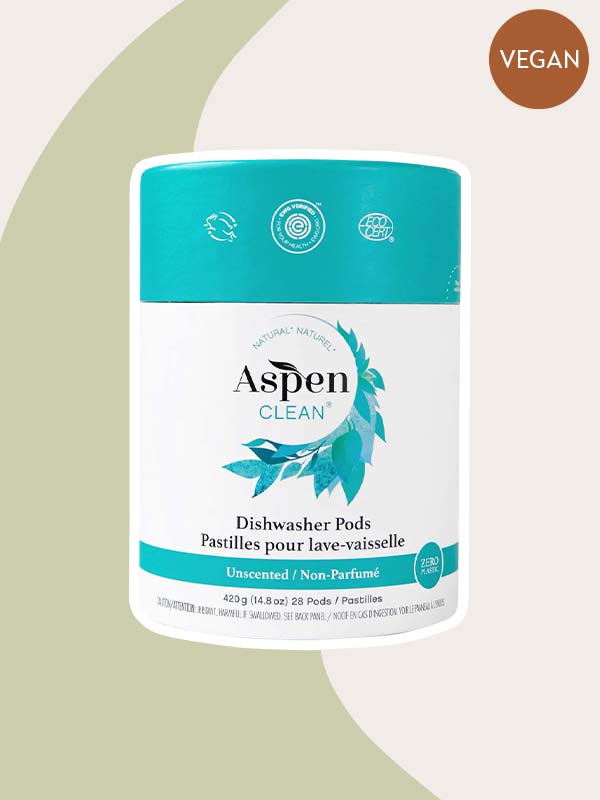 Voted as Best Eco-Friendly Dishwasher Pod by Good Housekeeping, AspenClean Dishwasher Pods are safe for your family & pets. They are unscented, naturally formulated to cut through grease, non-toxic, and packaged in a zero-plastic, compostable container. EWG Verified™ and free from dyes, chlorine, SLS, & phosphates.
Price: $20 for 28 pods ($0.71 per load)
---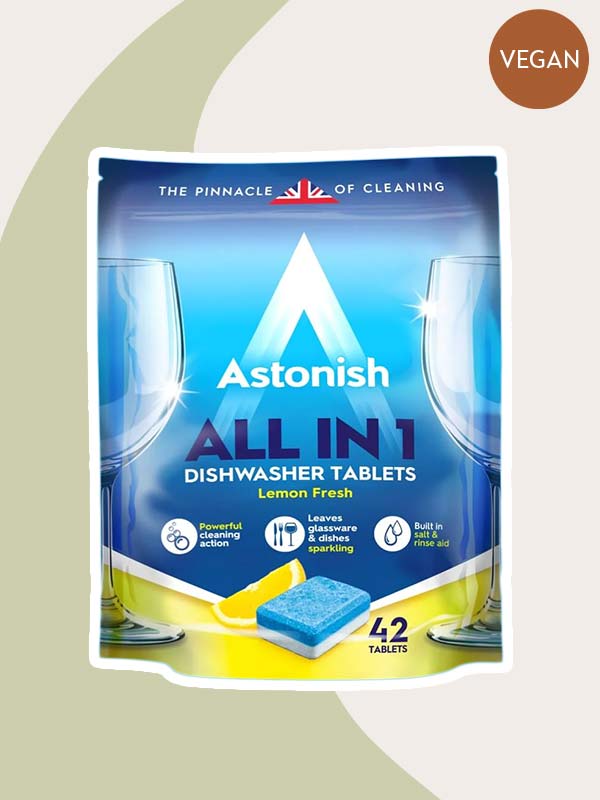 The only thing that works harder than you is your dishwasher and Astonish's tablets are specially formulated with powerful cleaning action to remove even the toughest stains, including tea, coffee, and dried-on food. With the added benefit of built-in salt and rinse aid, it's suitable for hard water areas and glassware and will leave your dishes sparkling clean. 
Price: £4.49 for 42 pack (£0.11 per load)
Vegan, Zero-Waste Dishwasher Detergent
Looking to reduce your household's plastic waste? Here are some options for zero-waste dishwasher detergent tablets that are also cruelty-free and vegan. Not only is the packaging plastic-free but unlike plastic dishwasher detergent pods, these eco-friendly dishwasher detergent tablets do not contain a plastic casing.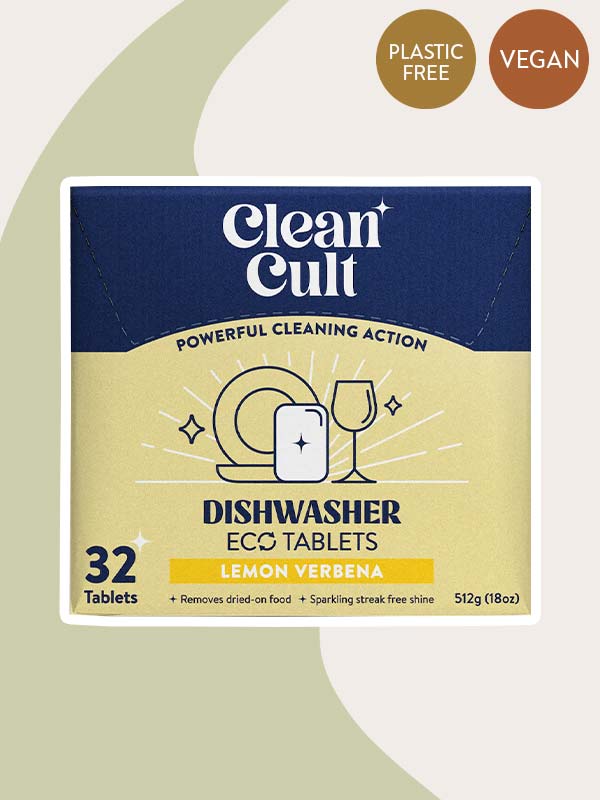 Cleancult's dissolvable automatic dishwashing tablets are biodegradable and help make your dishes come out fresh, clean, and stain free without the chemical residue many other products leave behind.
Price: $10.50 for 32 tablets ($0.33 per load)
---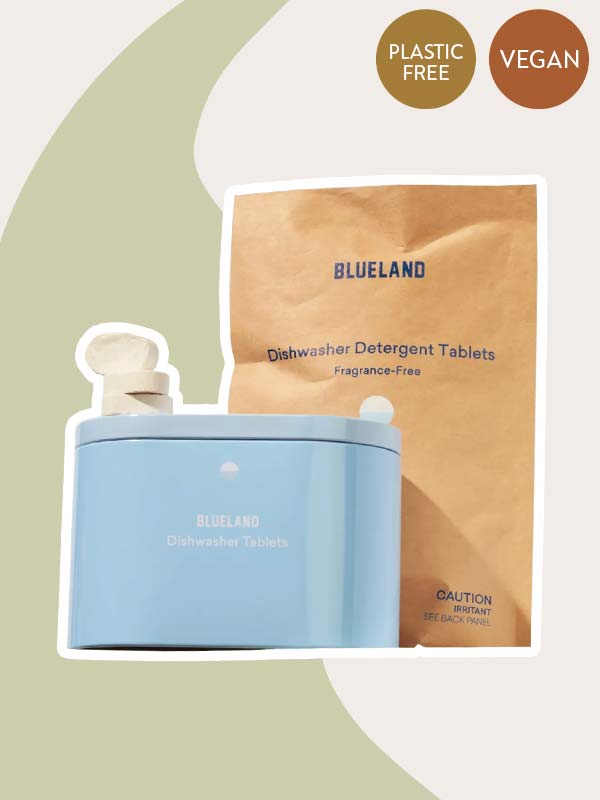 Not your average dishwasher detergent – Blueland's tablets have all of the power without any of the plastic. Unlike conventional detergent pods wrapped in plastic, Blueland's dry-form tablets cut grease and grime and lift food stains for a sparkling clean without dissolving plastic film onto your dishes.
Price: $25 for 60 tablets ($0.42 per load)
---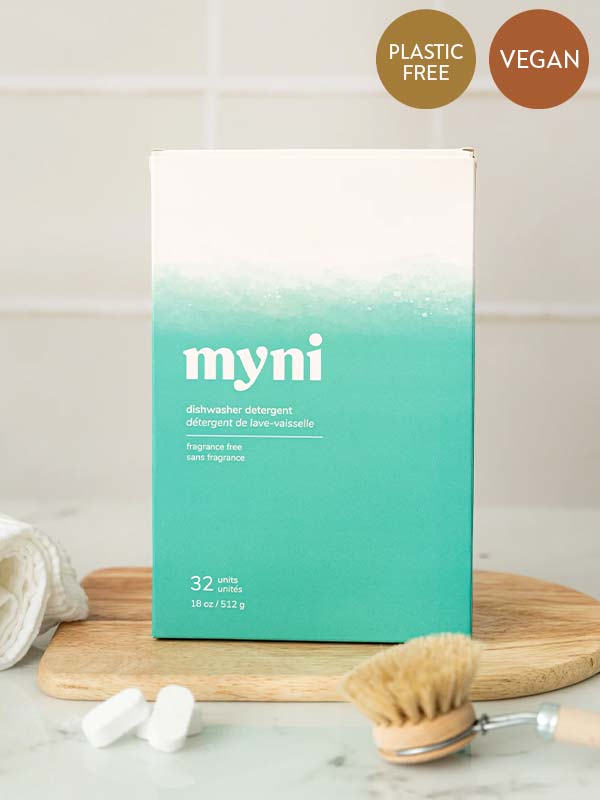 Make all your dishes shine with concentrated dishwasher detergent tablets. It's an ecological, zero-waste solution to remove stubborn stains from your dishes.
Price: $11 for 32 tablets ($0.34 per load)
---