This post may contain affiliate links that at no additional cost to you, I may earn a small commission.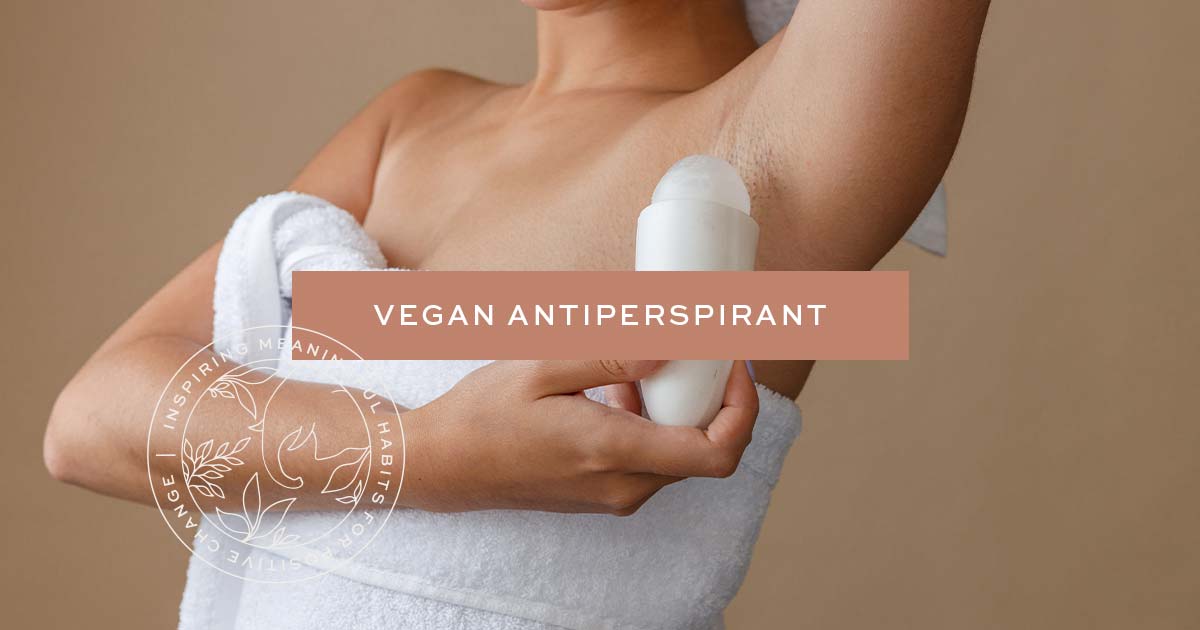 Looking for a cruelty-free and vegan antiperspirant deodorant to help control sweat and odor? In this post, I share several vegan antiperspirant options for both men and women.
Most antiperspirants & deodorants on the market are from brands that still test on animals like Arm & Hammer, Axe, Mitchum, Secret, Kiehl's, Degree, Fresh, Clinique, and should be avoided when shopping for a cruelty-free antiperspirant.
Also, some anti-perspirant formulas contain animal-derived ingredients or by-products, making them not vegan-friendly. Common non-vegan ingredients found in deodorants and antiperspirant products include royal jelly, gelatin, animal-based glycerin, and stearic acid.
Manufacturers often don't disclose the source of their ingredients on the product packaging so it's difficult to know with certainty whether a product is vegan just by reading the ingredient list.
Vegan Antiperspirants
All of the antiperspirants deodorants listed in this guide have been verified as being truly cruelty-free using our Cruelty-Free Checklist. And they've all been verified as being vegan and don't contain any animal-derived ingredients or by-products.
It should also be noted that all antiperspirants contain aluminum. If you wish to avoid aluminum in your deodorant, then check out these cruelty-free and vegan aluminum-free deodorants instead.
For those of us who want to block body odor and underarm wetness, here are some cruelty-free and vegan aluminum-based antiperspirants to try!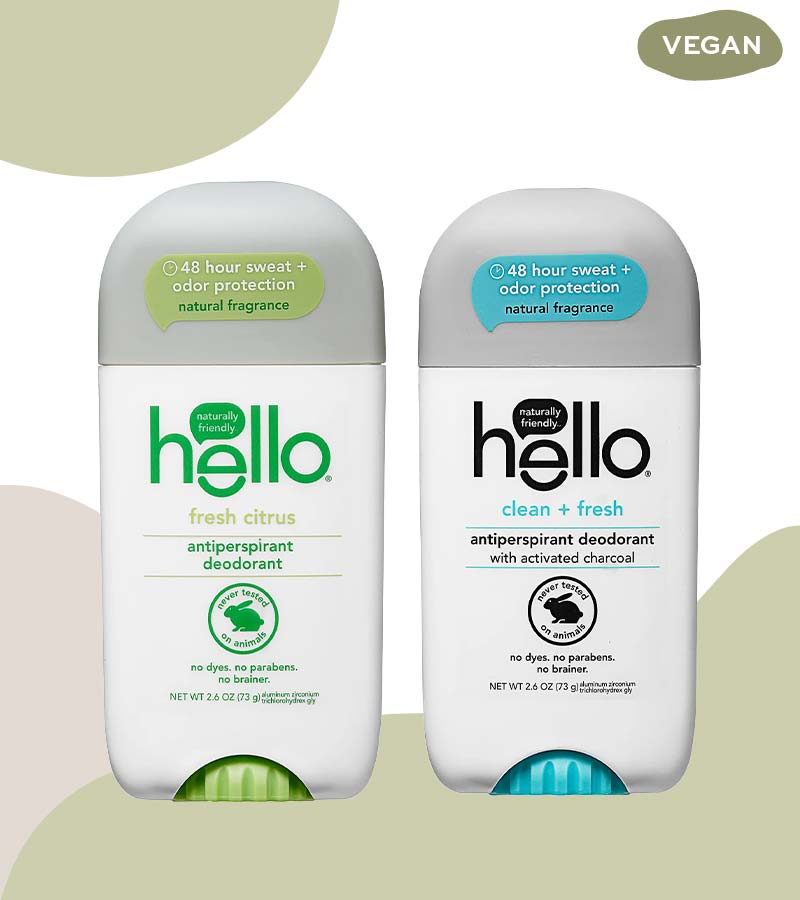 Hello Vegan Antiperspirant Deodorant
Hello recently came out with a couple of cruelty-free* and vegan antiperspirant deodorants. They claim their antiperspirant deodorants provide 48-hour sweat and odor protection. It contains aluminum zirconium trichlorohydrex gly (16%) and it's free from baking soda, dyes, and parabens. Their antiperspirants are also packaged in 100% post-consumer recycled materials.
Find Hello's Vegan Antiperspirant Deodorant on hello-products.com or on Amazon. Available in Fresh Citrus or Clean + Fresh.
*Note: Hello is cruelty-free but Hello is owned by Colgate-Palmolive, a parent company that is NOT cruelty-free.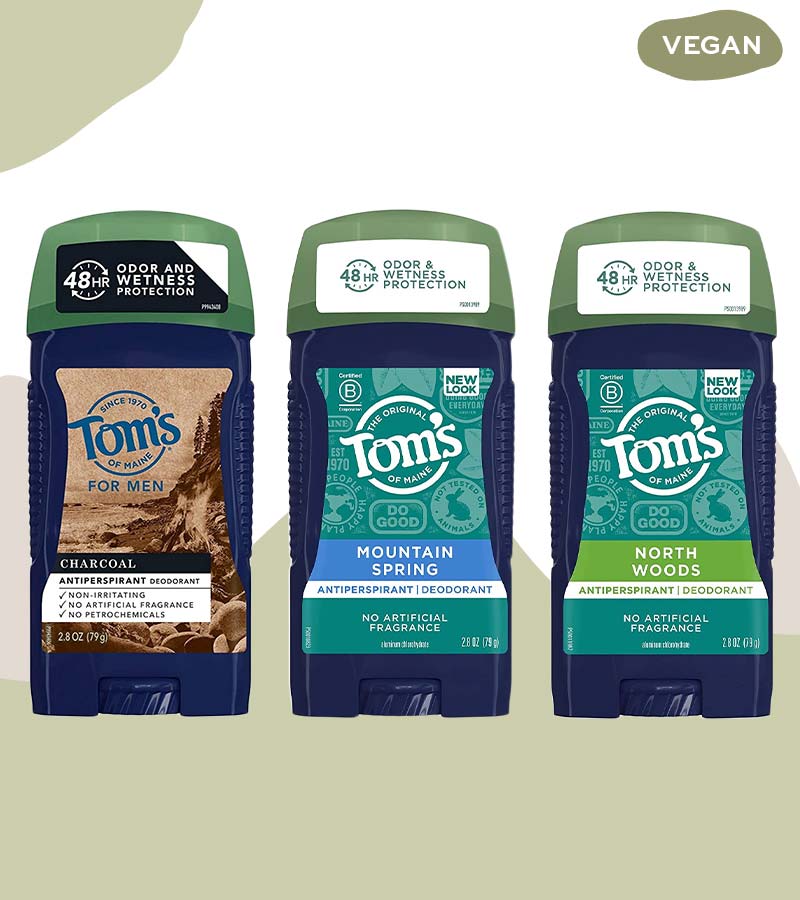 TOM's Charcoal Vegan Antiperspirant Deodorant
Toms' of Maine offers a couple of cruelty-free* and vegan antiperspirant sticks for men and women. They claim their antiperspirants contain Aluminum Chlorohydrate, a wetness protection ingredient made from recycled aluminum, which was originally derived from mineral bauxite ore, as well as, anti-microbial olive leaf extract, and 100% natural fragrance.
*Note: Tom's of Maine is cruelty-free but Tom's is owned by Colgate-Palmolive, a parent company that is NOT cruelty-free.
Tom's of Maine men's vegan antiperspirant deodorant is available in Charcoal, Mountain Spring, and North Woods.
And then they also have Natural Powder and Coconut Lavendar that is marketed for women.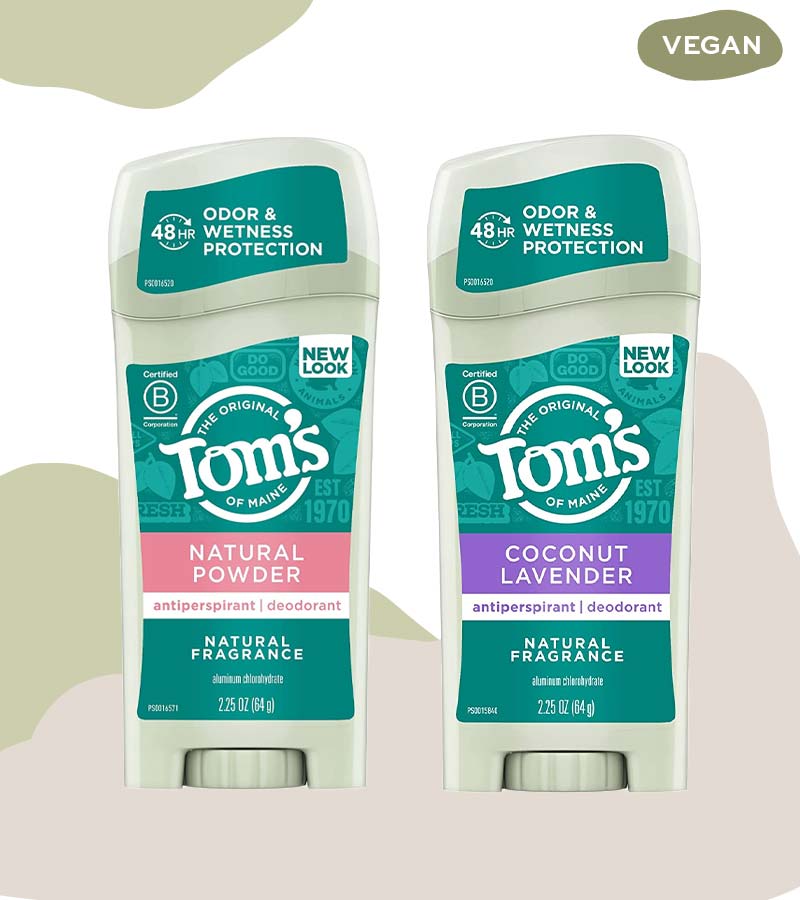 Vanicream Anti-Perspirant Deodorant
Formulated for sensitive skin, this fragrance-free & *vegan-friendly clinical strength anti-perspirant deodorant from Vanicream contains aluminum zirconium trichlorohydrex (20%) to help reduce underarm wetness. It's also free of baking soda, talc, ethanol, botanical extracts, and essential oils. Claims to be a smooth, dry application that leaves skin feeling soft while providing 24-hour extra effective protection.
Find Vanicream's vegan-friendly anti-perspirant deodorant on Amazon, LovelySkin, Walmart, and iHerb.com.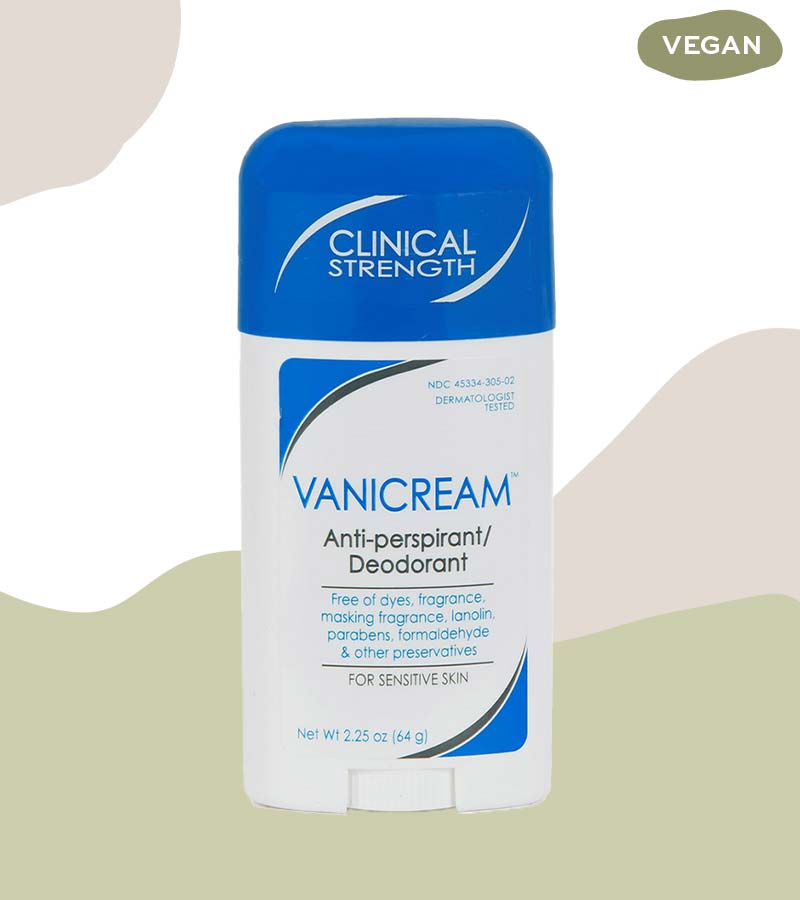 *Although Vanicream does not label its products as "vegan" when I asked them if this deodorant was vegan-friendly, they told me: "All of our products can technically be considered as vegan, but we are not certified for this claim. With being a small company, sometimes these certifications can be a little out of our budget as it is something you need to continuously renew and upkeep. There are many requirements for these types of certifications, but our team is looking into it! The stearyl alcohol that we use is derived from palm."