This post may contain affiliate links that at no additional cost to you, I may earn a small commission.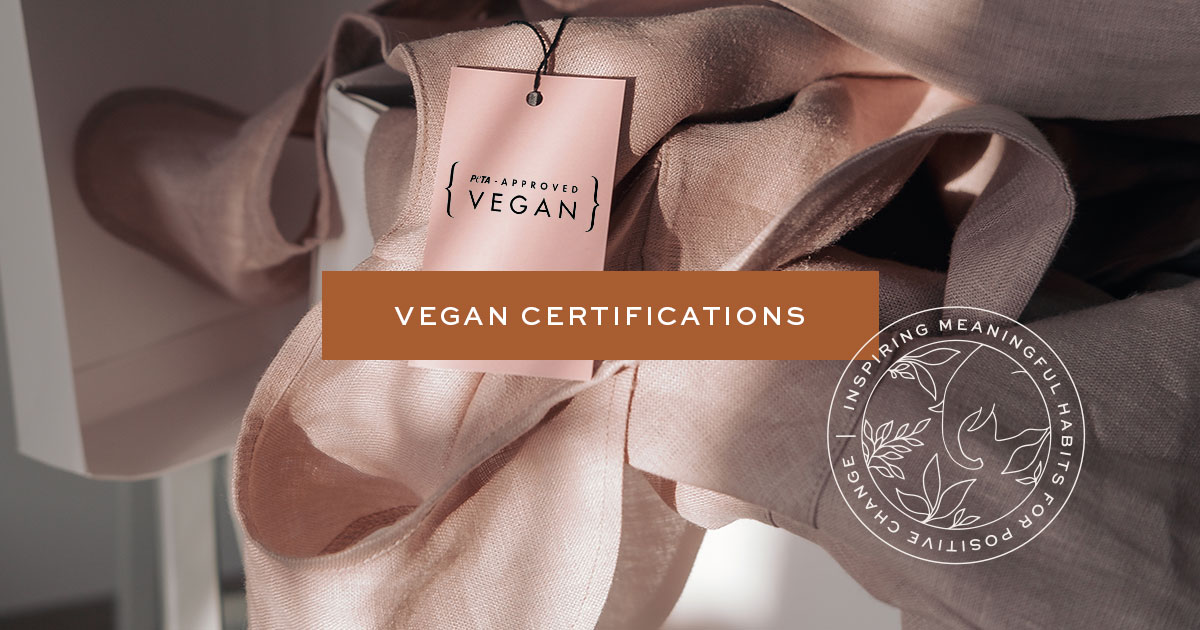 When it comes to vegan clothes, shoes, bags, and fashion accessories, it's pretty cut and dry as to what is considered vegan or not.
In fashion, the term "vegan" generally means the materials and fabrics are from any other material that wasn't derived or sourced from an animal.
If it came from a living or dead animal, it's not vegan.
Some animal materials commonly used for clothing, shoes, and handbags that are not vegan are fur, leather, wool, cashmere, shearling, angora, silk, and down.
Designers and companies will often disclose the source of their materials like 'calfskin' or 'lambskin' leather and 'genuine shearling sheepskin.' This makes it easier for us to identify which materials are animal-derived or not.
However, some items will only indicate and say "leather," where it's not always clear if it's animal skin leather or a vegan-friendly material.
This is where vegan certifications come in handy.
Vegan Certifications for Vegan Apparel, Shoes & Bags
There are currently two third-party certifications for vegan clothes, shoes, bags, and accessories: PETA-Approved Vegan and The Vegan Trademark.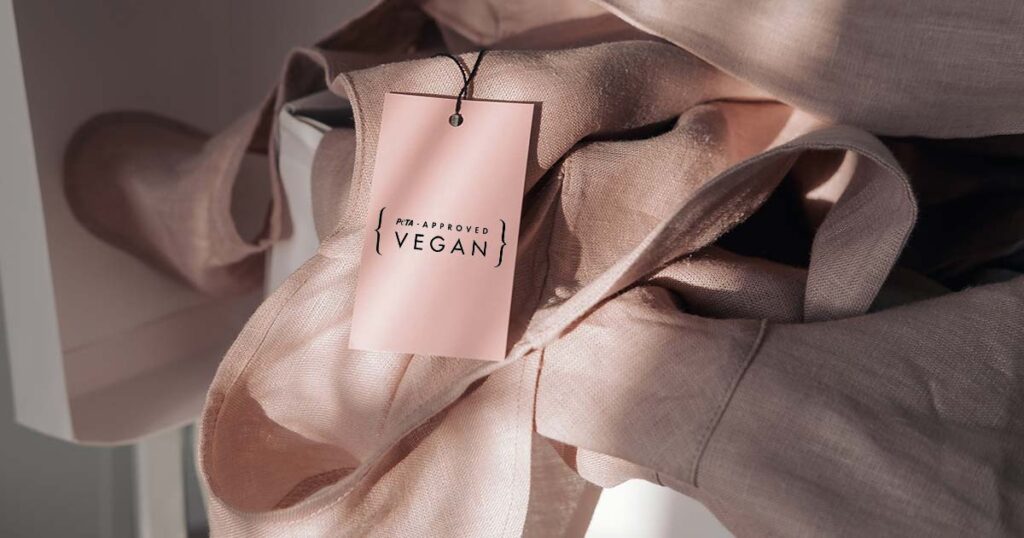 PETA-Approved Vegan
Here's a summary of PETA-Approved Vegan Certification:
issued by PETA (a US-based animal rights organization)
certifies individual products, collections, or an entire brand
certifies vegan clothing, fibers/materials, handbags, shoes, wallets, jewelry, and home furnishings
the annual certification fee starts at $250 and is based on the company's estimated annual revenue
does not require renewal once approved
PETA defines "vegan" as no animal-derived materials, including but not limited to fur, leather, silk, down, and wool.
PETA certifies brands by having them complete a short online questionnaire and a statement of assurance. PETA also requires all of the company's manufacturers and suppliers to complete and submit a statement of assurance.
The PETA-Approved Vegan Logo applies to individual products, collections, or entire companies. The annual certification fee starts at $250 and is based on the company's estimated yearly revenue.
Brands certified by PETA include Gunas, Matt & Nat, Doshi, Corkor, and Native Shoes. Find a list of all PETA-Approved Vegan certified brands here.
As of 2020, PETA started conducting random product testing on PETA-Approved Vegan certified items to make sure they adhere to their standards. Vegan fabric and product testing are done by a laboratory located in Italy.
One thing to note about the PETA-Approved Vegan certification is that companies are not required to go through a formal recertification process once they're approved. However, PETA states that if a company adds a new supplier or manufacturer, they must submit their Statement of Assurance to keep their records up-to-date.
Also, PETA does not require or audit to confirm dyes and glues are vegan. Instead, PETA encourages companies to contact their suppliers to ask for more information, but it's not required as part of their application and certification process.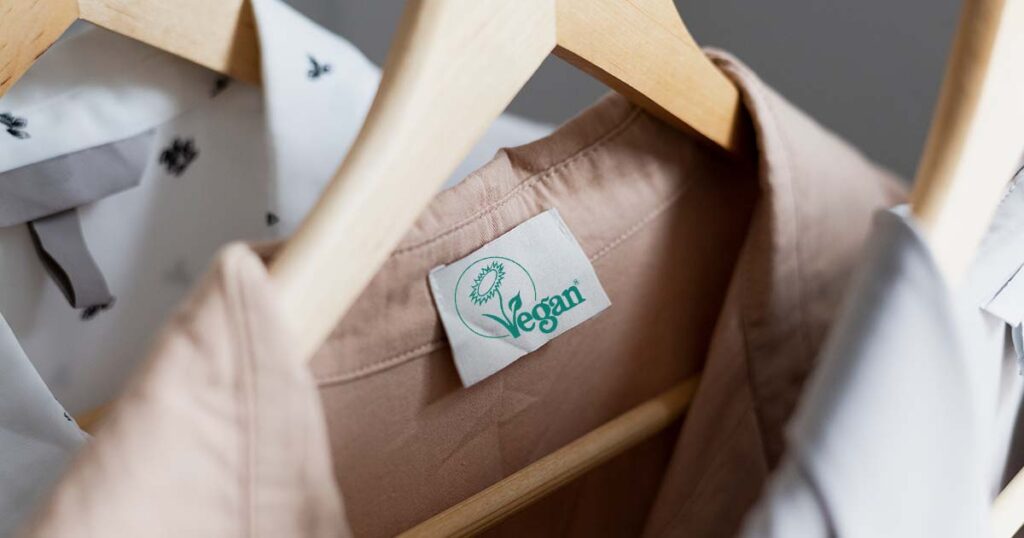 The Vegan Trademark
Here's a summary of The Vegan Trademark:
issued by the Vegan Society (a UK-based registered charity)
certifies individual products, not entire companies
not just for clothing and accessories; they also certify and use the same logo for vegan food items, cosmetics, retailers, etc.
cost an annual fee to use their Vegan sunflower trademark logo
requires an annual renewal
You may have seen this sunflower Vegan logo on some other products like food and cosmetics, but Vegan Society also certifies clothing, shoes, and accessories with the same Vegan Trademark logo.
The Vegan Trademark logo applies to individual products. To carry The Vegan Trademark, companies must ensure "the manufacture and/or development of the products, and where applicable its ingredients, must not involve, or have involved, the use of any animal product, by-product or derivative."
And to become certified, a company must provide signed written statements by their manufacturers proving they meet the Vegan Trademark Standards.
Unlike PETA, Vegan Society does look into the glues used in all registered products to ensure they're non-animal based. 
Are Vegan Certifications Required?
Both The Vegan Trademark and PETA-Approved Vegan certifications are voluntary programs where companies decide if they want to register. But note that products and companies can be fully vegan without being officially certified. Remember that, as long as no animal-derived materials are used, then it's considered vegan.
So, just because an item doesn't carry one of the above vegan logos doesn't necessarily mean it's not vegan. As long as the company is upfront about what materials, glues, and dyes they use, consumers can mostly tell if it's vegan or not without having to rely on third-party certifications.
What I do think these vegan certification logos do well is by taking the guesswork out of reading labels by offering consumers a quick and easy way to identify which products are vegan or not at a glance.
But I'd love to hear from you, are you more likely to buy an item if it's certified-vegan over one that isn't officially certified?