This post may contain affiliate links that at no additional cost to you, I may earn a small commission.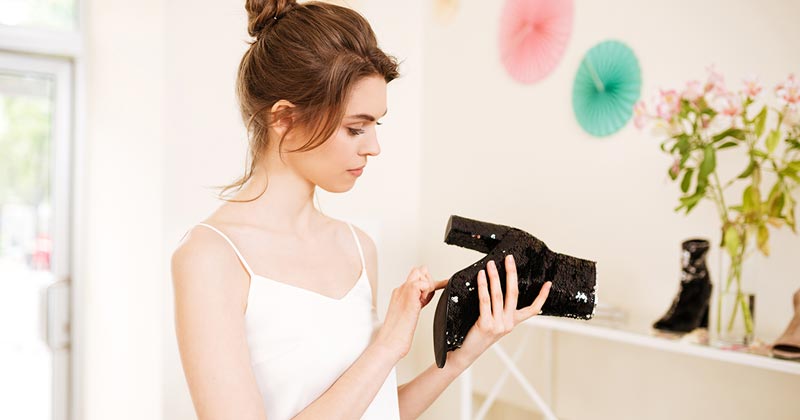 Whenever I post a vegan shoe guide recommending footwear that doesn't contain animal materials (like leather, suede, fur, wool, silk, etc.)… I sometimes get asked, is the shoe glue vegan?
I looked into it and in this post, I'm sharing everything I found out about shoe glues and its history, origin, why it's not vegan, and how to know when it is vegan.
In addition, I emailed a bunch of non-vegan and vegan shoe companies to ask about their shoe glues and I asked on social media, what you guys think about vegan shoes made with animal-based glues. Here's what I discovered.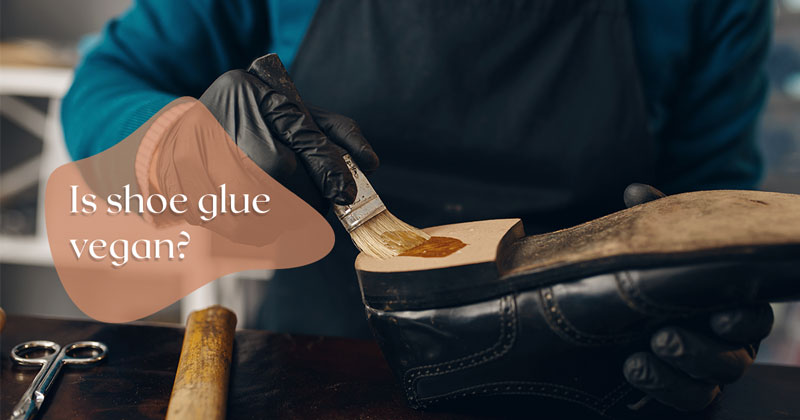 Is Shoe Glue Vegan?
Historically, shoe glue used to be made from animal collagen, a process where they will boil animal bones, skins, tendons, and connective tissue.
Vegan Kicks asked PETA about this process and was told:
"Animal proteins like casein from milk or collagen from flesh, bones, skins, tendons, ligaments, and other body parts are used to make animal-based glues. To extract collagen from tissue, animal parts are cleaned, softened, and boiled in water to create a stock." (Source: Vegan Kicks)
But is animal-based adhesives still being used by shoe manufactures today?
Not really. Most shoe companies are now using synthetic adhesives because they're cheaper to make and generally better than animal-based glues in terms of quality, consistency, and effectiveness.
Although synthetic-based & vegan glue is more commonly used today, as I learned from emailing a bunch of shoe companies, there is no guarantee that all shoe companies are currently using synthetic adhesives.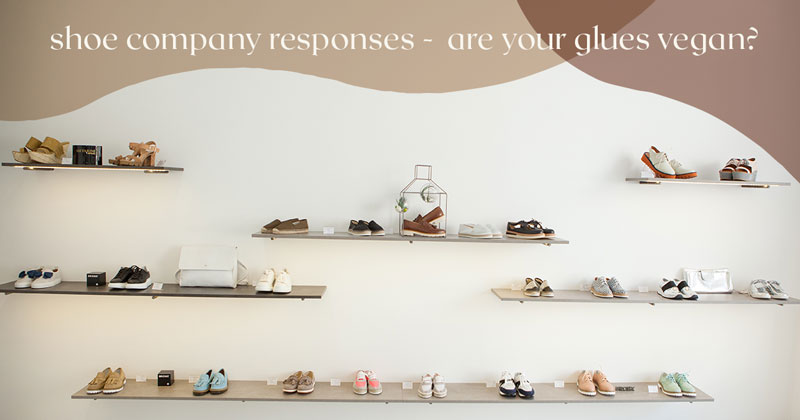 Is Animal-Based Glue Still a Thing?
When I reached out to a number of popular shoe brands to ask about the source of their glues and whether it's animal or synthetic-based, a few responded confirming their glues are free of animal by-products.
"Upon checking, all adhesives used in our shoes are synthetic and free of animal byproducts." – Nike
"All our glues are synthetic and non-animal based." – Converse
"We can confirm that there is no animal-based glues in any of our shoes or products." – Hunter Boots
"Please take a look at our Vegan Styles on our website here. These styles are made in a different factory, Vegan, and do not contain any animal-based glue." – Birkenstock
"They have informed us that the glue used in manufacturing our shoes is water based and we do not use any animal based glues." – Naturalizer
"We have worked closely with our top adhesive suppliers to ensure that they are not using animal byproducts." – New Balance
But most of the shoe companies that responded back weren't able to guarantee their glues are free of animal by-products or didn't have that type of information available to them.
"Please note that we do not keep this type of information since this is more of a manufacturing process detail." – Steve Madden
"Unfortunately, we cannot guarantee the source of the glues used to make our shoes." – Vans
"I know this must be disappointing news but I am afraid that we do not carry such information since they are related to the manufacturing process." – Dolce Vita
"We use a variety of substances and chemicals in the traditional manner and method in the process of tanning leather and manufacturing footwear. We cannot guarantee that any glue we use is solely animal-based." – Cole Haan
"We try to avoid animal based glue whenever possible, but there can be animal byproducts used in some of our glues." – SOREL
And surprisingly, a small number of shoe brands responded back saying their glues are not vegan-friendly:
"Yes, there may be traces of fish products in the glue used for the footwear." – Salomon
"Our glue does contain animal product." – Badgley Mischka
"We unfortunately, do not use vegan glue in our shoes." – Mizuno
Next, I emailed a bunch of 100% vegan shoe companies that market their shoes as "Vegan" to ask whether their glues are also vegan.
"No we absolutely do not use animal based glues." – PAWJ
"We do not use animal-based glues, our shoes are made in Spain and we even called in the glue maker to double check and get it confirmed." – BHAVA
"We only use 100% vegan ingredients that includes our glues, uppers, outsoles and insoles." – Tastemaker
"we make our shoes at a vegan factory! no animal glues." – Brave Gentleman
"We pride ourselves on not using animal based glue." – BC Footwear
"FAIR is a vegan brand, therefore we do not use any product of animal origin, not even the glues/adhesive that are invisible to the customer. Additionally, most of the glues used are water-based." – FAIR
"All our components are vegan-friendly, including our glue!" – Sydney Brown
"Rest assured we make sure that all of our glue is synthetic-based." – Vegetarian Shoes
"We can confirm that we do not use any glue with animal products in." – Will's
To my delight, almost all of the vegan shoe brands that I reached out to responded back confirming the glues they use are indeed synthetic-based and/or water-based and therefore vegan-friendly.
So besides relying on vegan shoe brands to produce 100% vegan footwear without animal materials, which also includes the adhesives, what are some other ways to know if shoes are made with animal-based glues?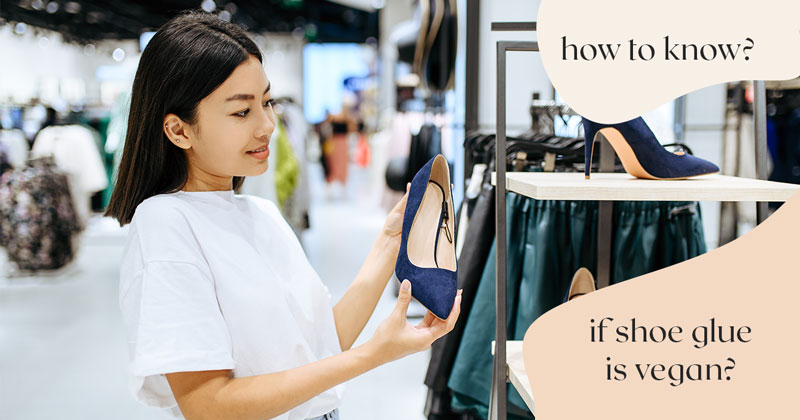 How To Know If Shoes Are Made With Vegan Glue?
Since shoes don't generally come with a label disclosing the source of its glues, there's really no other way to know if the glues contain animal by-products or not, unless you ask the manufacturers directly.
I know that contacting every shoe brand to ask about the origin or source of their glues require a lot of work and can be time-consuming but it's really the only way to know for sure.
What about certified vegan shoes? Can we trust these certifications and their standards of verifying vegan shoes and their glue?
I emailed two of the most popular organizations that certify vegan shoes to ask them about their criteria when certifying footwear as "vegan".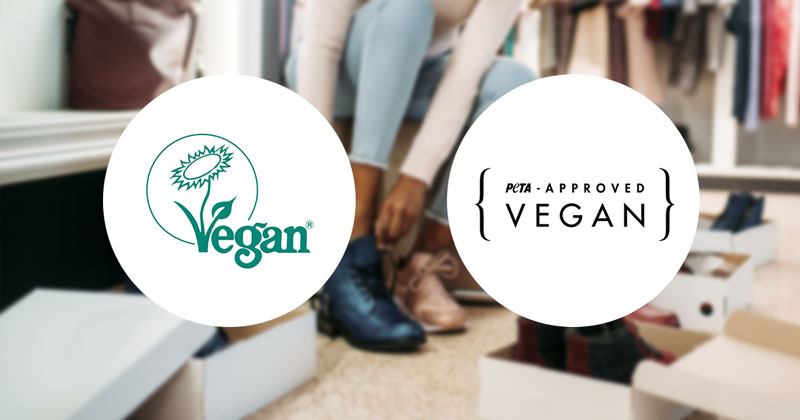 Vegan Society was very straightforward with their response, stating "Yes, we would look at any glue used in a product registered with the Vegan Trademark."
Whereas PETA says they encourage companies to ask their suppliers about this but it's not a requirement and they don't certify that all PETA-Approved Vegan shoes are made with synthetic glues.
"Companies carrying the 'PETA-Approved Vegan' logo have provided PETA with written assurance that their products are indeed vegan. There can be complex gray areas, such as dyes and glues, but in these cases, we encourage companies to contact their suppliers to ask for more information. 

It's important to note that although there are a growing number of vegan items on the market, many products and materials—such as wallboard, paint, car tires, asphalt, and ink—still contain animal ingredients, are tested on animals, or both. Even seemingly benign substances—like salt—have been tested on animals, and machinery that weaves cotton and other fabrics is often coated with animal-based oils. 

The goal of vegan living and animal rights shouldn't be to adhere to rigid dogma for dogma's sake but rather to make choices that bring about positive change. Ideally, the use of animal products and the exploitation that it involves should be eliminated, but for now, PETA urges people to support products that, while not perfect, will nevertheless help prevent the vast majority of animal suffering. To read more thoughts on this issue, please see this page on our website: http://www.PETA.org/living/vegetarian-living/tiny-amount-of-animal-products-in-food.aspx.  

We realize that determining how far we should go to ensure purity in the products that we buy is difficult, and we respect the views of people who decide, for whatever reason, not to support some of the items that we recommend."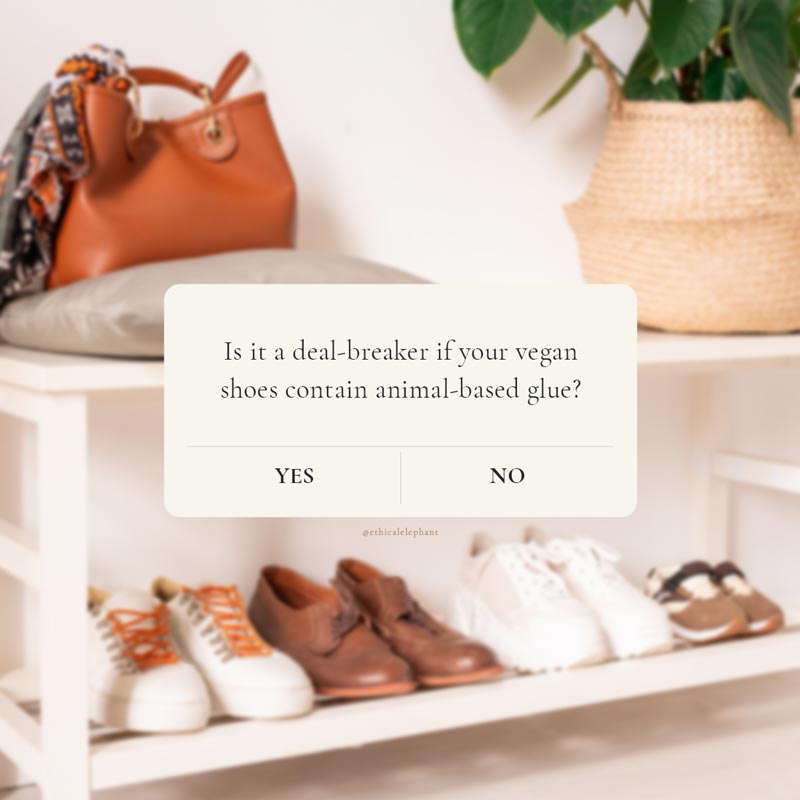 Animal-Based Glue: Deal Breaker or No?
I asked on social media, is it a deal breaker if your vegan shoes contain animal-based glues?
Some responded saying they had no idea or would have thought of looking into the source of glue when buying vegan shoes.
A handful of you said this was absolutely a deal-breaker and that we can't label shoes as being vegan if the glues contain animal by-products.
And then a few said you try your best to buy 100% vegan shoes and that also includes the glue. But if you need shoes and the source of glue is unclear, then that's OK because imperfect action is better than no action.
What To Do Now:
If you want to exclusively buy 100% vegan shoes which also includes the glue, then look for Vegan Society Certified shoes or contact the manufacturers to confirm their glues are indeed vegan.
And if this is a non-issue for you and you try to do your best with buying non-leather and non-animal material shoes which may or may not contain animal-based glues, then that's cool too.
You do you! And only you know what's best for you!