This post may contain affiliate links.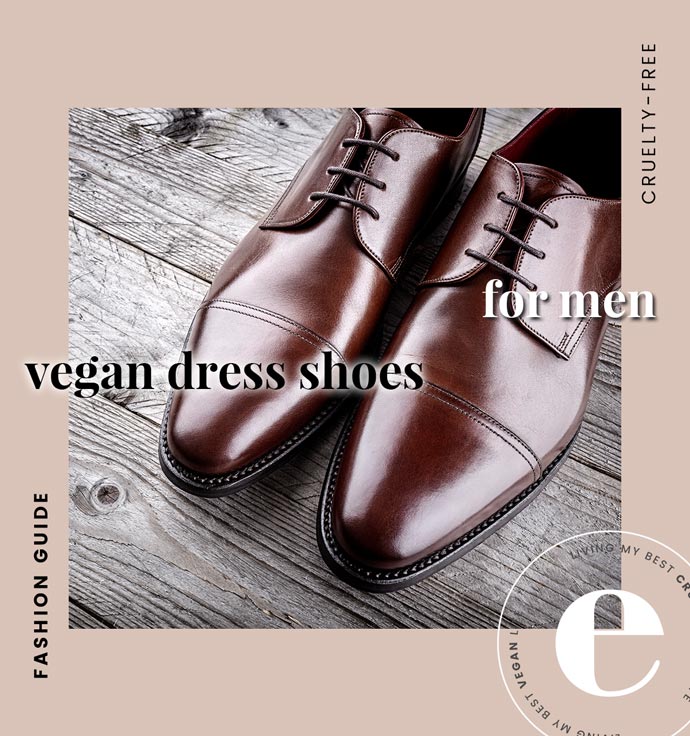 Shopping for non leather dress shoes for work or for a special occasion? I've got the ultimate guide for the best ethical and vegan men dress shoes that money can buy!
From a classic oxford vegan dress shoe to a formal, refined non leather dress shoe… there's something in this list for you!
I made sure to only include vegan shoe brands that do not use any animal leather or materials and shoes that were also ethically-made.
List of Vegan Dress Shoes
Below is a list of vegan dress shoes brands:
Will's
Bourgeois Boheme
Nemanti
Vyom London
NOAH Shoes
Vegetarian Shoes
FAIR Shoes
Brave GentleMan
Ahimsa
NAE Shoes
Novacas
NOHARM
NAK Fashion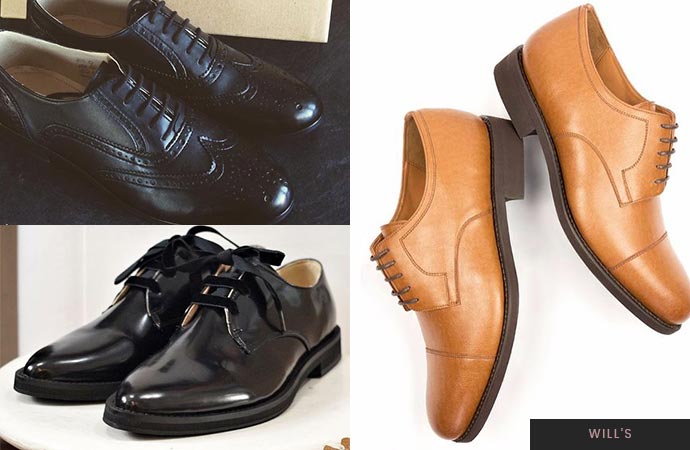 Will's
Based in: London, UK
Price: $88-$254
Will's Vegan Shoes' has a fab selection of vegan dress shoes for men. All of Will's Vegan Shoes are made using vegan materials like eco-friendly vegan leather made with plants, created with bio oil sourced from organic cereal crops grown in Northern Europe and high-quality Ecolabel certfied vegan leathers and suedes made in Italy and Spain that meet Oeko Tex 100 and REACH regulations. In addition, Will's Vegan Shoes are ethically-made and their factory workers are protected.
---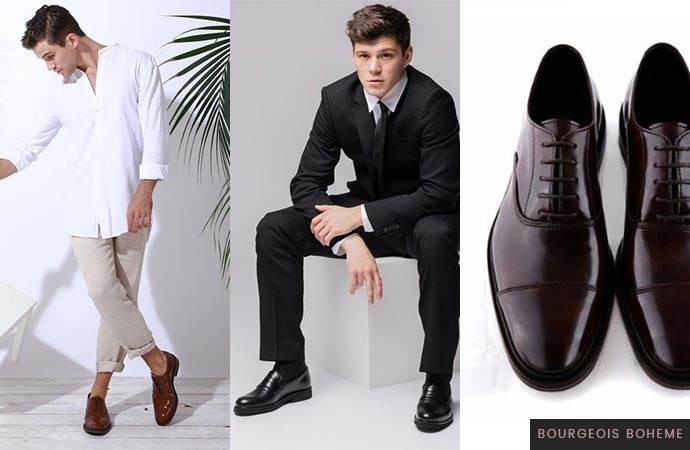 Bourgeois Boheme
Based in: London, UK
Price: $225-$235
Bourgeois Boheme is an independent vegan shoe brand based in London, UK. All of Bourgeois Boheme vegan designer dress shoes are completely free from animal-derived materials. "The British-inspired, brand-exclusive styles are all artisan-made in Portugal from the finest eco-friendly Italian vegan leathers."
---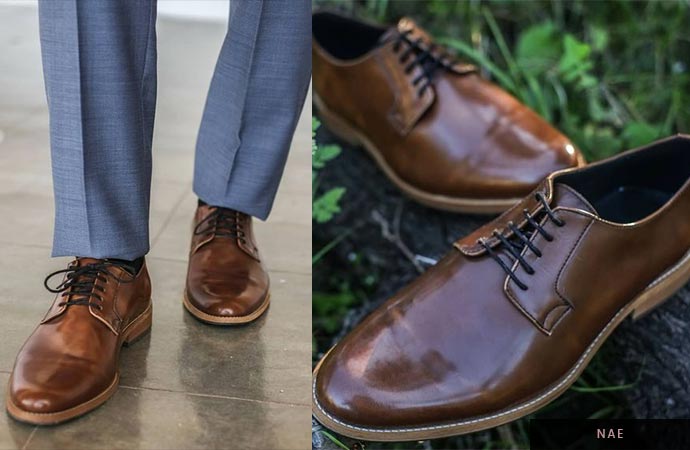 NAE Shoes
Based in: Portugal
Price: €125-€150
NAE (No Animal Exploitation) shoes is a Portuguese vegan footwear brand with a growing collection of vegan men dress shoes. All of NAE shoes are manufactured ethically in certified factories of Portugal, where they respect their employees and do not use any product of animal origin or that damages the environment. NAE aims to work with natural materials such as cork and pineapple, recycled materials such as airbags and PET – plastic bottles and synthetic materials as ecological microfibers.
---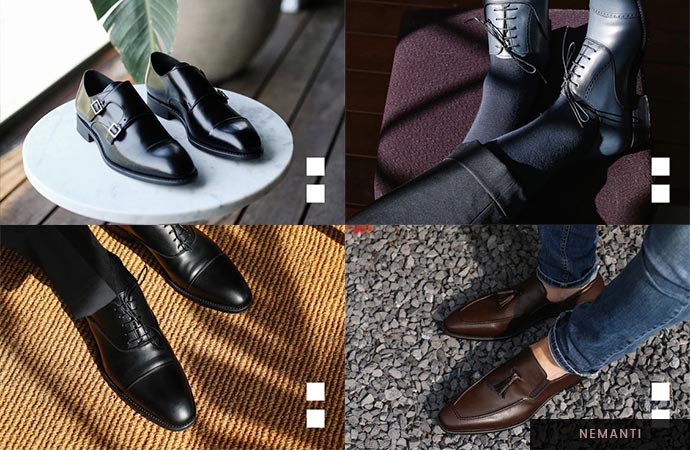 Nemanti
Based in: Italy
Nemanti's
Italian luxury vegan designer shoes are stylish and contemporary and built to last so they're definitely worth the splurge. 
Nemanti
shoes are made from high-quality vegan leather made from bio-polyoils from cereals to avoid the use of fossil fuels and luxurious faux suede, Alcantara.
---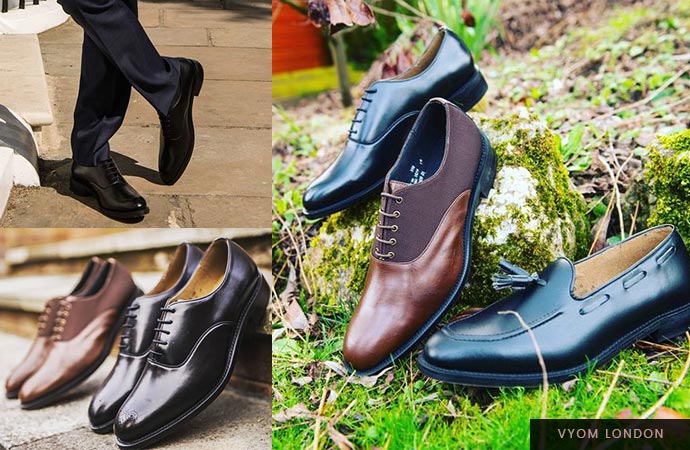 Vyom London
Based in: UK
Price: £120
Vyom London vegan dress shoes are described as timeless and elegant with a modern twist. Vyom London vegan designer shoes are hand crafted in the United Kingdom by artisan shoemakers using premium graded faux-leather. "We have always been keen in supporting our home grown British economy; hence our shoes are made in the small town of Northamptonshire. The craftsmen and women in this artisan factory have been making shoes for generations and they have the tradition, experience and passion to deliver a world class product."
---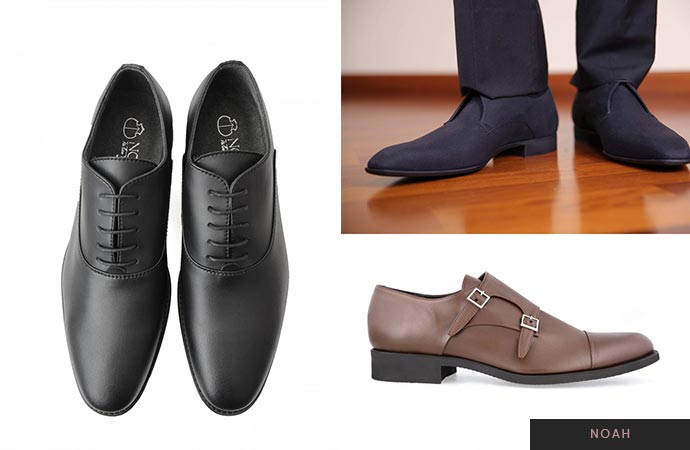 NOAH Shoes
Based in: Italy
Price: €149-€319
Vegan Italian Shoes by NOAH offers fashionable, high-quality vegan shoes produced in limited numbers in Italy by small companies that guarantee fair working conditions. NOAH has an extensive collection of vegan Italian dress shoes from elegant vegan men's shoes as lace-ups, slippers, or ankle boots. NOAH shoes "express the traditional Italian style and the complete comfort of quality footwear. Thanks to the worker-friendly conditions and the use of vegan materials, the production of NOAH footwear leaves a social and eco-friendly mark."
---
Vegetarian Shoes
Based in: UK
Price: £60-£135
Vegetarian Shoes is the OG of vegan footwear, they've been around since 1990 and their vegan shoes collection has grown exponentially which now includes a range of men dress shoes. All of Vegetarian Shoes are ethically-made in the UK and Europe with non leather and animal-free materials. "Most of our shoes are made-to-order for us, exclusively to our specification in European and English factories, including one established as a co-op in 1881!"
---

FAIR Shoes
Based in: Portugal
Price: €149
FAIR creates modern, ethical, and vegan dress shoes. All of FAIR shoes are completely animal-free, produced in Portugal under worker-friendly conditioners and they're always seeking to use the most sustainable materials. FAIR dress shoes for men are made with quality Italian microfiber made at a CO2 free manufacturing system and does not contain harmful products (Oeko-Tex Certified; PVC free).
---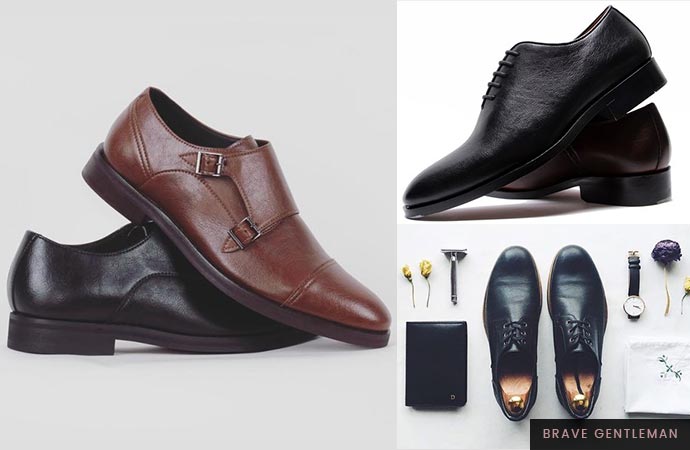 Brave GentleMan
Based in: New York
Price: $295-$640
Brave GentleMan vegan dress shoes are refined and professional. All of Brave GentleMan vegan shoes are made in Brazil using future-leather, a supple, durable, Italian-milled, EU Ecolabel Certified, hi-tech PU, that claims to be superior to animal leather.
---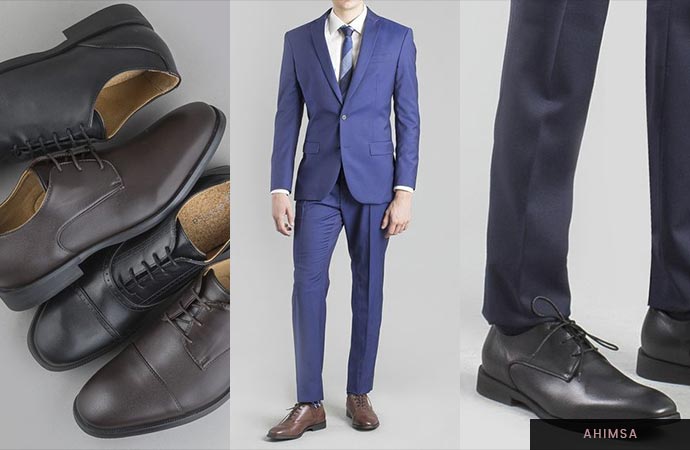 Ahimsa
Based in: Brazil
Price: $146-176
Ahimsa vegan dress shoes for men are all ethically handmade with love in a 100% vegan shoe factory in Brazil. Ahimsa contains "a small, but very dedicated, team of workers, and a production almost entirely done by hand." Ahimsa continuously strives to offer high quality footwear made from alternative materials that have long lasting durability. Ahimsa's mission is to show the world that you can be in fashion, without cruelty.
---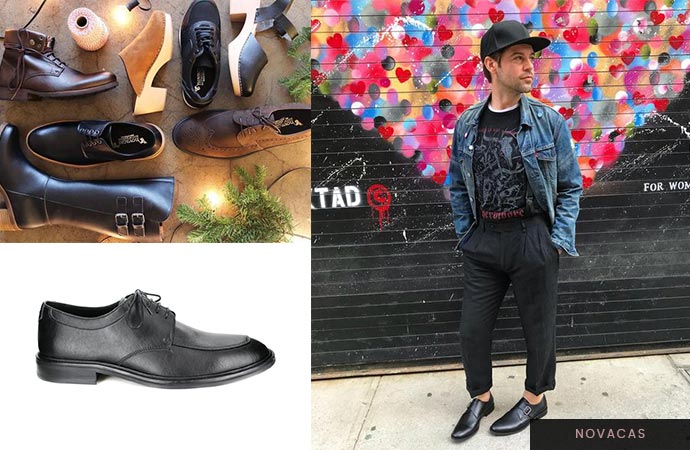 Novacas
Based in: New York
Price: $60-$190
Novacas shoes is the house brand of popular US-based vegan boutique, MooShoes. Novacas dress shoes are ethically crafted in European worker-friendly facilities, all made with high quality, Italian-made microfiber materials.
---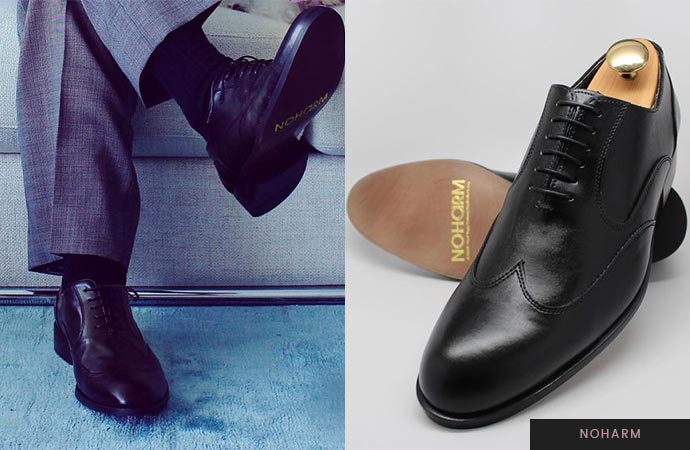 NOHARM
Based in: Europe/London
Price: $125-$280
NOHARM offers non-leather vegan dress shoes hand crafted in Italy by artisans in fair labor environments. "NOHARM is proud to introduce an exciting range of high fashion, environmentally-conscious, vegan footwear for the discerning and ethically responsible. All ingredients and components used to manufacture NOHARM footwear are meticulously researched to ensure the finished product conforms to the highest ethical and environmental standards."
---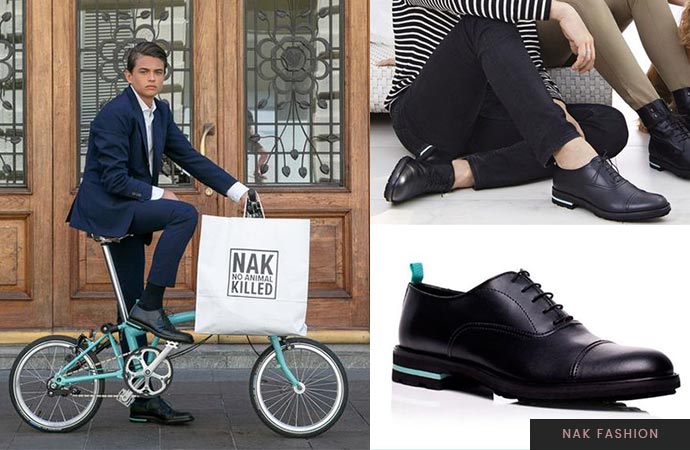 NAK Fashion
Based in: London
Price: £270-£320
NAK (No Animal Killed) Fashion's mission is to make beautiful shoes without killing animals. And they have done just that with their exquisite collection of vegan Italian dress shoes. NAK partners with artisans in Italy to design and craft their shoe collection and all materials used in making their products are sourced close to their Northern Italian workshop to minimize impact on the environment. NAK shoes are made from microfibre, an alternative to leather that is breathable, waterproof, and lightweight.
---