This post may contain affiliate links that at no additional cost to you, I may earn a small commission.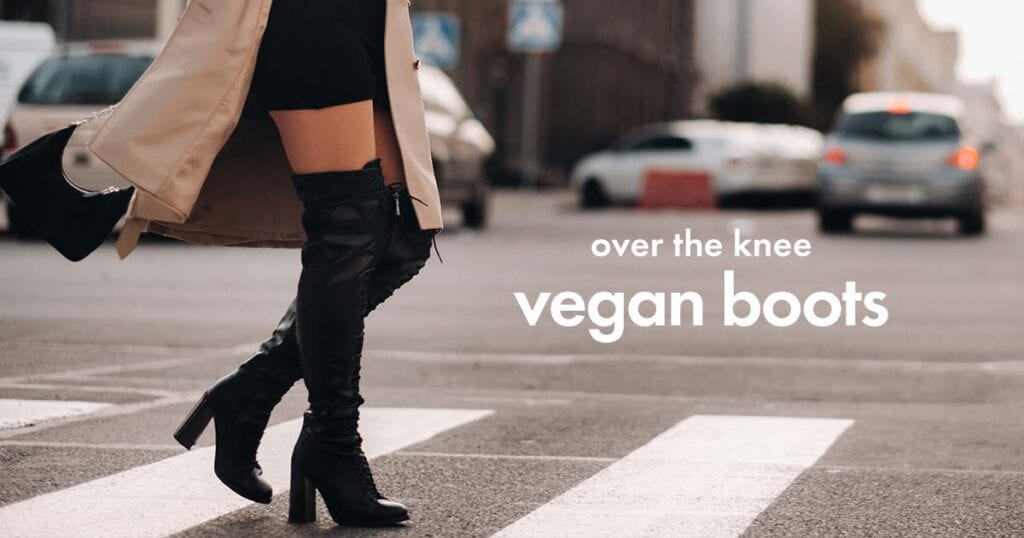 Looking for a pair of over the knee vegan boots for this season? Over the knee or tall boots are incredibly versatile as they can be worn with jeans, leggings, tights, or skirts. Throw on a chunky knit sweater or a vegan wool coat and you're all set.
I recently listed my top picks for vegan knee high boots but if you wanted a pair that sits a little higher, then this guide is for you!
In this post, I've rounded up some of my favourite styles of vegan tall boots. Whether you like vegan suede, leather, or exotic vegan leather, there's something for you in this list!
As always, all of the footwear and items I've listed below are all 100% vegan and do not contain any animal materials like animal-based leather, suede, fur, wool, or silk. In addition, none of the shoe glues or adhesives used are from animal sources.
Also, be sure to check out my ultimate guide to vegan leather boots brands!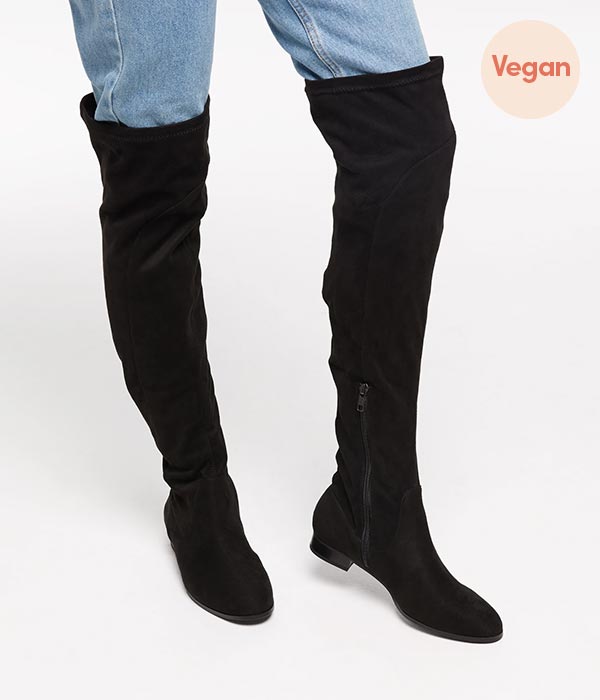 Vegan Suede Over the Knee Boots 'Kallya' by Matt & Nat ($175) – comfortable flat boots with a slim silhouette, perfect for wearing with leggings, tights, or skinny jeans.
---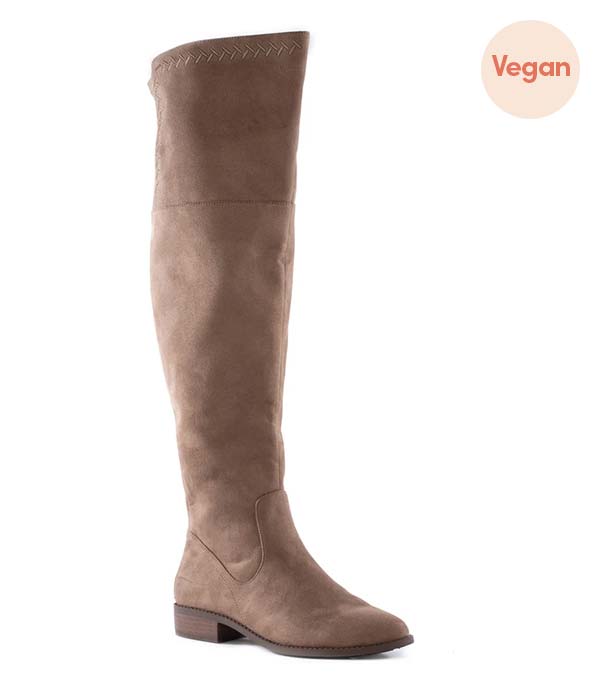 Taupe Vegan Suede Over The Knee Tall Boots by BC Footwear ($139) – Available in a range of colors. This taupe v-suede thigh high boot gives me all types of Autumn vibes. I love that it's a flat boot so they're practical and comfortable cause these boots were definitely made for walking!
---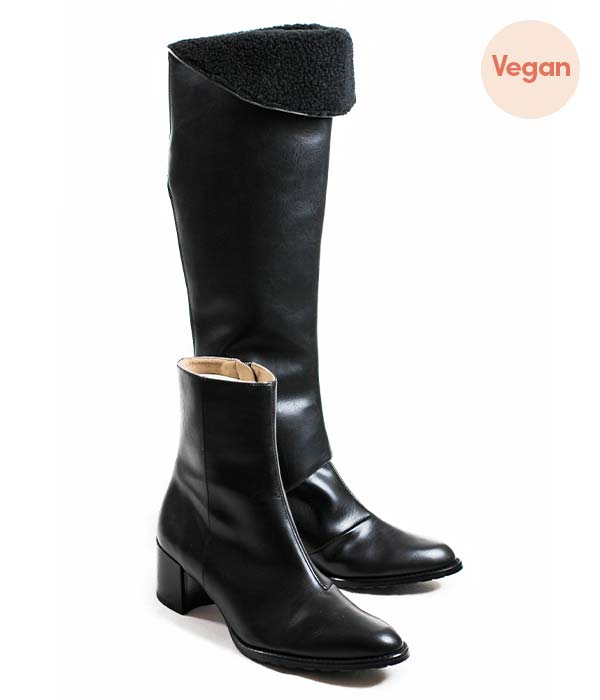 BHAVA Over the Knee High Boot Upper ($125 for the upper) – I love this idea of being able to transform your pair of Bhava ankle boots to a knee high or over the knee high boot with their upper attachment (boots and upper are sold separately). It's like a chic and elegant leg warmer but for your boots!
---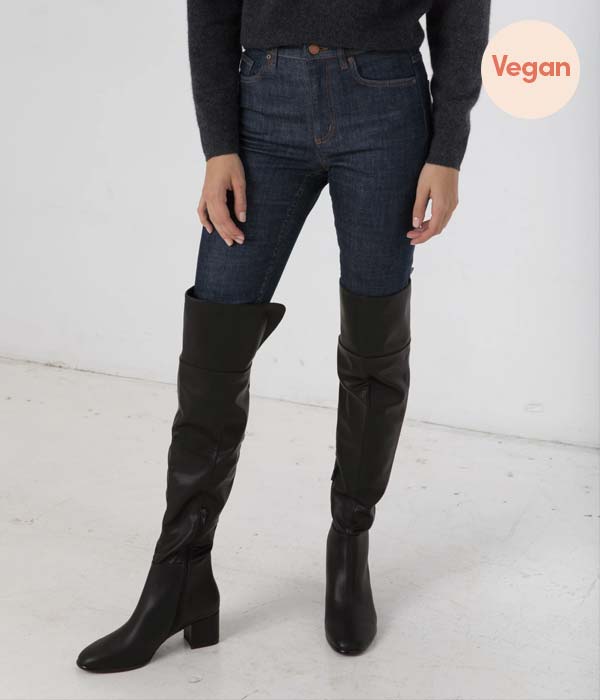 'Roby' by Matt & Nat (Reg. $190, On Sale $95!) – These would go well with jeans and a chunky knit sweater. Set on a comfortable 2.5″ block heel. It's said to be made with a mix of vegan leather and suede but they look all vegan leather to me.
---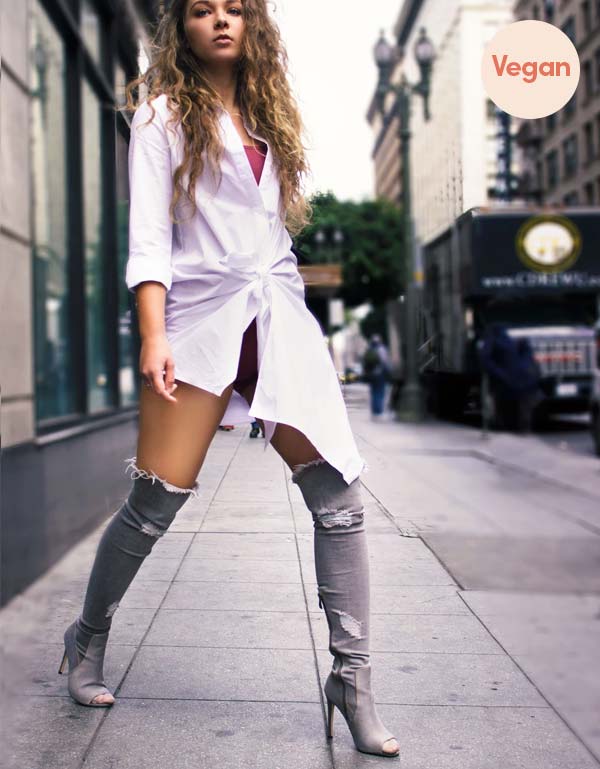 Denim Over the Knee Boots by Blue District ($90) – Because wearing jeans these days is totally optional. These cool denim over the knee boots features rip details and a peep-toe. It's made with soft stretchy denim so that these slip-on style boots are easy to get on and off. Use code: 'ETHICALELEPHANT15 to receive 15% off
---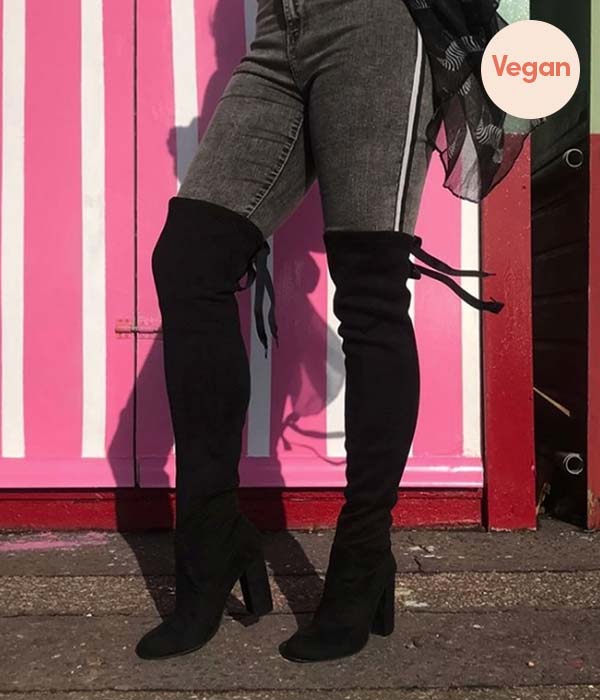 Block Heeled Vegan Suede Over The Knee Boots 'Kelly' by Beyond Skin ($380) – Love the chunky block heels of these vegan suede tall boots along with the bow detail at the top. These would look adorable with a plaid skirt and a vegan suede jacket.
---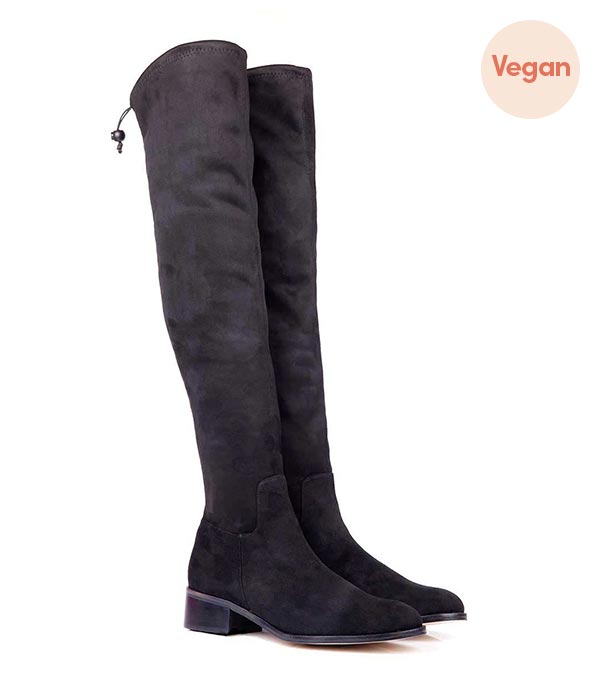 Stretch Over the Knee Vegan Boots 'Ronnie' by Beyond Skin ($390) – Afraid of heights and prefer a flat boot instead? Beyond Skin has an option without the block heel and with a slimmer fit.
---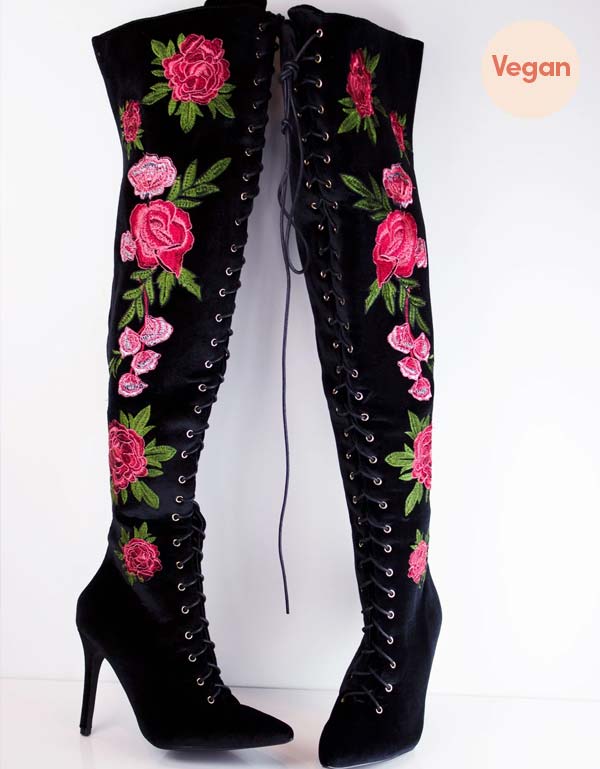 Embroidered Velvet Thigh High Vegan Boots by Blue District ($92) – Check out this stunning pair of western-inspired tall boots with floral embroidery and gold metal accents and laces from top to the bottom. Use code: 'ETHICALELEPHANT15 to receive 15% off
---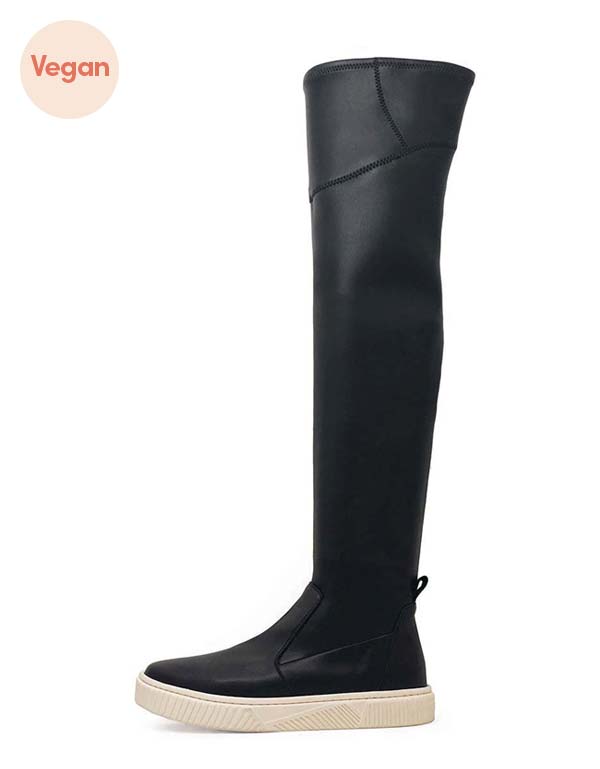 Tall Sneaker Boots by Mireia Playa (Reg. €185, On Sale €95!) – Prefer a sneaker style thigh high boot? I love these ones made with vegetable polymers derived from corn and recycled fabrics.
---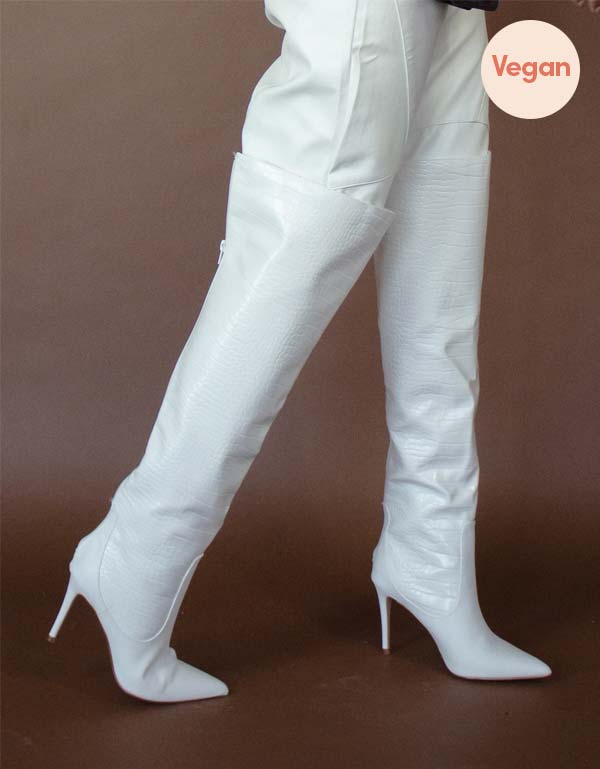 Exotic Vegan Leather Knee High Boots by Blue District ($79) – These sexy white thigh high boots with a stiletto heel and pointed toe would work well with a chunky white sweater dress or an all-white ensemble for a dreamy winter wonderland look. Use code: 'ETHICALELEPHANT15 to receive 15% off
---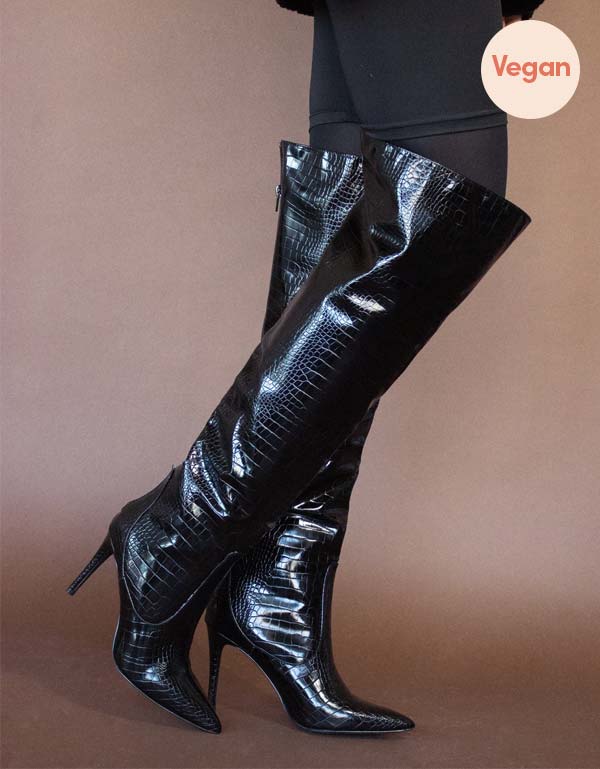 'Montagu' by Blue District ($79) – The same boots as above but in black, just because.
---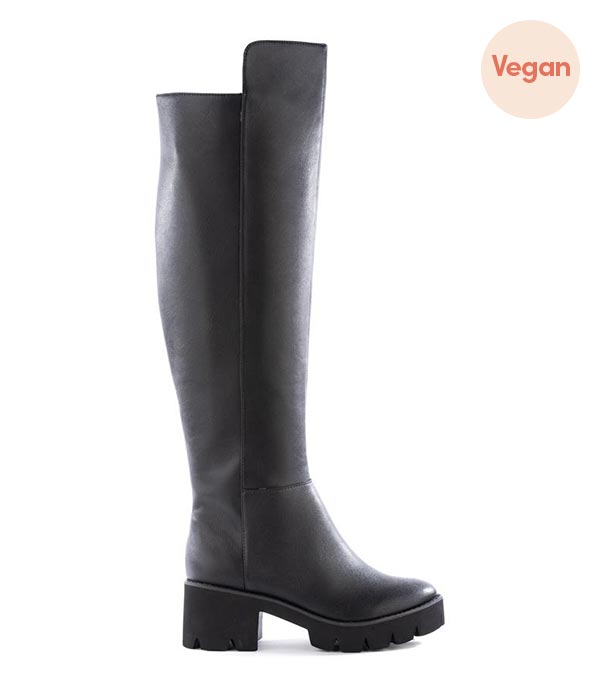 Vegan Leather Over the Knee Boots 'Statuesque' by BC Footwear ($129) – These sleek boots with lug soles would pair well with a moto vegan leather jacket, just sayin'.
---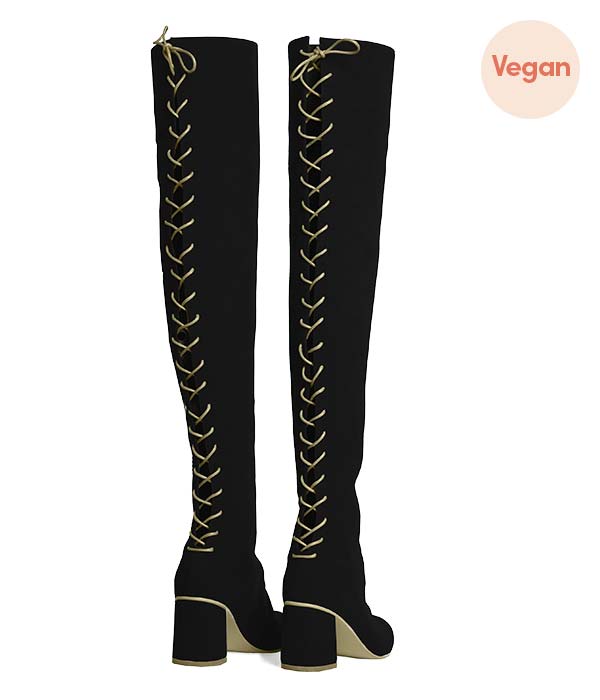 The Stick Vegan Boot by Rafa ($650) – This stylish and elegant thigh high boot is a made-to-order piece. It's made with vegan recycled textiles and the back laces are made with bungee cords. A versatile boot that can be worn with jeans or leggings or dressed up with an elegant dress.
---
Those are my top picks for vegan over the knee boots in 2021! I hope you found this guide helpful and be sure to let me know which of these styles are your favourites.