This post may contain affiliate links that at no additional cost to you, I may earn a small commission.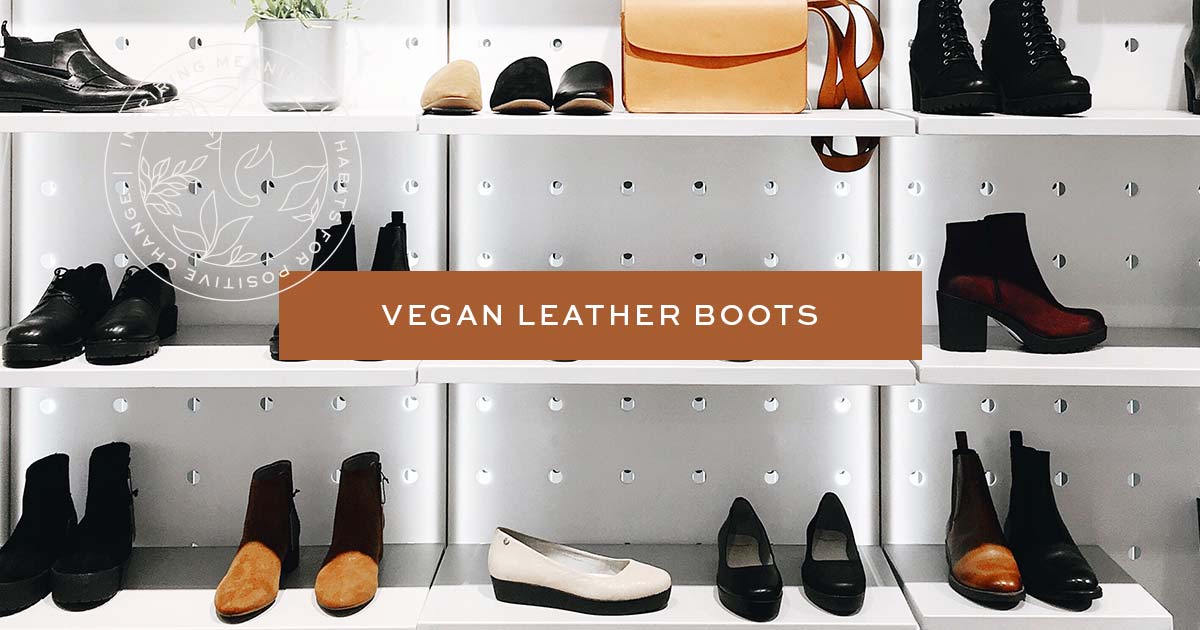 Looking for a pair of stylish vegan leather boots this season? In this guide, I'm sharing a list of 30 vegan shoe brands that offer a collection of premium faux-leather boots for women and men.
Whether you're looking for a pair of chic vegan leather Chelsea boots, timeless classic lace-up boots, statement vegan cowboy boots, or vegan knee high boots, there's something for you in this list!
What are vegan leather boots made of?
Simply put, vegan leather is made from any other material that did not come from animals. Vegans avoid materials like animal-based leather, suede, wool, and silk.
Vegan leather is usually a synthetic material made from a type of PVC or PU but we're also seeing more innovative and sustainable materials being used today like pineapple leather (Piñatex) and leather made from grapes or recycled materials.
So, note that not all vegan leather is created equally. If you're looking for vegan leather boots made with sustainable materials and ethical manufacturing practices, I encourage you to always check the brands' website for more information.
Vegan Boots Brands
All of the shoe brands listed above are 100% vegan with the exception of Dr. Martens, Alohas, Stella McCartney, and T.U.K Footwear.
---
I know first-hand how hard it is to shop for quality vegan leather boots so below, I am sharing a few of my favourite vegan shoe brands. Hopefully this will help you narrow down your options so that you can find the best vegan leather boots for this season!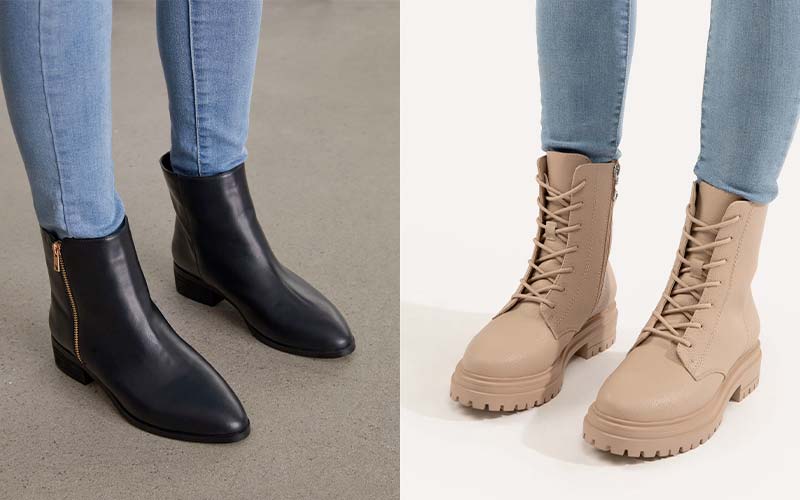 Matt & Nat
Matt & Nat offers a great range of stylish and modern vegan leather boots for women, along with a couple of options of men's boots. I always recommend Matt & Nat as a great place to start when looking for vegan leather boots as you can often find their shoes at major retailers or shopping malls. That way, you get to try on their shoes before buying. Matt & Nat boots are reasonably priced between $100-$170, but you can often find their previous year's boots on sale.
---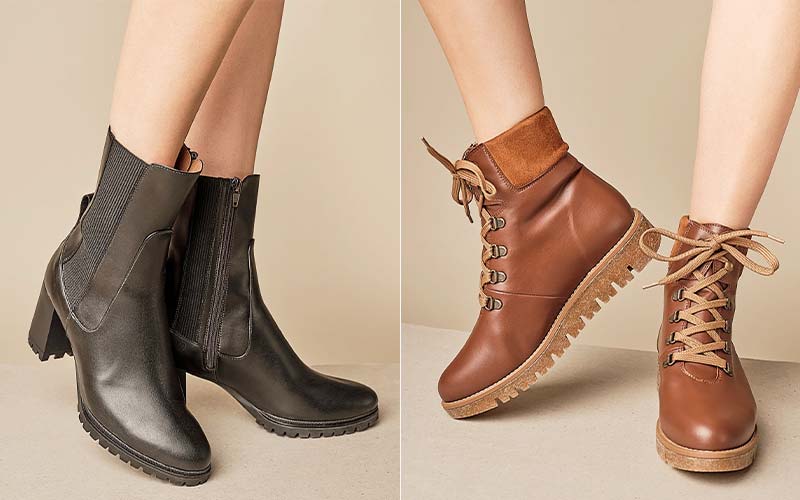 BHAVA
BHAVA is an eco-conscious and ethical, vegan footwear brand from New York. They make the most beautiful vegan leather boots and vegan winter boots for women. All of their shoes are manufactured in Alicante, Spain where shoes are still being handmade by generations of artisans. The design is in the details, from the choice of upper, and the soft eco-suede lining (all imported from Italy), to the European hardware. BHAVA boots start at $200.
---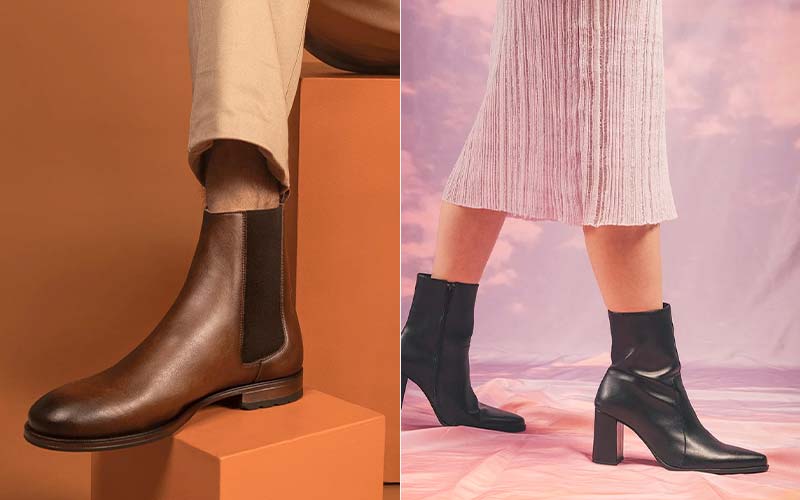 NAE Vegan Shoes
NAE is a Portuguese footwear brand with a vegan philosophy and concerned with environmental sustainability. NAE offers vegan leather boots made with sustainable materials for both men and women. From pineapple leather (Piñatex), Oeko-Tex Certified Ecological Microfiber, to 100% organic cotton fur, NAE vegan shoes has thought of it all! All of NAE boots are ethically made in Portugal and are fairly priced between $85-$210.
---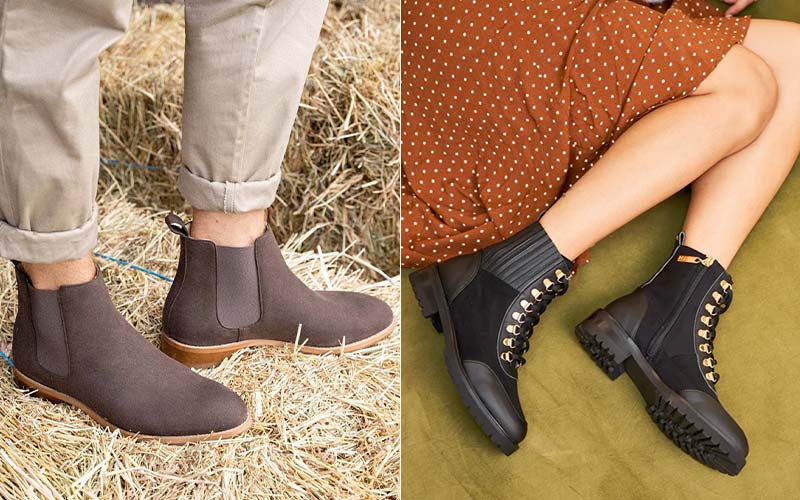 Minuit sur Terre
Minuit sur Terre is an eco-friendly fashion brand based in France, making ethical and sustainable vegan leather boots for men and women. All of their shoes are made in Portugal, using Oeko-Tex certified eco-friendly materials that were made in Italy. Minuit sur Terre vegan boots are also fairly priced between $100-$200.
---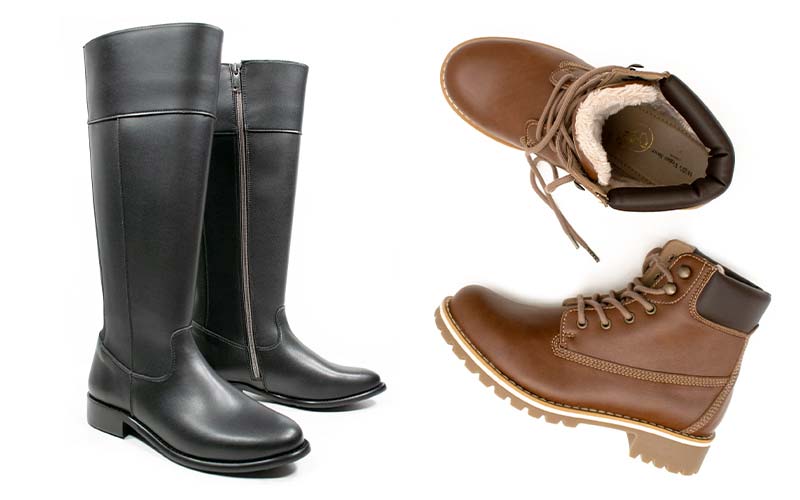 Will's Vegan Shoes
Will's is a sustainable, ethical, and vegan shoe brand based in London. Will's Vegan Store has the best selection of vegan leather boots for both men and women. The brand uses Italian vegan leather made from plants. From vegan leather work boots, winter boots, to heeled boots, and cowboy boots, Will's has it all! They're all reasonably priced, between $90-$170. All of their shoes are ethically made in Portugal and shipped in eco-friendly, plastic-free packaging, and carbon-neutral supply chain.
---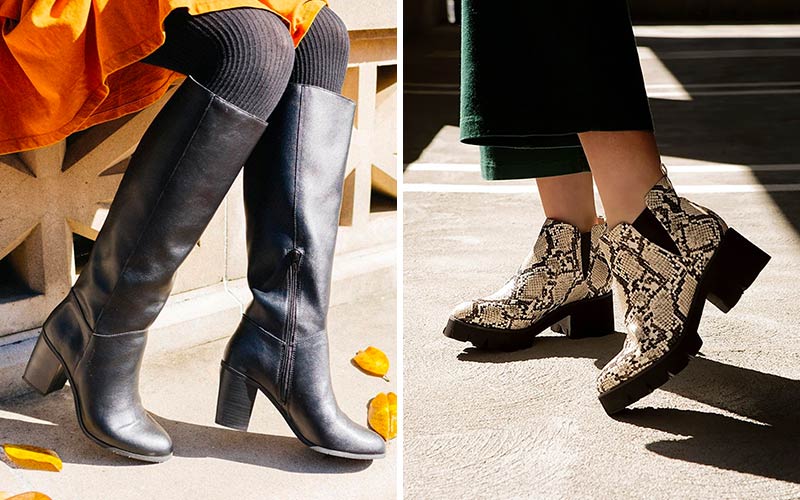 BC Footwear
Born in California, BC Footwear offers a nice selection of cute vegan leather boots for women. All of their shoes are PETA-certified and made with all vegan materials including the glues! BC Footwear has the best options for affordable vegan boots from $60-$140. You can also find some of their styles on Amazon for less!
---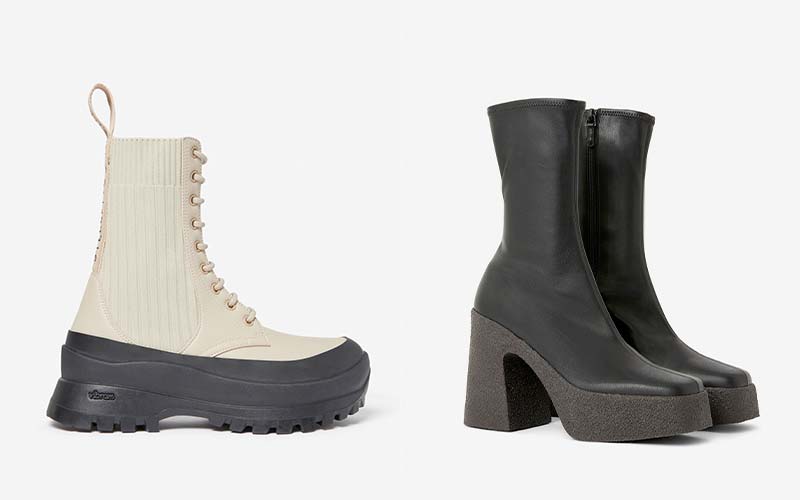 Stella McCartney
Shop from sustainable and vegetarian designer, Stella McCartney's high-end and luxurious vegan boots collection. Stella McCartney's boots are responsibly made from their cruelty-free Alter Mat vegan alternative to animal leather upper. Price ranges from $475-$975.
---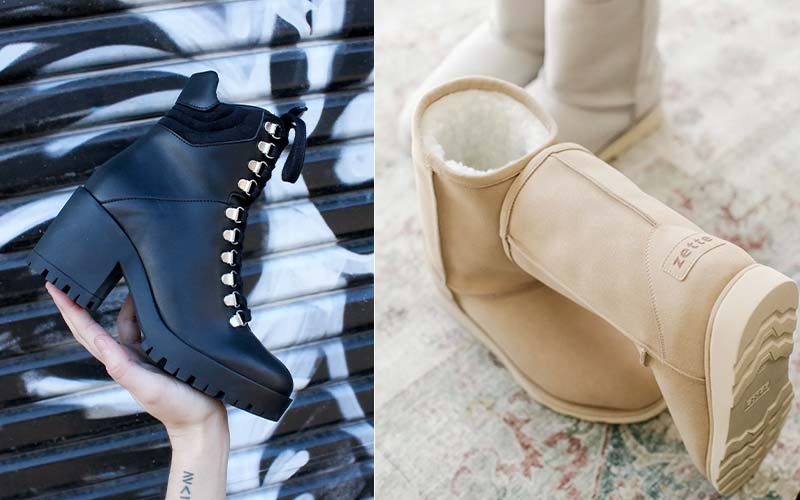 Zette
Launched in 2014, Zette Shoes creates premium ethical, vegan footwear, in styles that are bold and playful, as well as elegant and sophisticated. Offering sophisticated vegan shoes for women and men, Zette Shoes is Vegan Style's in-house vegan footwear brand. Made from luxurious, cruelty-free materials, each Zette shoe is handcrafted in Brazil and Europe (Spain and Portugal).
---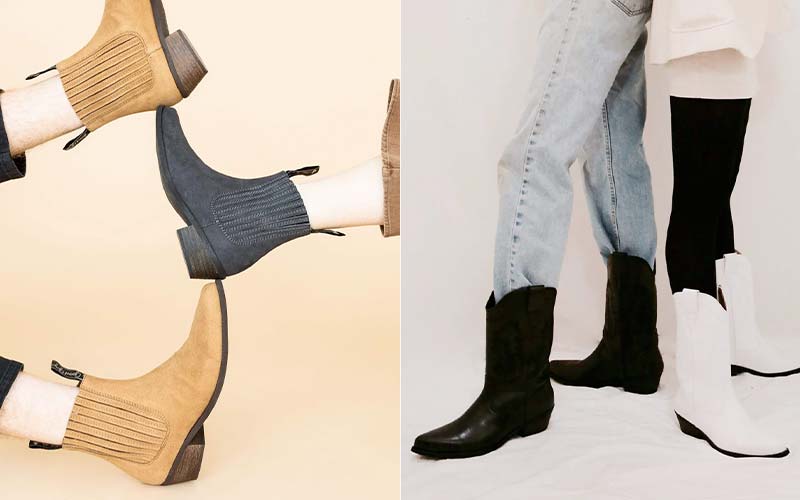 Good Guys Don't Wear Leather
Good Guys is the 1st French vegan shoes company. Created by Marion Hanania in Paris in 2011, Good Guys' philosophy is style and ethics should go hand in hand.
Good Guys offers a wide range of essential vegan leather and vegan suede boots. Made from sustainable, durable, and innovative materials that imitate leather and suede to perfection while being cruelty-free and Eco-friendly. Good Guys shoes are produced in Europe under fair working conditions.
---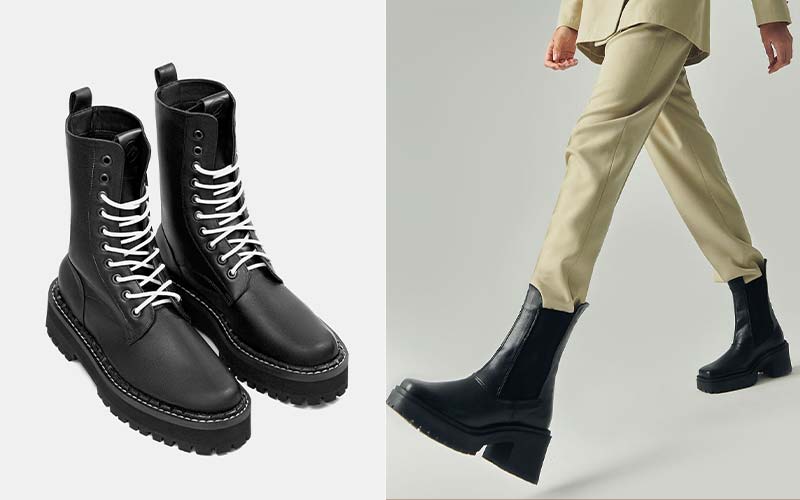 Bohema
Based in Poland and as the first in the world to create shoes made of cactus leather, Bohema offers contemporary and timeless vegan footwear made from innovative materials that are friendly to the planet and animals.
All Bohema's collections are handmade in Poland according to the principles of sustainable production. The company supports local craftsmen from whom it sources its components. The innovative plant materials it uses are an excellent alternative to animal skin. All of its packaging is made of recyclable materials.
---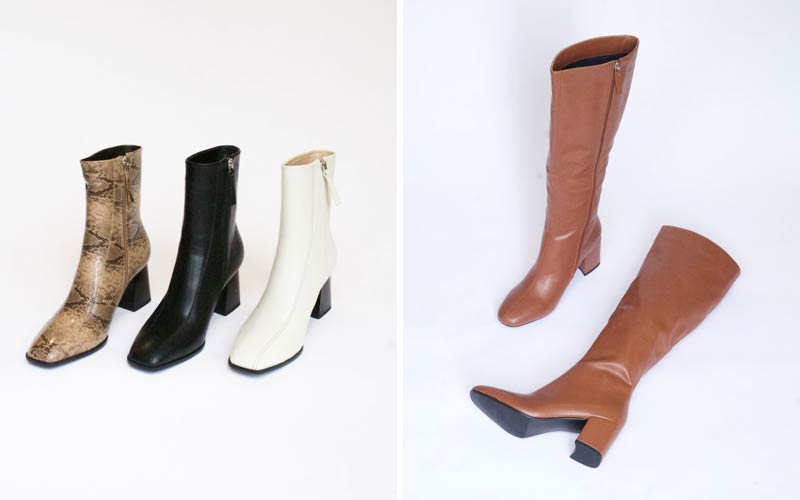 Collection & Co
Collection & Co is a UK-based sustainable and vegan footwear brand with a collection of fashionable, quality vegan leather boots. Collection & Co has timeless styles made from upcycled vegan materials and includes a selection of classic vegan Chelsea boots, knee-high croc boots, to patent leather combat boots. All of their beautiful footwear are ethically and responsibly made in limited quantities in a small, family-run factory in Greece. Price ranges from $70-$180.
---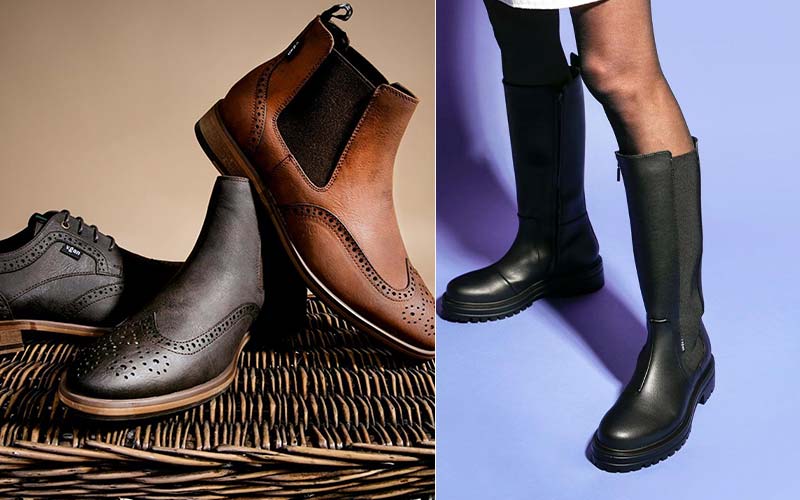 V.GAN
V.GAN believes any goal of sustainable development and production is to meet the needs of today without compromising the needs of tomorrow. That is why they use zero plastic and glue in their recycled packaging and fabrics made entirely from ocean waste. In addition, their vegan leathers are high quality, vegan certified and are also eco-friendly. V.GAN's entire range is free of all animal products and workers in our vegan approved factories are protected by employment and safety laws. We are an animal and human friendly company.
---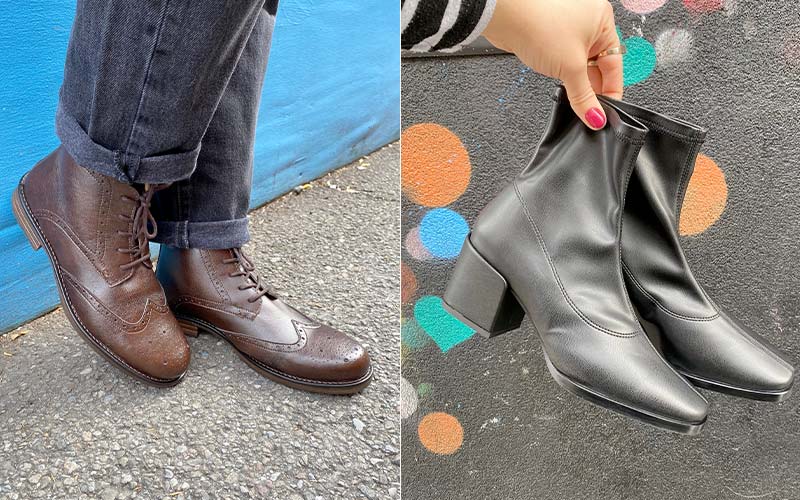 Noavacas
Novacas is the house brand of the original NYC vegan shoe retailer, MooShoes. Novacas offers a collection of vegan leather boots for men and women. All of their shoes are ethically handcrafted in European worker-friendly facilities and they use high-quality, Italian-made microfiber materials. The price range for their vegan boots is between $75-$225.
---
Why Vegan Leather Boots?
These ethical footwear options provide a fashionable and eco-friendly alternative to traditional leather boots.
With brands embracing sustainability and cruelty-free manufacturing processes, you can now find a wide range of vegan leather boots that not only look good but also align with your values.
Vegan leather boots are crafted from synthetic materials such as polyurethane or plant-based alternatives like pineapple leather.
They offer the same luxurious look and feel of real leather, without the environmental footprint or harm to animals. Plus, they are durable and can withstand the test of time, ensuring you'll enjoy them for years to come.
In this comprehensive guide, we explored the world of vegan leather boots, from various synthetic and plant-derived materials to the best vegan boots brands to consider.
Whether you're a fashion-conscious individual or an eco-warrior, I hope this guide helped you to navigate the world of ethical footwear and step into sustainable style with confidence.
Remember, fashion can be compassionate, and vegan leather boots are here to prove it. Join the movement towards a more ethical and stylish future today!