This post may contain affiliate links that at no additional cost to you, I may earn a small commission.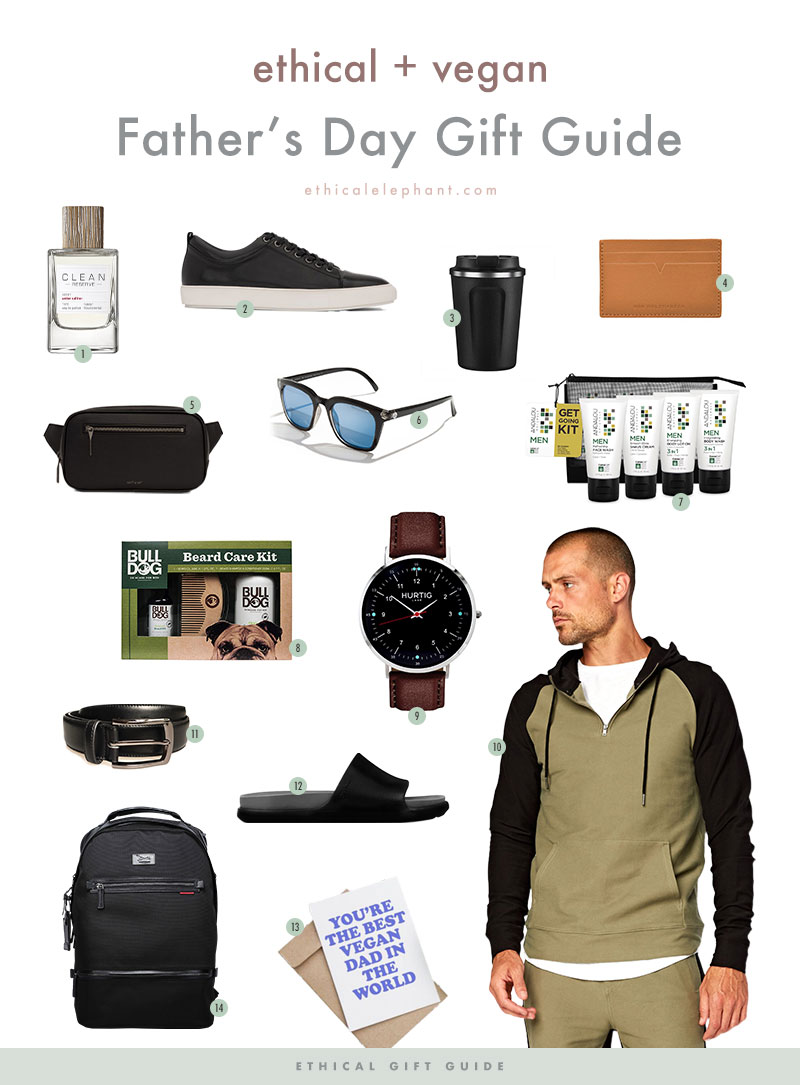 Father's Day is just right around the corner and if you're looking for some Father's Day gift ideas for the eco-warrior and vegan father figure in your life then I've got just the ethical gift guide for you!
I know that it can be hard to both think of a present AND make sure it's vegan so I've rounded up some of my favorite ethical vegan products that would be perfect for gifting this Father's Day 2019.
As always, all of the products mentioned on ethical elephant are 100% vegan, meaning they do not contain any animal products, ingredients, or animal testing.
Ethical Vegan Father's Day Gift Ideas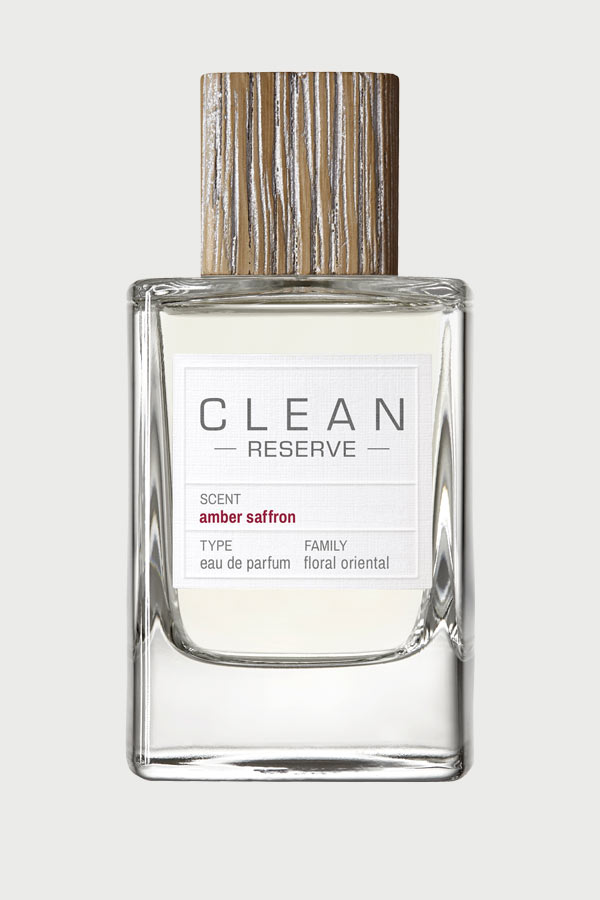 1. CLEAN – Reserve Amber Saffron ($98) – I know the struggle of trying to find a high-end cologne that's also vegan and made with clean, safe ingredients all too well. That's why I highly recommend CLEAN perfume and cologne, they're all 100% vegan. Amber Saffron is a warm woody and spicy scent with notes of bergamot armoise, rose, and crafted with eco-conscious and sustainably sourced mandarin oil.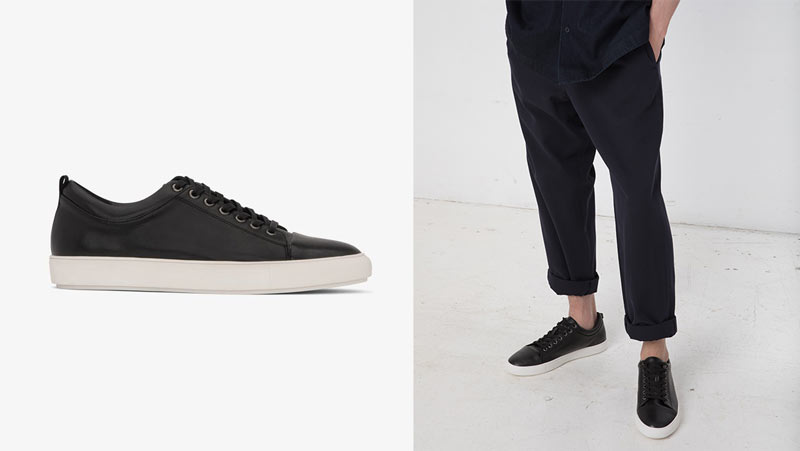 2. MATT & NAT – OAK Black Sneakers ($120) – Sneakers that can be dressed up or down. Versatile yet comfortable because dad deserves both. These men's classic lace-up runners feature a classic sport outer sole and a toe cap detail. The black vegan leather adds a touch of luxury, but without harming animals.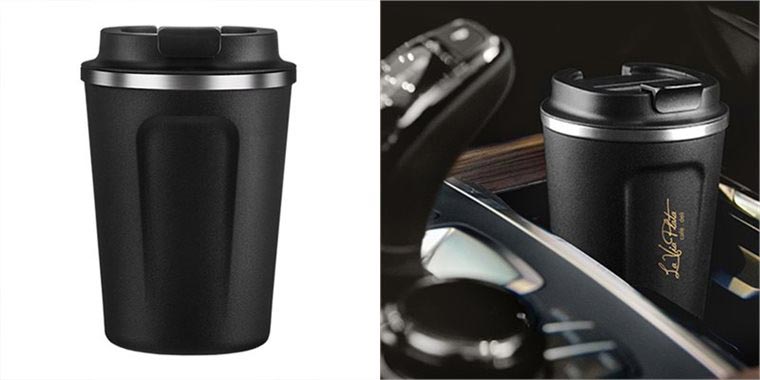 3. ASOBU® Cafe Compact BF22 Black ($25) – "Asobu® COFFEE COMPACT Mug is brilliant in its simplicity. A no-frills, yet sleek and classy look makes this the perfect coffee cup. What makes this cup unique is the compact size that is big enough to hold your morning cup of joe but easily fits under the Keurig coffee makers and into standard car cup holder. Now that is a perfect travel mug!"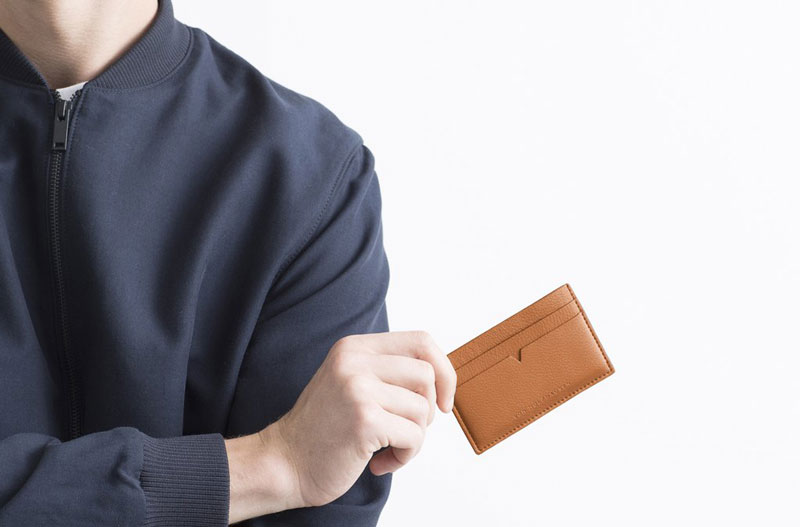 4. von Holzhausen – The Credit Card Holder ($55) – This vegan leather card holder wallet is perfect for the eco-warrior because it's made with Technik Leather which is 100% vegan, water-resistant, lightweight, and made with a low carbon footprint without formaldehyde, chromium, or toxic by-products. "This holder is the perfect size for an American Express Credit Card and has 4 slots for card plus one open pocket in the center for folded bills. Made in the USA."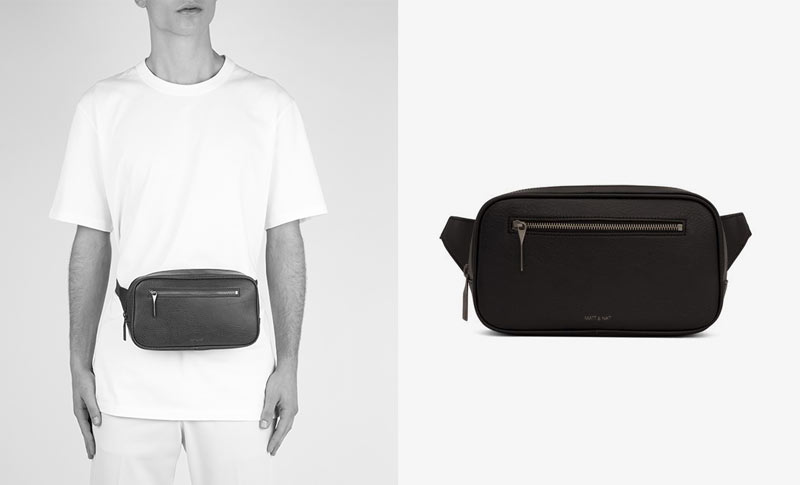 5. MATT & NAT – HANKA Pack Waist Pack ($110) – Fanny packs are no longer reserved just for dad bods, they're practical AF while keeping him hands-free so that he can take on the world. This vegan leather one from MATT & NAT is a luxurious upgrade so that dad doesn't need to keep sporting the same one from the 90s. Available in other colors.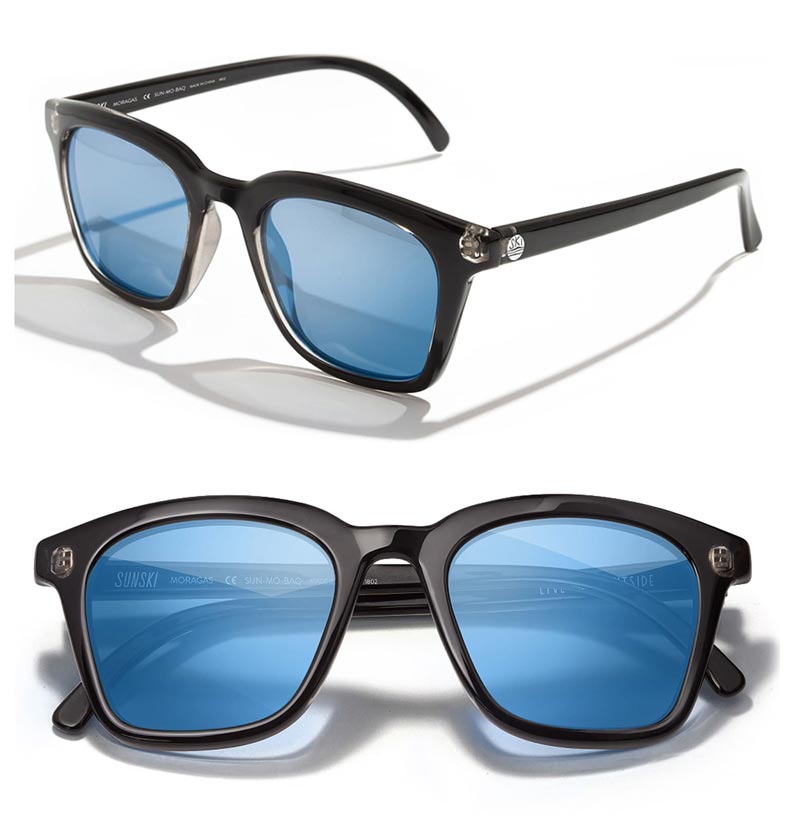 6. SUNSKI – Moraga 47mm Polarized Sunglasses ($58) – Shades that'll make dad look and feel great! SUNSKI sunglasses are made from recycled plastic and have a lifetime warranty so you know they will last. "SuperLight recycled resin is stronger, lighter, and more comfortable than anything on the market. Sourced locally and saved from a US landfill."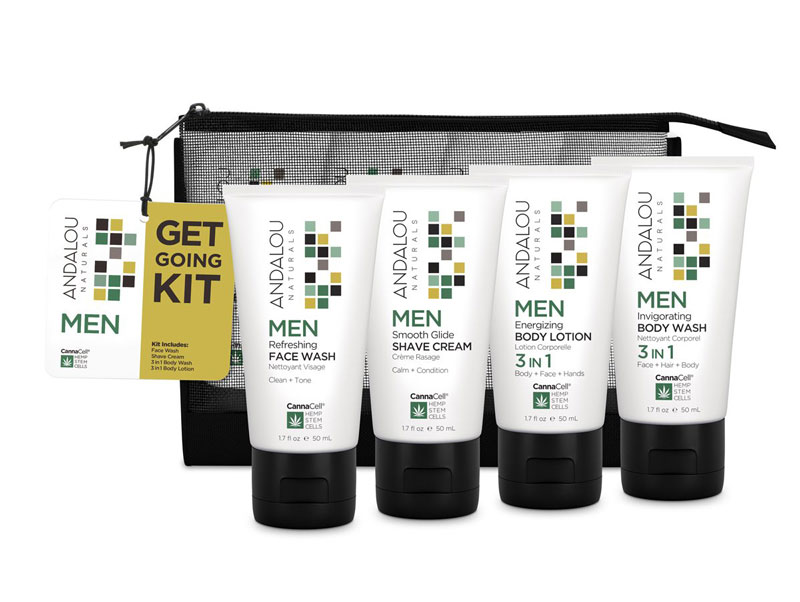 7. ANDALOU naturals MEN Get Going Kit ($12.63) – Perfect for traveling or upgrading dad's skincare game, this kit features 4 of ANDALOU naturals' MEN care products: Refreshing Face Wash, Smooth Glide Shave Cream, Invigorating 3 in 1 Body Wash, and their Energizing 3 in 1 Body Lotion. "All of these products are formulated especially for men with CannaCell® antioxidants, organic hemp seed oil, and nourishing botanical butters to smooth, soften, and enhance manageability for a well-groomed appearance."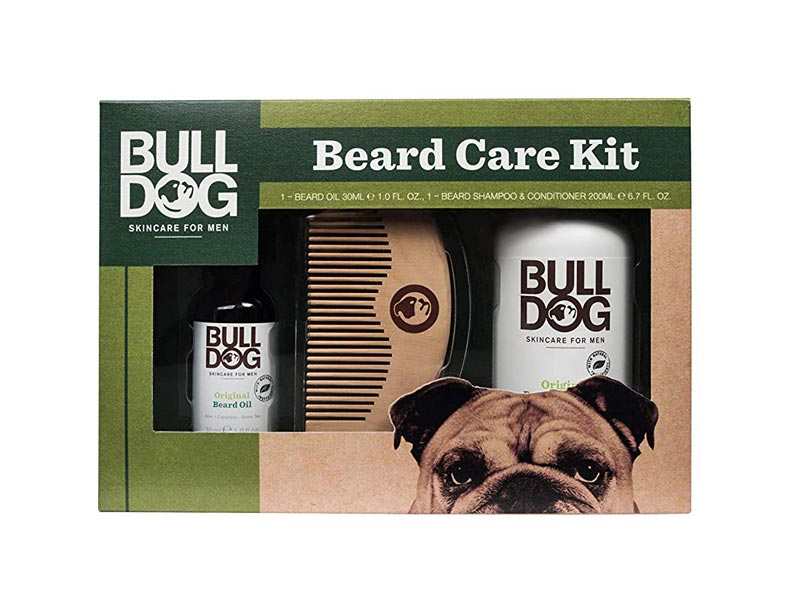 8. Bulldog Skincare – Vegan Beard Care Kit ($14.20) – This is a great gift set for under $15! It includes Bulldog's vegan beard shampoo and conditioner to cleanse and condition the beard and Bulldog's vegan beard oil to soften and tame even the straggliest beard. Along with a wooden beard comb.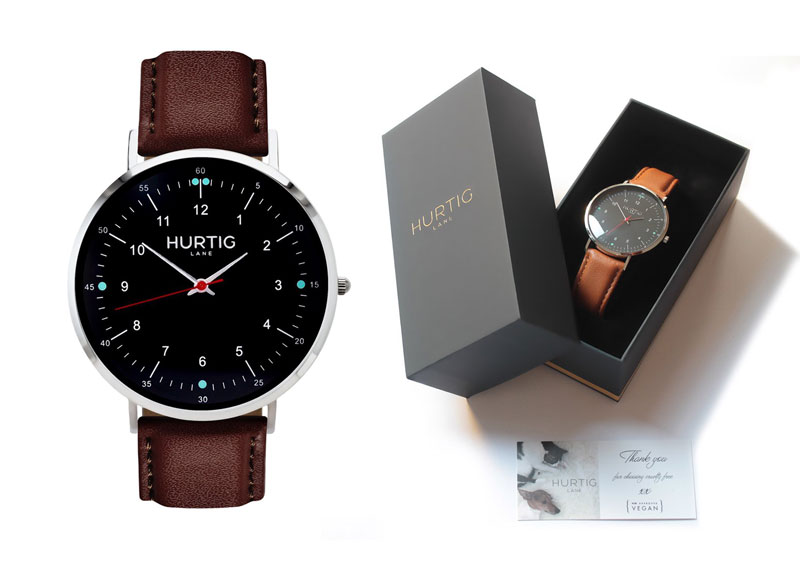 9. Hurtig Lane – Moderno Vegan Leather Watch ($165) – An elegant, luxurious vegan watch to perfectly accessorize dad this Father's Day. "The Moderno range was designed for the fashion conscious minimalist. Elegant and sophisticated yet highly fashionable it can be worn in any setting, with any outfit. Its versatility and style make it the perfect watch for any occasion." Use Coupon Code: 'ETHICALELEPHANT' to receive 15% OFF your Hurtig Lane order.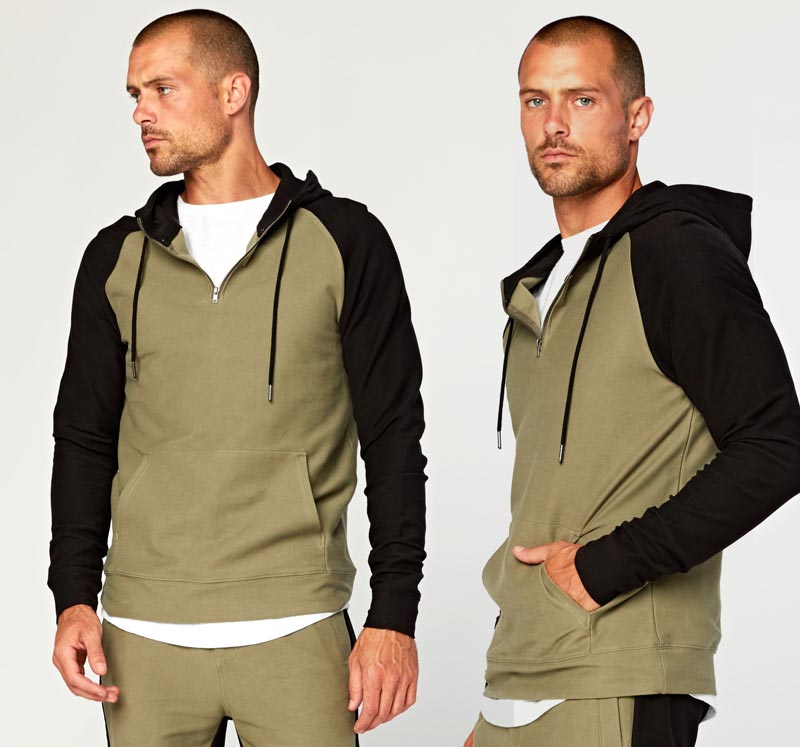 10. Threads for Thought – Colt Hooded Half-Zip ($98) – To wear out to brunch, to the gym, or run errands, this is a comfortable yet versatile sustainably and ethically made sweater that'll keep him stylishly warm. "Made from our durable-yet-comfortable knit twill fabric, the Colt Hooded Half-Zip is sure to withstand the cold weather and keep you looking stylish at the same time. We guarantee that this raglan hoodie will be your favorite new addition to your wardrobe."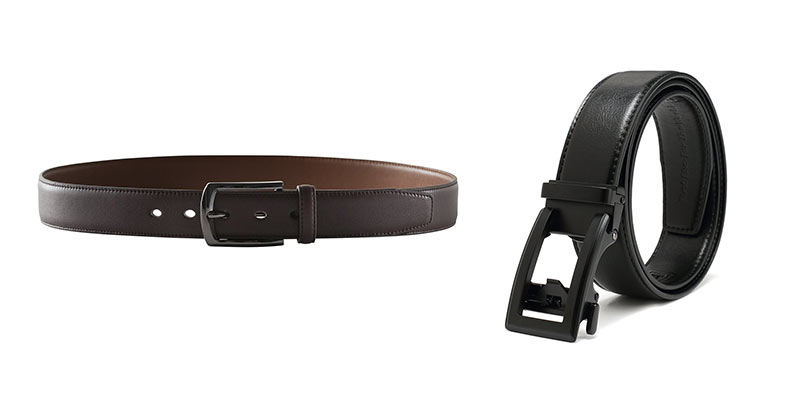 11. Doshi – Vegan Leather Belts ($35) – If dad needs a new and upgraded leather belt, I recommend one of Doshi's quality vegan leather belts, available in multiple styles and colors. They're all versatile and will go with both dress or casual wear. Doshi also gives 5% of revenue to charities benefiting animals, people and the environment! Use Coupon Code: 'ETHICALELEPHANT10′ to receive 10% OFF your Doshi order over $50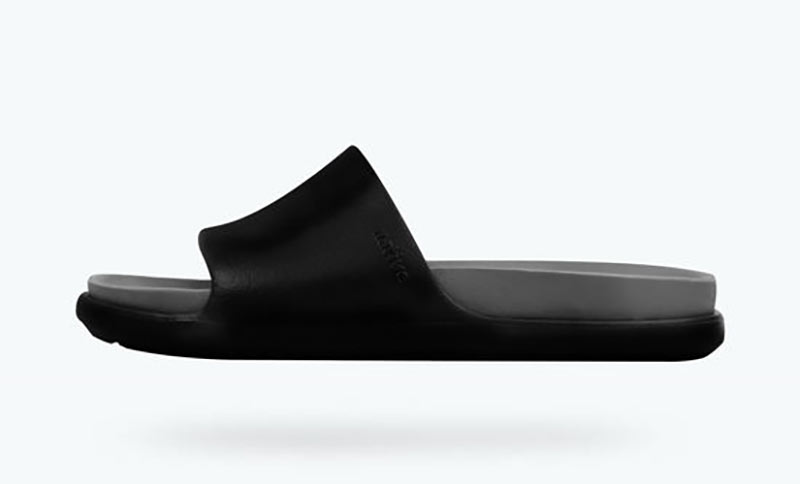 12. Native Shoes – Pool Slide Spencer LX ($25) – Get him ready for the Summer, vacation, or pool-side! "Prepare the presidential suite, the Spencer LX is rolling into town with a posh set of features. Available in your choice of EVA or Liteknit this season, both slides feature an ultra-lite rubber insert to keep you stationed in the sand. It's an all-access pass to a higher class." Available in multiple colors.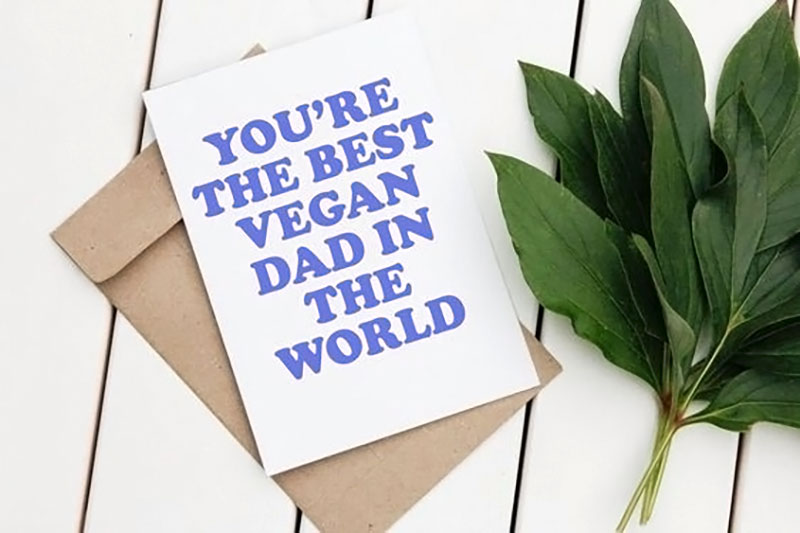 13. Vegan Father's Day Card by The Punky Bunny ($4) – Just so that he can have it in writing. Printed and packaged on 100% recycled and biodegradable materials.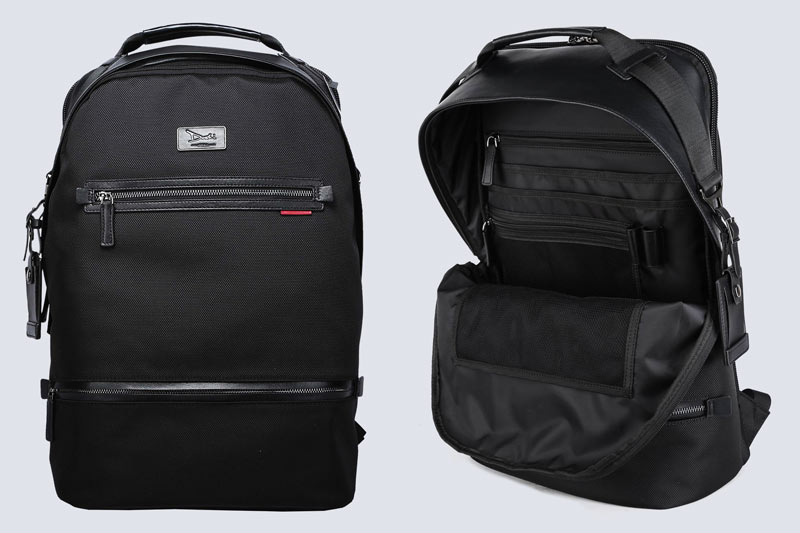 14. Doshi – Barrel Backpack ($159) – I often recommend a vegan leather briefcase or laptop bag to gift for Father's Day but a durable and functional backpack is just as essential! "Simple, clean and smart. For the modern professional to take to work or on the road. Clean on the outside, smart on the inside. Vegan luggage with a slim profile and sporting demeanor." Use Coupon Code: 'ETHICALELEPHANT10′ to receive 10% OFF your Doshi order over $50