This post may contain affiliate links that at no additional cost to you, I may earn a small commission.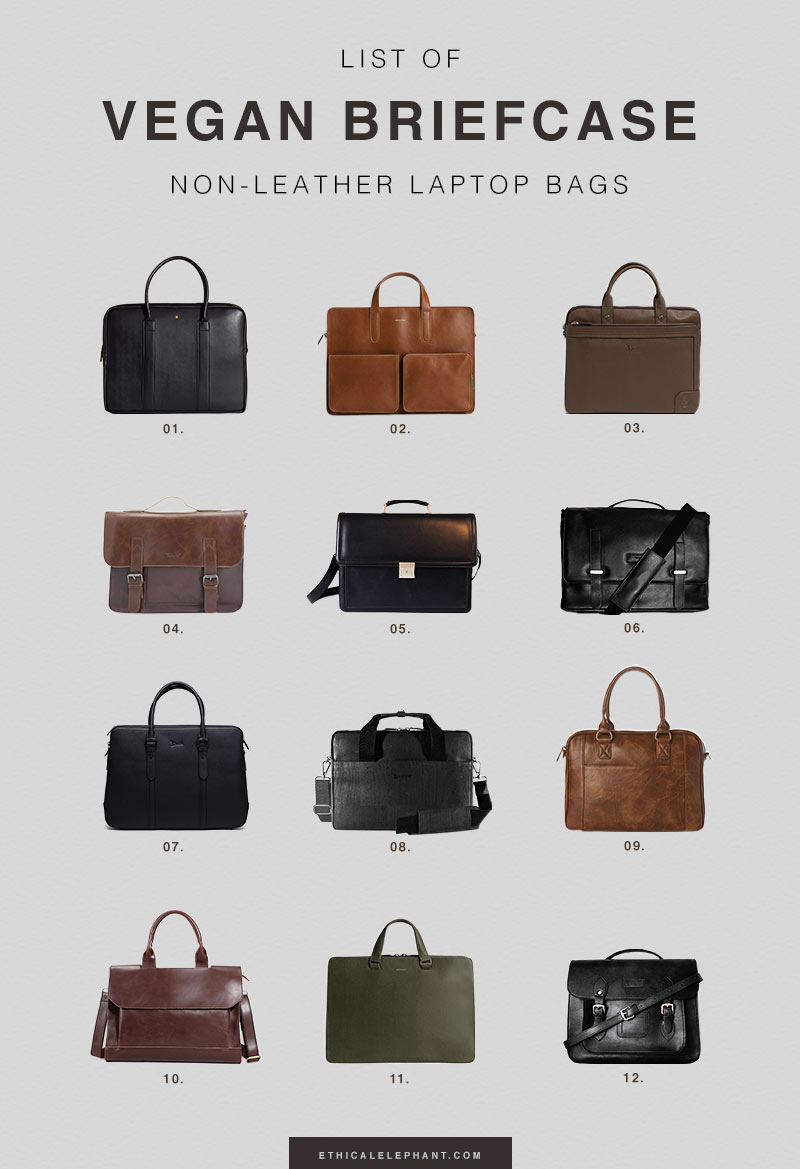 We all know that mens attache cases, briefcases, and laptop bags are the epitome of business, professionalism and style. Some say you cannot call yourself a successful business person without bringing one to meetings. And it is a shame that some of these briefcases and bags are made from animal hides and are not vegan-friendly. Thankfully, there are some quality, functional, and stylish vegan leather briefcase bags that are made from man-made and synthetic materials, meaning no animals were harmed in the making of these bags!
Be careful of canvas and nylon bags that may include leather handles, buckles, and detailing, which are often overlooked when shopping for animal-free and vegan bags.
In this post, I've rounded up 12 of the best vegan briefcase and laptop bags that will go with almost everything from your classic work attire to business casual to street wear. These vegan leather briefcase bags will fit your laptop, wallet, umbrella, documents, lunch, and more!
Not only are these vegan laptop bags sleek AF but some also include interior compartments and exterior pockets to help keep your life together and an adjustable/removable strap so you can switch it up on your commute and carry it like a messenger bag.
Kind fashion meets functionality, working at its finest here.
List of Non-Leather, Vegan Briefcase Bags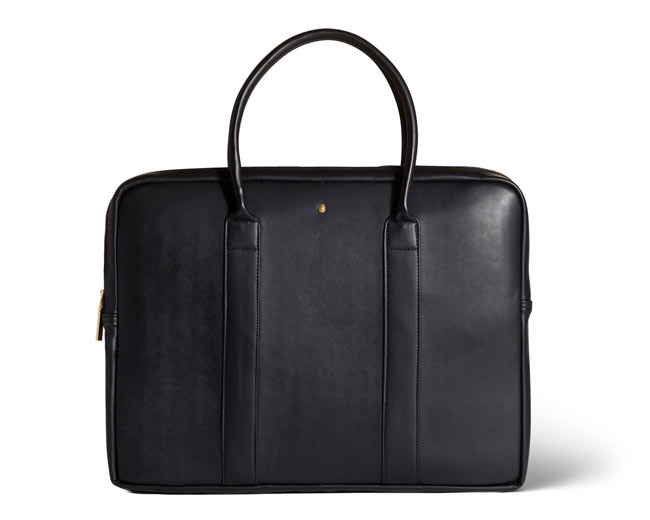 01. Ministry of Tomorrow Vegan Leather Laptop Briefcase ($300) – This vegan leather briefcase or laptop bag is made from the highest quality Italian Animal Free leather. Fitted with a durable 100% certified organic and fair trade cotton canvas lining from India and hand silk screened with our Kenyan Afro-funk Maasai Warrior mask pattern. The fully lined interior features room for a 13″ laptop as well as plenty of space to organize your paperwork and business essentials.
02. Matt & Nat, SOREN ($190) – Modern day vegan leather briefcase with an adjustable and removable strap. Fits both 13″ & 15″ laptop, features a top zipper closure to keep your essentials secured, and two front pockets for easy access to the things that matter. 100% recycled interior nylon lining. Available in black, brown, and olive.
03. Doshi Midsize Crossgrain Brief ($159) – A midsize briefcase with a beautiful crossgrain microfiber leather shell, this briefcase has just enough space while keeping a slim profile. Fits a 13″ laptop. Available in black and brown.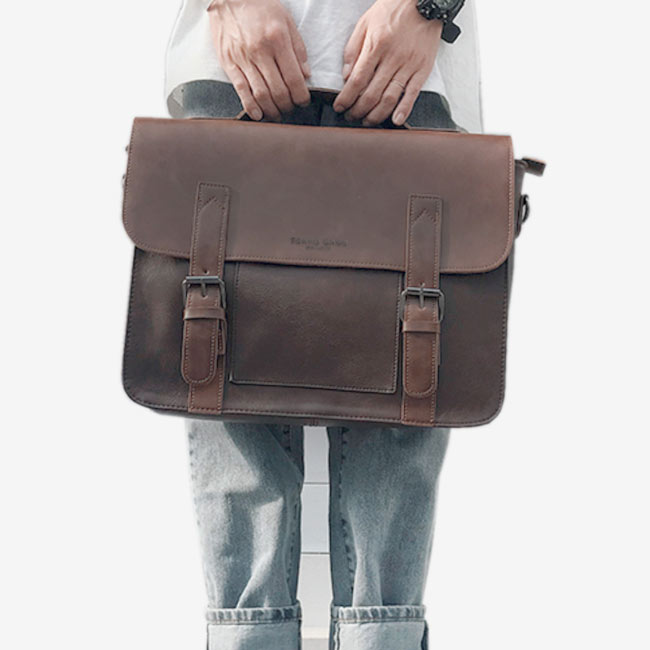 04. Tokyo Bags, Hasuda Briefcase Dark Brown ($178) – Crafted with our proprietary and wear-resistant vegan leather, the Hasuda Briefcase is designed with the utmost consideration and sized just right for your working essentials. Completed with an adjustable shoulder strap and thoughtfully designed interior makes for the most practical cruelty-free briefcase ever. Features an easy access magnetic opening at the main compartment. Available in black and brown.
05. VeganWear, Gentleman's Bag ($169) – Whether you're presenting to company leadership or meeting a VIP client for drinks, you need a briefcase that looks as successful as you do. Refined and luxurious, the Gentleman's Bag shows you're ready for the corner office. This vegan leather briefcase comes in black and brown and includes a detachable comfort-rich, padded strap. Water-resistant. Features an easy-reach front pocket, three central pockets, a pen holder, and rear paper pocket. Ability to expand to fit two laptops, an umbrella, lunch, and more!
06. Will's, Vegan Leather Briefcase ($177) – "We spent a year creating this classic unisex piece with the aim of creating a beautiful high quality messenger bag that will last you years and be a pleasure to use. Pull the straps out from the sturdy front bridge closure fastenings to open up the bag and reveal the luxurious micro suede lining. Handy pockets located under the flap and on the rear of the bag can be used for every day items and storage. The secure main compartment fits 15″ laptops, a4 notebooks, tablets, umbrellas, long wallets and hard back books. There is also an interior zip pocket to place your keys, glasses and wallet. Use just the top carry handle or attach the smart adjustable strap to wear over the shoulder or across the body. "
07. Doshi Classic Large Brief ($249) – "A classic briefcase with a microfiber shell, this briefcase offers a distinctive, yet nostalgic shape and a great deal of organization with three separate zippered compartments." Available in multiple colors. "The new Black, Brown and Grey colors also maintain a waxed appearance but have greater depth in their colors. The Matte Black color has a cross-grain texture."
08. Corkor, Briefcase ($195) – Take on the elements with this sturdy Cork Briefcase. Smooth and sophisticated, this vegan briefcase is the natural choice for the man with a refined taste. Cleverly designed, this classic carryall keeps your working essentials looking sharp and organized, while the hard-wearing cork ensures protection and lightness. Includes a detachable/adjustable 100% cotton shoulder strap. Water-resistant. Multiple interior compartments help to keep your essentials organized.
09. jeane & jax, MATTHEW Classic Laptop Bag (CAD$130) – Laptop bag with zip closure. Front slit pocket with magnetic snap. Back zip pocket. Interior laptop pouch, phone pouch and zip pocket. Adjustable crossbody strap included. Available in black and brown.
10. Tokyo Bags, Kazuno Flap Briefcase in Vintage Brown ($178) – The Kazuno Flap Briefcase exudes a heightened benchmark of working style and uncompromised functionality. Fine, vegan leather plays home to a combination of cool and classic tones such as black and dark brown. For the business professional, this ensures both work and play are never far from reach. Large main compartment with full length zip and puller that fits iPad Pro, MacBooks and laptops up to 13″. Adjustable and detachable shoulder strap.
11. Matt & Nat, DAVID ($195) – A minimalist vegan briefcase that will go with any work or smart casual attire. This vegan leather briefcase can be worn as a crossbody with adjustable and removal strap. Fits a 13″ laptop and features an interior centre divider, slit pocket, 2 pen pockets, smartphone pocket. 100% recycled nylon lining. Available in black, brown, and olive.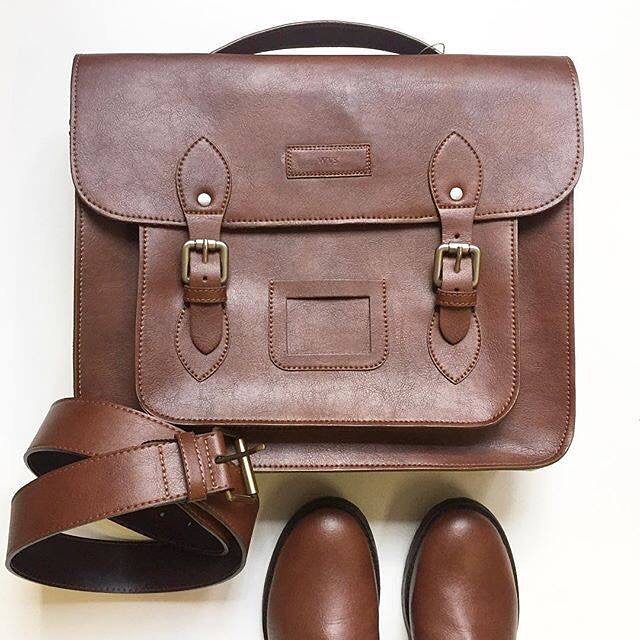 12. Will's Classic Satchel ($160) – Handmade from Italian vegan leathers that meets Ecolabel, Oeko Tex 100 and REACH standards. Use just the top carry handle or attach the smart adjustable strap to wear over the shoulder or across the body. Luxourious vegan suede lining. Front pocket fits smart phones, keys, pens, glasses, paper back books (protected by front flap). Main pocket fits 13″ laptops, a4 notebooks, tablets, umbrellas, long wallets, hard back books. Available in black and brown.