This post may contain affiliate links that at no additional cost to you, I may earn a small commission.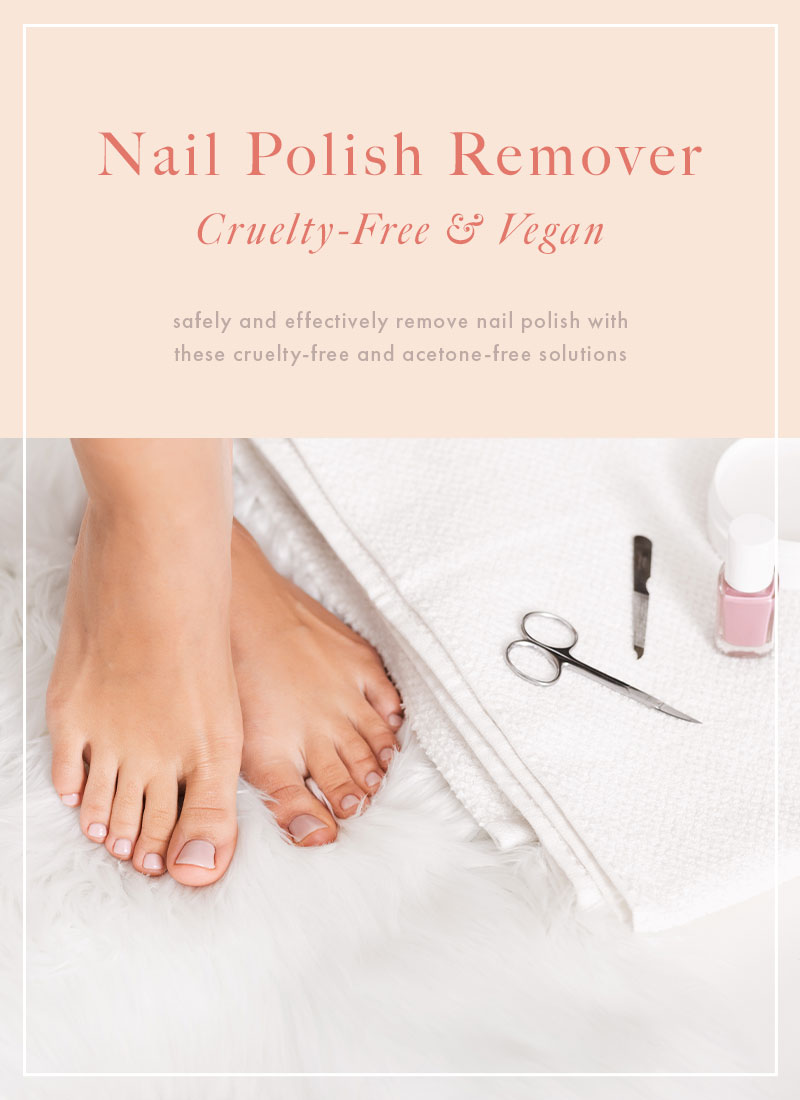 After I created my list of over 40+ cruelty-free and vegan nail polish brands, many of you have been asking about nail polish remover.
When it comes to nail polish remover, you'll want to look out for added moisturizing ingredients like animal-based glycerin or Vitamin E from animal sources. These ingredients are usually not labeled whether they are plant or animal-derived so it's best to ask the company to be sure. Also, a heads up that some nail polish remover may also contain gelatin.
Related: What's the difference between cruelty-free vs. vegan cosmetics?
Thankfully there are plenty of cruelty-free nail polish brands that offer vegan nail polish remover solutions, including acetone-free options and remover pads!
Vegan Nail Polish Remover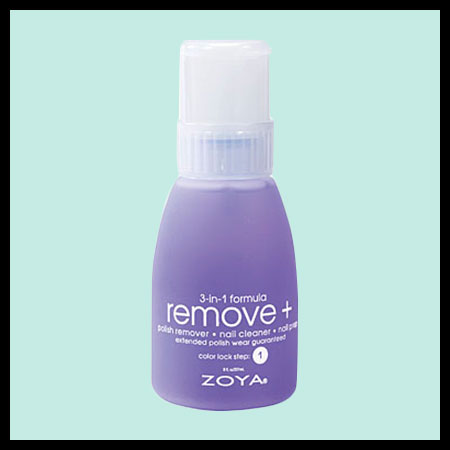 Zoya Remove Plus Nail Polish
This is my all-time favorite vegan nail polish remover. I especially love the spill-proof pump, Zoya's nail polish remover has always been able to do the job of painlessly removing all my polish without leaving any residue behind. Unlike other removers, this one doesn't have a strong chemical smell to it.
---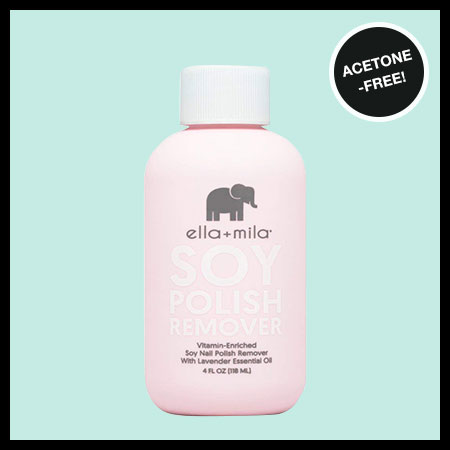 Ella + Mila Soy Nail Polish Remover
Ella + Mila's soy-based nail polish remover is "designed to effectively remove all natural nail polishes. Ingredients include Vitamins A, C & E, as well as Lavender Essential Oil, all of which promote healthy and moisturized nails. This product does not contain acetone or harsh acetates, which will dry out your skin and damage the nail and cuticles."
---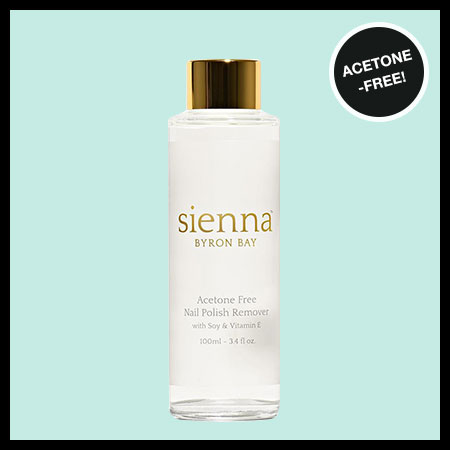 Sienna Byron Bay Vegan Nail Polish Remover
Sienna Byron Bay's nail polish remover is a water-based, soy, vegan nail polish remover formula unlike anything I've ever used before! This is an amazing all-natural nail polish remover made from a Soy Ester blend and Vitamin E Acetate. "No bad smell and no nasties, leaving your nails hydrated and healthy while also removing polish."
---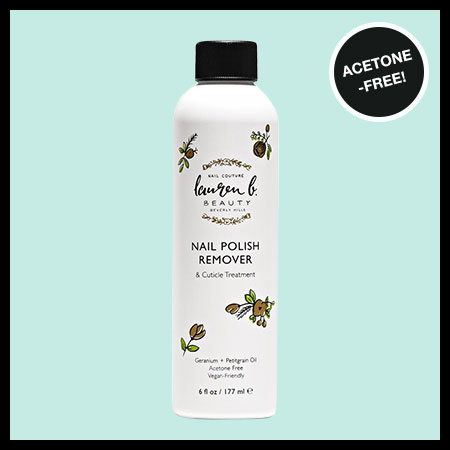 Lauren B. Beauty Liquid Nail Polish Remover
This acetone-free and vegan liquid nail polish remover from Lauren B. Beauty only contains 2 ingredients (Methyl Acetate and Isopropyl Myristate) plus naturally-derived Geranium Oil and Petitgrain Oil to help moisturize and invigorate your nails and cuticles naturally.
---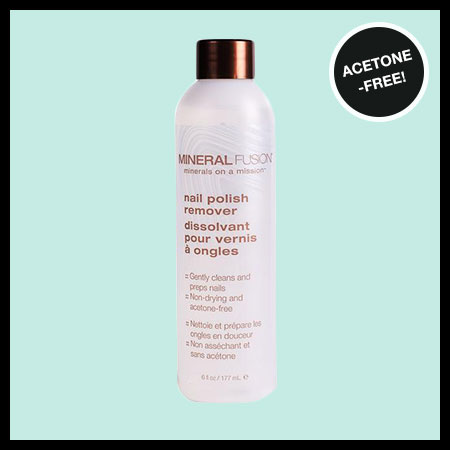 Mineral Fusion Acetone-Free Nail Polish Remover
Mineral Fusion's acetone-free nail polish remover is a brand you can find at Whole Foods and even at some drugstores (If you're in Canada, London Drugs has them!). This is a great vegan nail polish remover you can pick up at the store and their acetone-free formula is gentle yet effective at removing even the most stubborn colors.
---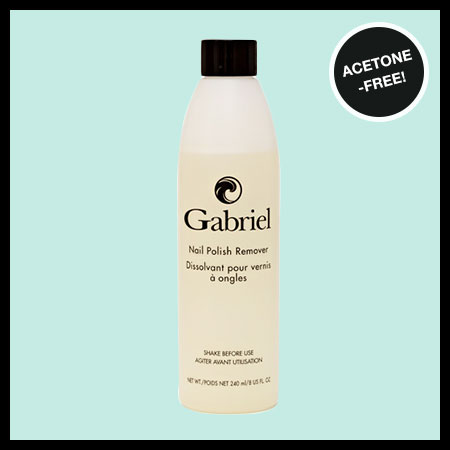 Gabriel Liquid Nail Polish Remover
Gabriel's liquid nail polish remover is a gentle nail polish remover formulated to remove polish, condition and prep leaving nails ready for base coat.
---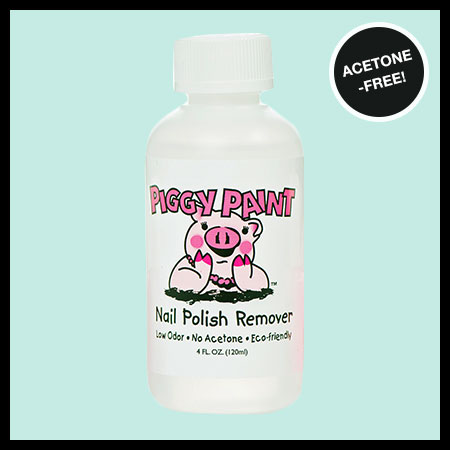 Piggy Paint's Nail Polish remover
Piggy Paint's nail polish remover claims to be a low order, hypoallergenic nail polish remover. This acetone-free remover is also biodegradable and contains aloe vera and vitamin E to help keep your nails healthy and strong.
---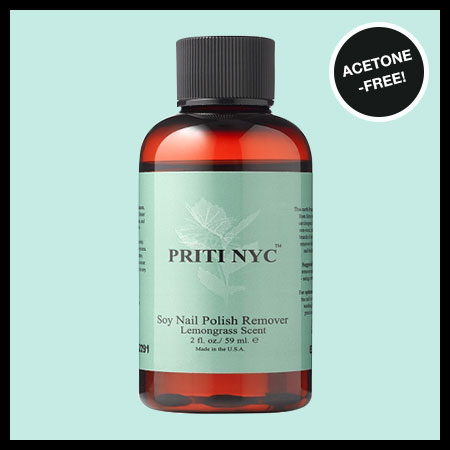 Priti NYC Soy Nail Polish Remover
Priti NYC's vegan nail polish remover is "totally natural and uses a carefully blended mix of natural ingredients that are kind on your nails and skin. It is perfect for you, your family and the planet."
---
Vegan Nail Polish Remover Pads
When I'm traveling or life gets busy, I always like to bring with me some nail polish remover pads so that I can quickly clean and remove my nail polish while I'm on the go!
Nail polish remover pads come pre-packaged and pre-moistened, so all you gotta worry about is what color to paint your nails next!
Some cruelty-free and vegan nail polish remover pads include: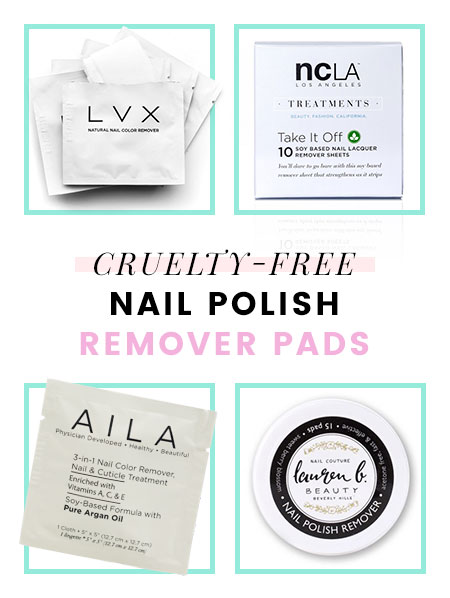 LVX – The innovative formula has a unique blend of ingredients that nourishes and strengthens nails and cuticles all while removing nail lacquer. This revolutionary remover contains essential Vitamins A, C, & E and pure jojoba oil.
Lauren B. Beauty – set of 15 non-acetone pads are infused with aloe to leave skin silky and moisturized.
ncLA Take it Off – Its soy-based formula strengthens your nails as it strips the color.
AILA 3-in-1 – with Pure Argan Oil offer a healthy alternative to acetone and acetate removers.
Our favourite vegan nail polish remover wipes is by Sienna Byron Bay. Read our review of this amazing water-based soy nail polish remover wipes.
---
Have you given any of these cruelty-free and vegan nail polish removers a try?
Leave a comment below sharing which brand you prefer!