This post may contain affiliate links.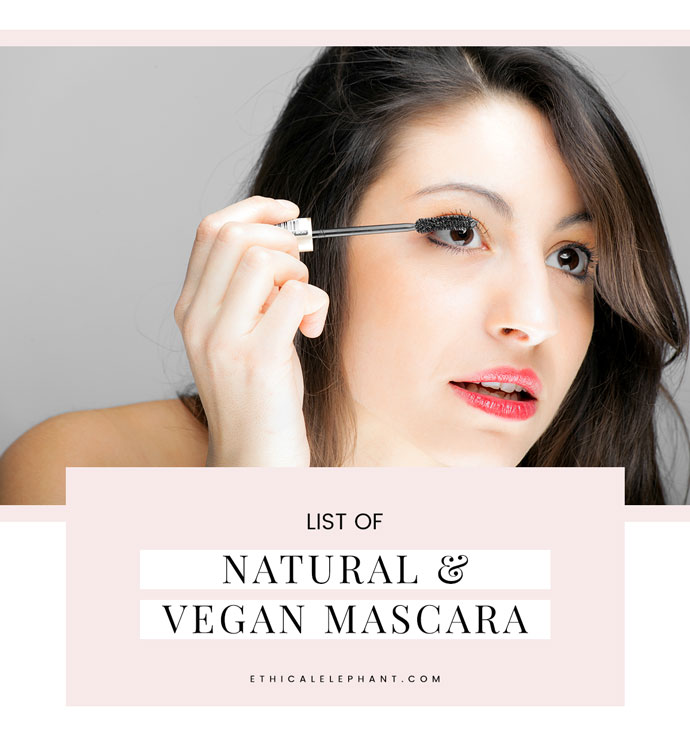 Shopping and finding a cruelty-free, vegan, and natural mascara has been made easier with this shopping guide list!
Why natural and organic ingredients matter in mascara?

Conventional mascara contains dangerous chemicals and when used daily, these toxins can get into our skin and can lead to all sorts of health problems. Some harmful ingredients that we should avoid in our tube of mascara include: parabens, synthetic dyes, formaldehyde, proplyene glycol, and polybutene.
Why cruelty-free and vegan mascara matters?
Equally important, we want to make sure our natural and organic mascara isn't harming any animals as well! That's why finding a brand that doesn't test on animals and a mascara that doesn't contain any animal-derived ingredients like carmine, lanolin, or beeswax will help to save animals from harm and suffering.
Please note: most natural and organic mascara brands contain beeswax as an ingredient, making them not vegan. But the mascaras mentioned below are beeswax-free and 100% vegan!
List of Natural & Vegan Mascara
Now let's get into the list of natural, organic, and vegan mascaras! All the products mentioned below are 100% vegan and do not contain any animal-derived ingredients and do not contain commonly known harsh chemicals and ingredients. They're also great for those with sensitive eyes or for contact lens wearers.
I've listed the products below in the order of affordability to high-end.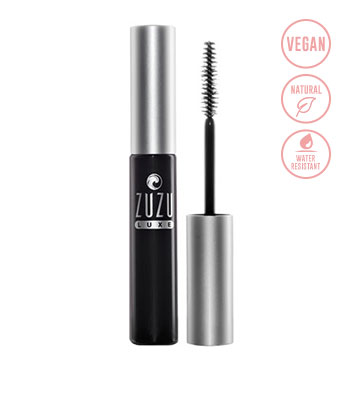 Zuzu Luxe – Vegan Mascara

Price: $17.60

Claims to be a water-resistant and non-irritating formula with vitamin B-5 to lengthen and thicken lashes without clumping or smudging. Enriched with herbal extracts to help protect fragile lashes and encourage growth.
---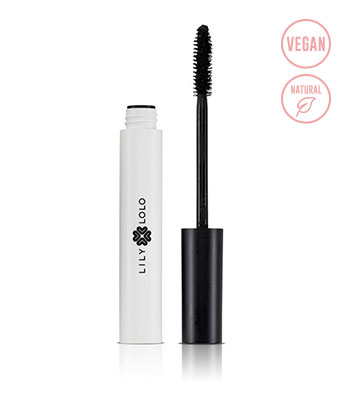 Lily Lolo – Natural Vegan Mascara
Price: $20
Claims to volumize and lengthen lashes to produce a dramatic effect. Long lasting color with a smooth, creamy texture. Natural and gentle formula, suitable for sensitive eyes.
Where to buy: Petit Vour | Credo Beauty
---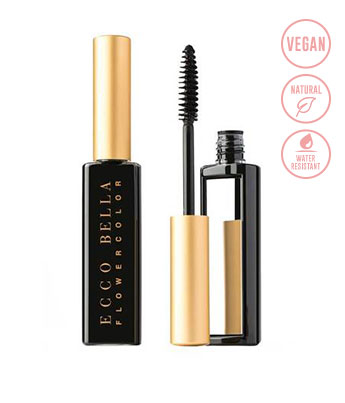 Ecco Bella – FlowerColor Natural Mascara
Price: $21.95

This water-resistant mascara claims to give your lashes full-volume and length while leaving out the lacquer, shellac, and alcohol . Contains pure ingredients like natural clay and Flower Cutins coated iron oxides.
---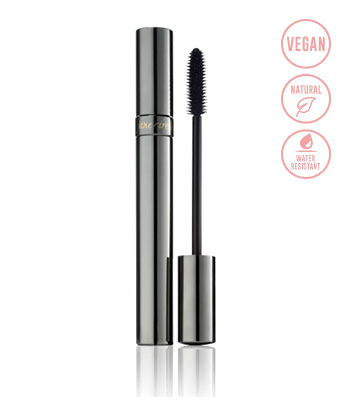 Jane Iredale – PureLash Mineral Mascara
Price: $22

Claims to be a mild, water-resistant formula for sensitive eyes. Designed to nourish lashes naturally and is resistant to smearing and flaking.

Free of lacquers, shellac and petroleum based ingredients.
---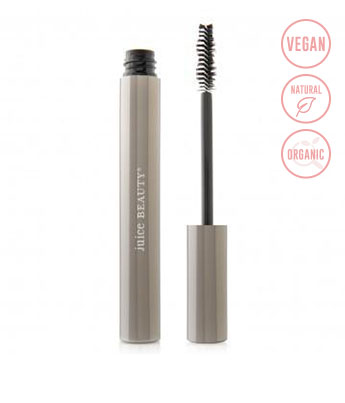 Juice Beauty – Phyto-Pigments Ultra Natural Mascara

Price: $24

Claims to be a volumizing nutrient-rich mascara powered by intense plant-derived Phyto-Pigments for a natural soft look with a non-drying formula leaving lashes clump-free.

Formulated with more than 60% certified organic ingredients
---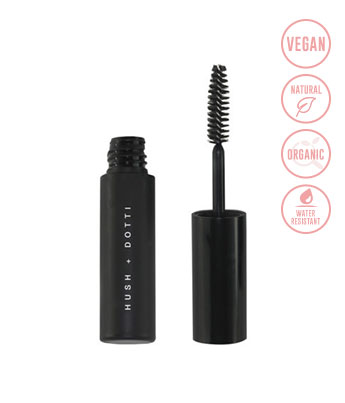 Hush + Dotti Mascara
Price: $24

Claims to give you lush, luxe, and long lashes with this clean, water-resistant mascara formula. "Made with clean ingredients, this flexible formula allows you to create any look you like. Apply a coat or two for a clean and natural look. Layer on more for extra volume."
---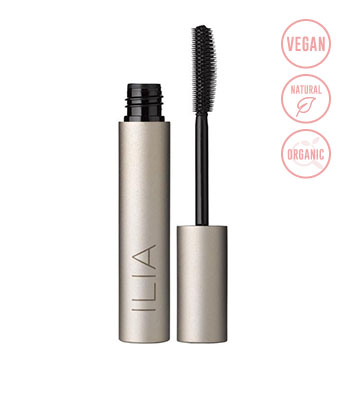 ILIA – Mascara (no longer vegan)

Price: $26

Claims to be a natural looking mascara that will gently thicken, lengthen and coat each lash with rich, glossy color.

Naturally preserved, Phenoxyethanol-free. Made with 100% natural dye. 42% Organic.
---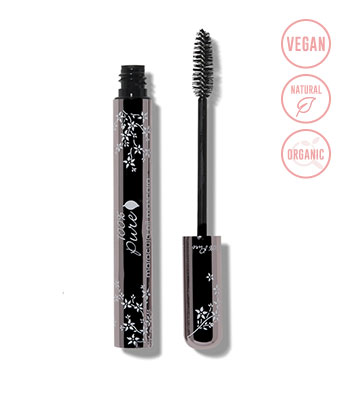 100% Pure – Maracuja Vegan Mascara
Price: $26
A natural fruit-pigmented vegan mascara (not to be confused with 100% Pure's other Ultra-Lengthening mascara that contains beeswax and therefore is not vegan), but this one contains maracuja oil from passion fruit to help give a luscious, lash volumizing mascara formula that won't clump or flake.
Where to buy: 100% Pure | Petit Vour
---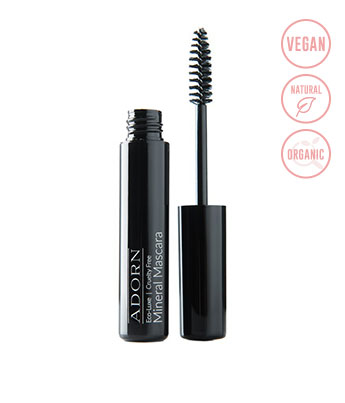 Adorn Cosmetics – Nourishing Mineral Mascara
Price: $32
Claims to be a natural, nurturing, chemical-free formula infused with Jojoba oil that effortlessly and elegantly coats your lashes without clumping, smudging, or irritating even the most sensitive of eyes.
Where to buy: Petit Vour
---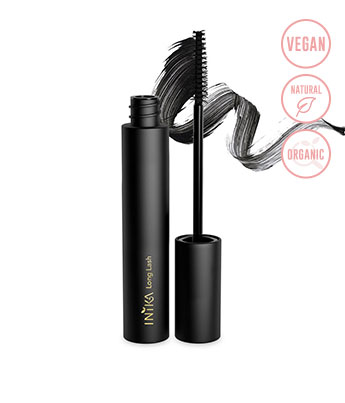 INIKA Long Lash Vegan Mascara
Price: $33

Claims to boost length, volume, and lash span with their 100% plant-derived and natural ingredients. This mascara contains conditioning ingredients to boost lash vitality and health (Vitamin E, Magnolia Bark Extract, Sunflower Oil)
---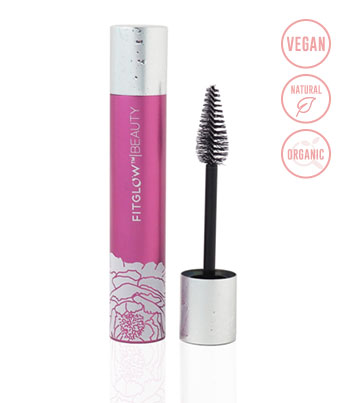 Fitglow – Vegan Good Lash + Mascara
Price: $38
This 3-in-1 mascara + serum + conditioner claims to amplify lash volume and length while nourishing lashes with botanical extracts and plant protein to promote lash health and growth.
Where to buy: Petit Vour
---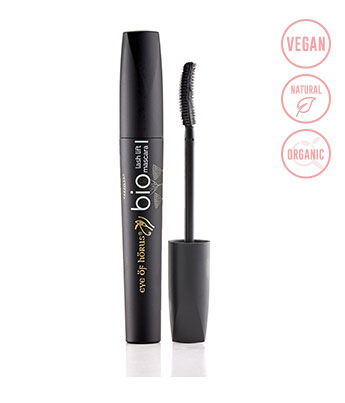 Eye of Horus – Bio Lash Lifting Mascara

Price: $38

Designed to add length, volume and nourishment to lashes naturally promoting growth.

98% Organic formula with key botanicals, Marine Algae and plant derived Collagen.
---
Have you tried any of these natural and vegan mascaras? If not, which one are you interested in trying out?