This post may contain affiliate links that at no additional cost to you, I may earn a small commission.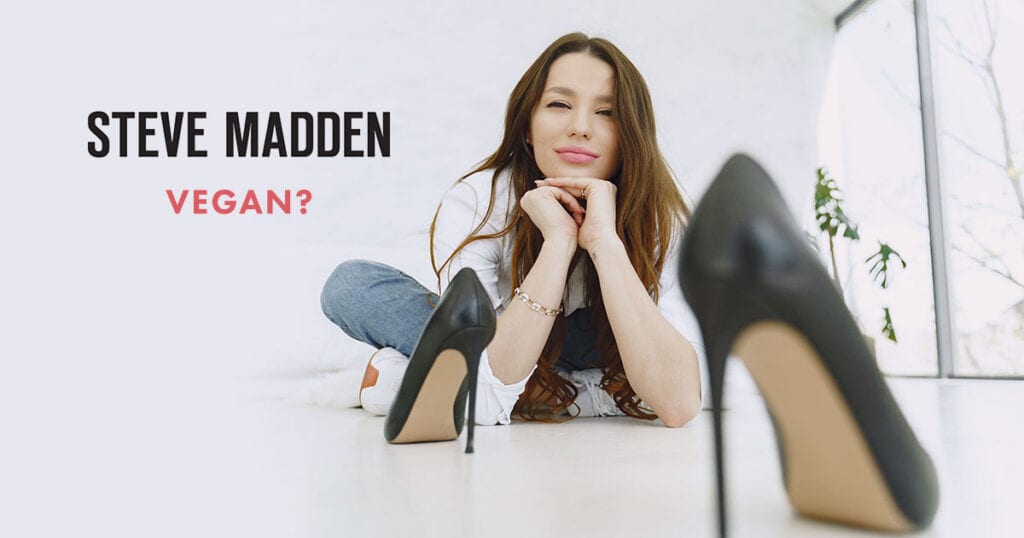 I recently noticed that Steve Madden has a "Vegan" and "Vegan Heel" section on their website. But are Steve Madden's shoes actually vegan?
In this post, I'm sharing what I found out about this footwear brand and its vegan options.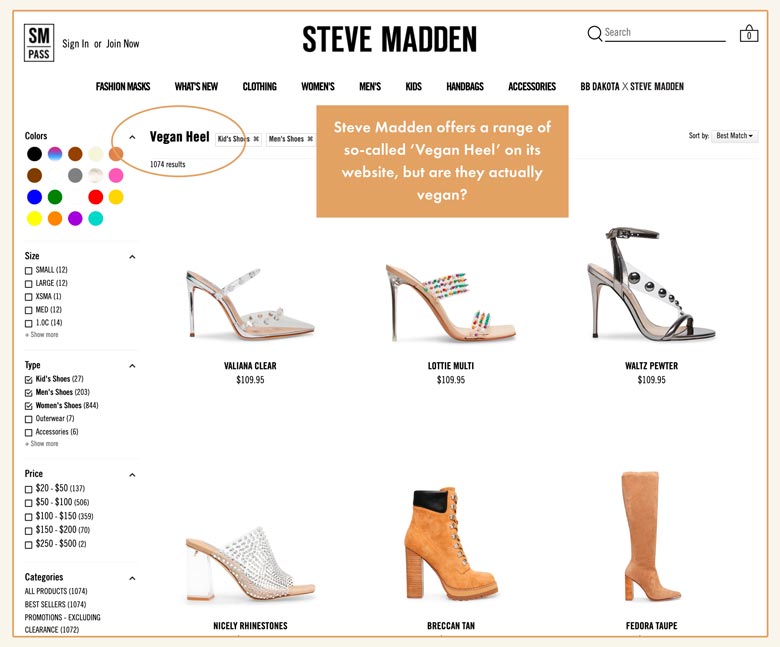 Unfortunately, I couldn't find any information on what Steve Madden considers as "vegan" or their criteria for shoes to be listed on this page of their website.
Are Steve Madden Shoes Vegan?
When I checked some of the shoes advertised on this page, it looks like some of them are made from man-made or synthetic materials. Therefore these shoes are made with vegan-friendly materials.
But I noticed they also list some shoes that contain leather and suede materials on this "Vegan Heel" page. So, I wouldn't recommend shopping from Steve Madden's "Vegan Heel" section of their website when looking for animal-free footwear (see below screenshots for an example).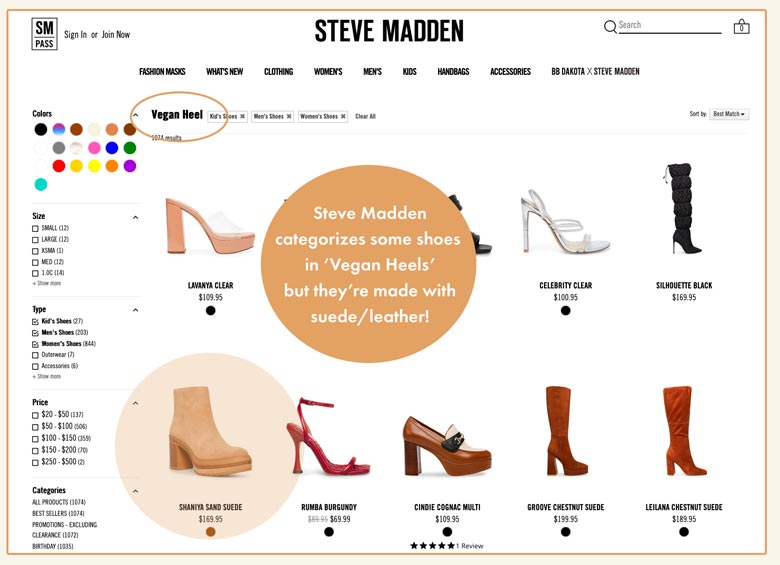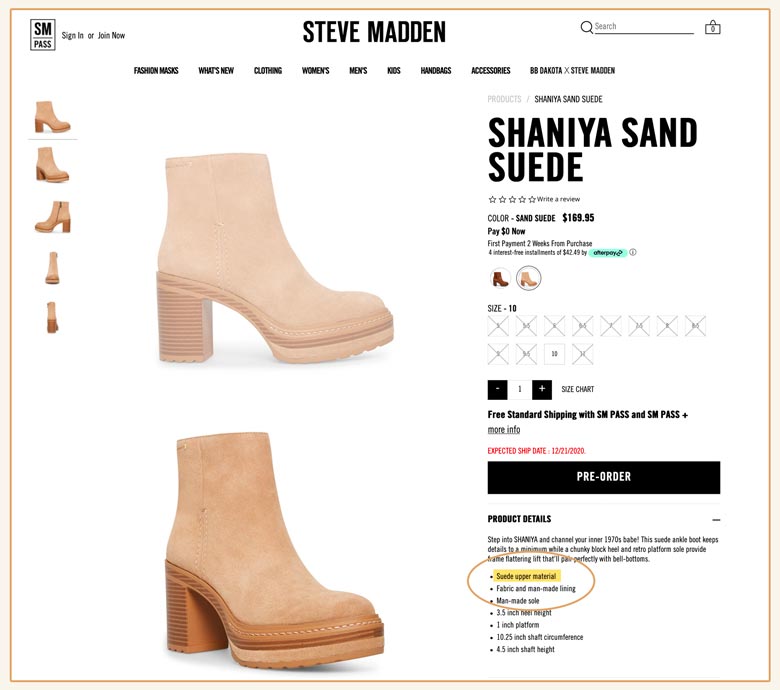 Steve Madden also has a category called "Vegan" that mostly includes their collection of vegan leather jackets and clothing. I spotted a couple of shoes on this list.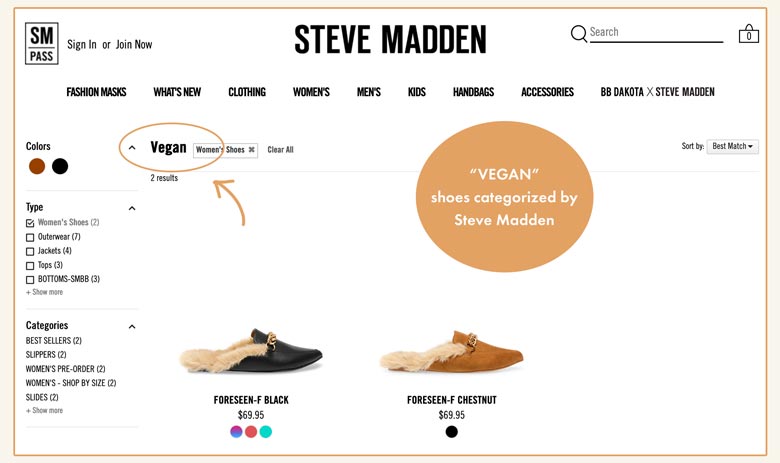 I checked the materials of the two shoes listed in their "Vegan" section. And unlike the vegan-friendly shoes in their "Vegan Heel" section that says they're made with microfiber, microsuede, or man-made materials, these ones actually say 'vegan leather' in the composition.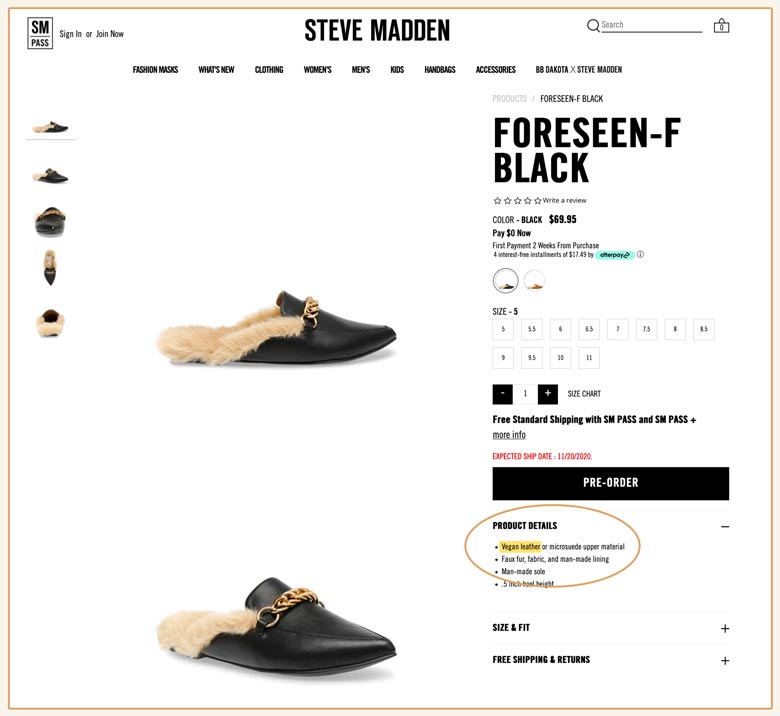 I think this may be the start of Steve Madden trying to market their shoes to the vegan market so the next thing I wanted to know is whether Steve Madden shoes use vegan glues to make these so-called "vegan heels" and "vegan leather" shoes?
Steve Madden Shoes – Vegan Glues?
Currently, not all glues used to make shoes are vegan. Some glues may be made from animal collagen and animal by-products. Vegan shoe glue is usually synthetic or water-based.
Learn More: Is Shoe Glue Vegan?
Because this information is rarely disclosed on the brand's website or the shoe label itself, I asked Steve Madden about the source of their glues. They responded stating,
"Please note that we do not keep this type of information since this is more of a manufacturing process detail."
Synthetic-based and vegan glues are commonly used today, however, some shoe manufacturers may still use glue made from animal by-products and are not considered vegan. Unfortunately, Steve Madden is unable to provide us with relevant information to determine whether the glues they use are indeed vegan.
Final Answer – Are Steve Madden's Vegan?
The source of shoe glue may be a non-issue to some and if you're strictly looking for affordable and accessible shoes made with non-animal materials and fibers, then Steve Madden does have some styles. But I wouldn't recommend shopping from their "Vegan Heel" section as it's not reliable or accurate.
But if the source of glue is a deal-breaker for you then Steve Madden shoes may not be a suitable option.
Vegan Alternatives to Steve Madden:
I would recommend the following affordable and fashionable vegan footwear brands to Steve Madden:
---