This post may contain affiliate links that at no additional cost to you, I may earn a small commission.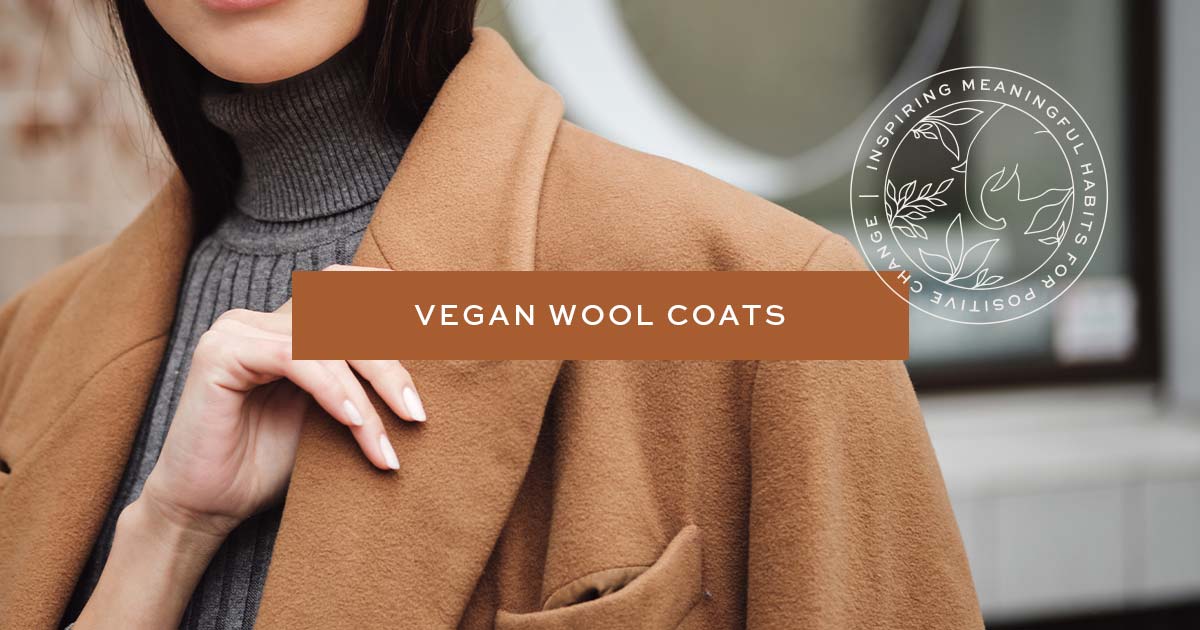 Looking for a classic vegan wool coat to add as a staple in your ethical wardrobe this season? In this guide, I'm sharing the best vegan fashion brands offering a great selection of faux wool coats.
Whether you want a timeless silhouette, double-breasted, mid-length, tailored, oversized, or a coat with vegan fur trim, there's something for you in this list!
All the wool coats mentioned in this post are vegan, meaning they are not made from animal materials like wool, leather, suede, cashmere, down, or silk. Looking for a sustainable vegan wool coat? Consider buying second-hand but if you want new, check the labels and look for recycled and/or certified sustainable materials.
Matt & Nat Vegan Coats
Matt & Nat has a collection of women's vegan wool coats made from polyester, viscose, and spandex, while the lining of all their coats is made from 100% recycled polyester. Matt & Nat coats costs between $335 to $365. Matt & Nat has sizes from XS to XL.
Claresa is their longest wool coat and features a double-breasted, large notched lapel collar. Evie has a notched lapel collar, large patch pockets, and a self-tie belt. Sohee is a single-button wool coat with dropped shoulders, a shawl collar, and a self-tie belt. And Odilia is a double-breasted coat with a large noticed lapel collar and wide cuffs.
---
Noize Vegan Coats
Noize offers a great selection of 100% vegan wool coats for both men and women. Noize's faux wool coats are made from all synthetic materials but are mostly comprised of polyester, acrylic, and rayon. The price for Noize coats ranges from $180 to $310. Noize offers sizes from XXS to XXL.
Currently, Noize has 50+ different styles of warm wool coats to choose from, in a range of colors, patterns, lengths, and fits. View Noize's collection of vegan wool coats for women here and for men here.
---
Magnethik Vegan Coats
Made in Paris, Magnethik carries an assortment of women's vegan and eco-friendly wool coats in various colors and fits. Magnethik's contemporary vegan coats are made from recycled polyester or OEKO-TEX and Signblue polyester while some linings are made of GOTS-certified organic cotton.
Most of their coats are marked down right now with the most affordable priced at $77 and up to $210. Some styles are available from size XS to XL, but the last time I checked their online inventory, most of the styles only have XS, S, and M.
---
Will's Vegan Coats
Vegan fashion and accessories brand, Will's has a growing selection of wool coats for both men and women and they're all made from vegan and sustainable materials. Will's ethical vegan wool coats are ethically produced in small batches in the heart of Tuscany, Italy, and cost between $200-$270, and the size range is between XS-XXL.
Will's vegan coats are designed to last for many seasons to come with their timeless, sophisticated, and insulated coats to keep you warm. They're tailored in Italy from vegan wool made from Greenpeace DETOX & Oeko Tex® standard 100 certified cotton or Supima cotton grown in the USA under the Better Cotton Initiative. The thermal insulated lining is made from 100% recycled polyester. And even the buttons are sustainable and made from recycled compressed paper and resin.
---
Apparis Vegan Coats
Based in NYC, Apparis is a vegan lifestyle brand with a selection of quality vegan wool coats that are made to stay in your wardrobe–and out of the landfill–for years to come. Apparis faux wool coats are on sale for $340-$400. Size ranges from XXS to XXL. All Apparis faux wool coats are made from polyester and rayon while the lining is made from recycled polyester.
Aaron is a tailored long faux wool coat and features a notch lapel and double-breasted closure. Eleanor is a long duster coat that creates the perfect balance of trend and timelessness. This style features fringe details on pockets.
---
N'Onat Vegan Coats
N'Onat offers a line of timeless and elegant vegan wool coats, all ethically made in Turkey. N'Onat has several styles, colors, and lengths of faux wool coats to choose from. Their size ranges from XS to XL and the price is between $210 to $300. Made from synthetic materials like polyester, viscose, and rayon.
---
Unreal Fur Vegan Coat
Unreal Fur is a family-owned fashion label in Melbourne, Australia with a mission to end the use of real fur and animal products in the fashion industry. Unreal Fur has a couple of timelessly elegant vegan wool coats this season. Available in sizes XS to XL. Unreal Fur faux wool coats are made from all synthetic and vegan materials like polyester, cation, viscose, spandex, and elastane.
The Love Affair Coat ($389) is the white topcoat for every person looking to make an ethical adjustment to their professional wardrobe. The Spice Coat ($449) is a timelessly elegant style crafted from luxe vegan wool and faux fur. It offers a midi-length hemline and a contrast collar made from plush faux fur for added warmth.