This post may contain affiliate links.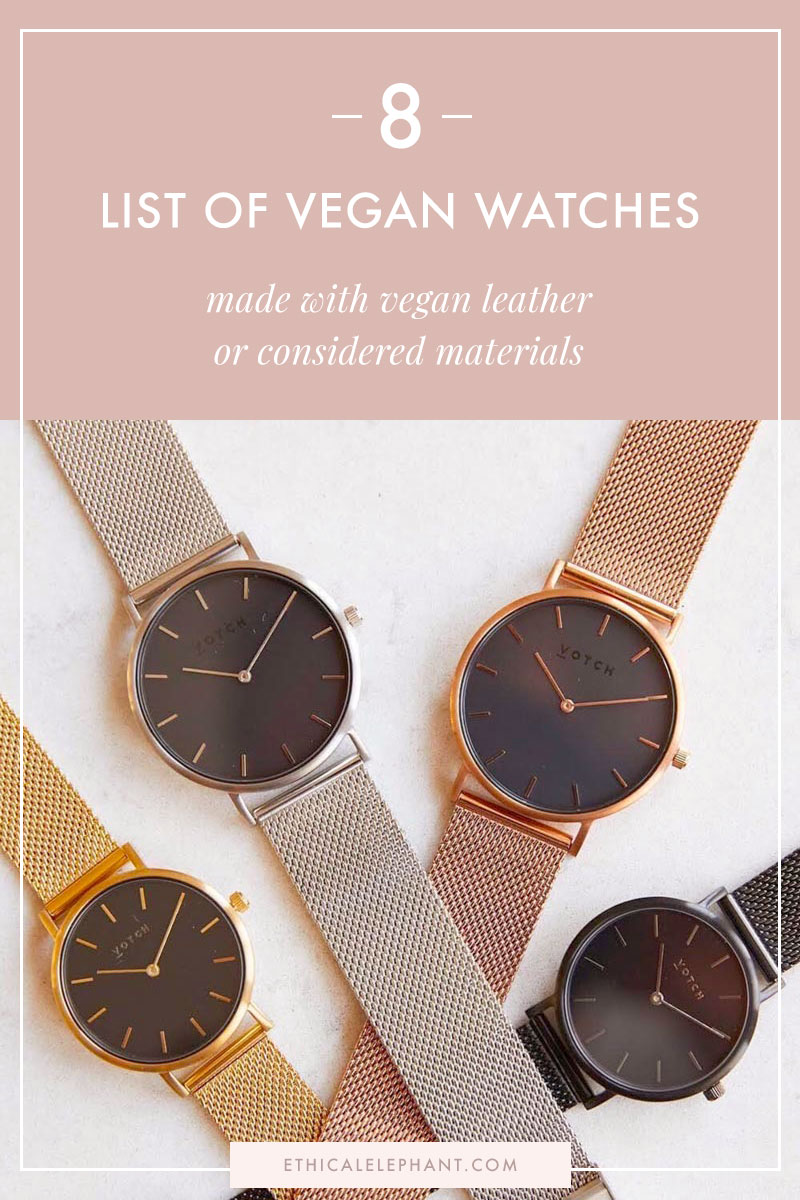 A sleek and sophisticated timepiece completes every outfit but I had never considered the materials used to make my everyday accessory. Most watch straps are made using leather derived from animal skin, so in order to find a cruelty-free watch, I had to look for vegan leather watches made with synthetic and/or considered materials.
Thus, began my search for vegan watch options! As a result, I found 8 vegan-friendly watchmakers that have created some of the most stylish yet functional timepieces using a variety of vegan materials!
Here is a round-up of the very best, sleek vegan watches for men and women, all made without harming any animals!
Editors note: Aubry Watches was once included on this list but due to their poor and terrible customer service, I can no longer recommend Aubry Watches. DO NOT BUY FROM AUBRY WATCHES!!!
---
Price for Votch watches: US$160 – $200
This UK-based, cruelty-free and vegan watch brand is changing the world, one stylish watch at a time! Votch's mission is simple, to do better and to create a product that inflicts no harm to animals and as little to the environment as possible!
Votch is committed to always being cruelty-free and environmentally sustainable, all of their watches and straps are certified vegan. They also make for some thoughtful gifts a each watch purchased from Votch is lovingly packaged in recycled materials with low environmental impact!
Votch watches are made using a cotton woven microfibre with PU and their latest collection of watches are made from a blend of TPE, polyester, and cotton. Votch also has a line of straps made using pineapple leaf fibers, Piñatex!
Votch offers a one year warranty on all watches. All of Votch watch straps are interchangeable; choose from their vegan leather straps, stainless steel straps, or Piñatex straps!
---
Price for TIVC vegan watches: US$150 – $170
This cleverly named, Australian, sustainable vegan watch brand was created by two people with a passion for change and a belief that every positive change you make, no matter how big or small, contributes towards creating a world that's brighter for everyone. TIVC is making change happen with their handcrafted cruelty-free and classic-style vegan watches. TIVC watches are made from materials that are animal-free and have minimal impact on the environment.
TIVC's eco suede bands are made in Italy and its production process is similar to that used for paper recycling, in which no harmful chemical substances are used. The recycled polyester contained in the eco suede material is derived from polyester fibres (T-shirts, fibres, etc.) and PET (bottles, plastic, etc.) and they also have a Piñatex range of timepieces made from pineapple leaf fibres!
TIVC offers limited warranty for all watches purchased 365 days from the date of purchase.
All of TIVC watch straps are interchangeable; choose from their vegan leather straps, Piñatex strap watches, or Eco-Suede strap watches!
---
PIPERWEST – Selection of Vegan Watches
Price for PIPERWEST vegan watches: US$59-$179
Not all of PIPERWEST watches are vegan as they do offer some genuine leather watch straps, but PIPERWEST does have a beautiful selection of vegan watches for women. PIPERWEST's timepieces are for the modern minimalist; crafted with style, quality & functionality in mind. PIPERWEST is based in Vancouver, Canada, and all of their watches have an interchangeable strap so you can switch up the color and look of your timeless accessory to match your outfit!
Want to create and customize your very own PIPERWEST watch? You can build your own custom timepiece, from the color of vegan leather watch strap down to the face and hardware colors!
PIPERWEST watches come with a one-year warranty and 5% of all sales are donated to Free to Be Talks.
My favorite PIPERWEST vegan watch is their marble minimalist collection!
---
Olivia Burton – Selection of Vegan Watches
Price for Olivia Burton vegan watches: US$110 – $205
Not all of Olivia Burton watches are vegan-friendly however there is a growing selection of Olivia Burton watches that features a soft faux leather strap. There are lots of styles and colors to choose from in their vegan collection, including their classics, vintage-inspired, hand-drawn floral print, Olivia Burton's signature florals, and more!
Olivia Burton also recently released their first ever environmentally friendly strap made from 100% recycled materials.
All of Olivia Burton watch straps are interchangeable to fit other models of the same size however please note that not all straps are suitable for changing at home, some will require taking to your local jewellers for fitting. Olivia Burton offers a limited warranty of defects in materials and workmanship for a period of two years.
You can buy Olivia Burton vegan watches at The Bay 🇨🇦, Bloomingdale's, and The Dressing Room.
---
Price for Evig Grön vegan watches: US$300
At Evig Grön, sustainable practices and versatile Swedish design meet world-renowned luxury. Evig Grön's luxury swiss vegan watches are manufactured in Sweden, Switzerland, Portugal, and Italy from material that is as sustainable as possible and always 100% cruelty-free.
"All of our watches are manufactured in Bioggio, Switzerland. Adhering to the strictest rules and regulations in the watch industry, our timepieces are made with parts that are always of Swiss preferential origin. Our straps are handmade from genuine Portuguese cork by our artisans in Tomar, Portugal. All of our packaging is manufactured in Europe – from our Italian pouches through to our German warranty cards made from sustainable liquid wood."
Evig Grön offers warranty for the first 24 months following the date of purchase. All Evig Grön straps are easily interchangeable; straps are sourced from sustainable Portuguese cork, a material that does not cause deforestation as the trees stay in place and a layer of bark is removed, it is renewable and recyclable.
Price for Ksana vegan watches: £75
If you've been looking for an environmentally-friendly, colorful, water-resistant vegan watch then look no further because Ksana Watches has it all! Based in the UK, Ksana watches are boldly colorful featuring a lightweight, anti-slip, and durable silicone watch strap in a variety of colors from neon green to your classic black. In addition, they have a Silicone Recycling Program where you can send your watch straps back to them and it'll be repurposed into solar panels.
"Timeless yet fun. Outside the realms of "normal". Bold design will always remain at the heart of Ksana." – Ksana
With every watch purchase, Ksana Watches donates 1% of the sales value towards helping environmental causes. Ksana also offers a 2-year warranty on all their watches.
You can get your hands on a Ksana watch at ksana.co.uk
---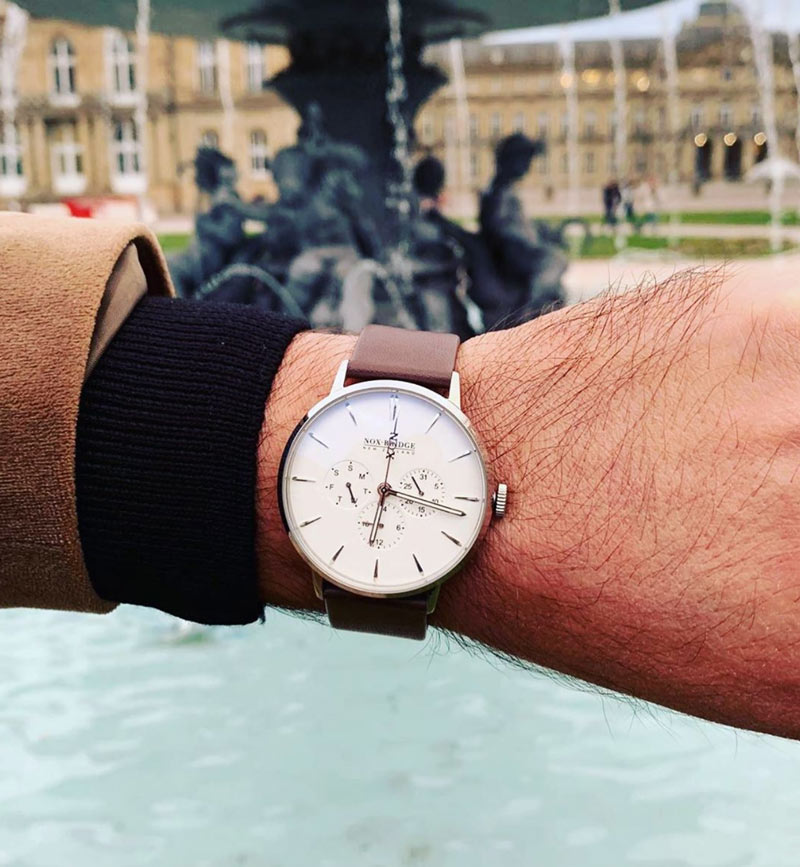 NOX-BRIDGE – 100% Vegan
Price for NOX-BRIDGE vegan watches: from US$150
Based in New Zealand, NOX-BRIDGE makes vegan watches for both men and women, their timeless luxury watch designs are inspired by the night sky, where NOX means night in Latin. NOX-BRIDGE are manufactured in Japan and Switzerland to ensure each watch is made to the highest quality and precision.
"We strongly believe that high-quality goods can still be produced cruelty-free. This sits at the core of our values and we have ensured that the products we create are 100% vegan, including a water-resistant vegan leather strap." – NOX-BRIDGE
NOX-BRIDGE watches features a quick-release, interchangeable waterproof vegan & eco-friendly strap. In addition, all of their watch collections are limited to 888 watches.
---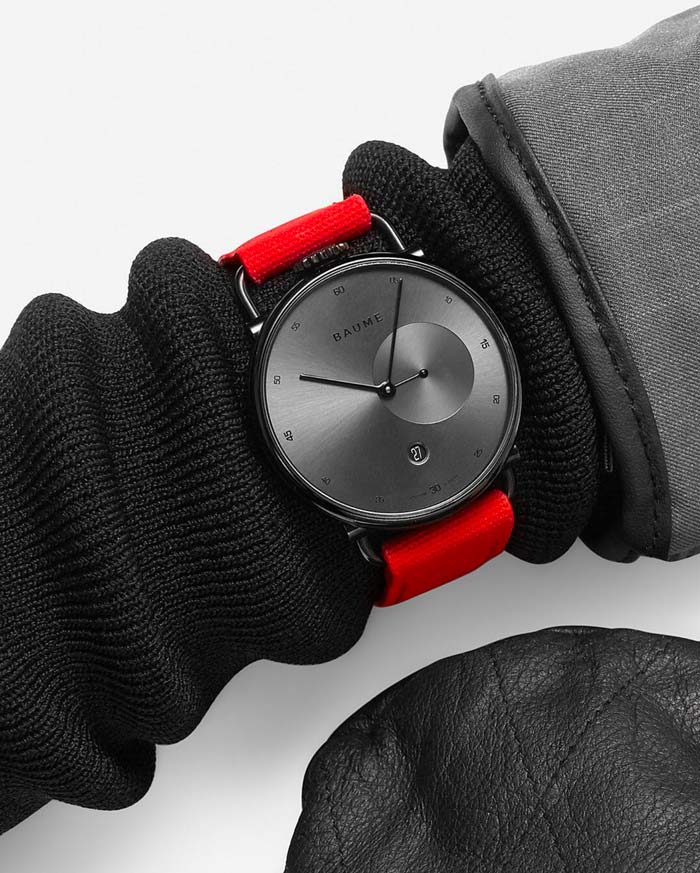 BAUME – 100% Vegan
Price for BAUME vegan watches: from €470
If you're looking for a luxurious custom vegan watch, BAUME offers unique and personalized watches for men and women that are environmentally responsible and sustainably-made with considered materials. BAUME only uses natural or recycled materials, like cork, linen, recycled PET, and upcycled materials, in the manufacturing process. Their watches are designed in Geneva, Switzerland and assembled in Amsterdam.
BAUME watches feature an interchangeable eco-friendly strap made with recycled or natural materials aiming to minimize waste.
"Ethics are at the heart of our watches. We don't use secondary packaging or precious stones, and our agile supply chain is designed to reduce waste at every step of the way, by adopting a made-to-order approach. Upcycled from multiple materials, including skateboard and ocean plastic, BAUME watches illustrate our commitment to mindful design, demonstrating that is indeed possible to reinvent waste into a beautiful, highly durable product while respecting our society and the planet." – BAUME
All of BAUME watches are limited edition and are under two-year warranty.
---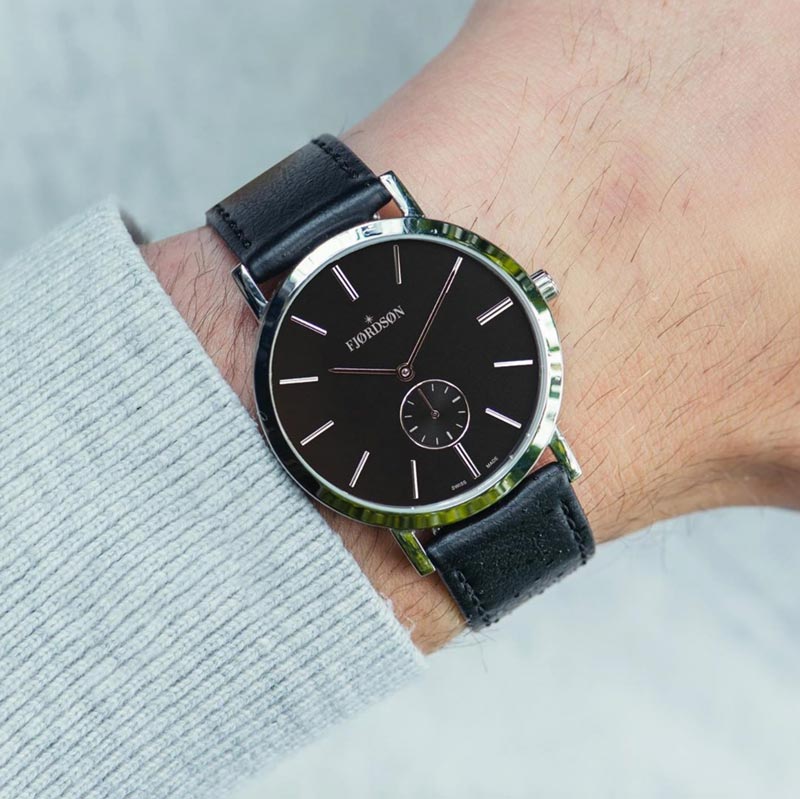 Fjordson – 100% Vegan
Price for Fjordson vegan watches: from €279
Fjordson is a Vegan Society certified and PETA-approved vegan watch brand, all of their modern and contemporary watches are Swiss made. Fjordson Watches is based in Belgium and has production facilities in Switzerland. Each watch is made in Switzerland to ensure the highest quality possible and ethical working conditioners. Rigorous quality checks are performed throughout the entire production and assembly process.
All Fjordson eco-leather watch straps are interchangeable and crafted with premium synthetic fabric. Fjordson donates 5% of revenue to animal charities and rescues.
---
Editors note: Aubry Watches was once included on this list but due to their poor and terrible customer service, I can no longer recommend Aubry Watches. DO NOT BUY FROM AUBRY WATCHES!!!
Which of these vegan watches are your faves?