This post may contain affiliate links.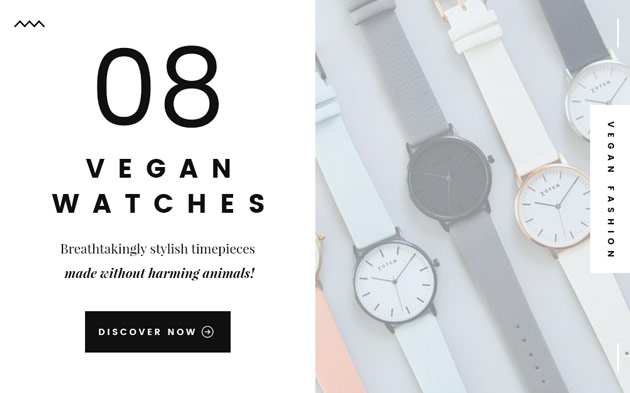 A round-up of the very best and stylish vegan watches, all made without harming any animals!
Most straps are made using leather derived from animal skin but the makers of these cruelty-free and vegan-friendly watches know that animals deserve better than to be worn as accessories on our wrists, so they've created some of the most breathtakingly stylish yet functional timepieces using a variety of vegan materials!
Votch Watch – 100% Vegan
Price: USD$160 – $200
This cruelty-free and vegan watch brand is taking over the world, one stylish watch at a time! Votch's mission is simple, to do better and to create a product that inflicts no harm to animals and as little to the environment as possible!
Votch watches are made using a cotton woven microfibre with PU and their latest collection of watches are made from a blend of TPE, polyester, and cotton. Votch also has a line of straps made using pineapple leaf fibres, Piñatex!
TIVC : Time IV Change – 100% Vegan
Price: USD$150 – $170
This cleverly named watch brand was created by two people with a passion for positive change and it shows with their handcrafted cruelty-free and vegan classic-style watches. TIVC watches are made from materials that are animal-free and have minimal impact on the environment!
TIVC's eco suede bands are "made in Italy and it's production process is similar to that used for paper recycling, in which no harmful chemical substances are used. The recycled polyester contained in the eco suede material derives from polyester fibres (T-shirts, fibres, etc.) and PET (bottles, plastic, etc.)" and they also have a Piñatex range of timepieces made from pineapple leaf fibres!
Hurtig Lane – 100% Vegan
Price: USD$90 – $120
Hurtig Lane is on a mission to prove fashion and style never need to be compromised in order to the protect the rights of animals and they're doing just that with their 100% vegan friendly watches.
Hurtig Lane cruelty-free watches are made using stainless steal, nylon, or synthetic vegan leather.

Aubry Watches – 100% Vegan

Price: USD$100 – $120
Aubry's mission is to create beautifully simple watches that can be worn and loved every day! These modern and stylish watches were created on the foundation of mindful, modern and sustainable design!
Aubry's "vegan leather watch straps are made using carefully-curated, premium polyurethane (PU), which is kinder to the environment than other leather alternatives, and most importantly 100% vegan and cruelty free. We use no animal glues or dyes, our products are nickel-free and are ROHS and REACH compliant."
LIAN & MÉZ – 100% Vegan
LIAN & MÉZ believes sustainability can not be measured, it has to be worn and they've proven that with their modern, elegant, and thoughtful collection of 100% vegan watches.
All of LIAN & MÉZ's straps are "handmade in Germany from the innovative material called Piñatex™. Made from pineapple leaf fibres, Piñatex embraces advanced technologies to create a totally sustainable, high-performance, natural textile. Piñatex fibres are the by-product of the pineapple harvest and no extra land, water, fertilizers or pesticides are required to produce them. Originally developed in Philippines today Piñatex production provides new additional income for farmers while creating new industry for pineapple growing countries."
CPTN Watches – 100% Vegan
Price: USD$75 (Use promo code: "ETHICALELEPHANT" to receive 10% off your order!)

Make a bold and unique statement with one of CPTN's limited edition watches that are free from animal cruelty and do not contain any animal products. Each of their watches from this series features an ultra minimalist and modern style with a form fitting band made from vegan leather that will look great on any wrist!
Instrmnt – Selection of Vegan Options
Vegan watches are USD$240
Although not all of Instrmnt minimalist watches are vegan, their beautiful K-series watches feature an Italian vegan rubber strap. Currently there are 3 color selections to choose from in the K-series: light-grey, mid-grey, and black.
Olivia Burton – Selection of Vegan Options
Vegan watches are USD$95 – $185
Not all of Olivia Burton watches are vegan-friendly however there is a growing selection of Olivia Burton watches that features a vegan synthetic leather strap. There are lots of styles to choose from in their vegan-friendly collection, including their classics, vintage-inspired, hand drawn floral print, Olivia Burton's signature florals,  and more!
Olivia Burton also recently released their first ever environmentally friendly strap made from 100% recycled materials.
Which of these vegan watches are your faves?