This post may contain affiliate links that at no additional cost to you, I may earn a small commission.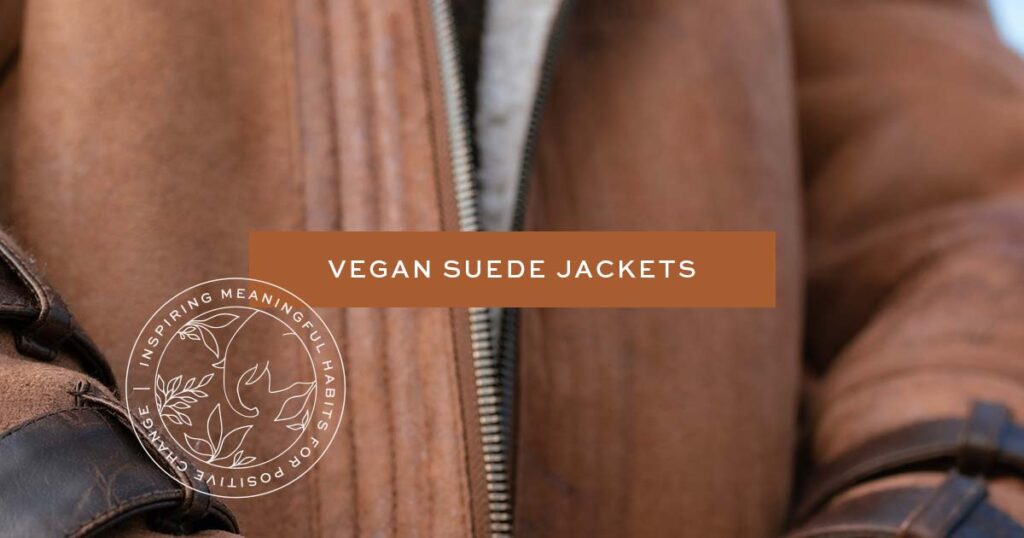 Looking for a stylish and ethical fashion statement? Look no further than vegan suede jackets.
These jackets offer the perfect blend of fashion-forward design and animal-friendly materials, making them a must-have addition to any conscious wardrobe.
In this post, we will explore the best vegan suede jackets on the market, so you can achieve a stylish and guilt-free look. With a range of brands and styles available, finding the perfect vegan suede jacket has never been easier.
Whether you prefer a classic moto style or a more modern cropped fit, there is a vegan suede jacket out there that will suit your taste.
Not only are these jackets cruelty-free, they also offer the same luxurious feel and durability as genuine suede.
Vegan Suede Jacket – Women's
All the suede jackets mentioned in this post are vegan, meaning they are not made from animal materials including wool, leather, cashmere, down, or silk.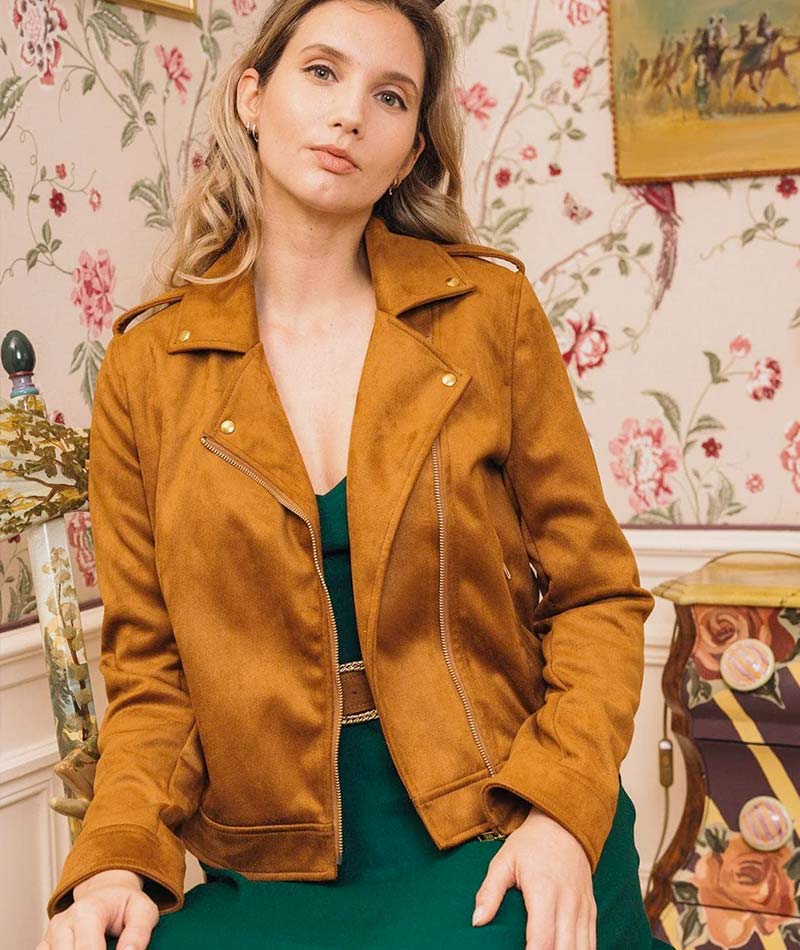 Super-soft light beige vegan suede biker jacket with a The Alex is softened with an ecofriendly and recycled material to combine rock'n'roll and tenderness.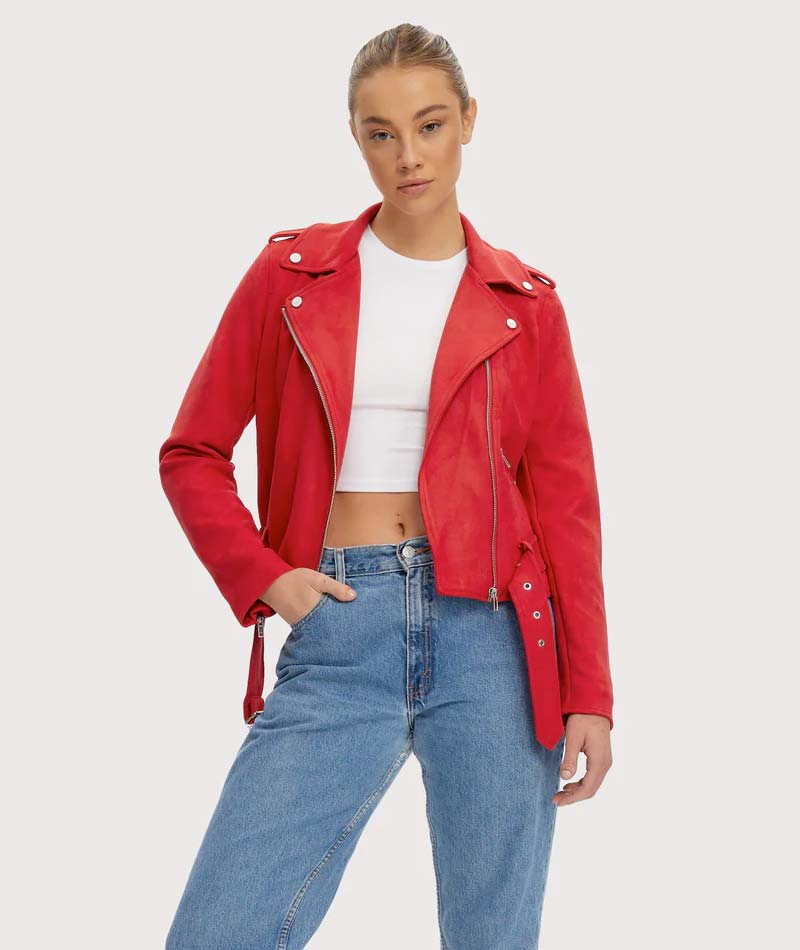 Meticulously crafted from Noize's buttery-soft vegan suede—this exquisite jacket offers an elevated and sophisticated twist on a classic trend. With its bold and audacious design, Zadie promises to set your seasonal style apart, making a striking statement wherever you go. The asymmetrical zip and belted waist add a touch of edge and allure, ensuring you exude confidence and chic elegance in every step you take.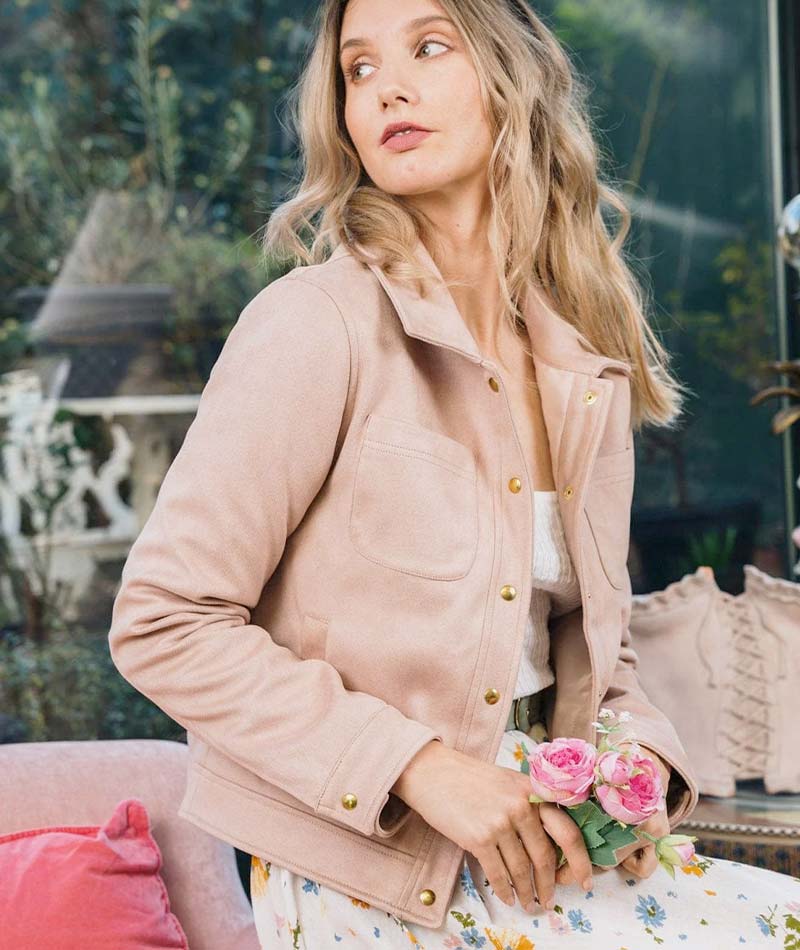 Minuit sur Terre Camille Recycled Vegan Button Up Jacket
The short jacket you need! Made of recycled ecofriendly materials, it has the perfect length to match all of your pieces: jeans, high-waisted pants, skirt, no outfit will be able to resist it.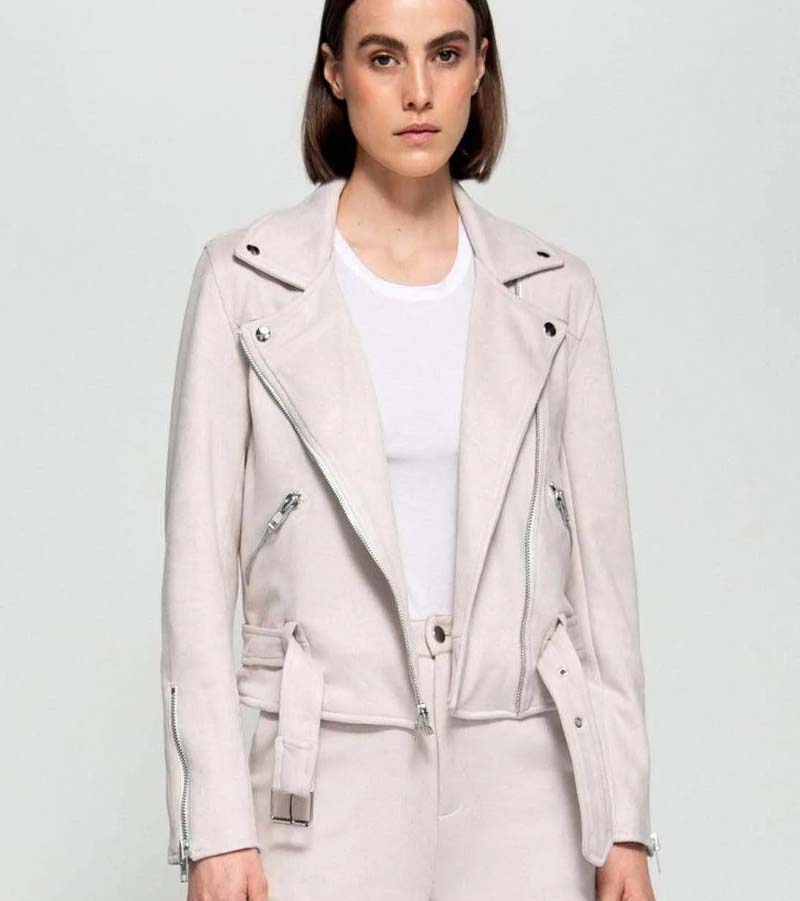 Super-soft light beige vegan suede biker jacket with a straight-cut silhouette. Features an adjustable belt with pin-buckle fastening at the waist.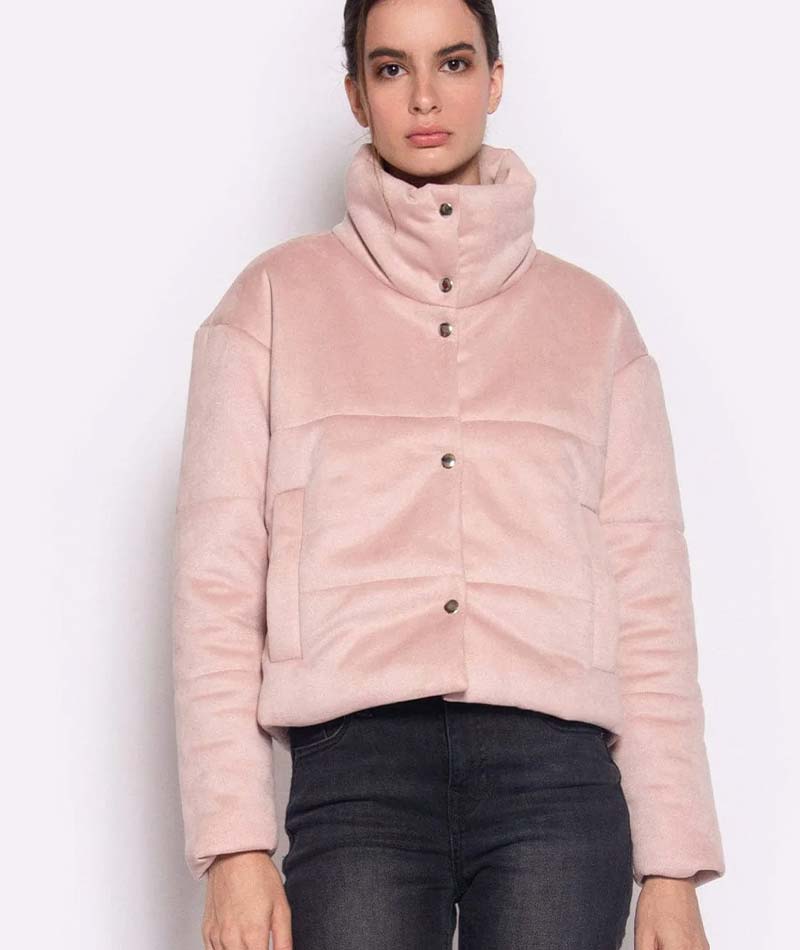 The Millie long sleeve quilted puffer is crafted from Dauntless's buttery light-pink vegan suede. Fully lined with an oversized style.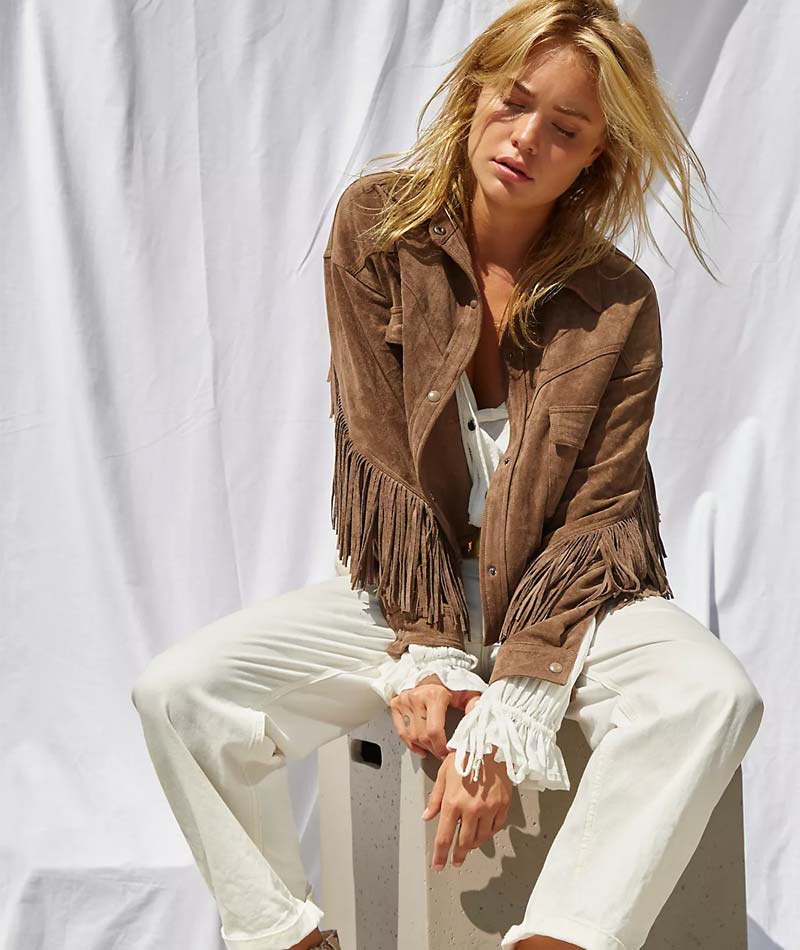 Totally timeless in a trucker-inspired silhouette, this forever cool vegan suede fringe jacket is featured in a boxy, cropped silhouette with western-inspired seaming at top and exaggerated fringe trim for added dimension. Available in multiple colors.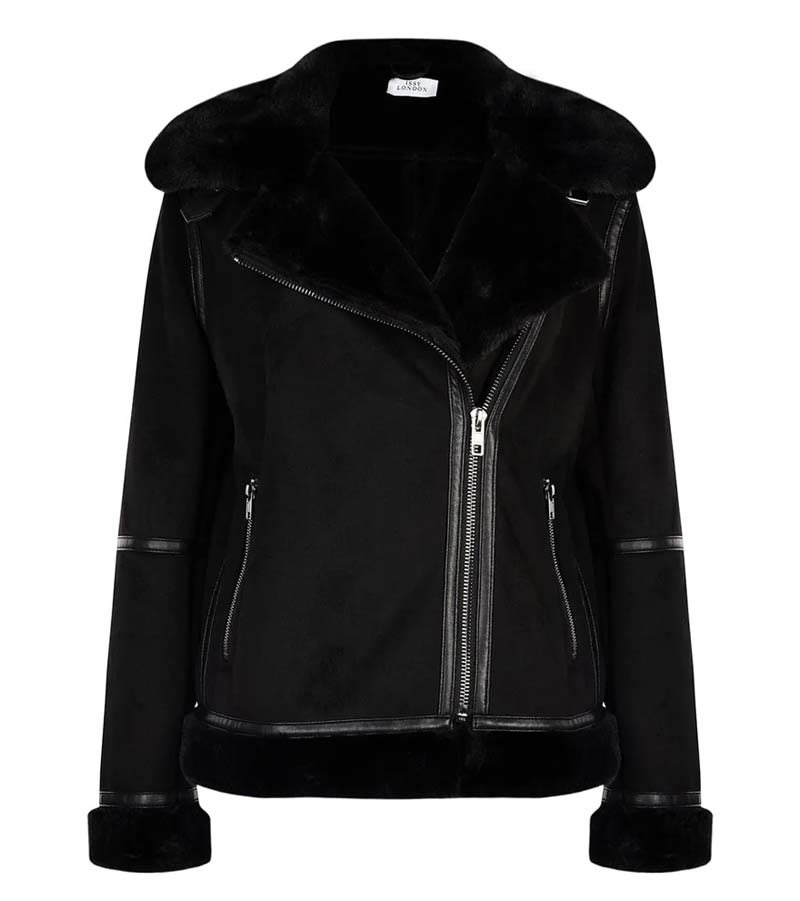 Add a little edge to your look with Kate, Issy London's vegan shearling biker that'll do dinner, drinks, and beyond. Luxuriously lined with the softest eco-friendly vegan fur outer and finished with contrasting PU details, this most-wanted jacket will be a welcome addition to every wardrobe.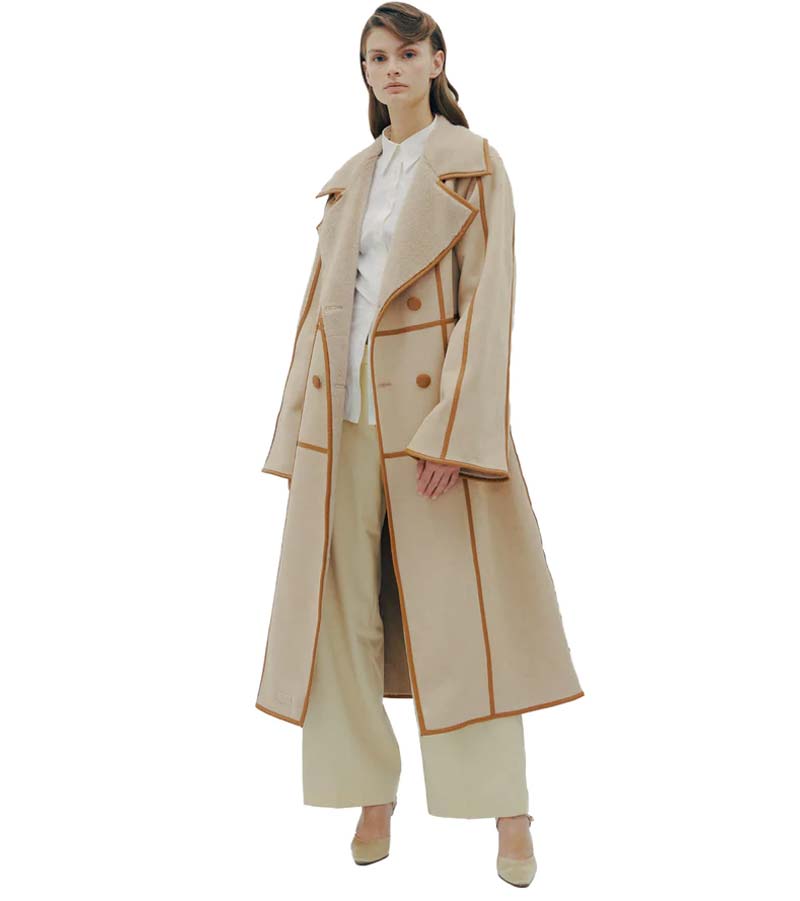 Double-breasted Sand bonded vegan suede reversible ankle length coat with faux leather extended length self-tie belt, and contrast color faux leather trims.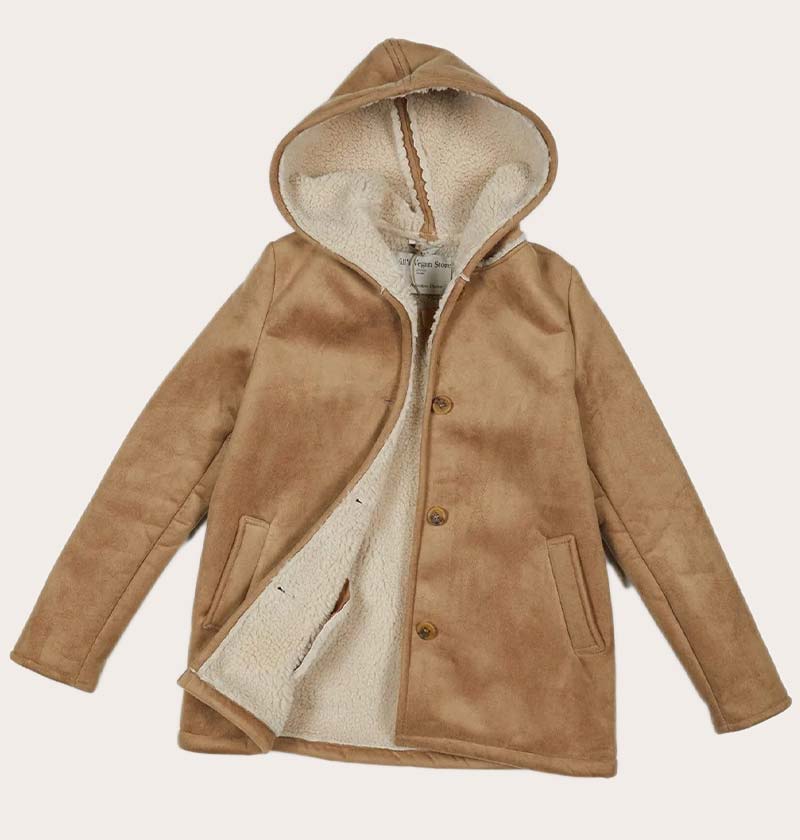 To create an authentic version, Will's developed this heavier-weight Italian vegan suede with a rougher, more traditional feel. They bonded this newly sourced material to their recycled vegan shearling (made in Italy made from 100% recycled polyester) to create one material that flows and moves with you as you wear it. The oversized fully lined hood protects you from the wind, rain, and those super chilly days.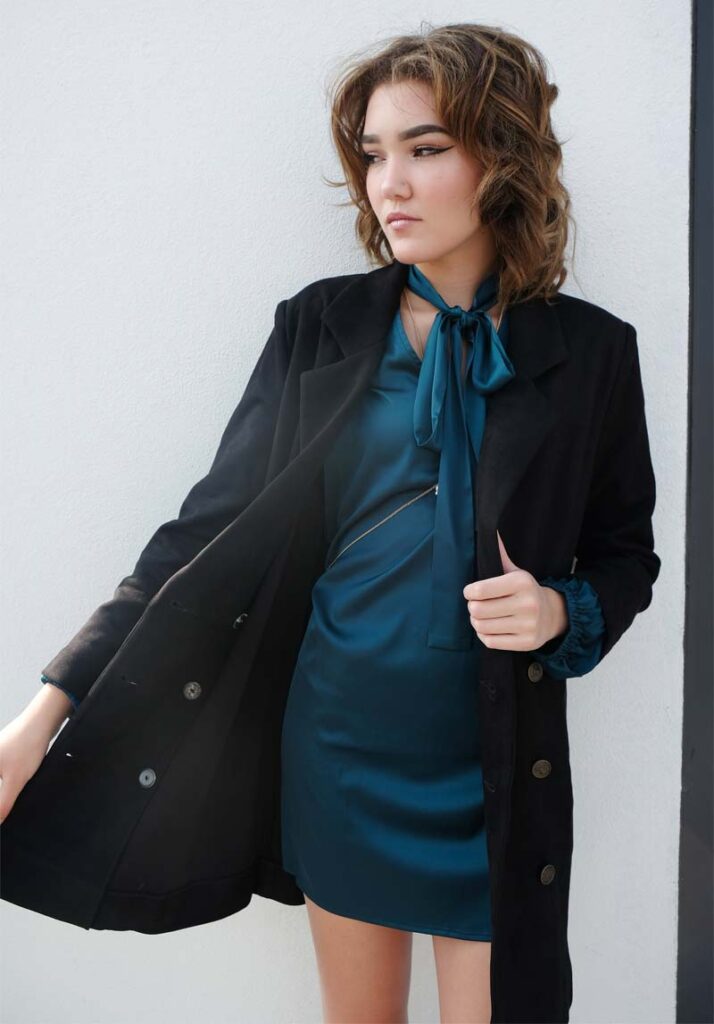 The perfect, versatile coat to layer up for winter or wear solo as a dress. This piece is sustainable and eco-conscious, with antique brass buttons and vegan suede made of 98% recycled plastic. It has a slightly oversized fit that adds to the vintage aesthetic and allows you to add warm layers underneath.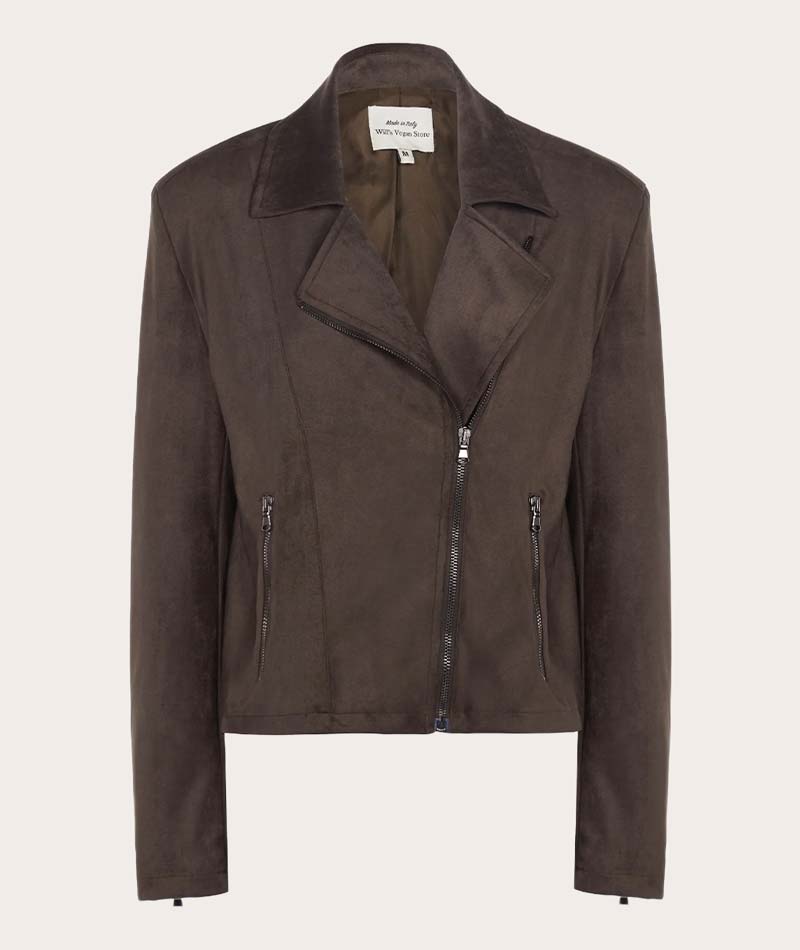 Made in small batches in Tuscany Italy from smooth, soft dark brown Italian vegan suede. Cut to sit on the hips.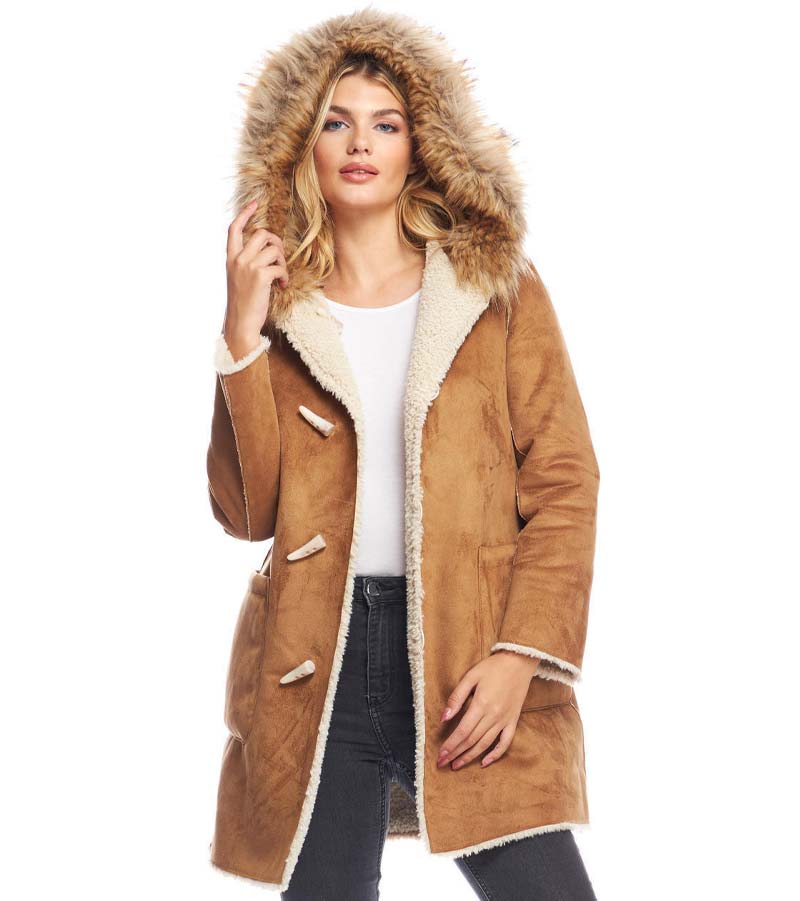 Meet the Summit Suede Reversible–the Holy Grail of function and fabulousness! Tobacco faux suede on one side, reversing to faux Ivory Sherpa, AND a faux fur hood.
Vegan Suede Jacket – Men's
As for men's vegan suede jackets, Will's has a few great picks and if you're looking for something more accessible, Abercrombie & Fitch has an option.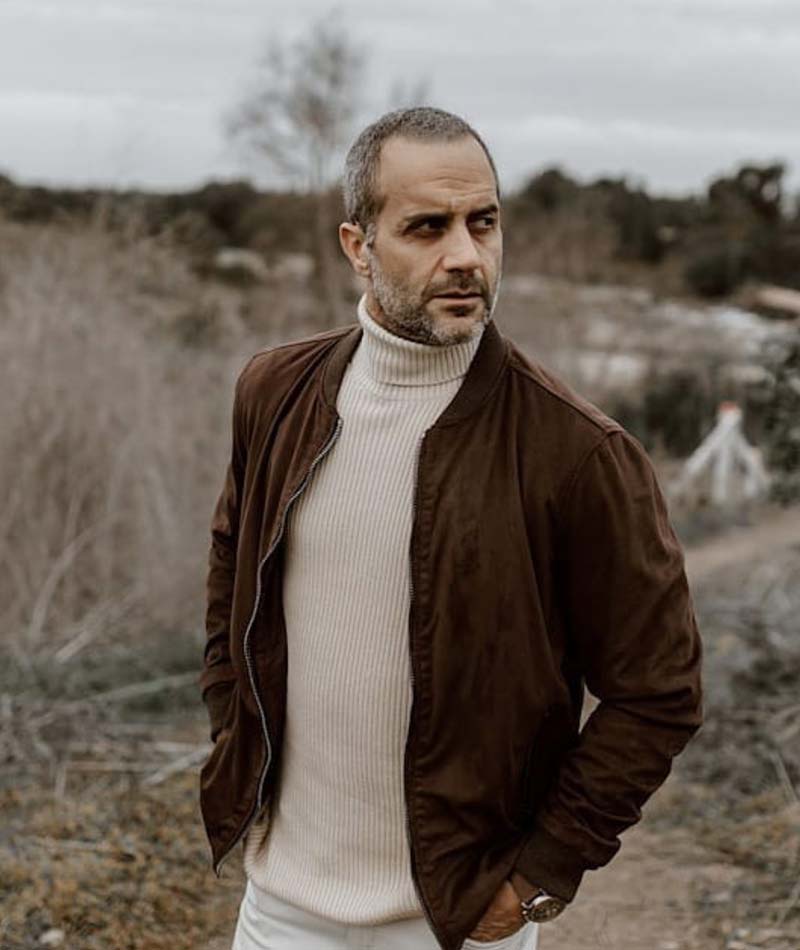 Ethically made, carbon neutral vegan suede Bomber Jacket made from soft Italian vegan suede. Lined with Italian made REACH certified viscose, the silky finish allows easy sliding over layers.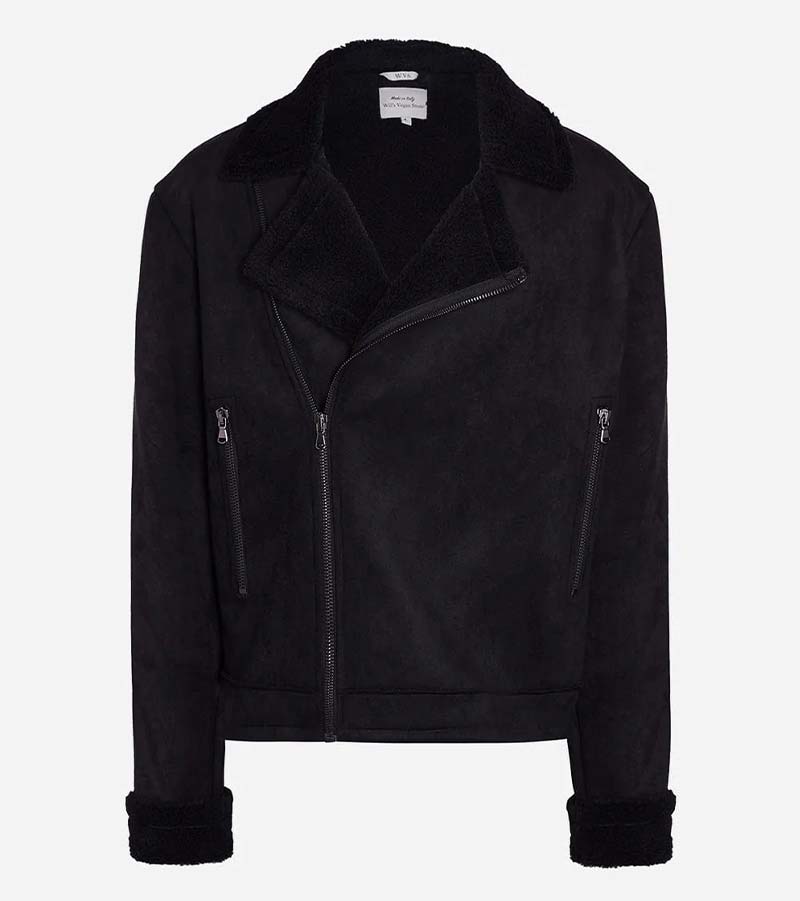 In Will's journey to try and make it easier to live a vegan lifestyle, here's their take on the classic Aviator. It's been cut from a heavyweight Italian vegan suede with a durable, substantial feel. Fully lined with a soft, deep pile insulating recycled vegan shearling made in Italy from 100% recycled polyester.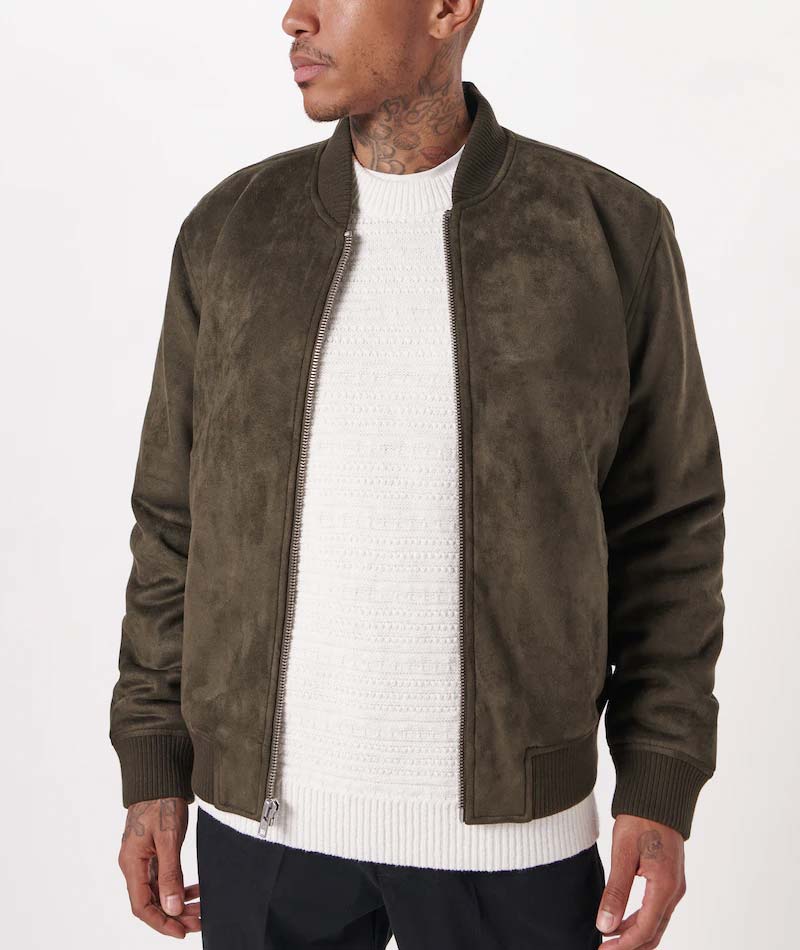 Classic bomber jacket in a soft vegan suede fabric, featuring side pockets, zip-up front, ribbed details at collar and elastic cuffs and waistband. Available in Black, Dark Grey, Light Brown, and this Olive Green Color.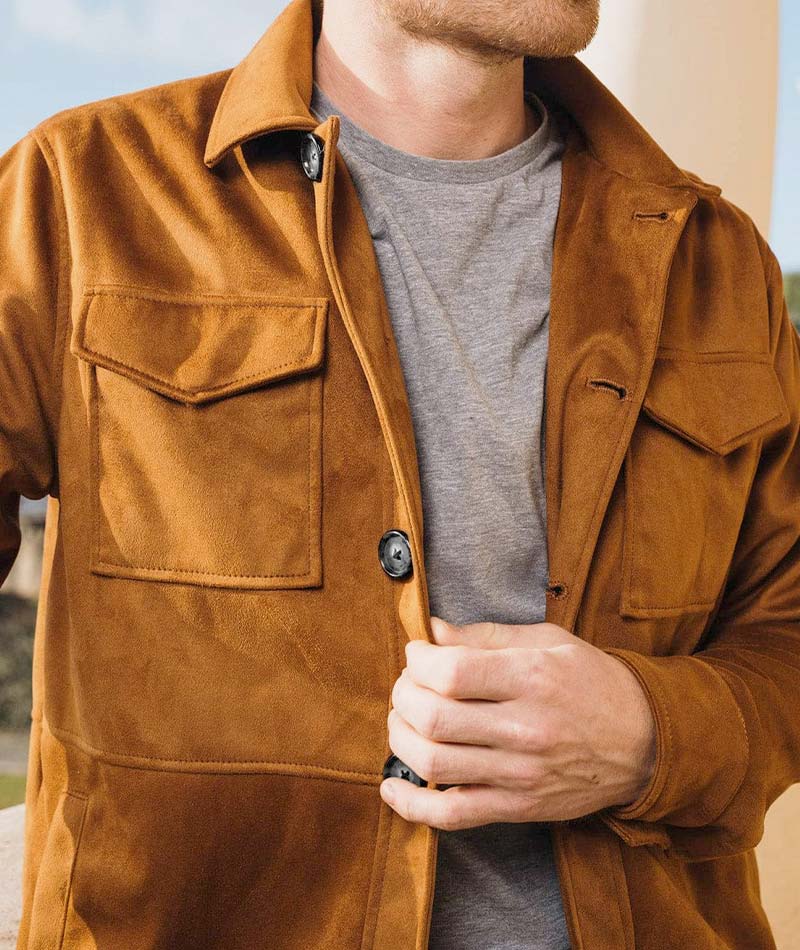 An elegant jacket to keep you warm without giving up your ecofriendly values. With its soft material and timeless shape, the Andréa eco-responsible jacket will become THE basic in your wardrobe.
Is Suede Vegan?
Suede is not a vegan material because it is made from the matte underside of animal skin.
Vegan suede is made from any other material that wasn't derived from animal skin. Most vegan or faux suede are made from polyester with a blend of spandex or cotton.
Looking for a sustainable suede jacket? Consider buying second-hand but if you want new, check the labels and look for recycled polyester and other certified sustainable materials.