This post may contain affiliate links that at no additional cost to you, I may earn a small commission.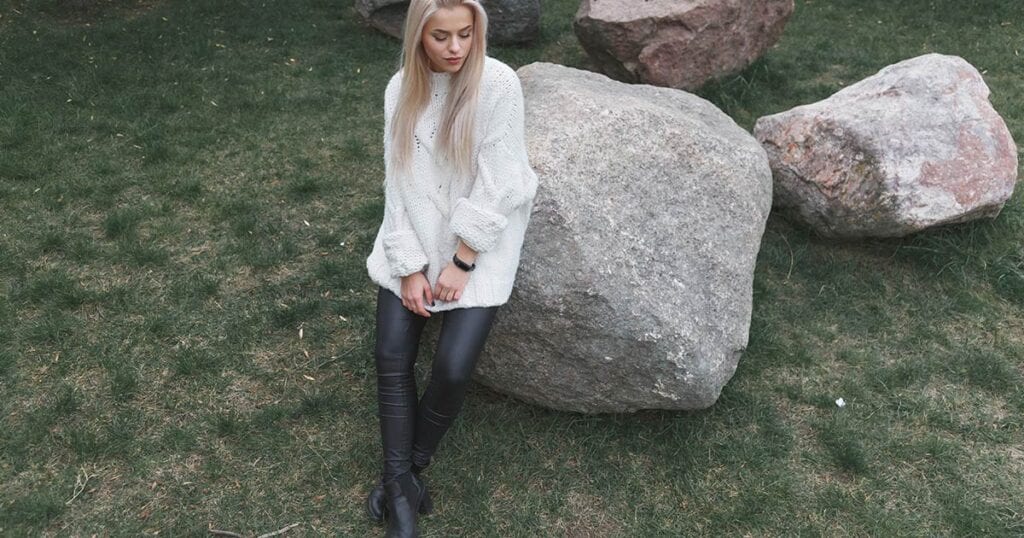 A pair of faux & vegan leather leggings are a staple in every girl's fall/winter wardrobe, so in this post, I'm sharing 6 of the very best options for every occasion!
Classic black leggings are cool and all but nothing beats a pair of leather pants that add an element of chic edginess and coolness to one's outfit. Whether you're slaying work at home or rockin' the physical distance game outdoors, these versatile & comfortable faux leather leggings can be worn for every occasion.
What are vegan leather leggings made of? Vegan leather is a general term used to describe materials made from anything other than animal skins & hides. But note that leggings made with faux-leather or vegan leather aren't made from the same material vegan handbags and shoes are composed of.
Instead, faux leather leggings are made from synthetic materials like polyester and nylon but with a polyurethane coating that gives it the leather-look or glossy-finish that makes it different from the classic leggings we own.
Note: If you want to shop for sustainable vegan leather pants, then your best option is to shop second-hand as all faux-leather pants are made from synthetic materials. I have yet to find a pair of vegan leather leggings made from sustainable materials but I would definitely want to see apple leather pants be a thing in the future!
Best Vegan Leather Leggings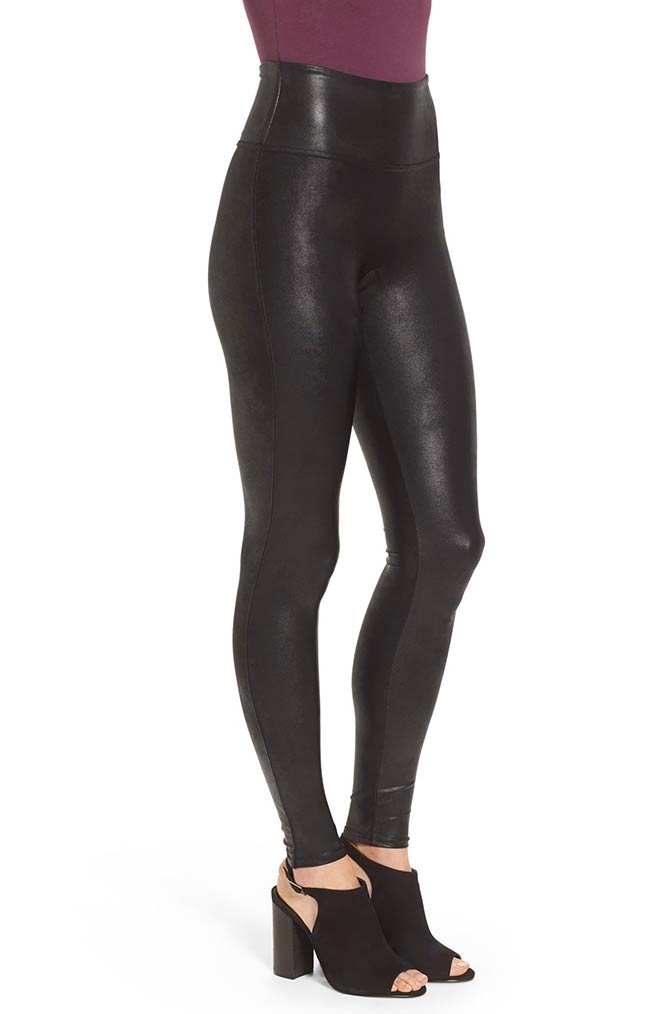 Best Vegan Leather Leggings ($98) – SPANX makes the BEST vegan leather leggings. They're so comfortable and super flattering! They're also the only pair of faux-leather leggings that don't have a center seam creating a chic and classy silhouette that hugs your body in all the right places. Made with nylon and spandex with polyurethane coating. Also available in Petite size.
---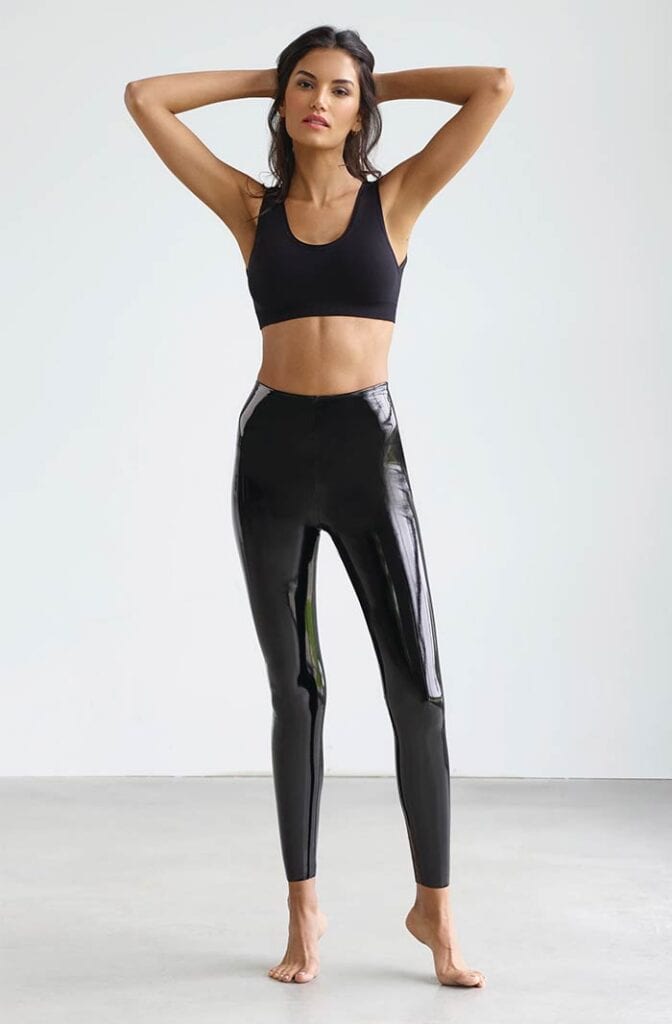 Vegan Patent Leather Leggings by Commando ($98) – I love the look of these shiny patent faux-leather leggings! They give me totally Catwoman vibes. I would pair these with some bold colors or a white flowy blouse with some killer vegan stilettos. Made with polyurethane/viscose/elastane with a nylon/elastane waistband.
---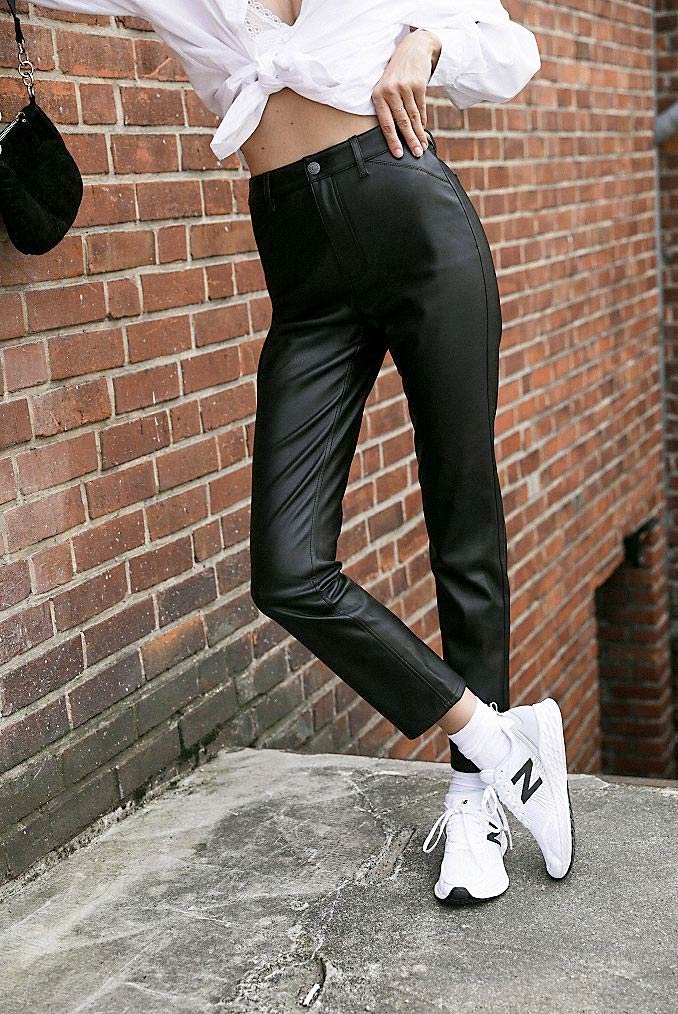 Hi-Rise Vegan Leather Pants ($78) – These are giving me modern-day Ross leather pants feels! The most effortless go-to vegan leather pants featured in a high-rise, slim silhouette for timeless shape and style. Made with polyester and polyurethane coating.
---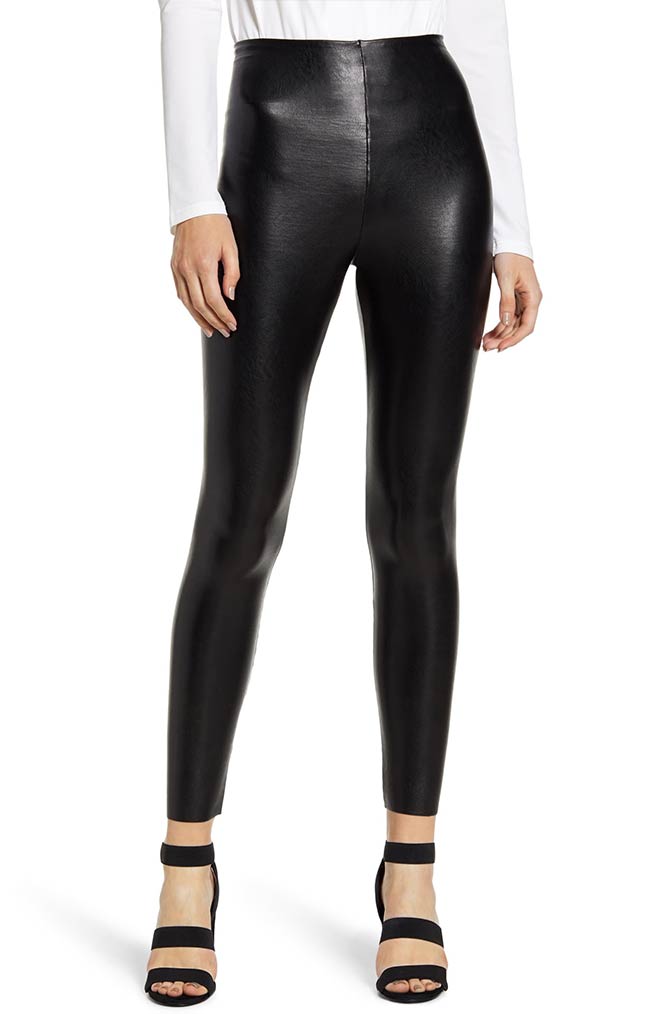 Commando Vegan Leather Leggings ($98) – These versatile faux-leather leggings look and feel like the real thing but without the animal cruelty! Commando's high-wasted and slimming black vegan leather leggings offer a sleek and smooth glossy leather-like look. Wear these with some casual sneakers and an oversized sweater or dress them up with a nice blouse and strappy heels. Made with polyurethane, viscose, and elastane.
---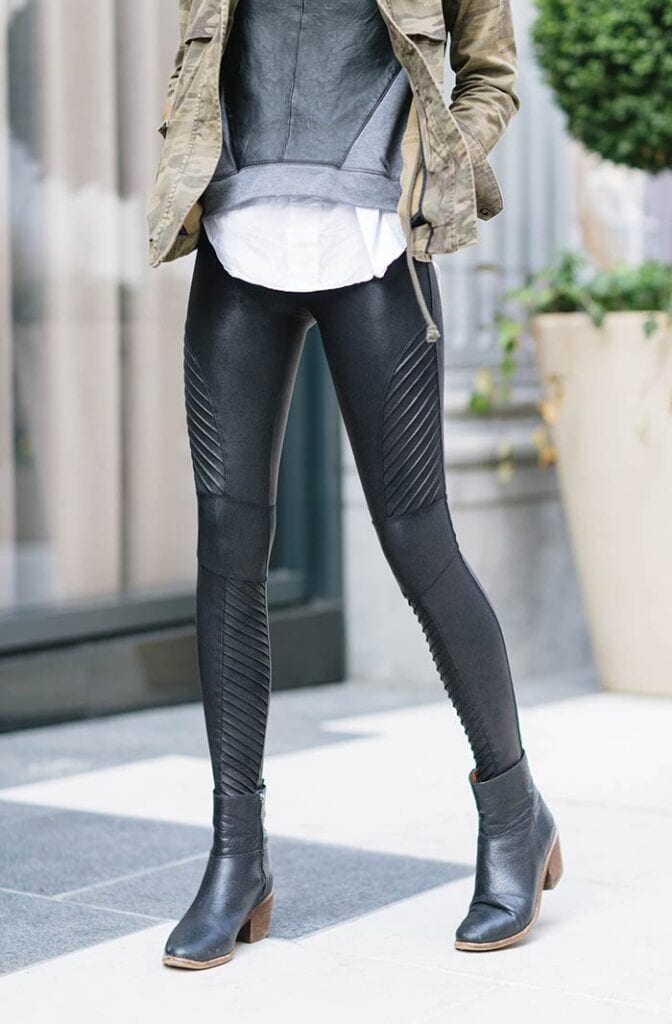 Moto Vegan Leather Leggings ($110) – If you want some texture to your faux-leather leggings, these textured moto seams will toughen up any outfit. Pair these with some combat boots or badass vegan booties and no one will mess with you. Made with nylon and spandex.
---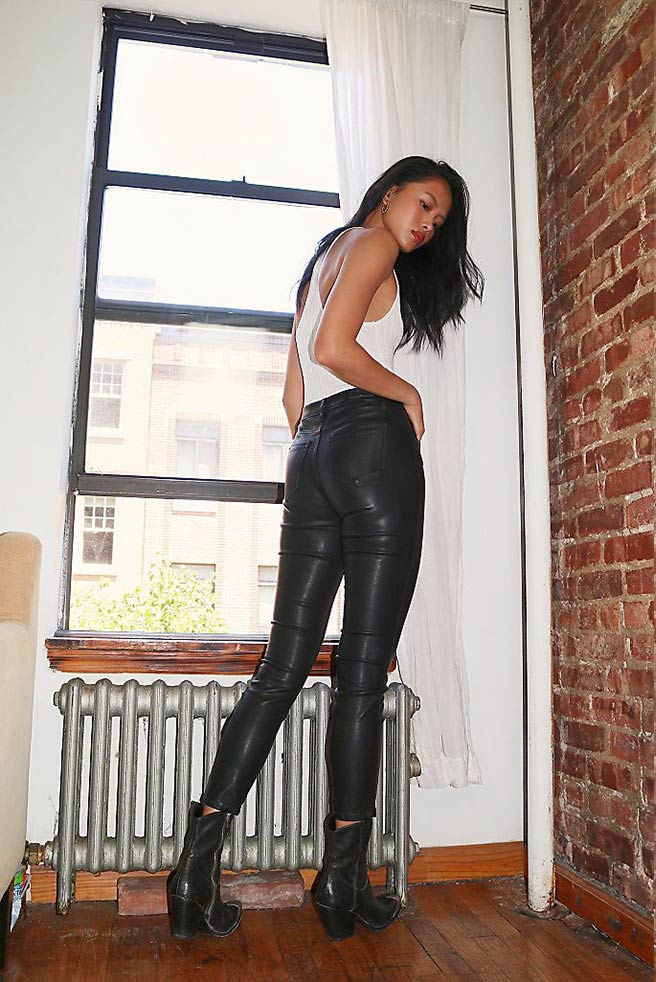 Five Pockets Vegan Skinny Pants ($98) – I absolutely love the look of these flattering vegan leather leggings featuring a five-pocket style! A timeless staple from Blank NYC, these super skinny vegan-leather pants are featured in the most classic high-rise silhouette to add the perfect amount of edge to any look. Made with viscose and polyurethane coating.
---