This post may contain affiliate links that at no additional cost to you, I may earn a small commission.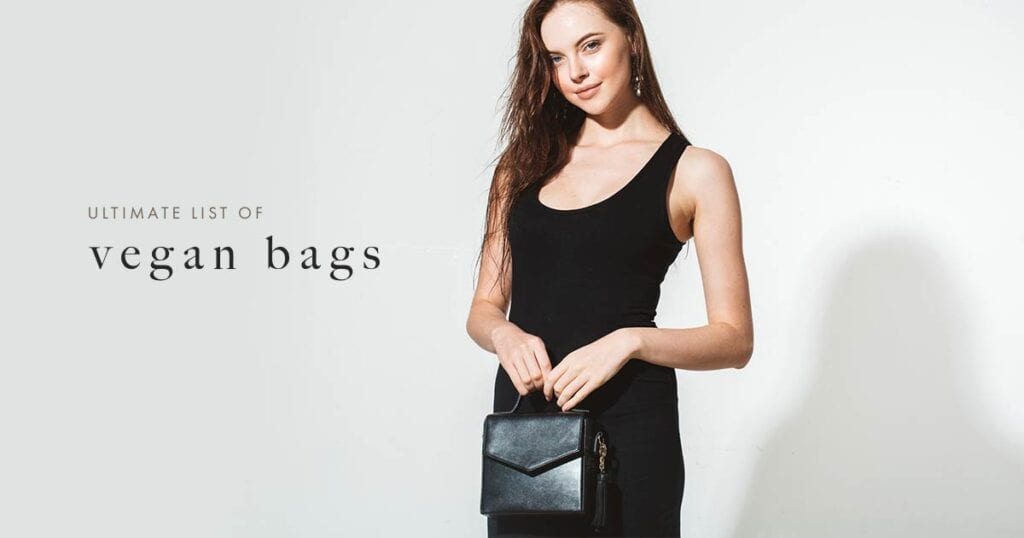 Looking for stylish and functional vegan handbags that are also ethically-made using environmentally-friendly and sustainable materials? We've got you covered in this list of the best affordable luxury and designer vegan bags in every style and for every budget!
In this guide to vegan purses and accessories, I'm sharing 20+ vegan handbag brands that prove we don't have to compromise –on style or ethics– in order to accessorize guilt-free!
Vegan Handbags Brands
This list of vegan handbag brands includes companies that are making ethical vegan purses and accessories without using materials that were derived from animals and that includes materials like leather, suede, fur, silk, alligator skin, etc.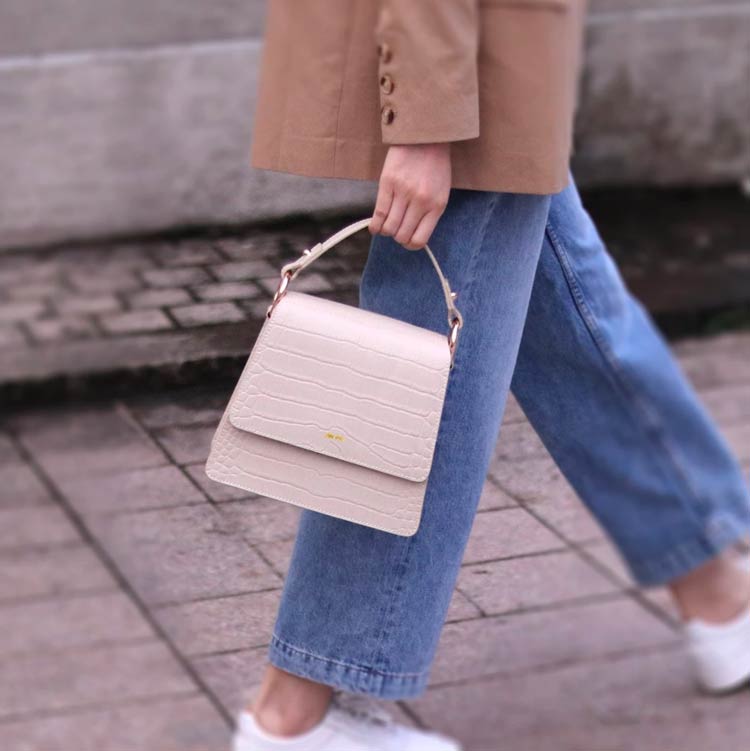 Based in Los Angeles, JW PEI was founded by a husband and wife duo inspired upon the idea that fashion should be accessible, effortless, and empowering. JW PEI can be described as an affordable luxury designer vegan brand with its modern minimalist aesthetics designed for sustainable style-seekers. All of JW PEI handbags and accessories are made with vegan leather including high-quality canvas, polyurethane, and certified fabric made from recycled plastic bottles.
Angela Roi believes personal style should not 
come at the expense of personal values and has created a line of luxurious vegan handbags made with ethical and non-animal materials. All of Angela Roi's cruelty-free bags are carefully handcrafted using EPUL (Exquisite Polyurethane Leather) by skilled artisans and reliable factories in Korea.
Angela Roi claims they, "uphold fair labor standards, meaning our artisans earn a fair wage and work under safe and comfortable conditions. By dedicating ourself to these standards, we stand firmly against the fashion industry's use of sweatshop and child labor. Our correspondents visit our factories quarterly to inspect conditions and provide feedback because we are always working to further our commitment to our staff and manufacturing process."
Considered as the OG vegan handbag and fashion brand, Matt & Nat has been worn and adorn by vegans and non-vegans alike touting the designer's premium quality vegan leather handbags. Matt & Nat handbags are made without leather and other animal-based materials, the lining of each bag is also made out of 100% recycled plastic bottles.
Most of Matt & Nat bags are made using PU (polyurethane) and PVC (polyvinyl chloride) but the brand also carries styles in various sustainable materials including the use of recycled nylons, cardboard, rubber, and cork.
Matt & Nat products are produced in China, claiming they "only collaborate with factories that are in line with our ethos and verify regularly our operations are up to standards. We make sure the factories we work with qualify for the SA8000 standard certification."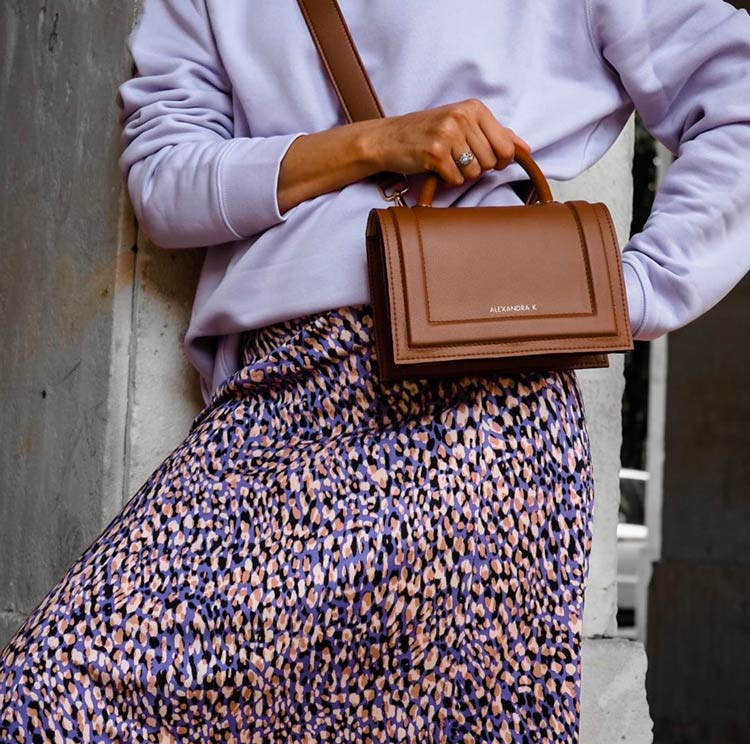 Alexandra K specializes in ethically producing vegan and environmentally-friendly designer handbags and accessories made from innovative fabrics. Each Alexandra K bag is unique and has its own serial number, they're made in Poland using non-animal materials and sustainable fabrics including Piñatex, apple leather, and corn leather.
Alexandra K vegan handbags and accessories are made using Freedom-Leather, a special material made of 100% silicone that requires less water, raw material, and electricity to produce compared to PU and PVC.
Stella McCartney high-end designer vegan bags are unlike any other! As a lifelong vegetarian, Stella McCartney does not use any leather or fur in her designs and is committed to operating a modern and responsible business.
All of Stella McCartney's designer vegan handbags are made from non-leather materials and are PVC-Free and Solvent-Free. The conscious fashion brand uses alter-nappa, a breakthrough material that is made from polyester and polyurethane and has a recycled polyester backing thereby reducing the amount of petroleum used in their products.
"We believe everybody in our supply chain should be treated with respect and dignity. We believe everybody should earn a fair wage. We believe in building modern and resilient supply chains that provide desirable jobs, foster people's skills, strengthen worker's voices and advocate for vulnerable groups." – Stella McCartney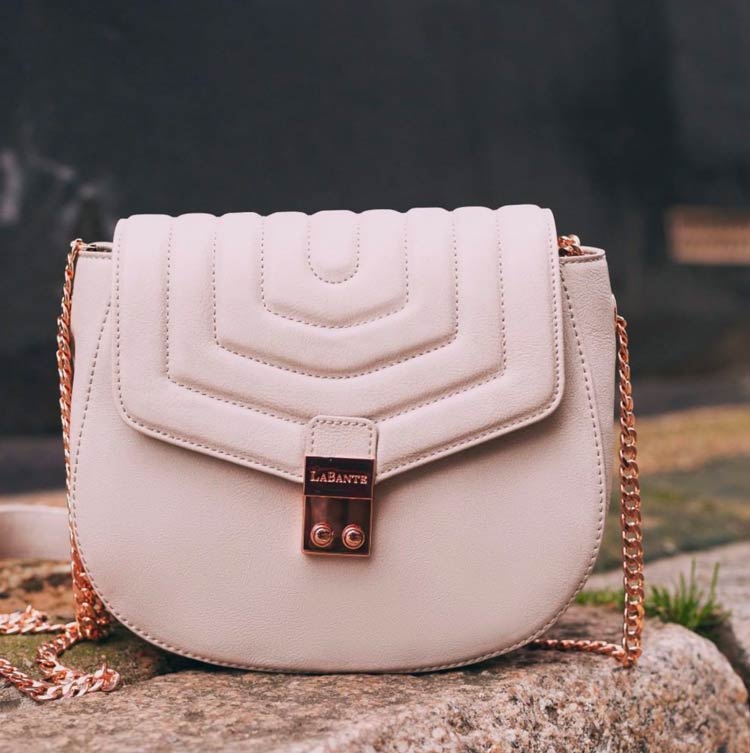 Established in 2008, LaBante is a UK-based fashion brand specializing in designer vegan bags that are ethically and sustainably made. All of LaBante handbags are made without animal materials or animal-based glues and dyes. Their bags are made with vegetable by-products and PU, and the interior linings are made with recycled plastic bottles.
"We only source, design & manufacture our products in a safe and ethical environment, we only work with factories that have SEDEX certification." – LaBante London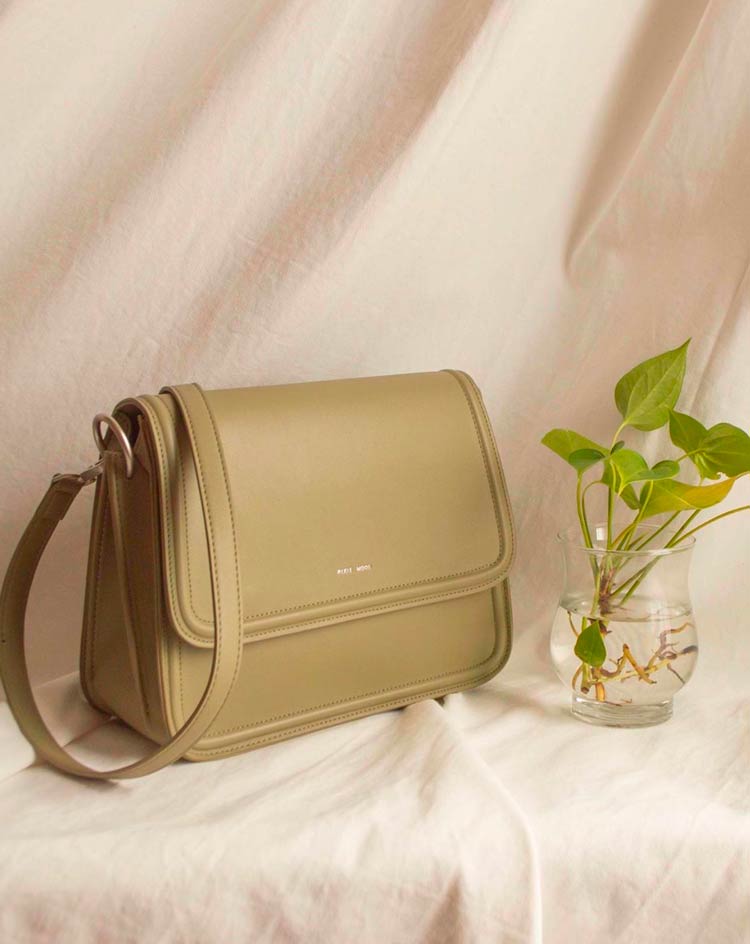 Pixie Mood
Founded in 2010, Pixie Mood is a Canadian-based vegan handbag & accessories brand that believes style doesn't need compromise where styles can be trendy, functional, and socially responsible, all at the same time.
All of Pixie Mood's stylish and functional bags are PVC-Free, made with 100% vegan materials including PU, cork, and their SS20 collection's lining are made from recycled water bottles.
"We require all manufacturers to agree and adhere to strict standards for the production of the merchandise we sell. The standards include prohibitions on child and forced labor, as well as treating workers with respect and fair wages." – Pixie Mood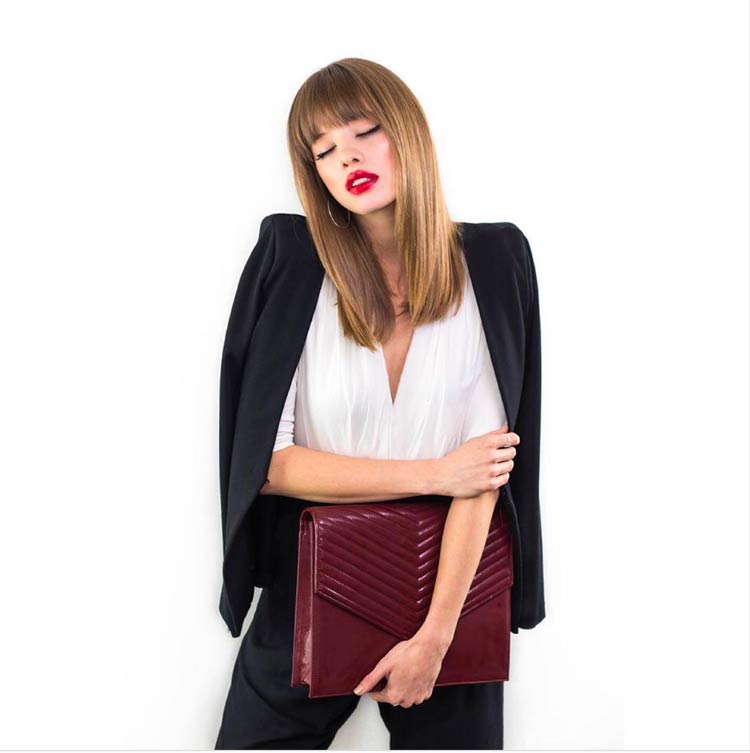 Designers of Jill Milan were inspired to create their own luxurious leather-free and vegan bags when they couldn't find many options on the market. They're now designing some of the most beautiful vegan purses worn and adorned by many celebrities at the Oscars, the Emmys, and AMAs!
Jill Milan's vegan purses are handcrafted in Italy and made with the highest quality Italian fabrics that are PVC-free and animal-free that includes both the materials and the glues. They also donate a portion of proceeds to organizations that rescue and retire or retrain former racehorses.
"Jill Milan's bags are handcrafted by artisans in small, family-owned ateliers. The ateliers offer employees a master craftsman's wage and health insurance, and they abide by Italy's strict regulations concerning labor." – Jill Milan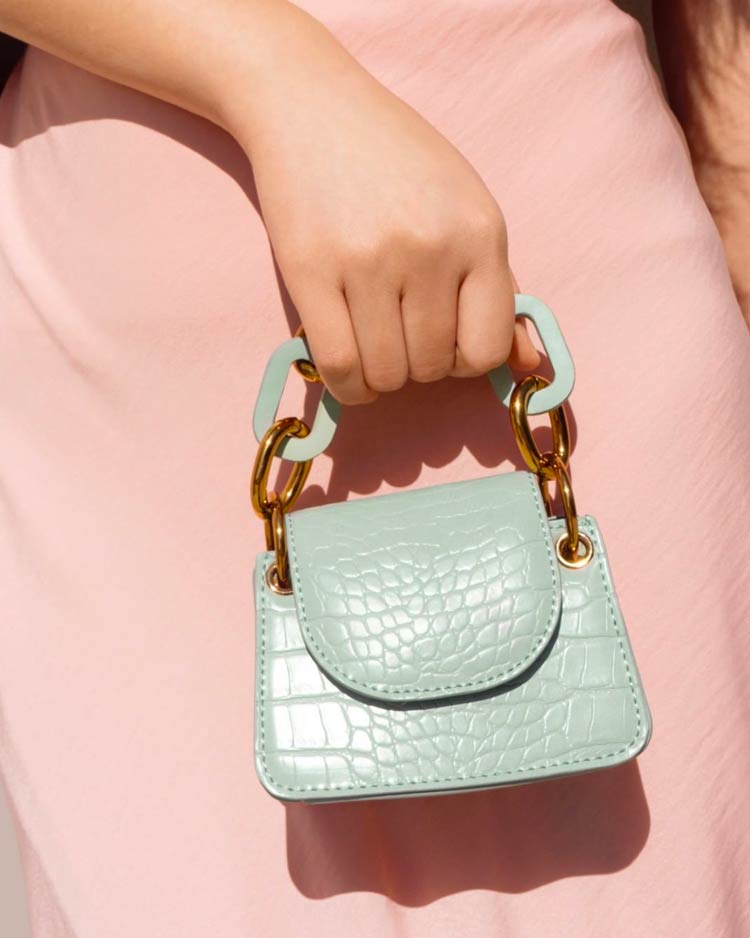 Melie Bianco
Melie Bianco's vegan bags can only be described as accessories with purpose. Their affordable luxury vegan leather handbags are sculpted with love in a cruelty-free, animal-friendly environment, using fair trade principles.
Melie Bianco's products are made in China under a Profit Sharing Model explaining, "we don't blindly outsource our workers. We are very interested in our suppliers, our factory, and all of the people who help us produce Melie Bianco goods. (We even know them by name) Other than fair pay, breaks, age requirements, gender-equal opportunities, free lunches, and even paid vacations, we see our involvement in their lives as a bigger one. We feel the responsibility to help all of our small vendors succeed in a very competitive environment, and as we grow, they grow with us, profits, and all." – Melie Bianco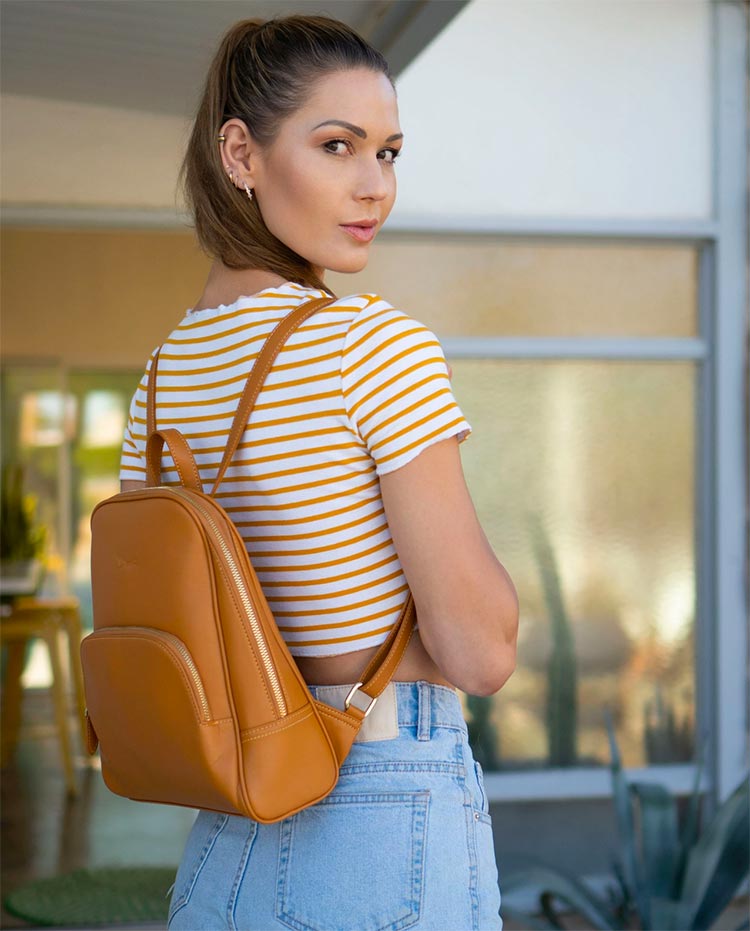 Doshi FCSA
Doshi offers vegan leather handbags, briefcases, backpacks, and accessories for smart, socially, and environmentally conscious professionals, jet-setters, and fashionistas. Based in Southern California, this vegan fashion & accessories brand is on a mission to design high-quality, durable, and useful products for everyone.
Doshi coupon code: 'ETHICALELEPHANT10' to receive 10% OFF your order over $50
"We visit the factories where we manufacture goods. We look for clean factories where we ask terrible amounts of questions to management to understand product construction, environmental practices and workers' well being." – Doshi FCSA
Doshi's vegan bags for men and women are made with Microfiber PU leather and suede, the highest grade of synthetic leather commercially available. In addition, Doshi donates 5% of net sales to nonprofits that benefit animals, people, and the environment.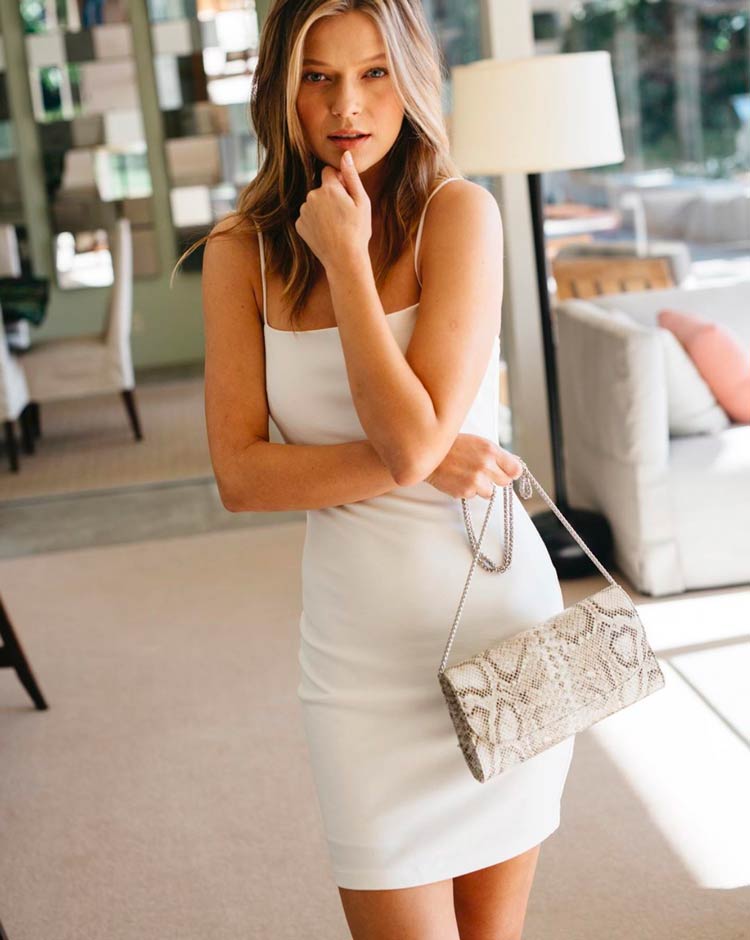 Svala
Unable to find exactly the kind of accessories she was looking for, Helga Douglas created Svala, a line of luxury vegan handbags and accessories inspired by her love of animals and nature.
Svala's beautiful, stylish, and versatile purses and bags are handcrafted in LA and ethically made from premium European, innovative, animal-friendly, PVC-free fabrics such as luxurious, Italian PU (polyurethane), Pinatex® (made from pineapple leaf fiber) and cork. Each Svala handbag is lined with fabric made with organic cotton and recycled polyester made with plastic bottles. Svala also donates 10% of profits to various animal protection organizations and charities and the company participates in a carbon offset program to reduce their carbon footprint.
"We manufacture all of our products in a world-class, downtown Los Angeles factory which ensures that the workers are paid a fair wage and have comfortable working conditions." – Svala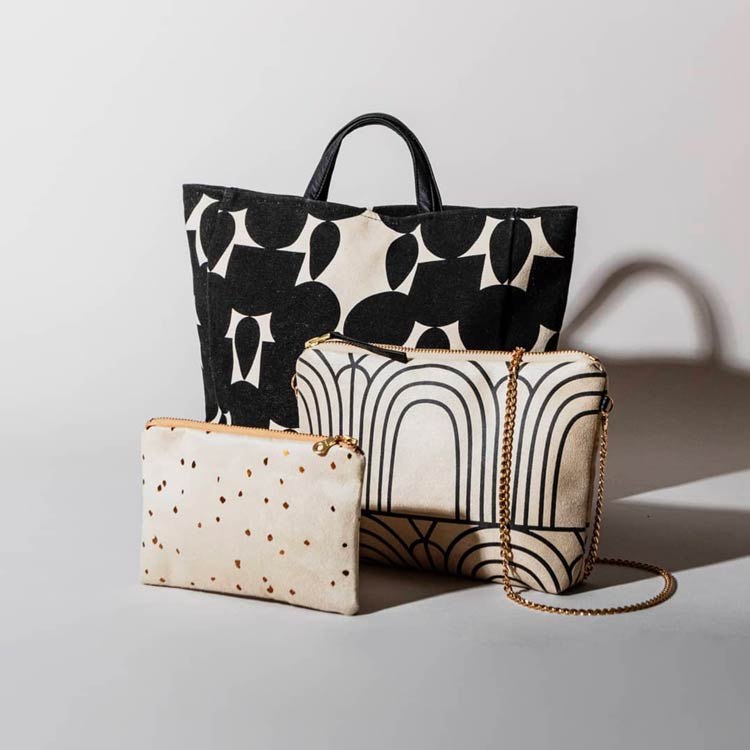 Lee Coren
Lee Coren's vegan handbags, backpacks, and accessories are 100% vegan and ethically handmade from sustainable materials sourced from local independent vendors. Lee Coren's stunning pieces are inspired by modern exploration and designed with the intention to make the modern woman's life and travels beautifully simple.
Lee Coren uses locally and ethically sourced materials including high-quality, Italian-made, cotton-backed microfiber PU (polyurethane), which is less harmful for the environment than PVC.
"We make all of our vegan bags and printed textiles here in Israel, while importing some fabric we cannot source here, from Italy. I'm working to ensure that I'm supporting safe and fair working conditions across our supply chain and that our products are made with integrity." – Lee Coren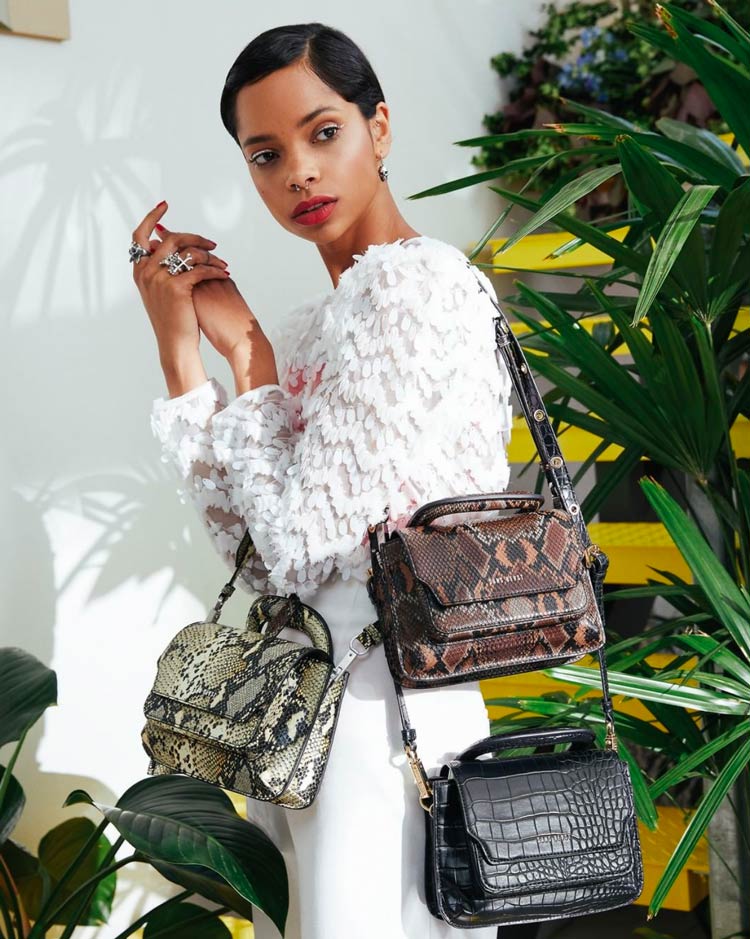 Sans Beast
Bags Without The Beast, Sans Beast's vegan handbags and accessories are designed with love, not animals. Based in Australia, Sans Beast's collection of trendsetting and functional purses and bags were thoughtfully designed for compassionate fashionistas that care about both animals and style.
Constructed from a good quality polyurethane (PU) that does not use toxic levels of chemical in production and with fabrics adhering to the chemical standards of REACH and Prop65. Sans Beast donates $1 from every purchase to the animal rescue sanctuary, Edgars Mission.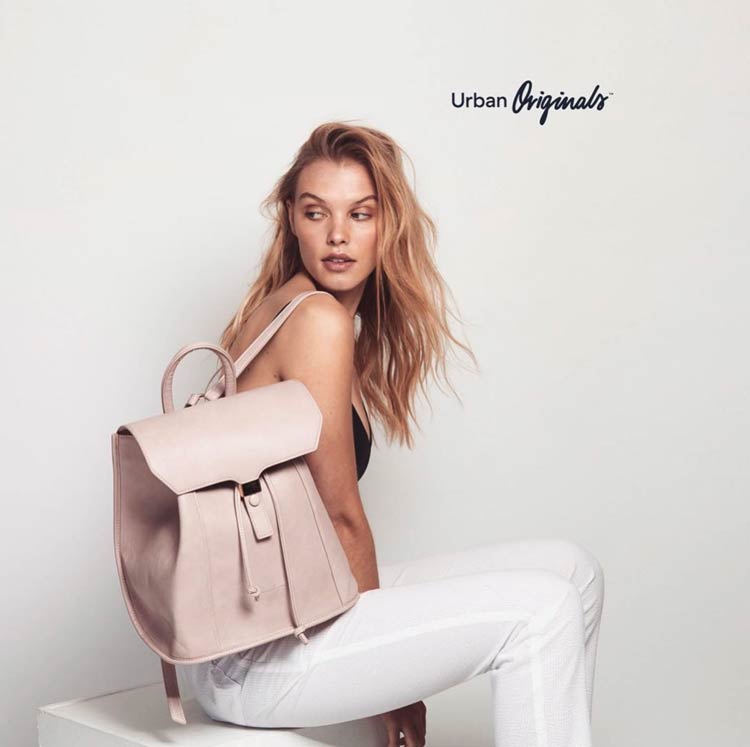 Urban Originals
Urban Originals is a 100% cruelty-free luxury vegan handbags and accessories brand creating drop-dead gorgeous bags that are also uber practical. Urban Originals believes the future of fashion should be ethical and sustainable striving to use the finest quality vegan leathers and recycled materials with low chemical requirements.
Designed in Sydney and manufactured in China, Urban Originals vegan bags and purses are made with PU (polyurethane), as well as, sustainable cotton, canvas, and recycled nylons. Urban Originals also donates 10% of profits to causes for human rights.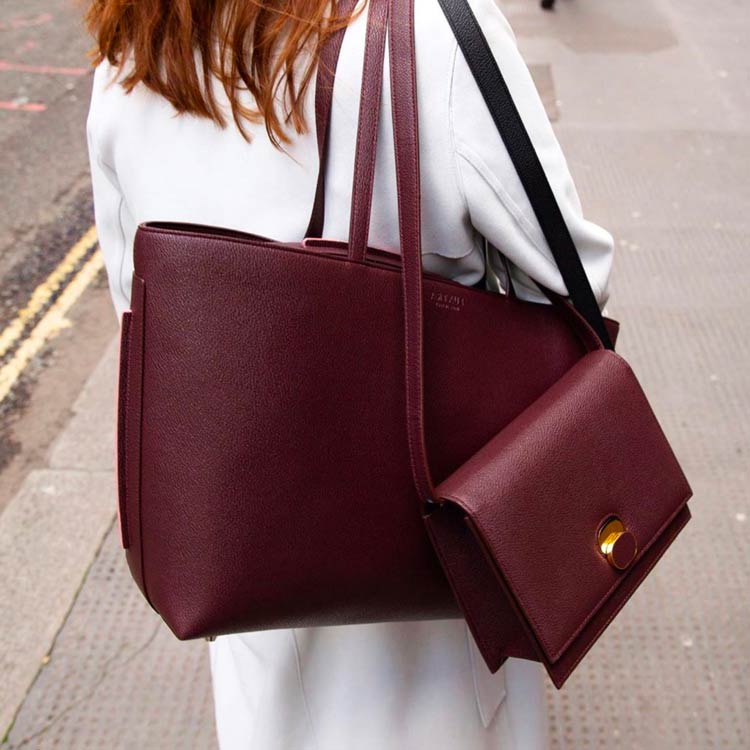 LUXTRA
Determined in the belief that doing business responsibly is the only way to do business, Jessica Kruger founded LUXTRA, an exciting global fashion brand focused on timeless design, sustainability, and ethical core values. Handmade in Italy, LUXTRA's vegan handbags and accessories are made using the most innovative and sustainable materials on the market including Piñatex, apple leather (Frumat), and mango leather (Fruit Leather Rotterdam).
"By championing the use of cutting-edge vegan and highly sustainable materials, and making them in to seriously beautiful pieces, we hope to inspire the greater fashion industry to reassess the materials currently used." – LUXTRA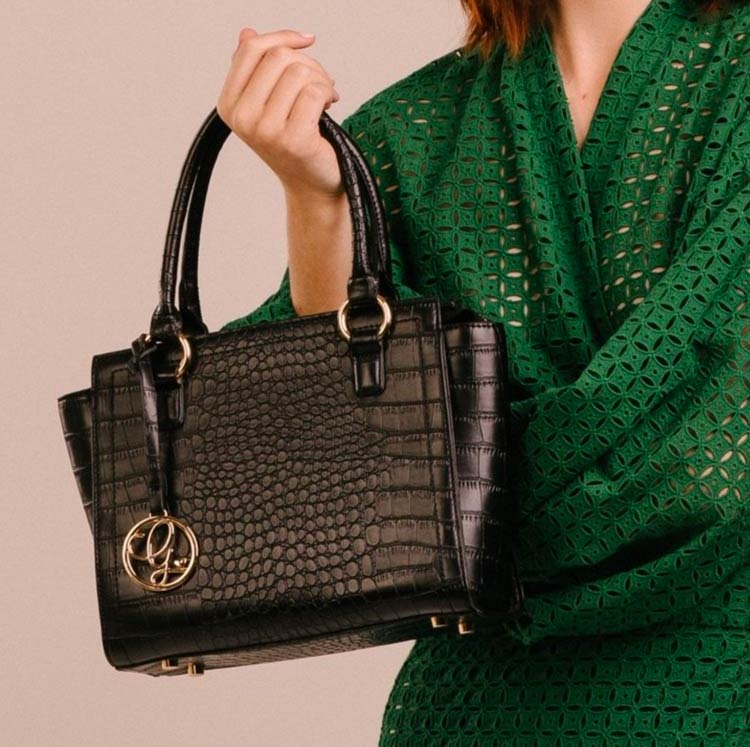 Kinds of Grace
Kinds of Grace is on a mission to help shift the world to kinder accessories with their collection of luxury vegan bags made with vegan materials that have a far smaller environmental footprint than animal skins, like Piñatex made from pineapple leaf fibers and eco-PU synthetic leather instead of using PVC.
Kinds of Grace coupon code: 'ELEPHANT' to receive 20% OFF your order.
"I'm proud to run a PETA certified label, to stand against sweatshop and child labor, and give back 20% of all profits to protect animals and the planet. Every purchase supports our mission." – Kinds of Grace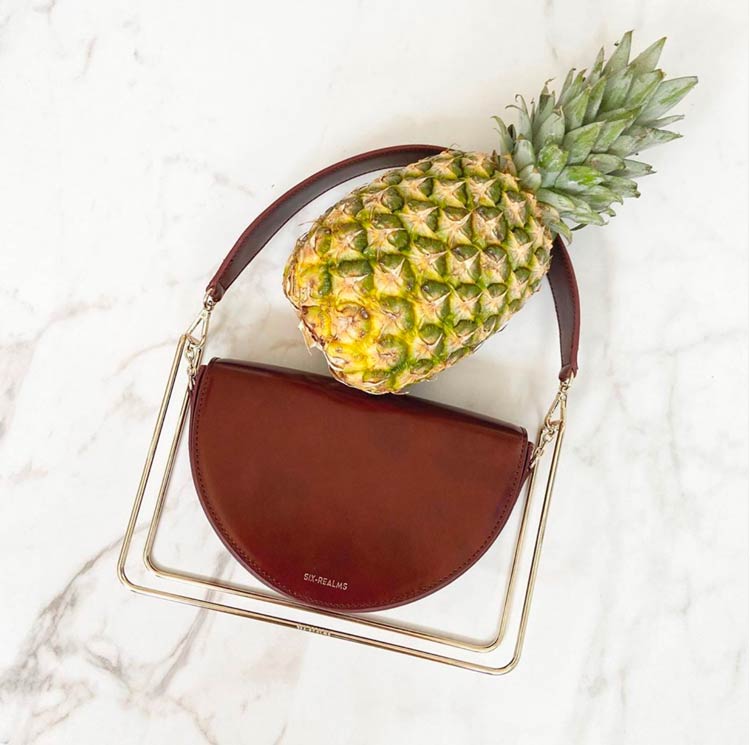 SIX-REALMS is a Canadian vegan brand established in 2019 with a commitment to creating unique and sustainable fashion accessories.
SIX-REALMS vegan purses and accessories encompass unique silhouettes that are a perfect combination of classic meets contemporary. SIX-REALMS uses Mycro-Leather, a polyurethane-based material with backing made from recycled material, its also made without the use of solvents.
"In order to create and nurture sustainability throughout our design and production, we ensure that our suppliers and partners do not use child labour, offer fair salaries and provide safe working conditions for all. We visit all vendors regularly to ensure all parties continue to share the same values and work towards the same goals of ours and our customers." – SIX-REALMS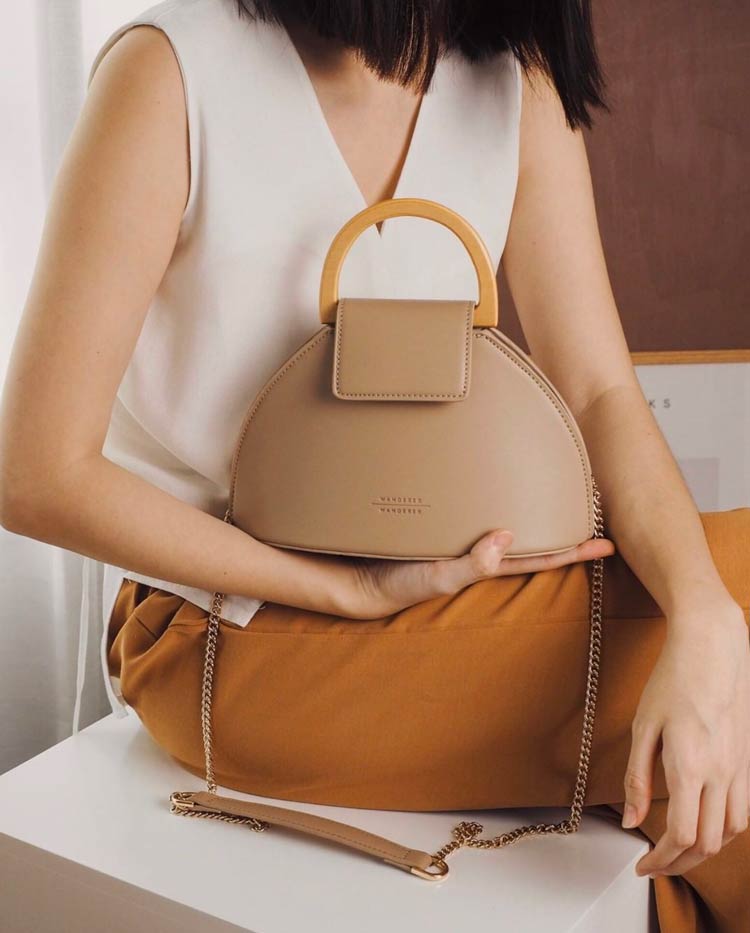 Wanderer Wanderer
Founder of Wanderer Wanderer, Grace combined her personal love for simple, aesthetic designs with a conscious effort to make sure no animals are implicated in the production of her products and creating a line of vegan accessories.
Wanderer Wanderer's small vegan bags and accessories are made from quality vegan leather carefully selected to resemble calf leather and they come in timeless designs for the free-spirited modern woman.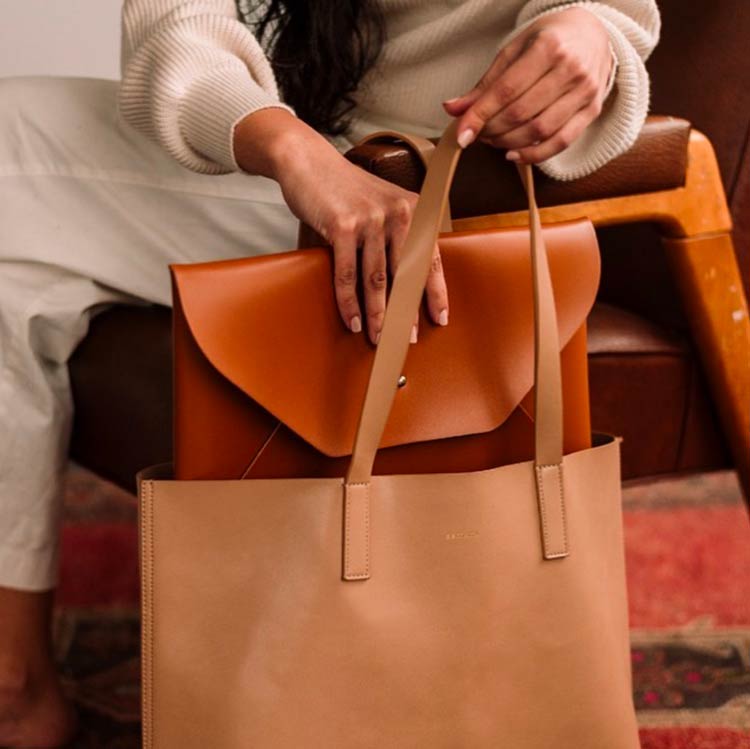 SAMARA
Designed for the minimalist, SAMARA stands to create luxury vegan fashion accessories that exude simplicity and elegance while not causing any harm to animals or living things. SAMARA is committed to using the most eco-friendly vegan leather available like vegan leather made from apple skin. Currently, most SAMARA vegan bags and accessories are made with PU, water-based PU, and Microfiber which are less toxic in their production than PVC.
"Our factories pride themselves on attention to detail, whilst using the finest materials and expert craftsmanship. We visit our factories every year, and are proud of their working conditions and standards. " – SAMARA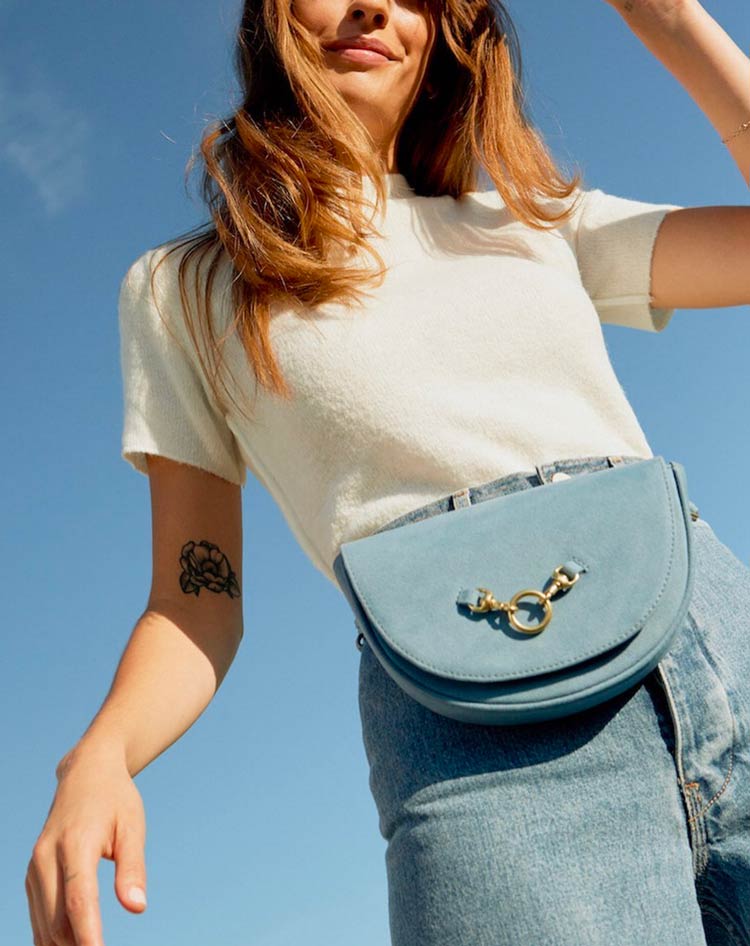 HFS Collective
HFS Collective belt bags are designed to fit just the essentials while celebrating the joy of less and the freedom in living life hands-free. HFS Collective's vegan belt bags are made in Los Angeles in a small, family-run factory where the workers are paid a fair, living wage.
HFS Collective is committed to sourcing only the most innovative, animal, and earth-friendly materials available. The materials they use are recycled, upcycled, deadstock, or low-impact (hemp, cork, Piñatex, organic cotton, and premium eco-vegan leathers).
"Our vegan leathers are made from polyurethane, an eco-friendly alternative to the more common and less expensive material known as "PVC." In addition, they are Oeko-Tex Standard 100 certified, which means they are free form organic solvents, odors, and environmental toxins such as formaldehyde, pesticides, phenols, chlorine, heavy metals, carcinogenic and allergy-inducing dyes common in many synthetic leathers." – HFS Collective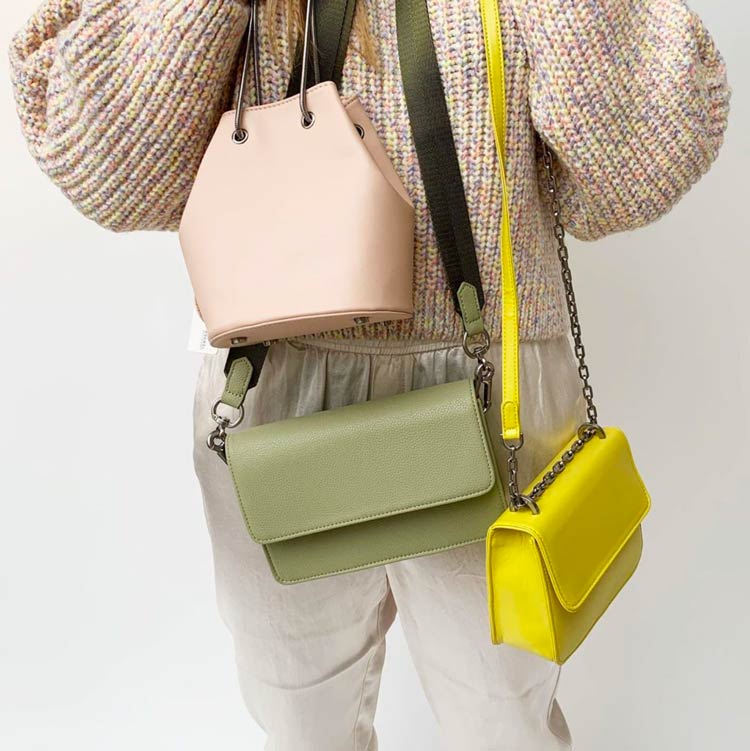 DENISE ROOBOL
DENISE ROOBOL is a vegan brand from Rotterdam founded in 2013. DENISE ROOBOL's vegan bags merge the concept of minimalist and functional designs while using high-quality vegan materials that feel and look like real leather.
All of their handbags and accessories are made with vegan Microfiber, a material that is made from pressed fibers and a strong coating that makes it durable, sustainable, and water-resistant.
DENISE ROOBOL bags are produced in a small studio in Guangzhou consisting of only 10-15 well-experienced craftsmen.
---
If you liked this vegan fashion guide, then please subscribe to our monthly newsletter for more resources and guides to living your BEST cruelty-free and vegan life! You can also find us on Instagram and Facebook.